Feb 15th, 2011
By the middle of the week, we run out of ideas and energy to cook. Dal makhani is a very famous lentil side dish and it requires remembering to soak the lentils the night before and then pressure cooking them. Almost every time I forget to soak the lentils. This recipe is very easy to make after a busy evening or to make in the morning for lunch boxes. Whenever there is a can sale in the local grocery stores, I stock up on kidney beans and other beans. Progresso soup has lot of vegetarian options and I stock up soups too. I make this express dal makhani using the Progresso ready to eat, vegetable classics lentil soup. I also add a can of cooked kidney beans.

Preparation time – 10 mins
Cooking time – 30 mins
Difficulty level – easy
INGREDIENTS (Serves 4)
Progresso vegetable classic lentil soup – 1 can
Kidney beans (Drained and rinsed) – 1 can
Onion – 1 medium (finely cut)
Tomatoes – 2 (chopped)
Green chillies – 2 (Finely chopped)
Ginger – 1 inch piece (Grated)
Garlic (Optional) – 2 cloves (Minced)
Dhania powder (Corriander powder) – 1 tsp
Jeera powder (Cumin powder) – 1 tsp
Chilli Powder – ½ tsp
Turmeric powder – ½ tsp
Salt – to taste (watch out since the soup has salt in it)
Garam masala – ½ tsp
Amchur powder (Dry mango powder) – ½ tsp
Fresh cream – 2Tbsp
Oil /Butter – 2 tsp
Cilantro (for garnish) – 2 tbsp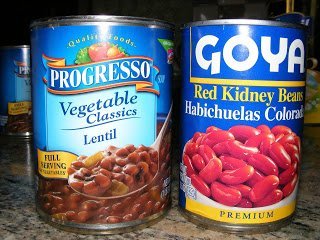 PROCEDURE
Heat Oil/Butter in a sauce pan. Saute onions until light brown. Add the grated ginger, garlic and green chillies and sauté for 2 more minutes.
Add the chopped tomatoes and all the dry powders (Dhania, jeera, turmeric, chilli, amchur powders), salt and sauté for few minutes until oil floats on top.
Now add the soup and the drained kidney beans. Add more water to bring it to the required consistency. Let it come to boil and then simmer over low heat for 15 mins.
Add the garam masala and mix well. Garnish with fresh cream and cilantro and serve hot with rice or rotis.
Enjoy !!!