30th Apr, 2012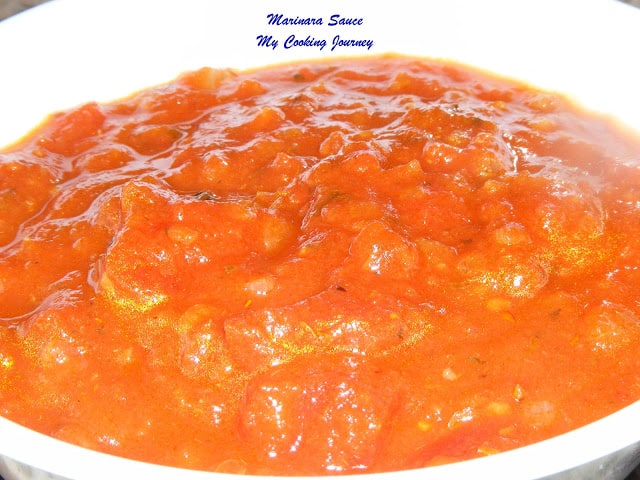 Summer is approaching and lot of us would have our vegetables growing soon. This is when we are looking for ways to use the abundant vegetable. I am one of those gardeners who plant everything that I come across. Every year in spite of my husband's warnings, I end up growing so many verities of tomatoes that I always have abundant of it. I do freeze lot of vegetables, but in the past few years have also learned to process the vegetables and use them through the year.
It is still spring and I do not have any vegetables from my backyard yet. So this marinara sauce I made from the canned tomatoes (I always pick up canned tomatoes when they are in sale in my local store). I will also mention the quantity required when using fresh tomatoes, so we can start planning ahead as they start growing. This is a very simple recipe. It is time consuming, but very easy to prepare.
Preparation time – 10 mins (if using canned tomatoes)
Cooking time – 1 ½ hrs
Difficulty level – easy
Ingredients – (makes around 3 quarts)
If using fresh tomatoes, use about 4 lbs of tomatoes. Remove the skins of the tomatoes and chop them coarsely or quickly pulse it in a food processor.
Onions – 2 (chopped finely)
Garlic – 4 pods (crushed and chopped finely)
Crushed tomatoes – 1 can (28 Oz)
Diced tomatoes – 1 can (28Oz)
Celery – ½ cup (Chopped finely)
Carrot (optional) – ½ cup (chopped finely) I did not use carrot this time
Bay leaves- 2
Salt – to taste
Sugar – 2 tsp
Olive oil – about 3 tbsp
Freshly ground pepper – 1 tsp
Crushed red pepper – 1 tsp (Optional)
Dried Herbs – Mix all the below herbs to yield about 2 tbsp of mixed herbs. Other alternative to this would be bottled Italian seasoning. I use Mrs. Dash Italian seasoning.
Thyme
Oregano
Parsley
Basil
Rosemary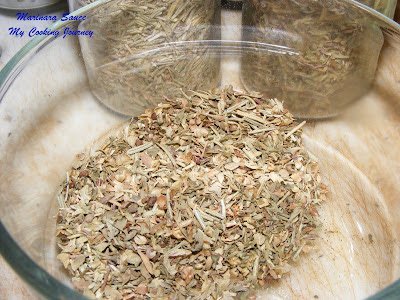 Procedure
Heat olive oil in a large heavy bottom pot. Add the Onion and garlic and sauté 10 mins or until the onions are nicely brown and caramelized.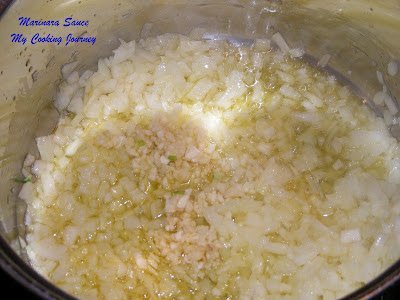 Now add the chopped celery and carrot and sauté well until they are cooked (about 10 mins).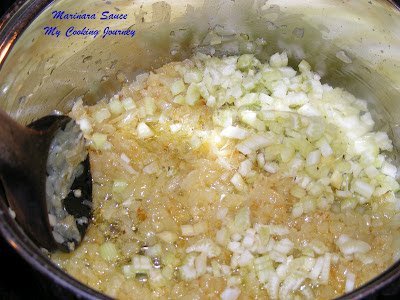 Add the bay leaf and sauté it for a minute or two.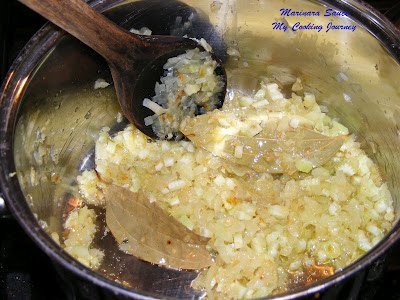 Now add the crushed and diced tomatoes, and the rest of the ingredients. Let it come to boil and then simmer for about 1 hr, carefully stirring it once in a while. Once it simmers, the sauce would be thick and chunky. Remove the bay leaves and let it cool down.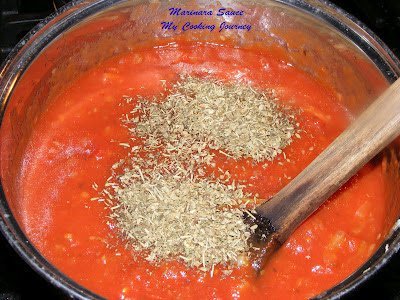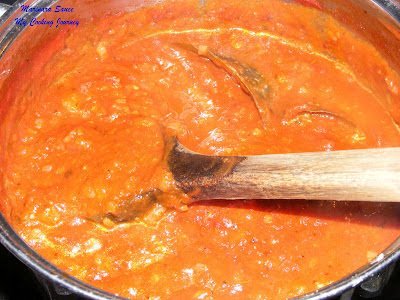 Ladle them into jars. It stores well in the refrigerator for about 2-3 weeks. If making huge quantities, either can them or freeze them.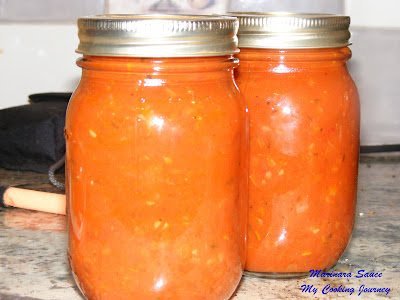 Canning
– use the manufacturer's instruction for the canning technique.
Freezing – ladle the sauce in freezer proof containers. I usually freeze them in 1 cup quantity or just enough to use it in one shot. You could also freeze them in freezer bags. Ladle the room temperature sauce into freezer bags and then lay them flat in a cookie sheet in the freezer. Once frozen you could stack them in the freezer as you would a book
To Thaw– you can leave them in refrigerator overnight. I never plan my meals ahead so most of the time I forget to keep it in the refrigerator, so I remove it from the freezer and empty it into a sauce pan and leave it in slow flame until thawed and then warm it through before serving.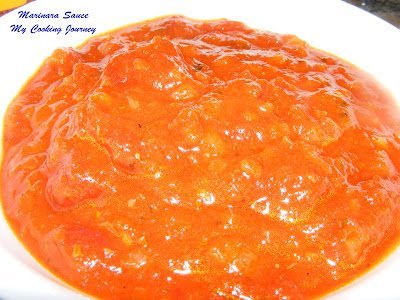 Notes –
It is very important to let the onions caramelize to let out all the natural sweetness.
Adding sugar neutralizes the acidity from the canned tomatoes.
Be very carefully when adding salt, because canned tomatoes already have salt in them.
Sending this to