18th April, 2012
As a kid, I never liked Idlis. Well, there was no escaping from idlis (being a South Indian, this was our staple Tiffin). My mother used to make this onion chutney to lure me into eating the idlis and they indeed did work. I would still be complaining, but at the same time gobbled at least 4 mega idlis. Thanks to the onion chutney. Talking about how much I like this chutney, I have to mention my DH questions me with a suspicion – Do you eat idli with chutney or chutney with idli. Yes, that is how much like it. Especially for this reason I make it moderate spicy, so I can actually eat more.
There are several variations of onion chutney. This one is my mother's recipe and to date I follow it ingredient by ingredient and step by step. Caramelization of the onions brings out the natural sweetness of it, so the end product has that hint of sweetness which is my favorite part. Now let me stop expressing my love to the chutney and let you readers experience the same by getting to the actual recipe. Do write back to me your experiences and thoughts.
Preparation Time – 10 mins
Cooking time – 20 mins
Difficulty level – easy
Ingredients – (serves 4 -6, but for a household like mine, maybe just 2)
Onions – 4 large (Chopped)
Mustard seeds – 1 tsp
Urad dal/ullutham paruppu – 2 tbsp
Red chilies – 3 or 4 (for medium spicy)
Green chilli – 1
Asafetida – ¼ tsp
Oil – about 1 ½ tsp
Tamarind – a very small piece
Salt – as needed
Procedure
Heat oil in a pan and add the mustard seeds. Once they splutter add the Urad dal, red chilies, green chilli and asafetida and fry them for a minute.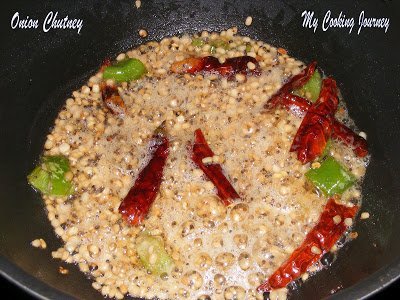 Now add the chopped onions. The onions need not be chopped too small since we are going to grind it. But, if you want them to cook faster chop them small.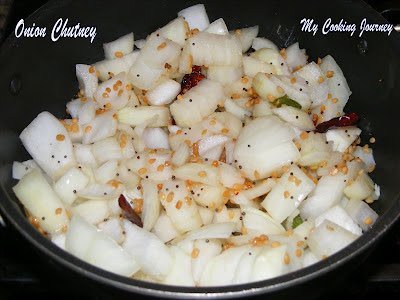 Now comes the interesting part. Keep frying the onion in medium flame until they turn nice and golden and forms that wonderful crust in the bottom of the pan. This is a very important step. The more you let it fry and caramelize the more flavors the chutney would have.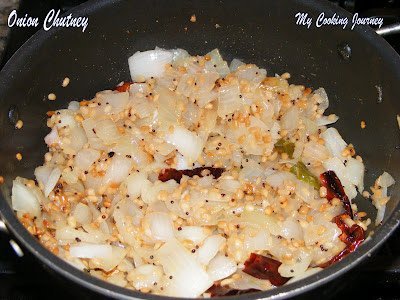 Once the onions are well fried, let it cool down a bit and then transfer it to the blender jar and grind it to a smooth consistency with tamarind and salt. Be sure to scrape all the yummy stuff from the bottom of the pan. If needed deglaze the pan with little water and add it to the blender when grinding.
(Deglaze – heat the pan and add very little liquid, in this case water and scrap the bottom well)
Serve with hot idlis, dosais or Pongal!!!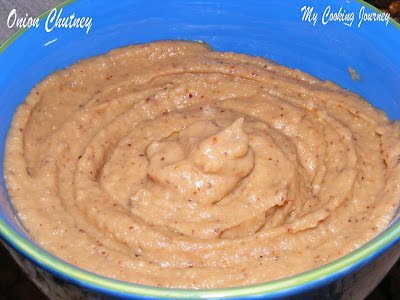 Note– I really feel like eating my mother's idlis, NOW.