28th Nov, 2010In Spanish "Salsa" means any sauce served with food, but we know Salsa as an appetizer served with Tortilla chips and is tomato based. I learnt to make Salsa, due to excessive tomatoes in my backyard. But, once I made this it became an instant hit among my friends and families. It is a great appetizer for picnics and is very versatile. Salsa is a must in my house when we have enchiladas for dinner. Stores very well in the refrigerator for up to a week.
I make Salsa in two different ways. If I am making it for a party or in a huge scale, I use the food processor. If it is just for a day or two, I finely chop up all the ingredients and mix them. However we make the salsa, it tastes better when left in the refrigerator overnight. This allows all the flavors to combine. Again depending on one's taste buds, the peppers could be adjusted.

Tomatoes (Big Boy) from my Garden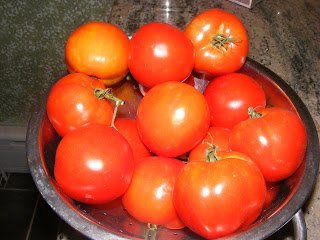 Preparation time – 10 mins
Cooking time – none
Difficulty level – easy
INGREDIENTS (To make around 24 oz/ 3 cups of salsa)
Tomatoes (I use Roma or Big boy from my garden) – 5 big
Onion – 1 medium
Jalapeno Pepper – 1 (seeded, if you prefer less spicy)
Garlic- 1 clove
Vinegar – 1tbsp
Lemon juice – from one lemon
Cilantro (Coriander leaves) – A big handful (about ½ cup)
Sugar – 1tsp
Salt – to taste
PROCEDURE (Food processor)
Add the onions(cut in big chunks), Jalapeno, and garlic to the food processor and run it until the onions are chopped finely.
Then add the cilantro, lemon juice and vinegar, sugar, salt and pulse it.
Now add the diced tomatoes and pulse it to the required consistency (Chunky or smooth).
Salsa is ready. Transfer it to a container and refrigerate it overnight or atleast for couple of hours for all the flavors to combine. Serve with chips or as a side for burritos or enchiladas.
You can make this without a food processor too. Chop all the onions, jalapeno, tomatoes and cilantro finely and combine everything in a big bowl. Add the rest of the ingredients too and mix well. Chill overnight and Enjoy !!!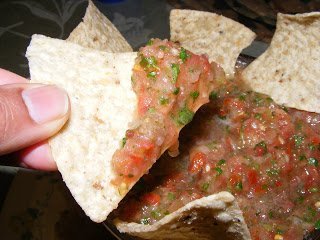 Sending this to
My food treasures , Erivumpuliyum