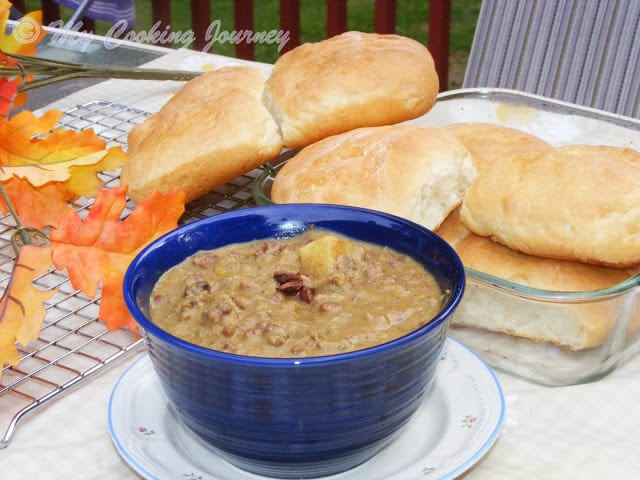 ToNak or TonDak pav is a very popular Goan recipe that is made traditionally with the red cow peas. The gravy or masala that is made for this dish can be used with any type of beans or peas or legumes that is available. There are also other versions of this recipe that uses vegetables such as potatoes and eggplants. Also I have seen few recipes that use mushrooms.
The Tonak masala is something that can be made ahead and stored for future uses, just like we make the Sambhar powder or the garam masala. I followed a recipe from a thread called Goan and Konkani recipes, where a person named Veena has described in detail her MIL's recipe. I really liked her version and thought will give it a try. Also learned from the thread, that people generally make a big batch of this masala and store it in the refrigerator for future use with different legumes and vegetables.
Other legumes that can be used to make this would be Vatana (white peas), Black eye peas, Whole Bengal gram, whole Masoor dal, dry green peas etc. This dish also reminds me of the Misal Pav which is a popular Maharashtrian street food.
The pav bun tastes so much better when they are fresh out of the oven. With just a little planning in advance, the buns are very easy to make. The buns (dinner rolls) tasted wonderful with the ToNak. I could eat the rolls just with few smears of butter.
I used the recipe from chef in you to make the pav buns. The bun tasted delicious and was very easy to make. Also the recipe is eggless.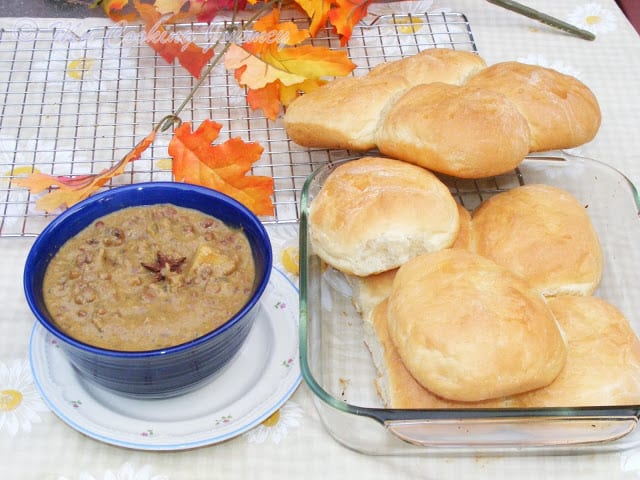 To make the AlsaNyache ToNak
Preparation time - 20 mins plus overnight to soak the karamani
Cooking time - 45 mins
Difficulty level - easy
Ingredients to make AlsaNyache ToNak – (serves 6)
Red cow peas/ red Karamani – 1 cup
Potatoes – 2 medium
Onions – 2 large (1 sliced lengthwise and one chopped fine)
Coconut (grated) – 1 cup
Green chilies – 2
Garlic – 2 cloves
Turmeric powder – ½ tsp
Tamarind – marble size ball or about ½ teaspoon of pulp
Oil – 2 tbsp
Salt – to taste
For the AlsaNyache ToNak Masala –
Coriander seeds – 2 tbsp
Cinnamon – ½ inch piece
Red chilies – 2
Pepper corns – 6
Cloves – 3
Star Anise – 1
Cumin seeds – ½ tsp
Cardamom – 2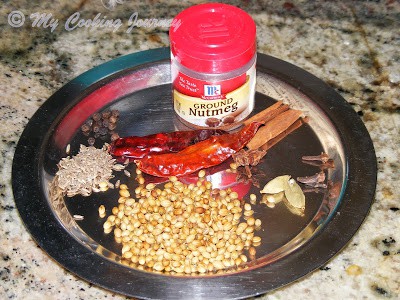 Procedure to make AlsaNyache ToNak –
Soak the Red cow peas/ Karamani overnight and then pressure cook it with enough water until it soft.

Also pressure cook the potatoes and cut them into cubes.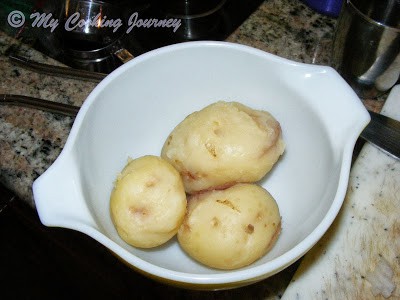 Add a drop of oil in a large pan and fry all the ingredients listed under ToNak Masala. Fry them in low flame taking care not to burn them until golden brown and keep it aside.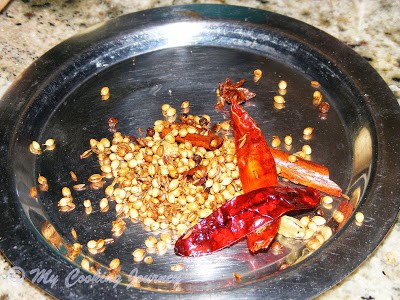 In the same pan heat about a tablespoon of oil and fry the sliced onions until translucent. Now add the garlic and green chilies and further fry them for 2 mins. Now add the grated coconut and fry it on low flame until the coconut is golden brown. Remove from flame and keep it aside.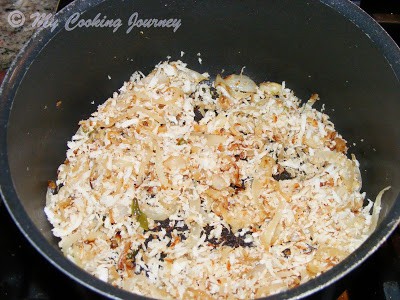 Grind the fried ToNak masala ingredients, onion-coconut mixture and the tamarind together into a smooth paste adding little water.
Heat the remaining tablespoon of oil. Add the chopped onions and sauté for 8-10 minutes.
Now add the ground paste to the onions and mix well.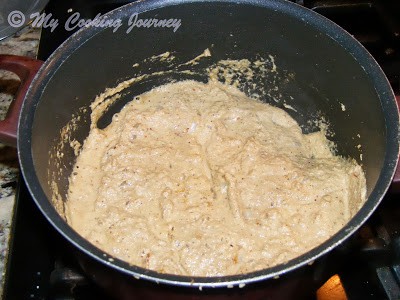 Then add the cubed potatoes and the cooked peas and mix well.
Add the turmeric powder and salt and let it simmer until all the flavors come together (about 10 mins).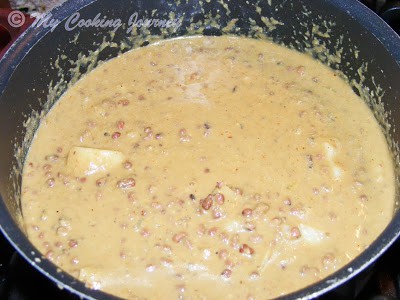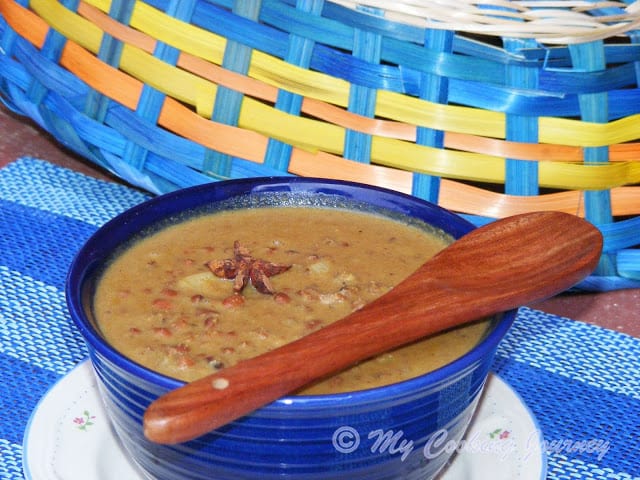 Notes –
When making the ToNak masala today, I used just enough quantity for one time. If you are making this often, you can make the powder of the roasted ingredients and store it. Add about 3 tablespoon of this powder when cooking the Gravy.
To make the Pav Buns /Dinner rolls

Preparation time – 2 -3 hrs
Cooking time – 30 mins
Difficulty level – easy
Ingredients to make Pav – (makes 12 pav buns or rolls)
Bread flour – 3 cups plus more to dust
Active dry yeast – 2 ¼ tsp
Luke warm Water – ¼ cup
Milk – 1 ¼ cup
Butter – 3 tbsp
Sugar – 2 tbsp
Salt – ¾ tsp
Procedure to make Pav –
Heat the milk until it lukewarm and then add the butter to it. Let the butter dissolve.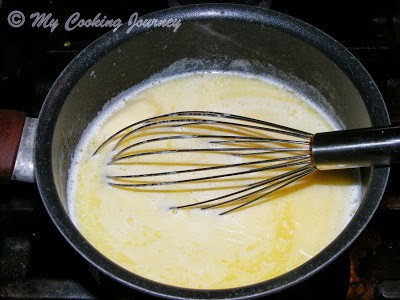 In the side add the yeast to the lukewarm water along with the sugar and give it a whisk. Let the yeast do its thing and rise in a warm place for about 10 mins.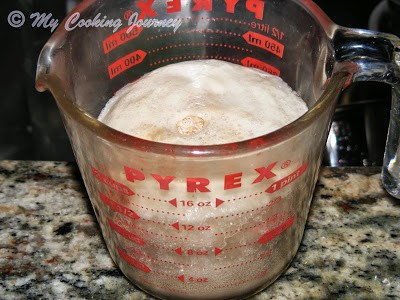 In the meantime, let the milk/butter mixture come to a warm temperature and then add it to the bowl of the mixer.
Also add the yeast mixture to the mixer bowl after 10 mins.
Whisk the salt into the flour and add it gradually to the wet ingredients with the mixer running at low speed. Let the dough come together. The dough will be sticky to begin with, but will become soft and elastic once kneaded. Knead the dough for about 10 mins until soft and elastic. Even after 10 mins if the dough is too sticky add up to a ¼ cup of flour and knead it well.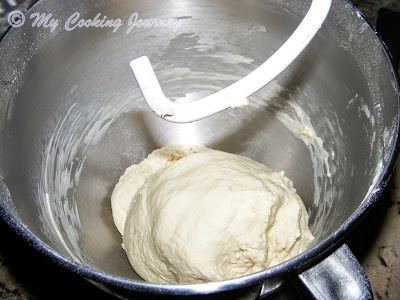 Once kneaded, bring the dough to a lightly floured surface and knead it for a couple of mins with your hands. Form a ball with the dough.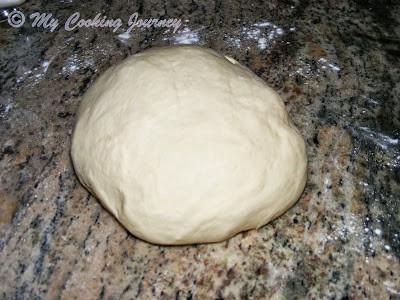 Place this ball of dough in a well oiled bowl and cover it plastic wrap. Leave it in warm place to double in volume (takes about 1 -2 hrs).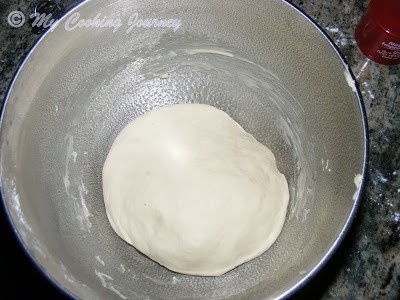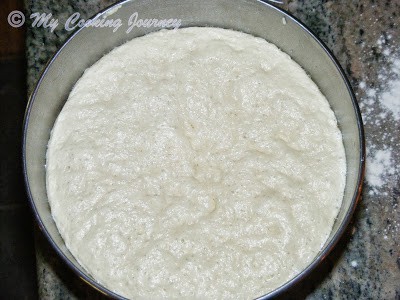 Once the dough has doubled bring it back to the lightly floured work surface and divide the dough into 12 almost equal parts.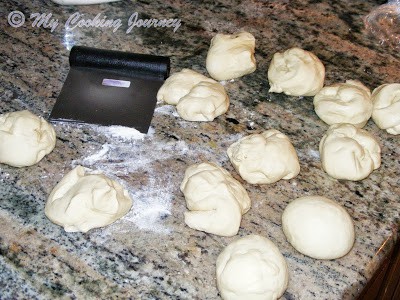 Roll the dough into balls and place them on a lightly greased baking dish with about ½ inch to 1 inch space between them. Do take care to leave little space between the dough to allow it to rise. Also do not leave them too far apart since this would yield in flatter buns.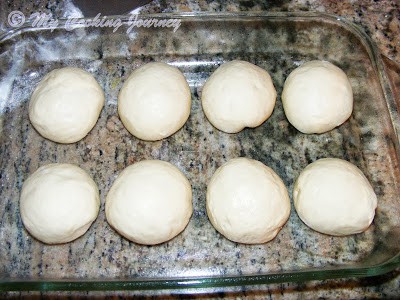 Wrap the dish with plastic and leave it in a warm place to rise again. This could take anywhere from 30 mins to an hour.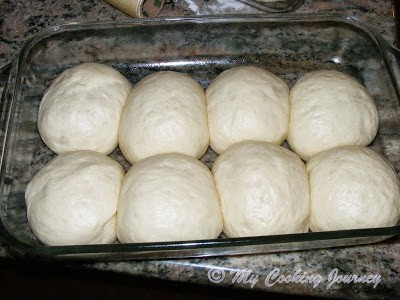 Once the rolls rise, they would stick to each other giving it a beautiful shape.
Bake these in a preheated 350 F oven for about 20 – 30 mins until they are golden brown.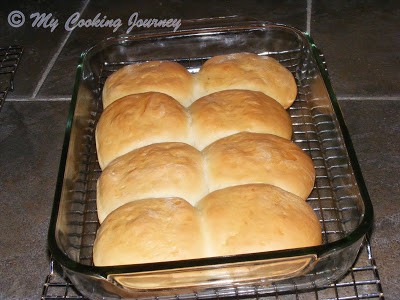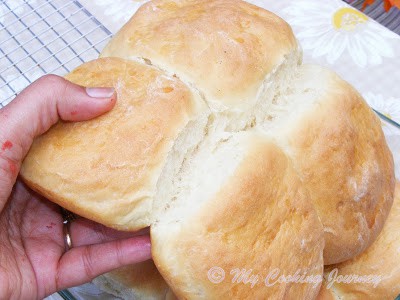 Cool them on racks and serve warm with ToNak or any subzi.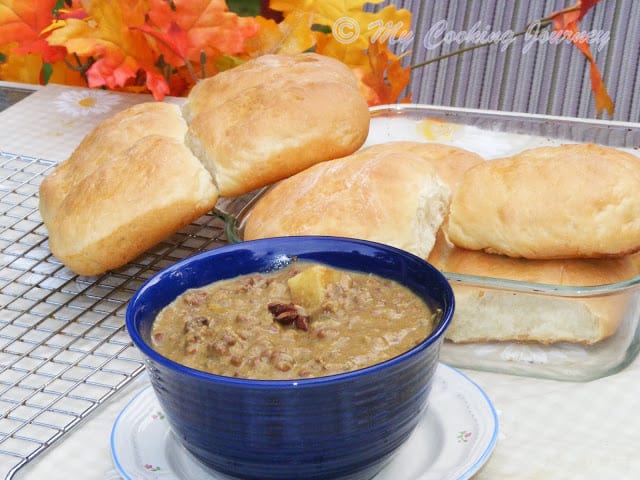 Check out the Blogging Marathon page for the other Blogging Marathoners doing BM#30