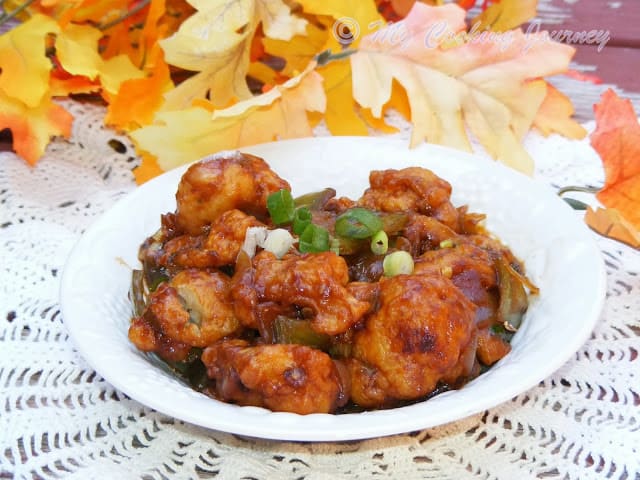 We are in our week 2 of the month long Blogging marathon with the theme A-Z and today we are doing the alphabet G. I have chosen a very famous Indo Chinese Street food for this alphabet which is one of my personal favorite. I have made these Gobhi Manchurian many times since I started blogging, but every time something or the other happens and I either forget to photograph or my family is already digging into it before I could get to it. So this time, I had made it a point to let my kids know that they would not be allowed to eat this until I photograph them.
This dish became very famous in India during my college days. Gobhi Manchurian is not only available as street food, but also could be found in menu of every restaurant. The Manchurians can either be served as a starter or as a side dish for the very famous Indo Chinese Fried rice or noodles. If making it as an appetizer the dish is generally a little dry. I have made it a little soggy (with gravy) to go with fried rice.
Usually half my cauliflower is gone by the time I am done frying them. So when I am making this dish, I have to make sure I have enough cauliflower in hand to make it as a dish. I remember eating this with my friends on the road side mobile shops. My mother would never let me stand outside the shop and eat, so I would mostly end up packing this home and then eat it at home.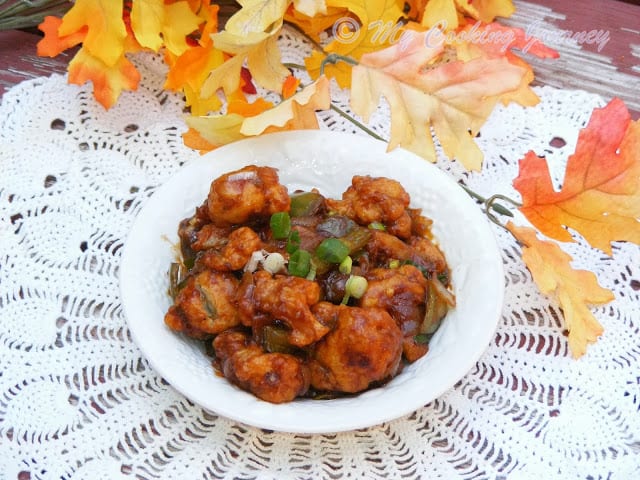 A-Z Marathon – Alphabet G
Category – Street Food
Preparation time – 20 mins
Cooking time – 1 hr
Difficulty level – medium
Ingredients – (serves 4)
Cauliflower – 1 large head cut into medium florets
Bell pepper – 1 (chopped into 1 inch cubes)
Onion – 1 (chopped into 1 inch cubes)
Spring onion – 4 (chopped with the greens)
Ginger garlic paste – 2 tbsp
Soy Sauce – 2 tbsp
Red chili sauce – 1 tbsp (adjust based on your spice level)
Tomato ketchup – 2 tbsp
Vinegar – 1 tbsp
Corn flour – 1 tbsp (dissolved in about 4 tbsps of water)
Toasted sesame oil – 1 tsp
Olive oil or any other cooking oil – 2 tbsp
Oil – for deep frying the cauliflower
For the batter –
All purpose flour/Maida – ¼ cup
Corn flour – 3 tbsp
Red chili sauce – 2 tsp
Salt – to taste
Ginger garlic paste – 1 tbsp
Water – as needed to make a thick batter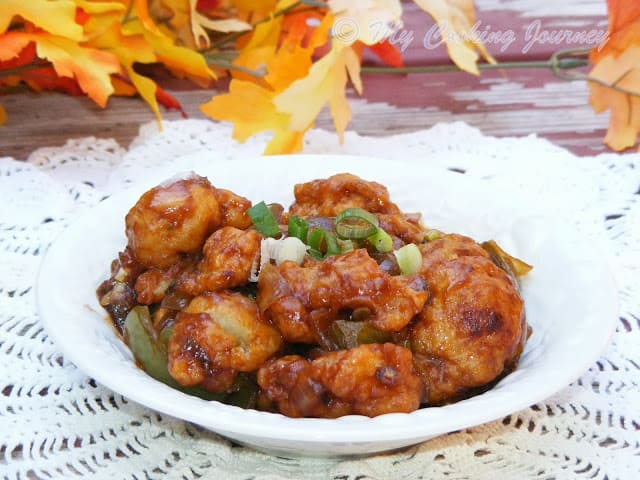 Procedure –
Boil water in a large pot with enough salt. Add the cauliflower florets into boiling water and let it boil for about 6 mins or until the cauliflowers are slightly tender. Drain the cauliflowers in a colander and keep aside.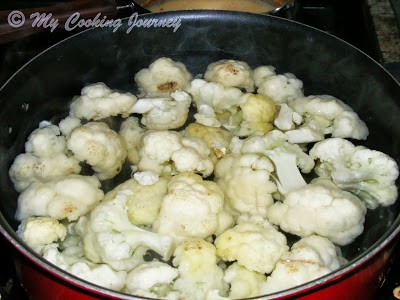 In the meantime, mix all the ingredients listed under batter and make a thick batter. Drop all the drained cauliflower florets into the batter and mix well to coat.
Fry these florets in hot oil until golden brown and drain on paper towel. Keep aside.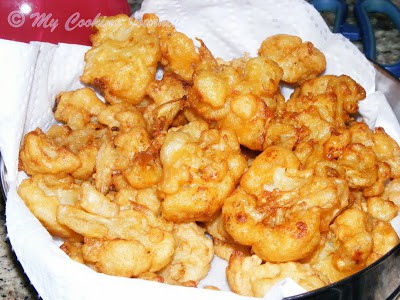 In a large wok or pan, heat the sesame oil and the cooking oil. Add the chopped onions, half of the spring onions and sauté until translucent.
Now add the ginger garlic paste and fry for a minute more.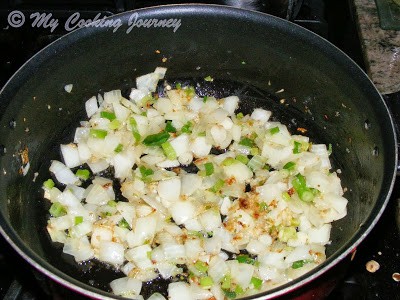 Then add the chopped bell peppers and sauté until slightly cooked. Make sure that the peppers still have a crunch in them.
Now add the soy sauce, chili sauce, ketchup and vinegar and mix well.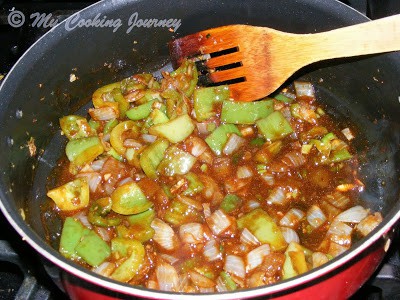 Let the sauces come to a boil and then add the corn flour dissolved in water. Mix well and let it thicken (about 2 minutes).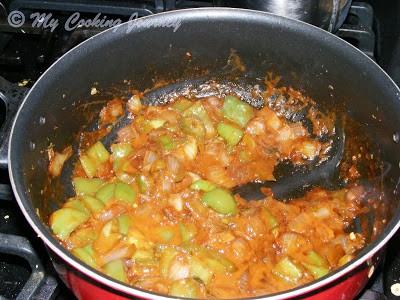 Now add the fried florets to the gravy and add the remaining spring onions. Mix carefully without breaking the florets and serve the Gobhi Manchurian hot with fried rice!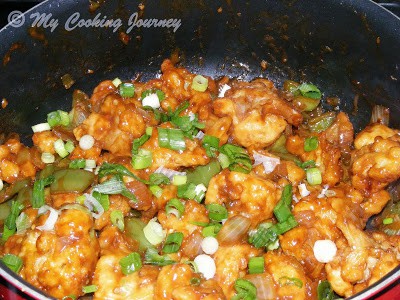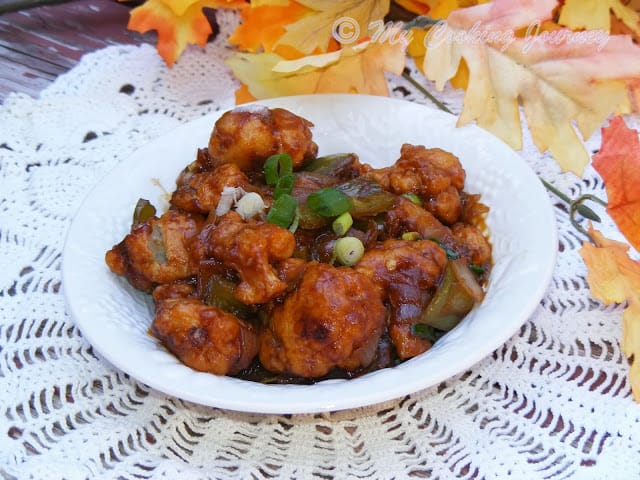 Logo courtesy : Preeti
Check out the Blogging Marathon page for the other Blogging Marathoners doing BM# 32