If I am cooking just for me, maggi noodles comes to my mind right away. It is simple to make and ready in about 5 minutes. There are several discussions about how it is not safe, but I am not even going there. I still eat it once in a while and so do my kids. There are days when my husband works from home and I just have to make something for the two of us. When browsing through some quick recipes, some 3 years ago, I came across this recipe from Nag's space. Ever since then I make maggi this way for us.
This recipe is still a quick one and when in a hurry can use frozen vegetables. I am sure any living as a bachelor will carry couple of maggi packs as an emergency food. Try making it this way and you will feel like you are eating an entirely different dish.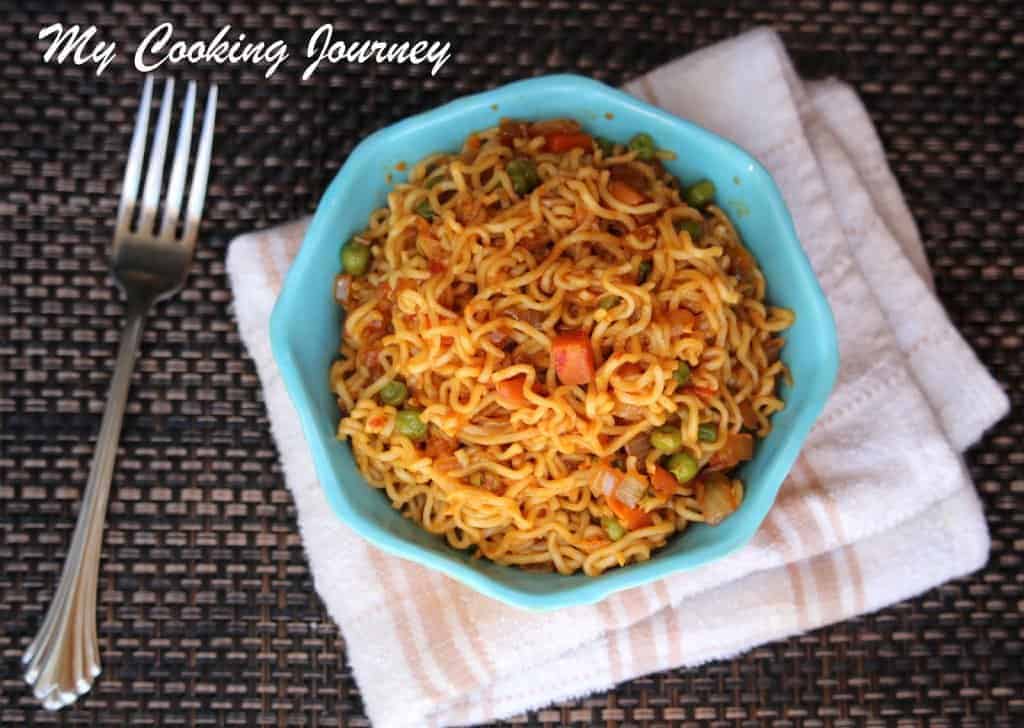 Preparation time – 5 minutes
Cooking time – 15 minutes
Difficulty level – easy
Recipe source – Edible Garden
Ingredients to make Vegetable Noodles – serves 2
Maggi Noodles – 3 packs
Spice packet from the maggi – 1
Onion – 1 small (finely chopped)
Mixed vegetable – ½ cup (I used the peas and carrot)
Soy Sauce – 2 to 3 tsp
Chili sauce – 1 or 2 tsp
Ketchup – 1 tbsp
Garlic – 1 clove (finely minced)
Oil – 1 tbsp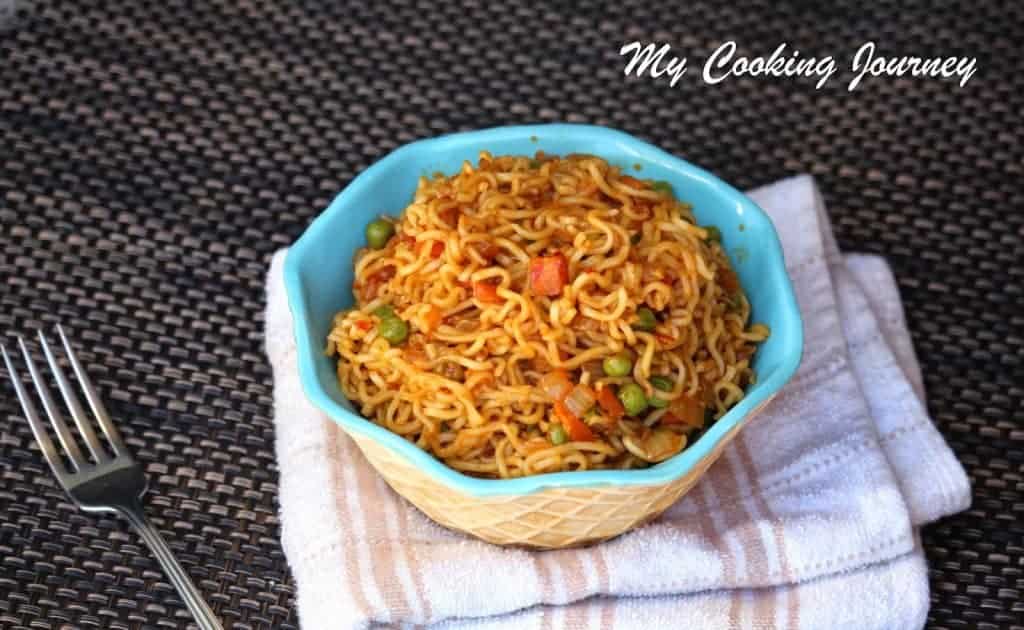 Procedure –
Boil about 5 cups of water to a boil and drop the noodles in the boiling water. Also add a few drops of oil and let it cook for about 2 minutes. Make sure that the noodles are just cooked and not soft or mushy. This is a very important step. Make sure that the noodles are al dente and not mushy. This will ruin the entire dish. Drain the noodles and keep it aside.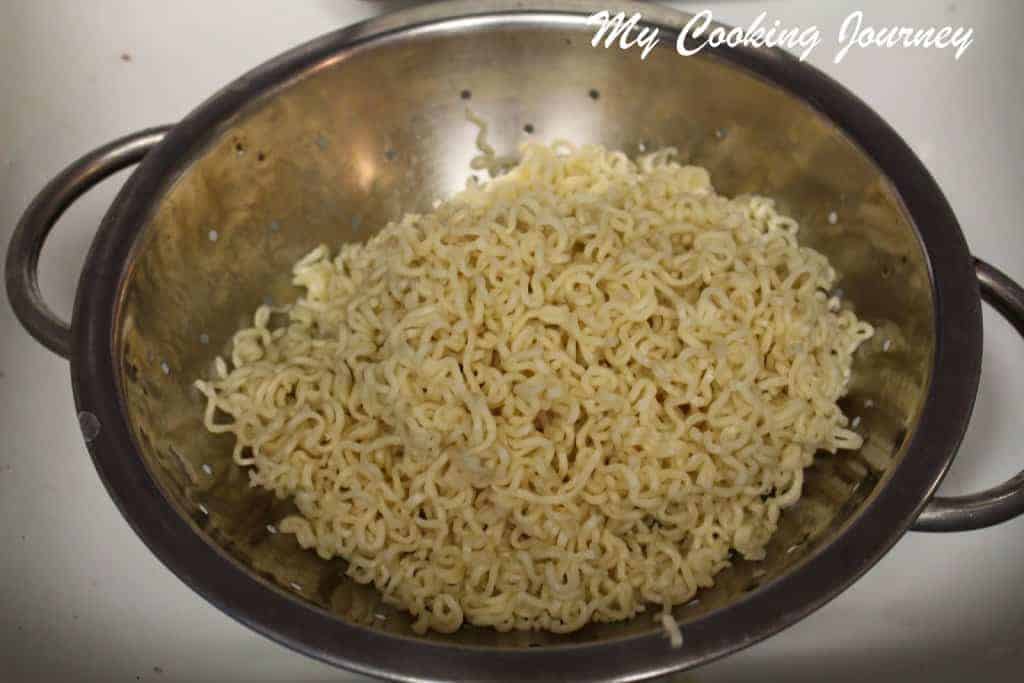 In a pan, heat the oil and fry the garlic for about 30 seconds. Now add the onion and sauté until the onions are light brown.
Add the mixed vegetable and fry for about 2 minutes. Then add the soy sauce, chili sauce, spice pack and ketchup and mix well. Cook on low flame until the vegetables are cooked. This dish does not need salt as the noodles, spice and soy sauce has enough salt in it.
Add the cooked noodles and mix well.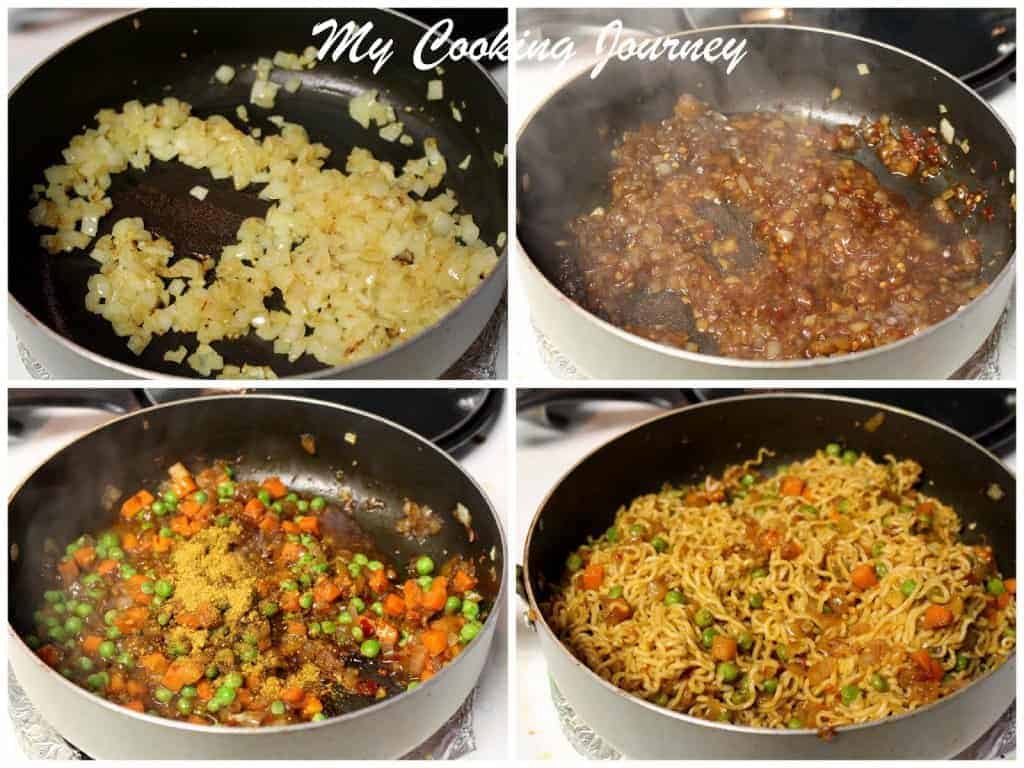 Serve the Vegetable Noodles hot!