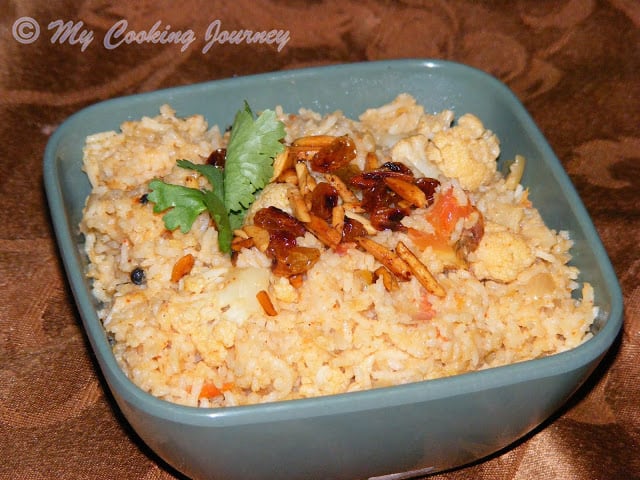 Couple of days back, I bought home the two largest heads of cauliflower that I have seen in the market lately. When deciding my menu for the weekend, I figured that I wanted to make something that was not too consuming (as it was a very busy weekend) and also wanted to use the cauliflowers. My older one wanted Gobhi Manchurian with Indo – Chinese fried rice. I really was not up to frying, hence cajoled him that I would be making it later. When browsing through my books, I came across this recipe for Cauliflower Dum Biriyani from one of my least used books. I had bought this book of Santhi Balaraman, called the Ungal manasukku Pidichadhu Mattum from a book fair during my visit to India. I remembered seeing her shows on Sun TV and hence bought the book.
The recipe was something I was looking for – used cauliflower, solved my lunch selection and also was not too time consuming. The masala used in the recipe was not too powering (sometimes which happens to be the case in Biriyani's). The actual recipe mentioned to layer the masala and the rice and then cover it tightly with foil and to be placed in the oven for about 15 mins. I changed it slightly and had my rice mixed with the masala and I covered it tightly with foil and simmered it (Used the Dum technique) over the gas.
This is the recipe that I chose to make for this week's Cooking from a cook book challenge!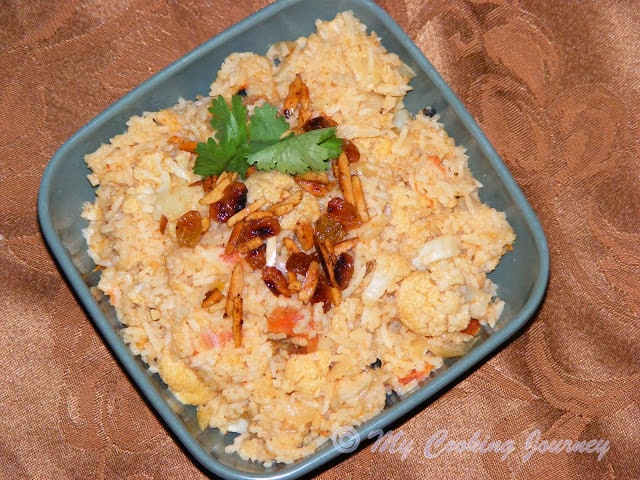 Preparation time – 15 mins
Cooking time – 1 hr
Difficulty level – easy
Ingredients to make Cauliflower Dum Biriyani – Serves 6
Basmati Rice – 2 cups
Saunf/fennel seeds – 1 tbsp
Cauliflower florets – 2 cup (small florets)
Onions – 2 (chopped)
Tomatoes – 3 (chopped)
Chili powder – 1 tsp
Yogurt – 1 cup (whisked)
Oil/butter – 1 tbsp
Salt – to taste
For the Masala Paste –
Onions – 2 (chopped)
Garlic – 4 cloves (minced)
Cashew nuts – few
Ginger – 1 inch piece
Oil – 2 tsp
For Seasoning –
Cardamom – 3
Pepper – 1 tsp
Cinnamon – 1 stick
Bay leaves – 2
Saunf / fennel seeds – 1 tsp
To garnish –
Ghee – 1 tsp
Cashews or Almonds – 3 tbsp
Raisins – 3 tbsp
Procedure to make Cauliflower Dum Biriyani –
Separate small florets from the cauliflower, wash them and keep it aside.
Tie the fennel seeds/saunf in a small pouch using a muslin cloth. Cook the rice with required water and to this water, add the fennel sachet when cooking. Once the rice is done, remove the sachet and keep the rice aside.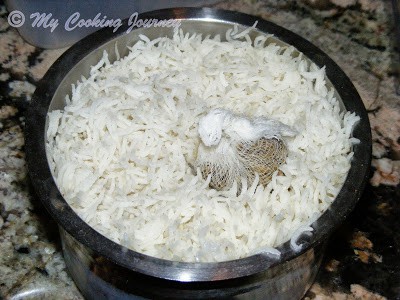 Heat 2 tsp of oil and fry the onions, garlic and cashew nuts until golden brown. Now grind this along with ginger to a smooth paste and keep t aside.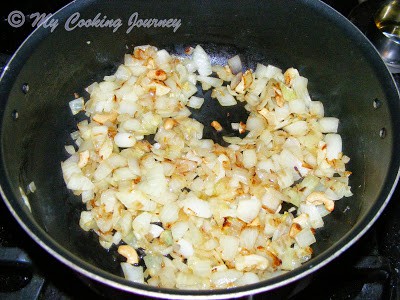 In a wide pan, add 1 tbsp of oil or butter or combination of both. Add all the seasoning ingredients and fry it for a minute.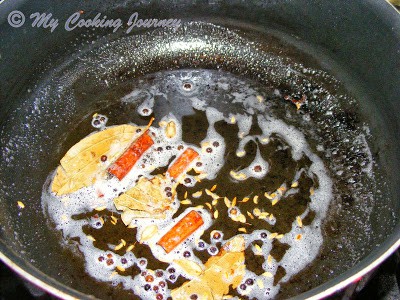 Now add the chopped onions and fry it until golden brown.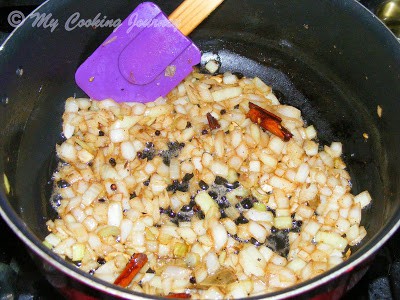 Add the ground masala paste and sauté the paste in low flame until light brown.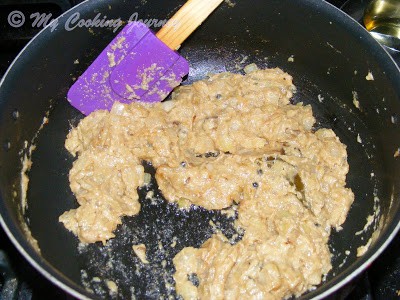 Now add the chopped tomatoes, cauliflower florets, whisked curd, chili powder and salt.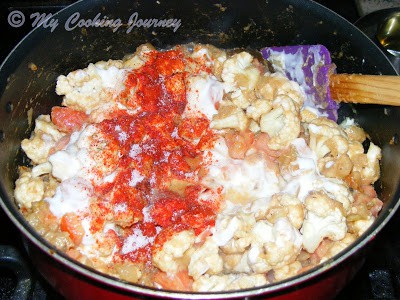 Cook until the cauliflowers are cooked (but not mushy). Also make sure that the masala is not too watery. It should be a thick gravy in consistency.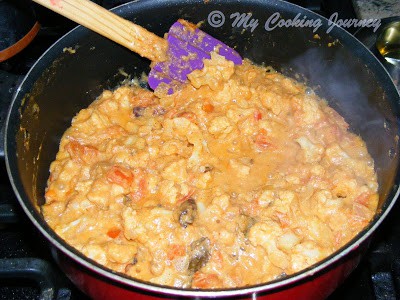 At this stage, you could either layer the rice and this masala in a oven proof pan or add the cooked rice to the gravy and gently mix them to incorporate.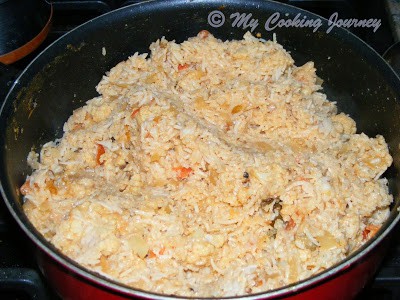 Cover the dish tightly with a foil and let it cook in low flame for about 15 minutes. You could do this over the gas or in an oven. I used the stove top.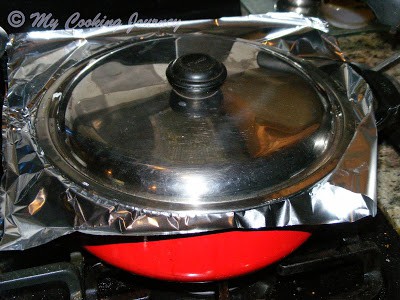 Fry the cashews/almonds and raisin in ghee and garnish.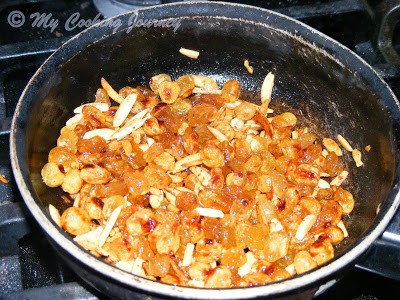 Serve hot with raita!