Delicate and flaky Apple Turnovers with Phyllo (Filo) Pastry Sheets is the perfect dessert
to make this holiday season to entertain your guests.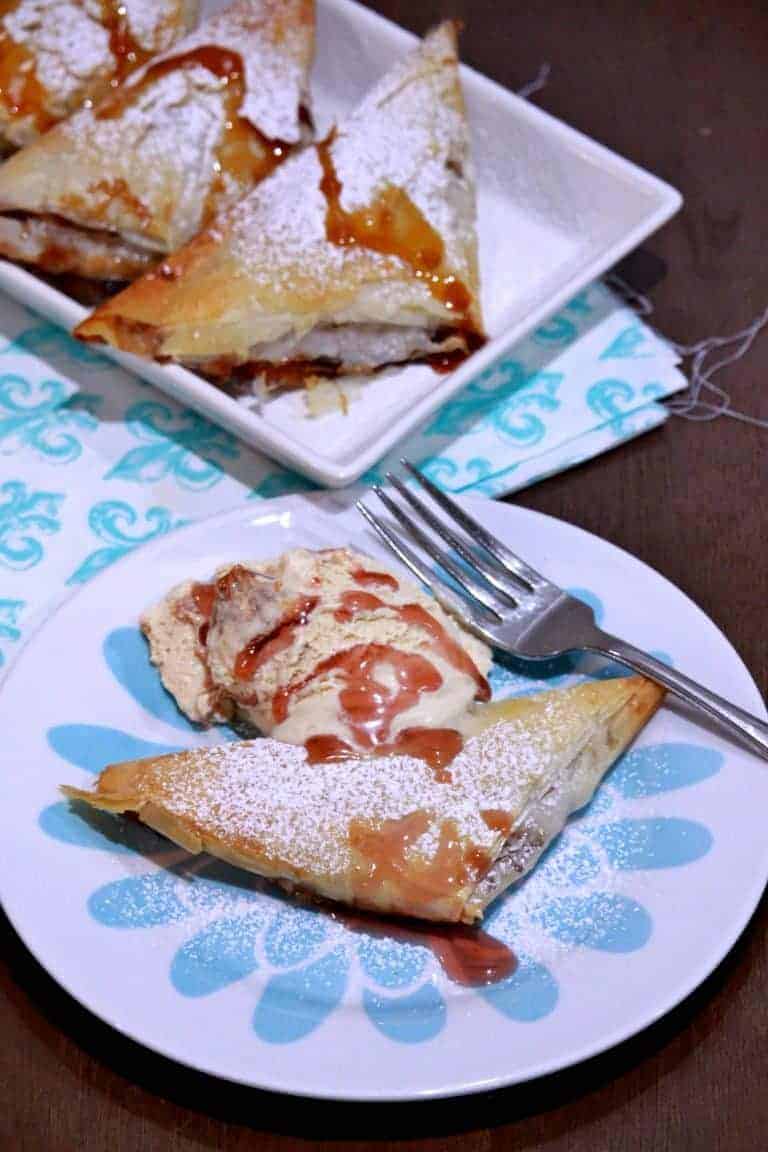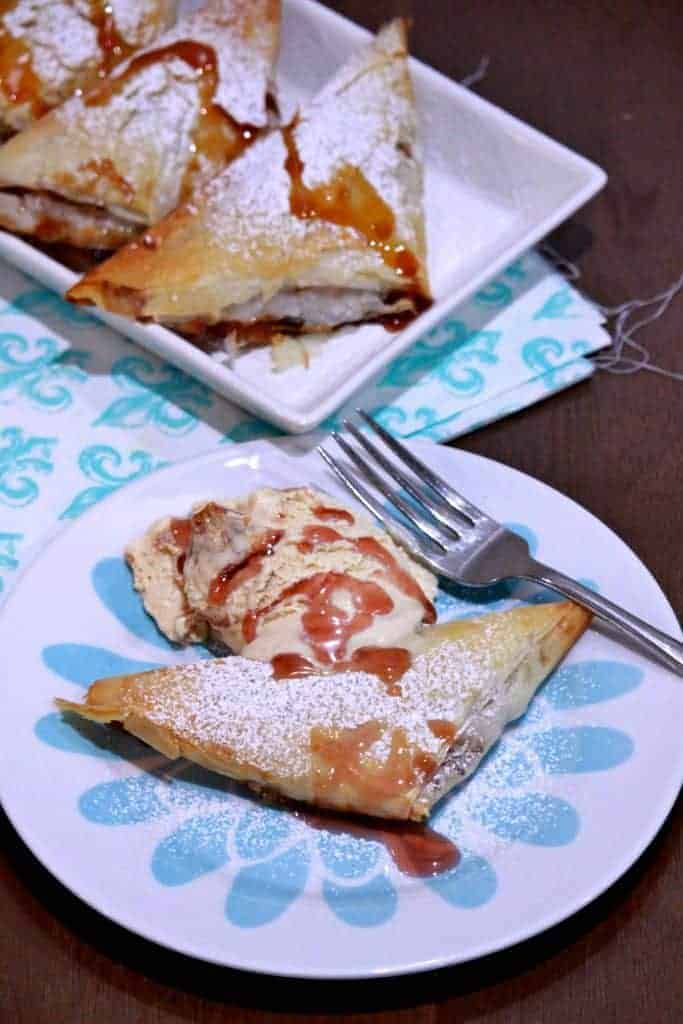 My theme for this week's BM is 'Fall fruit Desserts' and my favorite fruit to work with are the apples. Apples are so versatile and they hold up really good to cooking and baking. With the availability of ready to use phyllo pastry sheets and puff pastry sheets, making pastries have become much more easier. These Apple turnovers made with Phyllo Pastry sheets is a perfect example for this. It is as simple as making a filling, using it to stuff the thawed phyllo pastry sheets and then baking them.
I was first exposed to phyllo sheets when I wanted to make Baklava. It was so overwhelming to use these sheets the first time as the phyllo sheets are super thin and very fragile. If not thawed properly or handled properly, they could tear very easily making it quite hard to work with. But after using them a few times, we start to understand the sheets much better.
I use the Phyllo pastry sheets for many dessert as well as savory recipes. I will list the recipes that I make using the phyllo sheets below. The only brand I have ever used is Athens Fillo Dough. Last week, I made savory Filo shells and that was the first time, I used the Athens mini Phyllo (Filo) shells. It was so easy and fun to use and the possibilities are endless when it comes to the choices of filling.
For the Apple Turnovers made with Phyllo pastry sheets, I used a simple Apple pie like filling. I cooked the apples with brown sugar, cinnamon and some butter and then used this to fill the pastry sheets.
My other recipes using Phyllo (Filo) Pastry Sheets
Baklava
Albanian Spinach Pie
Turkish Cigar Pastry
Spinach and Paneer Samosas
Savory Phyllo Cups
Preparation time – 5 minutes
Cooking time – 10 minutes to make the filling and 15 minutes to bake
Difficulty level – easy
Ingredients to make Apple Turnovers with Phyllo Pastry – Makes 6 medium turnovers
Phyllo (Filo) pastry sheets – 9
Apples – 2 (peeled and chopped into 1/2 inch pieces)
Brown sugar – 4 tbsp
Cinnamon – 1 tsp
Butter – 1 TBSP + 2 TBSP
Salt – a pinch
Corn starch – 1 tsp
Water – 2 tbsp


Procedure to make Apple Turnovers with Phyllo Pastry –
Make the Apple Filling –
Wash, peel and chop the apples into tiny bite size pieces.
Heat a pan and add the apples, brown sugar, 1 TBSP of butter and a pinch of salt. Cook it on medium heat stirring all along until the apples are slightly tender and the brown sugar is melted and gooey.
Make a slurry out of the corn starch and water and add it to the apple mixture. Cook it for 2 more minutes and then turn off the flame and let it cool a bit.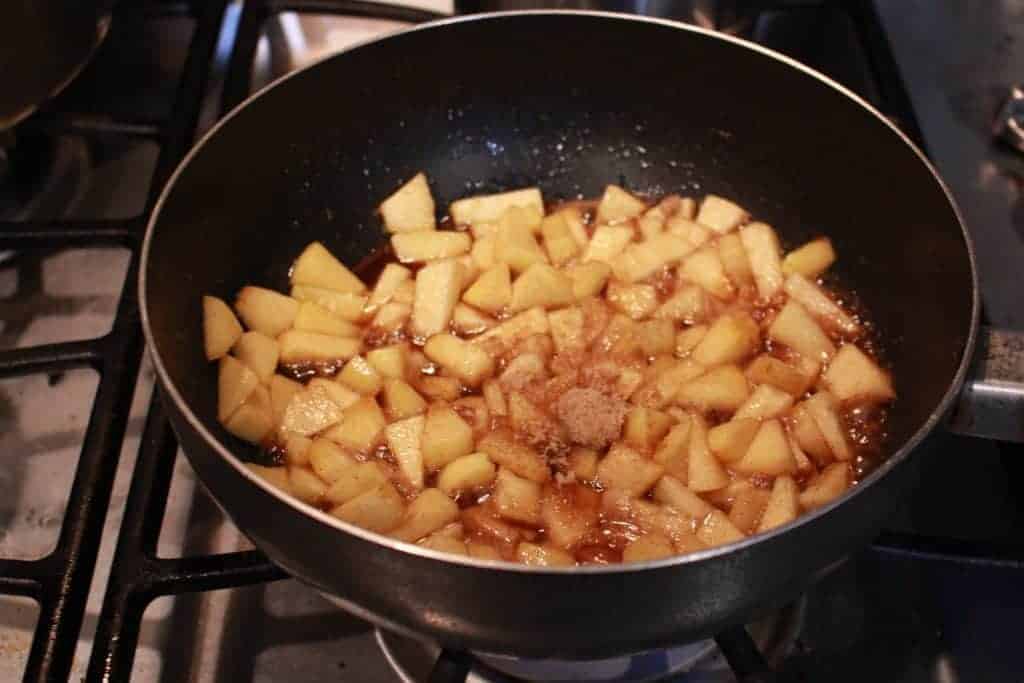 Make the Apple Turnovers –
Thaw the Phyllo pastry sheets according to the packaging instructions. It is very important to thaw them the right way so that they don't rip or tear when shaping.
Melt 2 TBSP of butter and keep it ready. Preheat the oven to 350 F and layer a baking sheet with parchment paper.
Remove 9 sheets carefully from the package and keep them covered under a kitchen towel. They dry out pretty quickly, so it is important to keep them covered.
Place one sheet on your work surface and brush the entire sheet with melted butter. Place another sheet on top of the first sheet and brush with melted butter. Do this one more time. There should be a 3 sheet layer.
Cut the sheet stack into 2 vertically.
Place a heap 1 TBSP of filling on one corner of the pastry sheet. Fold the sheet over the filling diagonally (like a triangle) and then fold over again diagonally and again until you reach the end. The filling should be sealed by the pastry sheet on all the sides.
Place the prepared pastry on the baking sheet and repeat the same with the remaining.
Brush the filled pastries with the remaining melted butter and bake for about 15 minutes or until the pastry is light brown. You might see the filling oozing out a little from a couple, but that should not matter. I was able to stuff it back inside when it was still warm.

Remove from oven and let it cool a bit before serving.
Serve it with some caramel sauce drizzled or dust it with some powdered sugar or with a large scoop of ice cream.