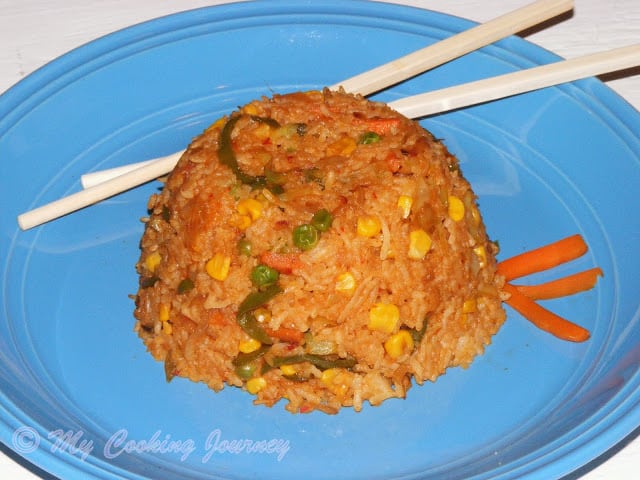 For the last day of cooking from a partner's blog, I chose to make this spicy Schezwan fried rice. Both my boys love fried rice. Last night when I was scrambling for dinner idea, this recipe from PJ's blog that I had bookmarked came to my rescue. I had all the right vegetables and I was on a roll.
The most interesting part of the recipe was the Schezwan sauce. It was so simple and flavorful, that is was the star of the dish. I used the Guajillo Chili which is a mild chili pepper used widely in Mexican cuisine. This was the chili that I had used to make the Thai Red curry. This chili, when made into a paste gives a very lovely color and because of that I am big fan of it. Unfortunately the chili was not very spicy for our liking. Next time when I make it I will be using this chili for the color and would also add a couple of our spicy dried red chili for the heat. If you like your dish to be mild to medium spicy, I would highly recommend you to use this chili.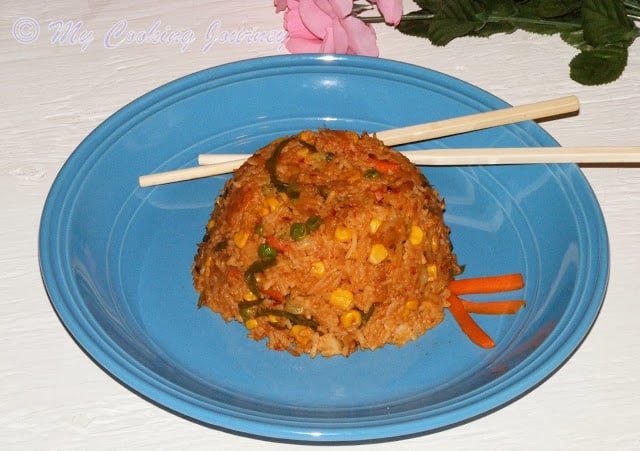 I used up half of the sauce that I made yesterday and the other half I have stored for future use. Once the prep works are done, assembling the dish is a breeze. I did not add the tomato sauce as mentioned in the dish and instead used some rice wine vinegar for tanginess.
Preparation time – 20 mins
Cooking time – 30 mins
Difficulty level – easy
Ingredients to make Spicy Schezwan Fried Rice – serves 4-6

For the Schezwan sauce – (makes for 2 times)
Guajillo chilies – 2 (for medium spice) if preferred hot add couple of Hot dried red chilies
Garlic – 4 cloves
Ginger – 1 inch piece
For the Fried rice –
Basmati rice or any long grained rice – 2 cups
Garlic – 2 cloves (finely minced)
Onion – 1 large (thinly sliced)
Bell pepper – 1 cup (thinly sliced)
Cabbage – 1 cup (thinly sliced)
Carrots – 2 or 1 cup (thinly sliced)
Baby corn or corn kernels – ½ cup
Green peas – ½ cup
Soy sauce – 1 ½ tbsp
Schezwan sauce – 2 tbsp (or more based on your liking)
Sweet chili sauce – 1 ½ tbsp
Rice wine vinegar – 1 tbsp
Salt – to taste
Sesame oil or mix of sesame oil and olive oil – 2 tbsp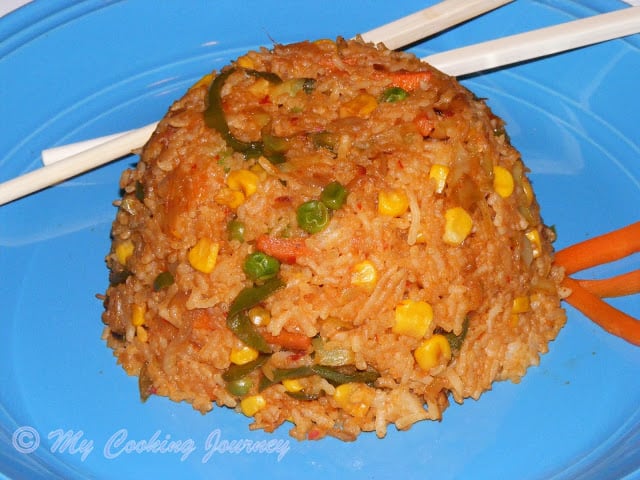 Procedure to make Spicy Schezwan Fried Rice –
To make the Schezwan Sauce –
Soak the chili in hot water for about 10 mins.
Grind it along with the ginger and garlic into a paste. I also washed the mixer with little water and added to the sauce.
To make the Fried Rice –
Soak the rice in water for few minutes and then cook it. Let the rice cool down to room temperature.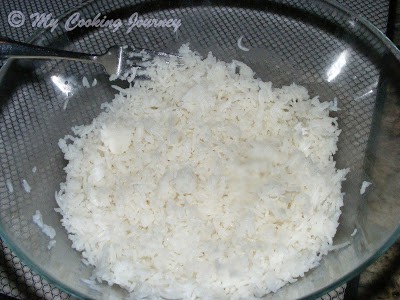 Chop all the vegetables and keep it ready.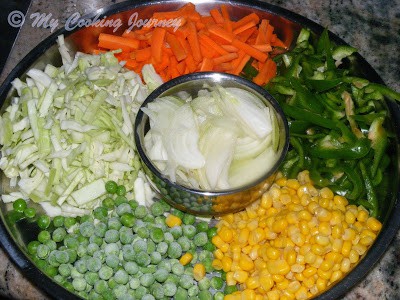 In a wide pan or a wok, heat the oil. Fry the minced garlic for about 30 secs and then immediately add the sliced onions. Sauté it for a minute and then add the bell pepper. Fry them for 2 minutes.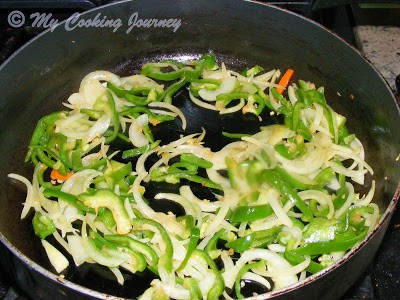 Now add the cabbage and the carrot and fry it for about 5-7 mins. Do not let the vegetables become mushy. They should have the crunch in them.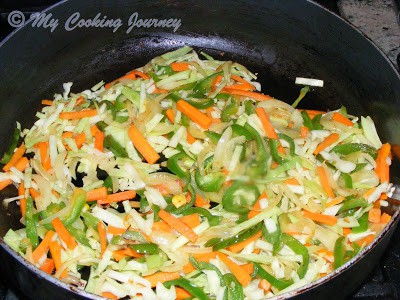 Now add the peas and the corn and fry it further for 2 more minutes. Add very little salt (if needed) and mix well. Keep in mind that the soy sauce has lot of salt in it.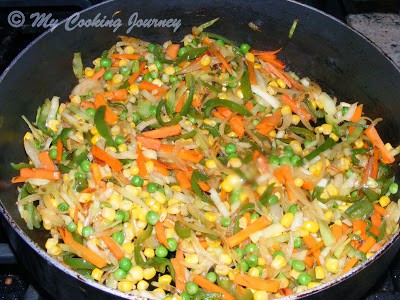 Next add all the sauces and vinegar and mix well.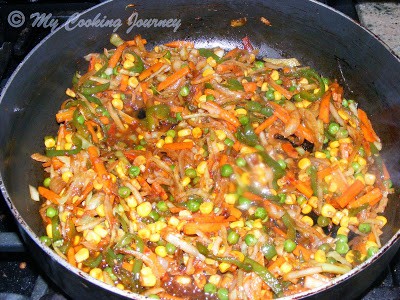 Now goes in the rice and carefully mix without breaking the grains.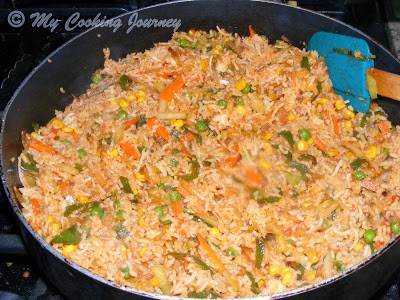 Check for seasoning and serve hot with Manchurian or with some sweet chili sauce!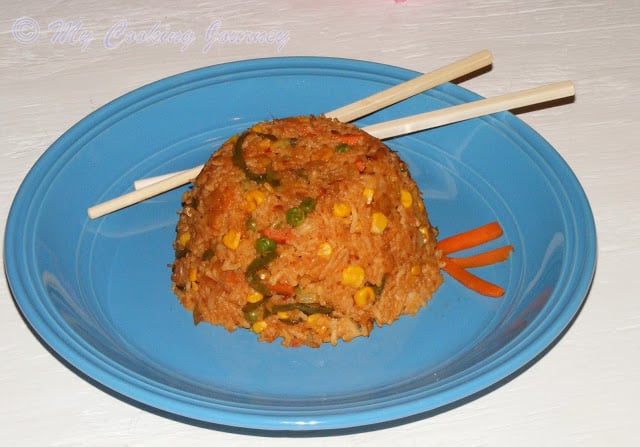 Notes and Observations –
Use the right kind of chili for the level of spiciness you prefer.
Have all the ingredients chopped and ready before assembling the dish.
Use any other vegetable that you have in hand.