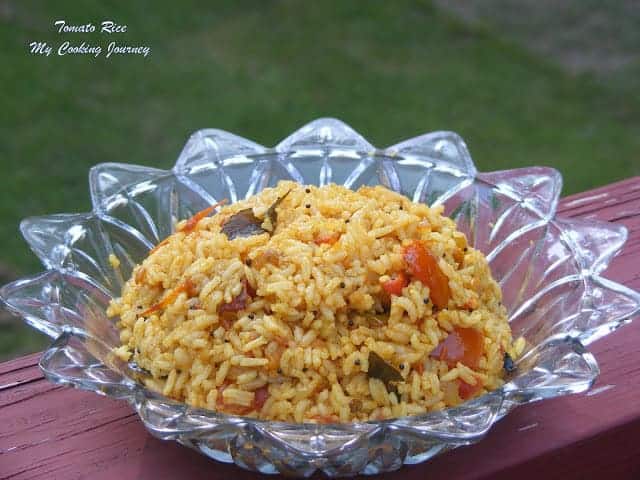 Thakkali Sadham is a common lunch box recipe or an item much preferred during an outing or a picnic. There is a joke about the TamBramhs about how we are recognized based on what we carry during our train journeys. Yes, this is one of those kalandha sadham that comes after the most sought after Puliyodharai or Tamarind rice.
The key to tasty tomato rice is keeping it simple. This is one recipe that you can make well ahead of time, store in the refrigerator and bring it out to mix with rice whenever needed. Pair it up with appalam (papad) or vadams and there you have a meal.
Tomatoes being in season, this would be a wonderful way to use up some of them from your backyard. The thokku pairs up very well with puri or chappathi. Also a very good accompaniment for curd rice.
Preparation time – 10 mins
Cooking time – 20 mins plus time to cook the rice
Difficulty level – easy
Ingredients to make Thakkali Sadham – Serves 4
Rice – 1 cup
Tomatoes – 3 large (chopped into small cubes)
Onion – 1 (finely chopped)
Green chilies – 2 (Finely chopped)
Mustard seeds – 1 tsp
Black gram dal (Urad dal) – 1 tsp
Bengal gram dal (Channa dal) – 1 tsp
Cashew nuts (Optional) – few
Turmeric powder – ½ tsp
Red chili powder – ½ tsp
Asafetida – a pinch
Oil – 1 Tbsp
Salt – to taste
Sugar – 1 tsp
Curry leaves – few
Procedure –
Cook the rice and cool it down on a wide plate or bowl.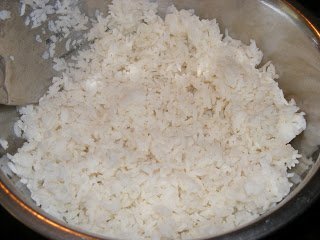 Heat oil in a pan and add the mustard seeds. When it splutters, add the urad dal, channa dal, cashew nuts. When they turn golden brown add the chopped onions, green chilies, turmeric powder, asafetida and curry leaves. Sauté until the onions turns translucent (about 4-5 mins).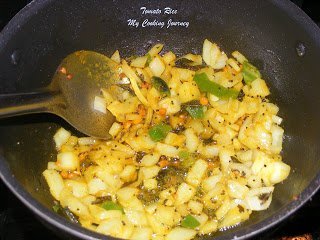 Now add the chopped tomatoes, chili powder and salt and sugar. Sugar balances the acidity of the tomatoes and adds a nice flavor to the end product. Cover it and simmer until the tomatoes are cooked (about 8 mins). Now open the lid and let the extra moisture evaporate. The base for the tomato rice (also called the tomato thokku) is ready.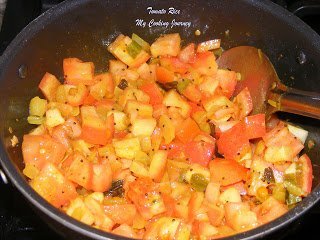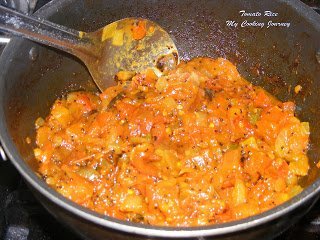 Add this tomato thokku to the rice and mix well. Adjust the salt and serve with Appalam or vadam.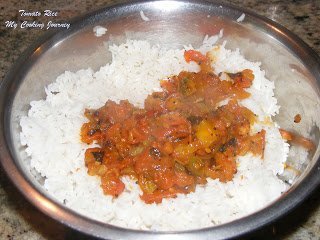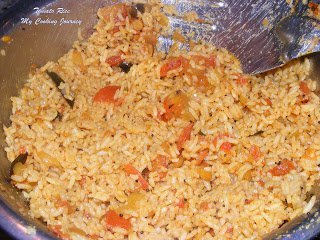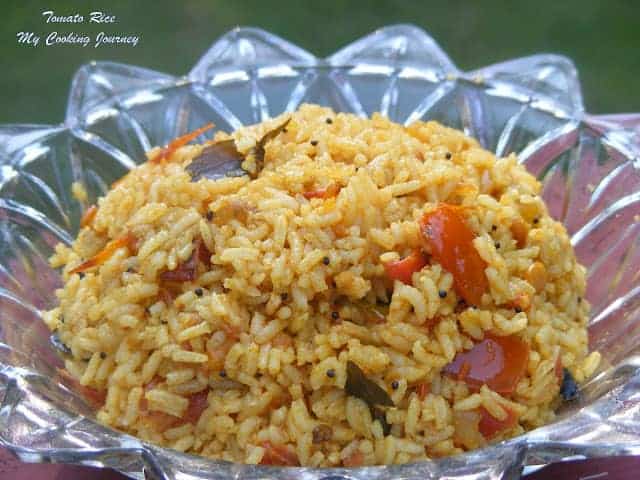 Note –
This recipe is usually paired with creamy curd rice.