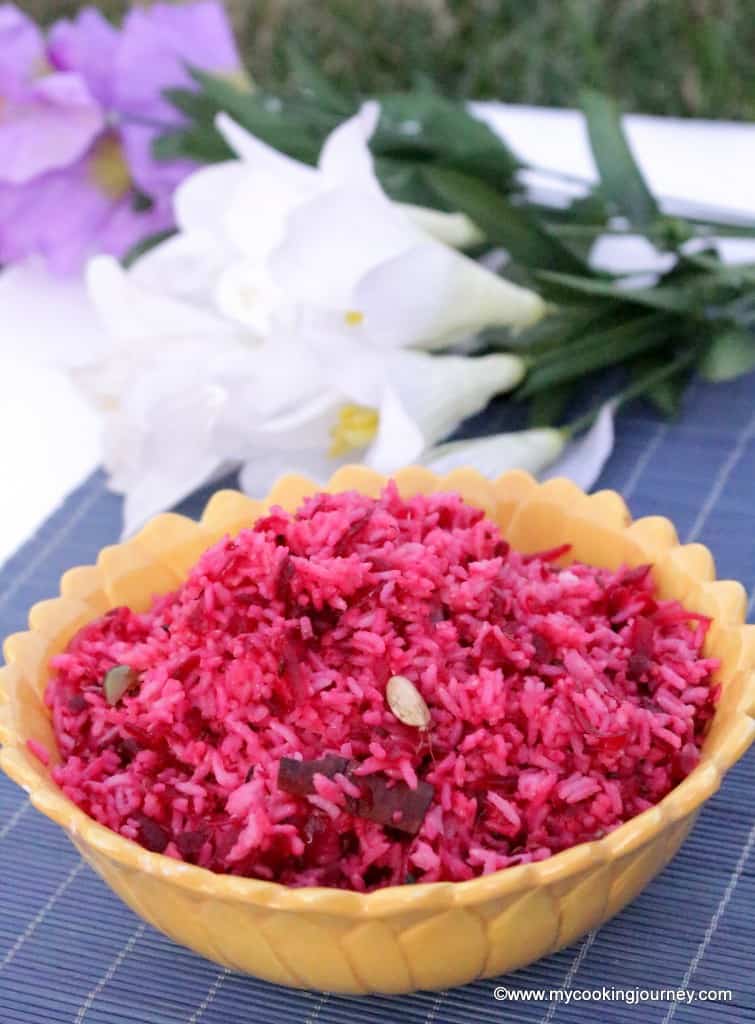 Beetroot is one of my favorite vegetable and I can eat beetroot poriyal all day long. Kids love beets because of the beautiful color and that is one good way to make them eat it. I especially love the beetroot curry/poriyal with curd rice as it changes the color of the rice to pink. When I give the kids, vegetable and rice separately, most of the times, the vegetables are not touched and they give me the excuse of not having enough time to eat.
Mixed vegetable rice is the best way to make children eat their vegetables during school lunch and it gives me the satisfaction of having fed the kids their vegetable. I make the mixed vegetable rice very often and this time, I wanted to try to make something different with just beets. The color of the rice is just so beautiful that no one can say no to it. This is for the third day of BM under the theme 'Bring on your rice dishes'.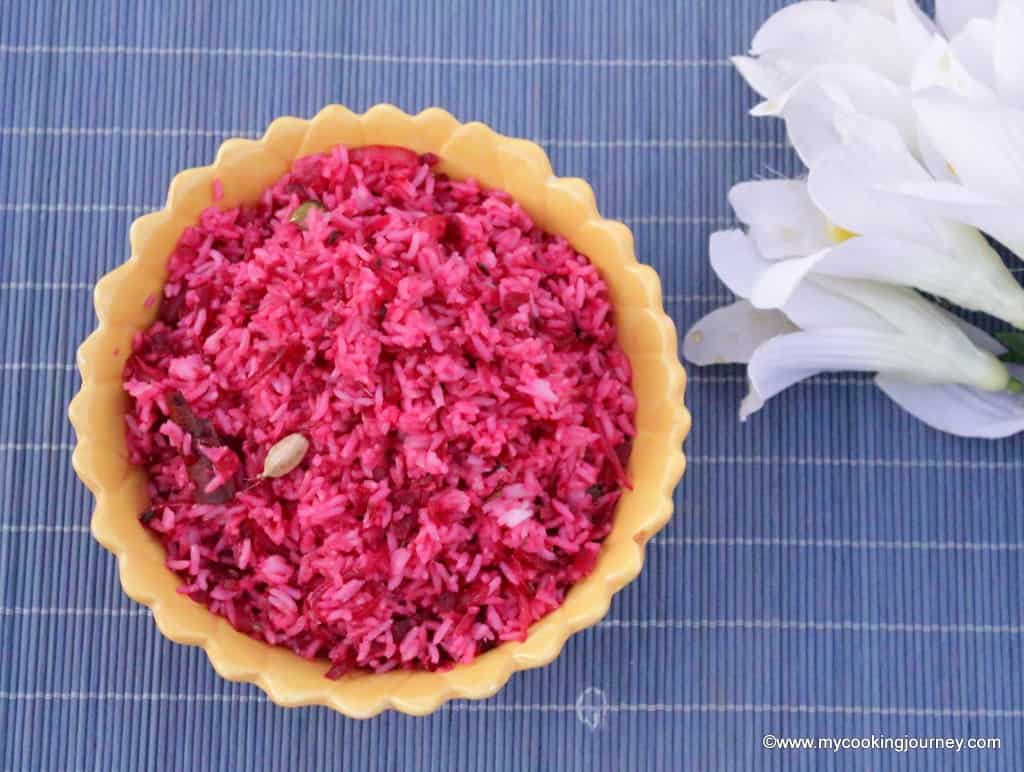 Preparation time – 15 minutes
Cooking time – 25 minutes
Difficulty level – easy
Ingredients to make Beetroot Rice - serves 4
Rice – 1 cup (I used Sona Masoori)
Beetroot – 2 cups (grated) / About 3 medium
Onion – 1 (thinly sliced)
Green chilies – 2 or 3
Ginger garlic paste – 1 tsp
Cumin seeds – 1 tsp
Fennel seeds / saunf – 1 tsp
Cinnamon – ½ inch piece
Cardamom – 2
Bay leaf – 1 small
Dhania jeera powder – 1 tsp
Salt – as needed
Oil – 1 tbsp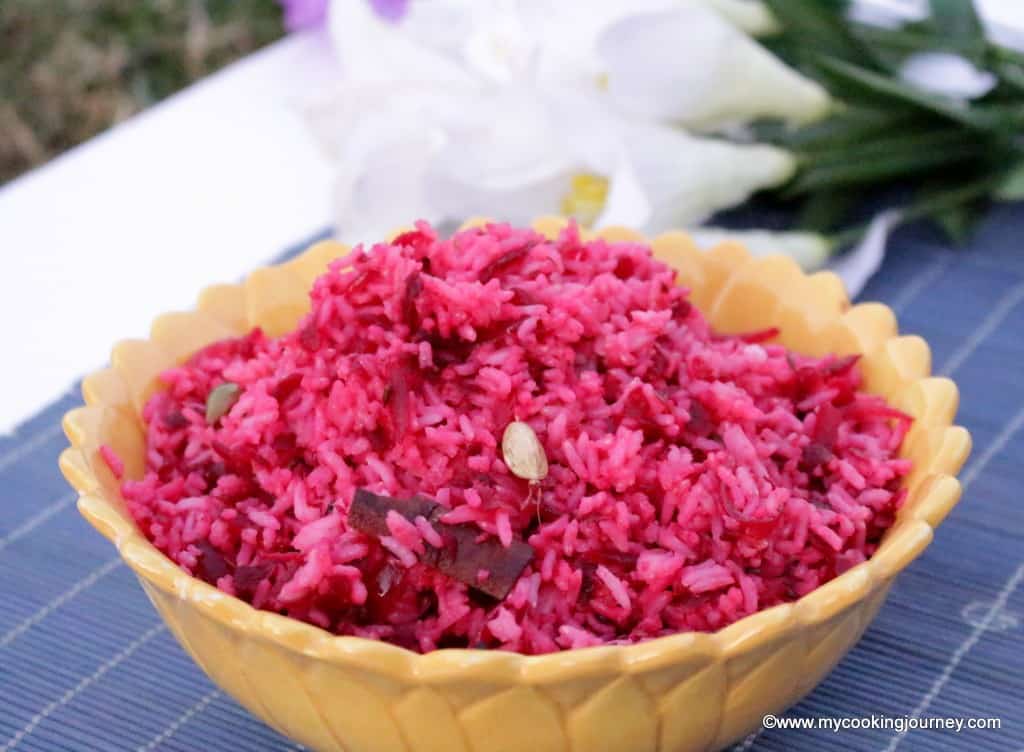 Procedure –
Cook the rice and let it cool down. Make sure that the rice is not mushy. Left over rice works great as well.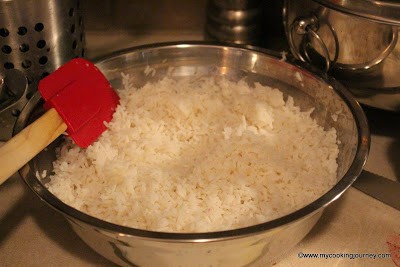 In a pressure cook, cook the whole beetroots for about 3 whistles. When the pressure goes down, peel the skin off the beets like you would do the potatoes. This is the easiest way to cook and peel the beets. Then using a coarse grater, grate the beets and keep it aside.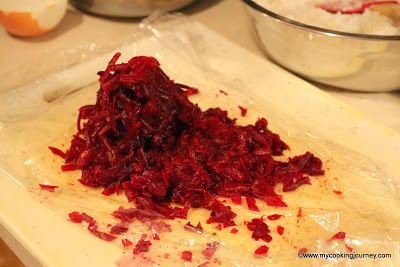 Heat oil and add the cumin seeds, fennel seeds, cinnamon, cardamom and bay leaf.
Add the sliced onions and green chilies and sauté until translucent. Then add the ginger garlic paste and fry for 30 seconds.
Add the grated beetroot, dhania jeera powder and salt needed and cook the mixture for 3-4 minutes. Since the beets are already cooked, we just need to cook until the excess moisture dries out.
Add the cooked rice and mix gently to combine. Check for salt and adjust if needed.