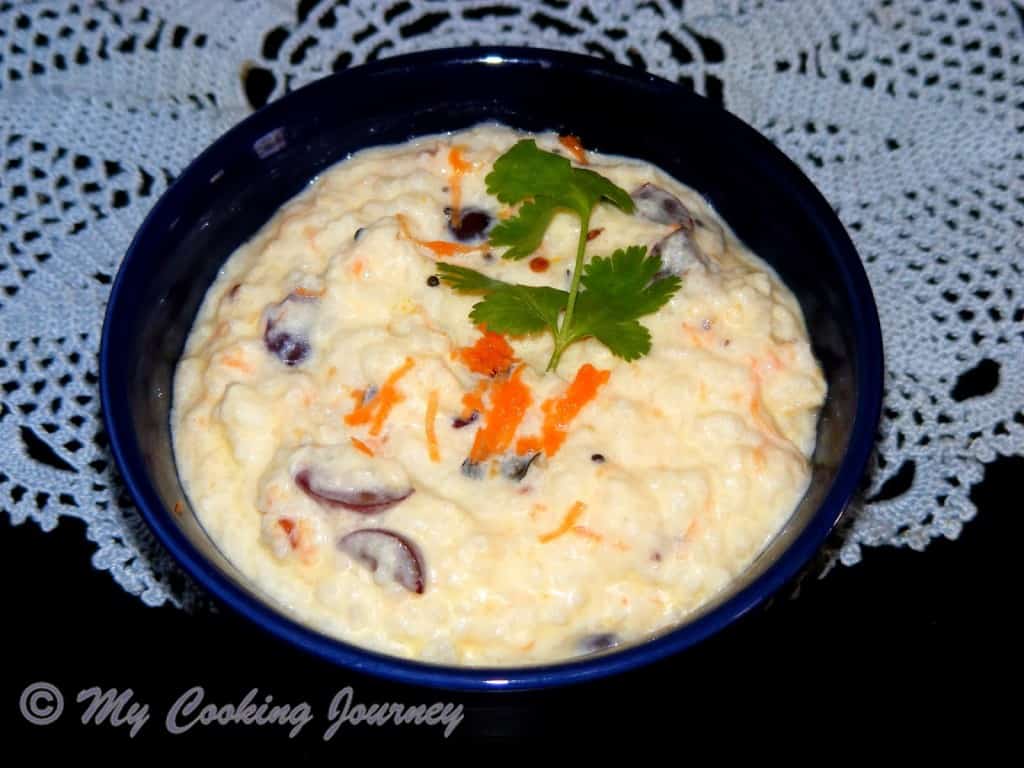 Thayir saadham is something that a South Indian would never get tired of. We finish our meal every day with Thayir saadham and it is probably the first favorite food/meal for many infants and toddlers. Thayir Saadham is a very comforting dish and all it needs is some spicy pickle to go with it. My favorite pickle with thayir saadham is the cut mango pickle.
I make homemade yogurt and my kids need their dose is thachi mammam (as they call it) every day. My little one especially is very fond of curd rice and almost for any meal he would eat it. When travelling in India, this was one of the foods that came to my rescue, because he would never refuse it and also it helped him a lot in the hot summer months.
If I have to make older one take curd rice to school, I have to jazz it up a bit. Being a vegetable and fruit lover, I usually add one or two vegetables or fruits in the curd rice. Making it this way also makes it very attractive for parties and get together. Today I made curd rice with grated carrots and grapes and this is one of my son's absolute favorite. I also make it with other combination of fruits and vegetables like cucumber, pomegranate, raw mangoes etc. Also if cooking the rice exclusively for curd rice, I usually cook it with part milk and part water. This make the curd rice very creamy and also helps to not become sour too quickly when left outside during the summer months.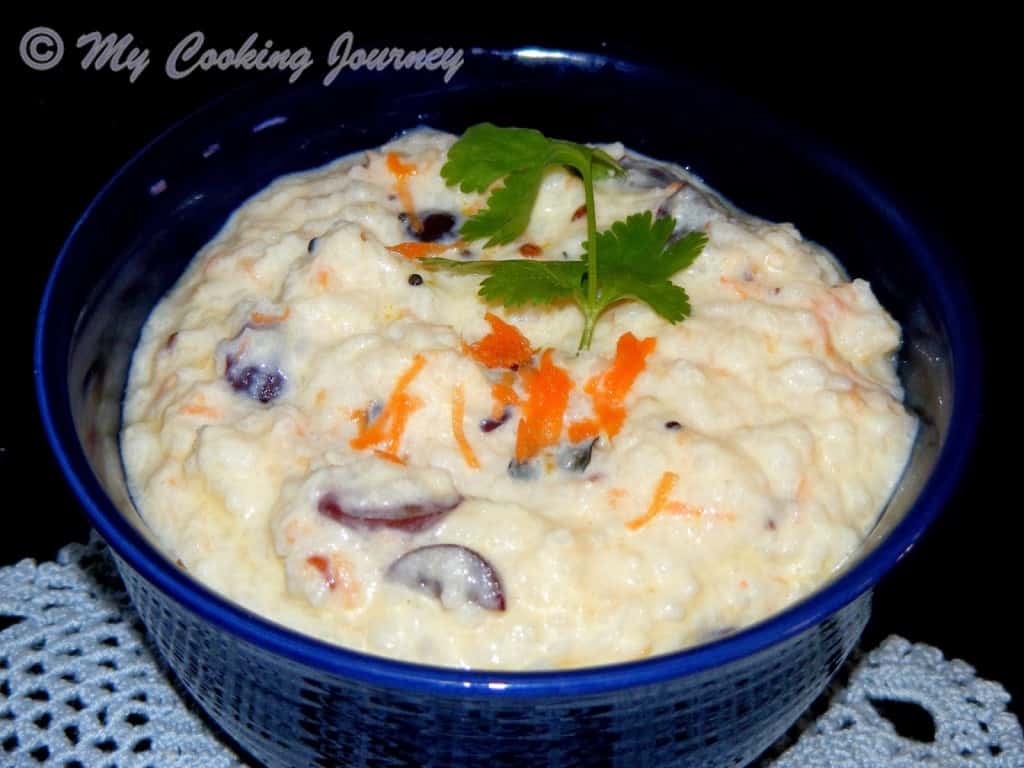 Preparation time – 10 minutes
Cooking time – 30 minutes
Difficulty level – easy
Ingredients to make Thayir Saadham – serves 6
Rice – 1 cup (I use sona massori)
Milk and water – mixed together to make about 4 cups
Homemade or store bought yogurt/curd – 2 cups
Carrot – 2 small (finely grated)
Grapes (red or green) – 1 cup (quartered)
Salt – to taste
Cilantro – to garnish
To season –
Oil – 1 tbsp
Mustard seeds – ½ tsp
Cumin seeds – ½ tsp
Green chilies – 2 (finely chopped)
Curry leaves – few
Asafetida – ¼ tsp
Ginger – 1 tsp (grated)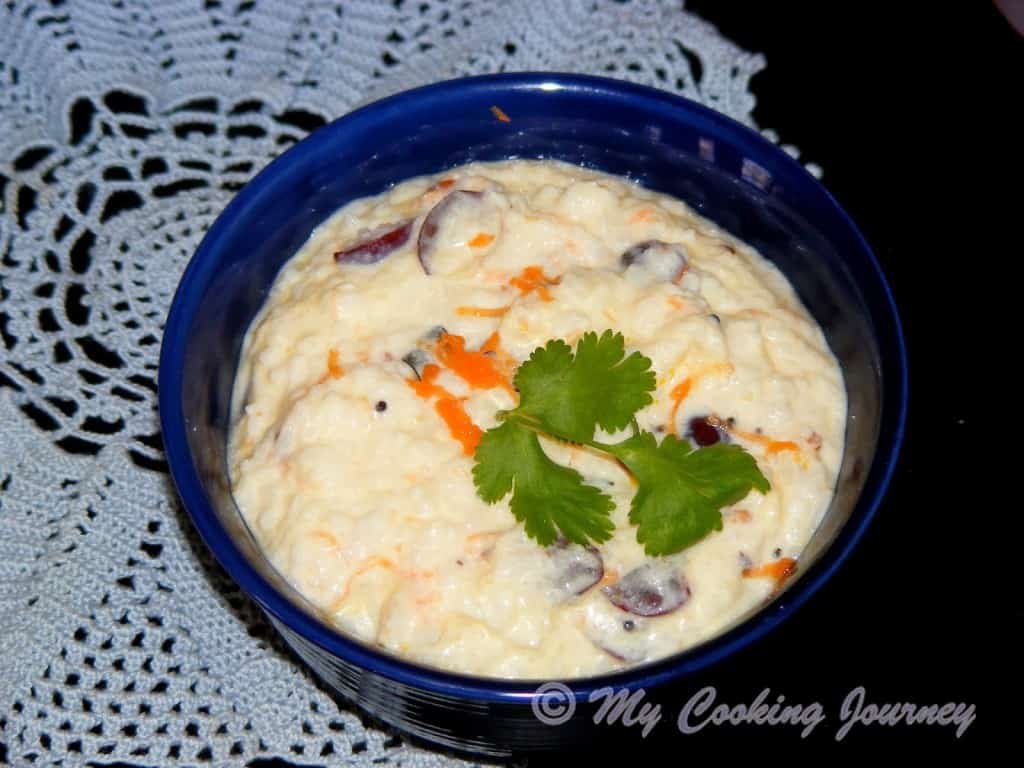 Procedure to make Thayir Saadham –
Cook the rice until well cooked and mushy. I usually add a cup more of liquid when cooking for curd rice and also use a mixture of water and milk. If preferred, you could omit the milk and just use water. Also when cooking rice for couple of different rice varieties, I would suggest that you use the top cooked rice for the other variety and the bottom part of slightly mushy one for curd rice. If you are not using milk when cooking the rice, add about ½ cup of milk to the cooked rice and mash it up well with a potato masher or a flat ladle. If the rice has been cooked with milk, then just mash the rice well and keep it aside.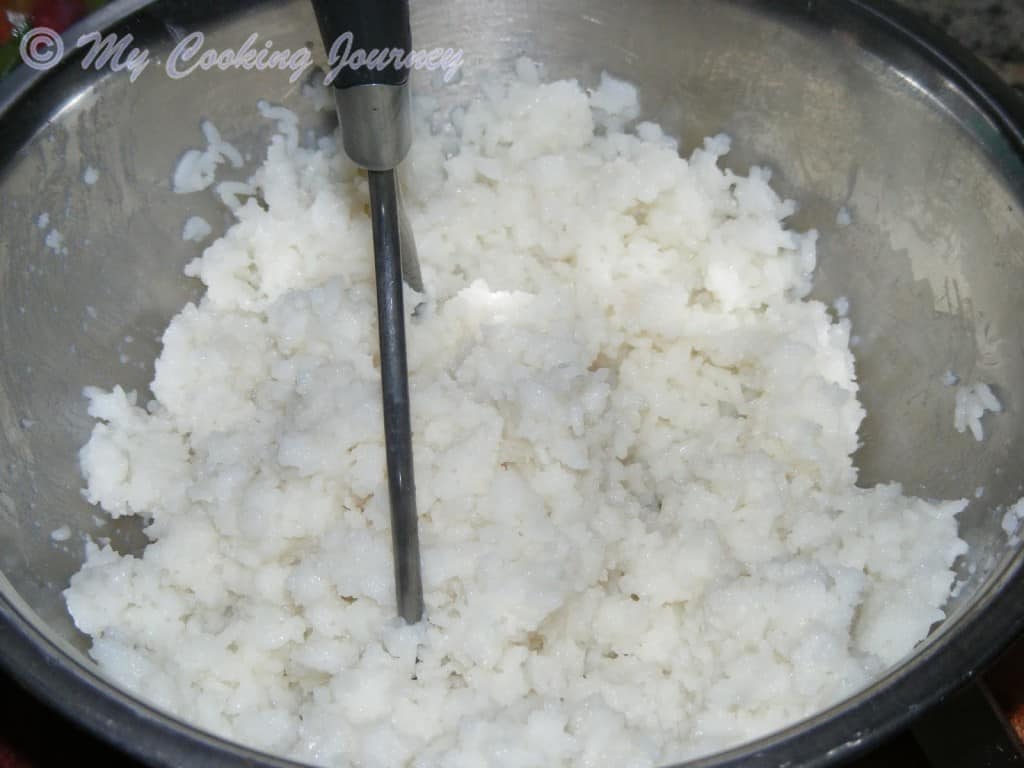 Add the yogurt/curd, salt to the mashed rice and mix well.
In a small pan, heat the oil and add all the seasoning ingredients. Let them fry for a minute or until golden brown and then add the grated carrots. Sauté for 2 minutes just until the carrots starts to change color. Remove from heat.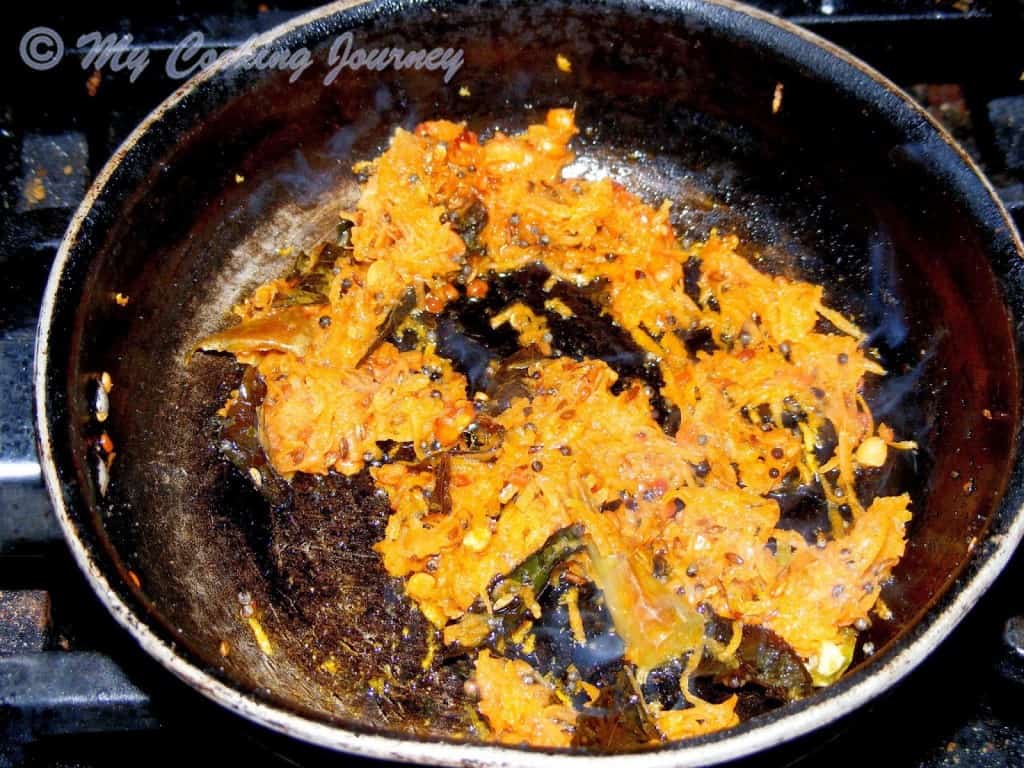 Add it to the mixed curd rice and mix well.
At the end add the chopped grapes and cilantro and mix.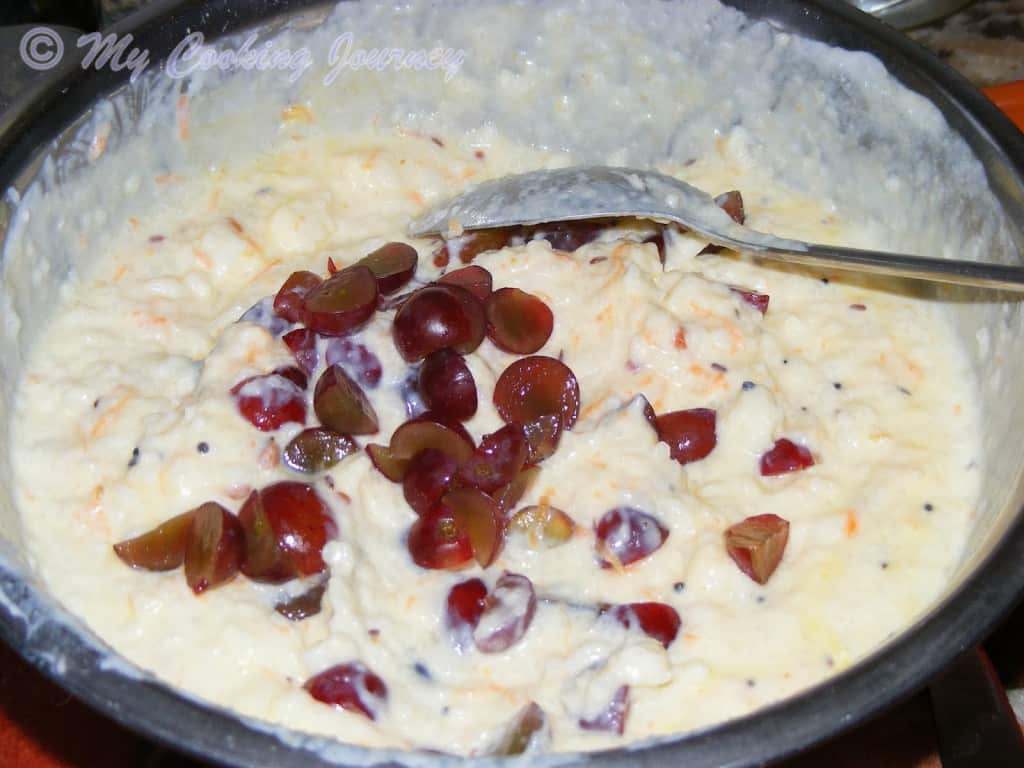 Serve with some pickle on the side!