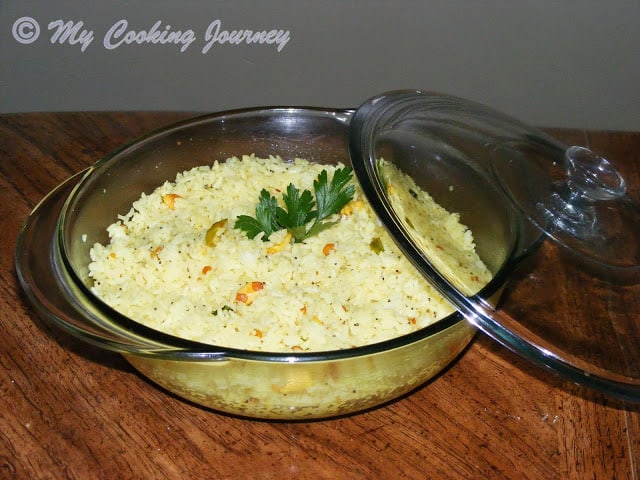 When the month long BM was announced along with the wonderful A-Z alphabet theme, I was right on making lists with several unique dishes and dishes that were new to me. When the dates started getting close and I realized that I would not be able to do the marathon making just unique dishes, I started bringing in more practical dishes. One such addition to my list is this elumichampazham saadham or lemon rice.
Lemon rice is very simple and quick rice that works great for lunch boxes and traveling. This is a dish that does wonderfully during travels in hot weather. The addition of the lemon juice and the oil in the dish enables the dish to remain fresh when traveling. Also this is a very often made lunch box dish in my house. My older son loves lemon to the extent that he chews on lemon slices as is. When we are in a restaurant, he would take the lemon slices that would be served as garnishes and he would be sucking on them. This habit of his got me really worried, and I asked his doctor if he was deficient in any mineral or vitamin. The doctor reassured me that it was completely fine to develop some weird likings and just wanted him to be a little careful to not do it very often, since the acidity of the lemon could ruin his teeth enamels. His love for the lemon enables me to pack this for school.
If making the lemon rice early in the morning, you could make the rice the night before, so that would allow enough time for the rice to cool down. This recipe goes to the marathon for the letter E under the theme regional.
A-Z marathon – Alphabet E
Category – Regional
Preparation time – 10 mins plus time to cool down the rice
Cooking time – 30 mins
Difficulty level – easy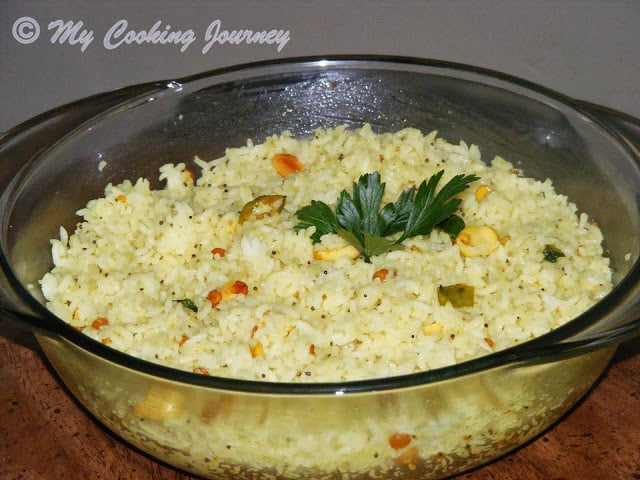 Ingredients to make Elumichampazham Saadham – serves 4
Rice – 1 cup (cooked and cooled down)
Oil – 2 tbsp
Mustard seeds – 1 tsp
Ullutham paruppu/urad dal – 1 tsp
Kadalai paruppu/channa dal – 1 tsp
Green chilies – 3 (chopped)
Red chilies – 2
Peanuts – 3 tbsp
Ginger – 1 tbsp (grated)
Turmeric powder – ¾ tsp
Asafetida – ¼ tsp
Salt – to taste
Lemon/lime juice – from I large lemon/lime or about 3 tbsp
Curry leaves – 5-6
Cilantro – for garnish (chopped)
Procedure –
Cook the rice and transfer it on a wide plate. Spread it slightly and allow the rice to cool down.
In a small frying pan, heat the oil. Add all the ingredients except the lemon juice and the cilantro and fry until the seasonings are aromatic.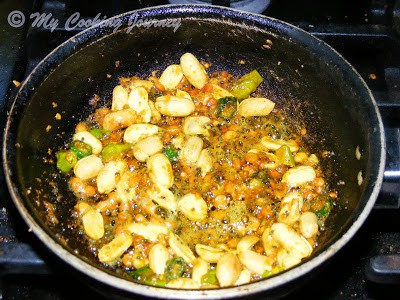 Now add this to the cool rice and mix well without adding too much pressure. Add the lemon juice and mix well.
Garnish the Elumichampazham Saadham with cilantro and serve with any curry or chips or appalam on the side.