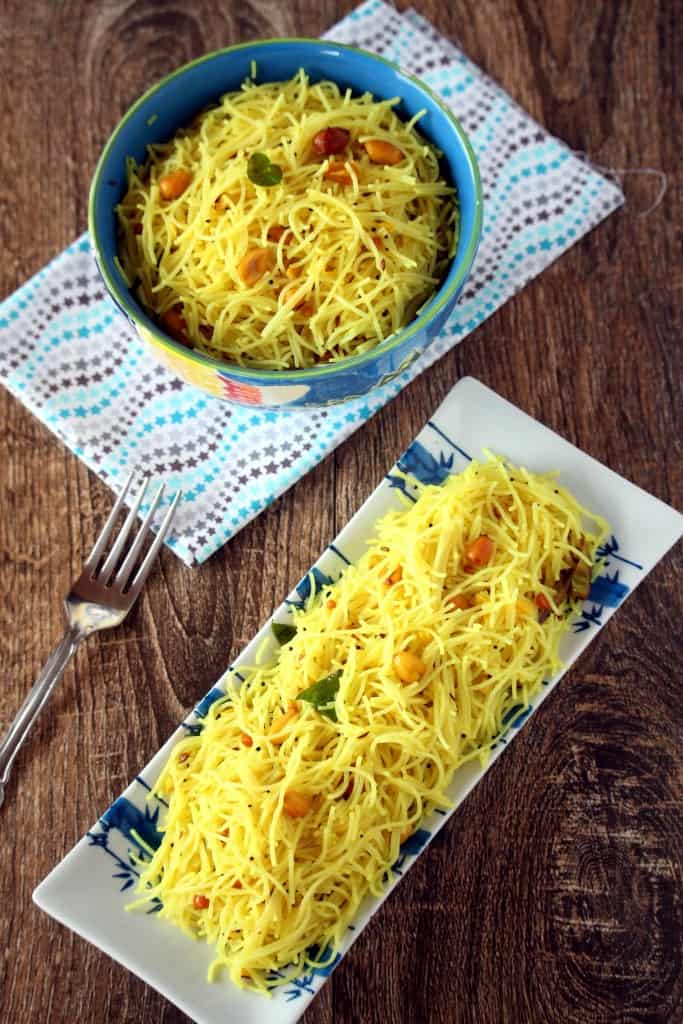 The recipe selection for the alphabet Y started with Yam and stayed in yam for a long time. I just had no idea what kind of snack or tiffin to make with yam and kept postponing the dish too long. That is when in one of our chat sessions, Gayathri suggested to use the word Yelumichampazham and that kept running In the back of my head.
Until yesterday, I was still debating and finally came to the decision to make some lemon Sevai for dinner. It is a very quick to make dish especially if you are making it from rice sticks. After having made Ragi idiyappam from scratch at home, I was no longer a big fan of the store bought rice stick, but I still had to take this route as it was simple and definitely a life saver on busy nights.
This Yelumichampazham Sevai also makes a lovely lunch box recipe as it is quick to make in the mornings. We can flavor the rice sticks with different other seasonings and make a totally different dish. I would very soon be making the fresh Sevai as I am comfortable now to make my own rice flour and also idiyappam.
My other recipes from this series -
A - Athirasam
B - Badam Burfi
C - Chettinad Masala Cheeyam
D - Dosai Milagai Podi
E - Ellu Urundai
F - Fruit Kesari
G - Godhumai Rava Pidi Kozhukattai
H - Homemade Rice flour
I - Inji Marappa
J - Jevvarisi Thengai Paal Payasam
K - Kancheepuram Idli
L - Lemon Pickle
M - Manapparai Murukku
N - Nokkal
O - Oothappam
P - Pattinam Pakoda
Q - Quinoa Dosai
R - Ragi Idiyappam / sevai
S - Semiya Pakoda
T - Thaen Mittai
U - Ukkarai
V - Vazhaipoo Vadai
W - Wheat flour Kuzhi Paniyaram
X - Xtra Flavorful Rasam Powder
Preparation time – 10 minutes
Cooking time – 20 minutes
Difficulty level – easy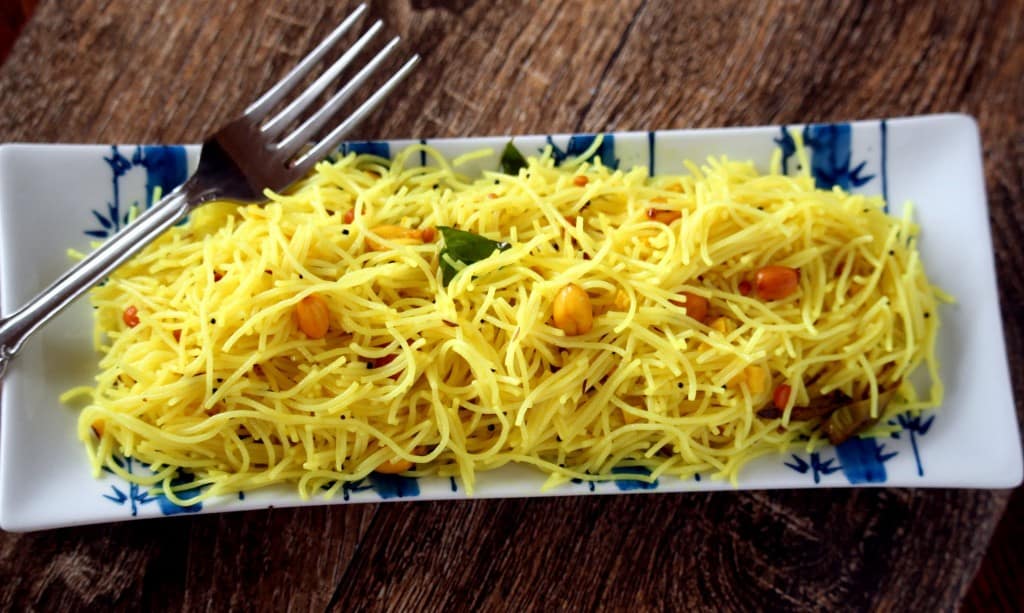 Ingredients to make Yelumichampazham Sevai – (Serves 4)
Rice sticks – 8 oz
Oil – 2 tbsp
Mustard seeds – 1 tsp
Cumin seeds – 1 tsp
Ullutham Paruppu / Urad dal – 2 tsp
Kadalai Paruppu / Chana dal – 2 tsp
Peanuts – 4 tbsp
Green chilies – 3 (slit lengthwise)
Ginger – 1 tsp (finely chopped)
Turmeric powder – ½ tsp
Asafetida – a pinch
Curry leaves – few
Lemon juice – from one large lemon
Salt – to taste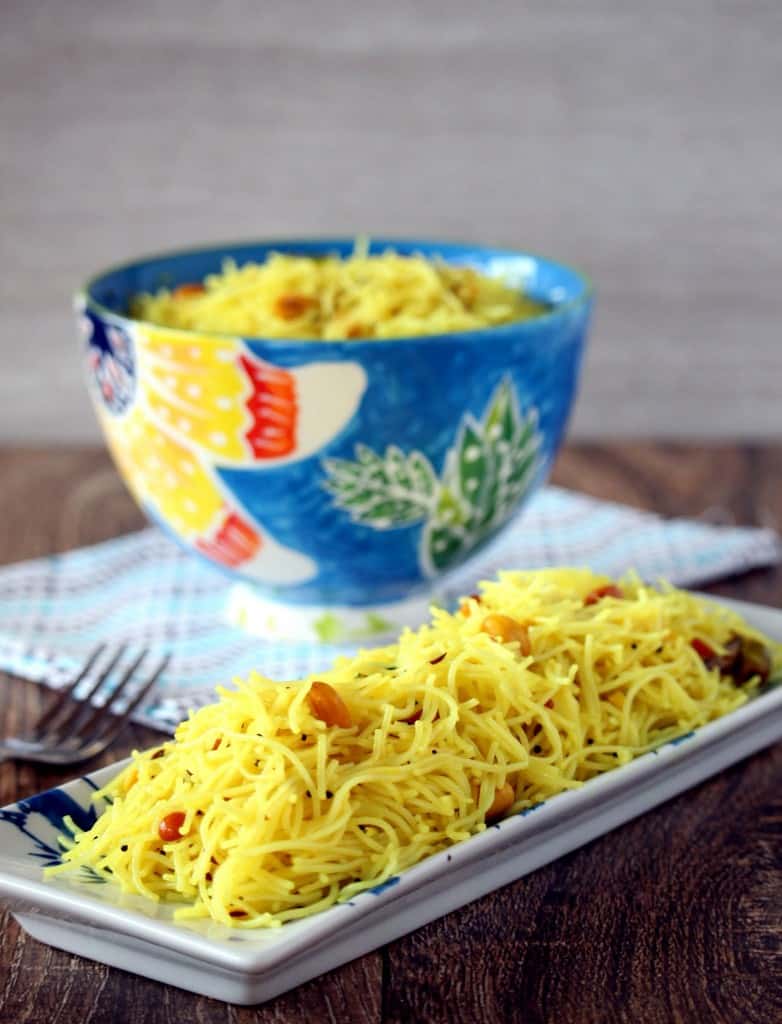 Procedure to make Yelumichampazham Sevai –
Boil plenty of water in a large pan. Once the water comes to a boil, add the rice sticks and turn off the flame. Cover the pan and let the noodles cook in hot water for 4 to 5 minutes. Check to see the doneness of the rice sticks. Once they appear soft and cooked, drain it in a colander and rinse with cold water.
Let the rice sticks keep draining until ready to use. I also cut them randomly with kitchen scissors for easy handling. This is optional, but it definitely makes cooking and eating easier.
In a wide pan, heat the oil and add the seasoning ingredients; mustard seeds, cumin seeds, the dals, peanut, asafetida and turmeric powder. Let the ingredients fry for a minute and then add the curry leaves, ginger and green chilies. Fry for about 10 seconds.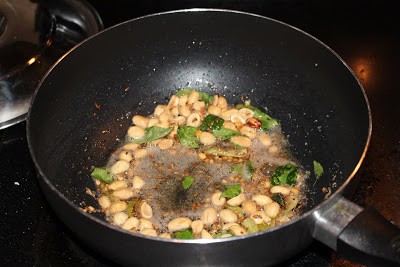 Add the drained rice sticks along with salt needed and toss around a few times. Let everything combine and cook together for about 2 to 3 minutes.
Add the lemon juice and mix well once again and turn off the flame.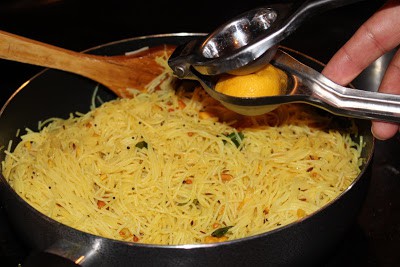 Serve with chutney or as is!