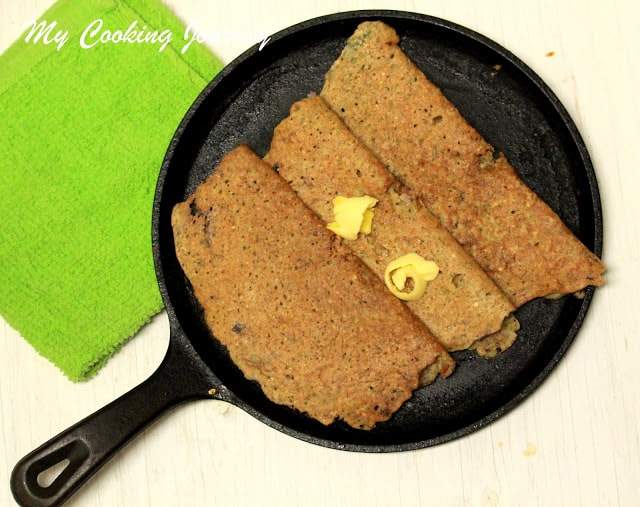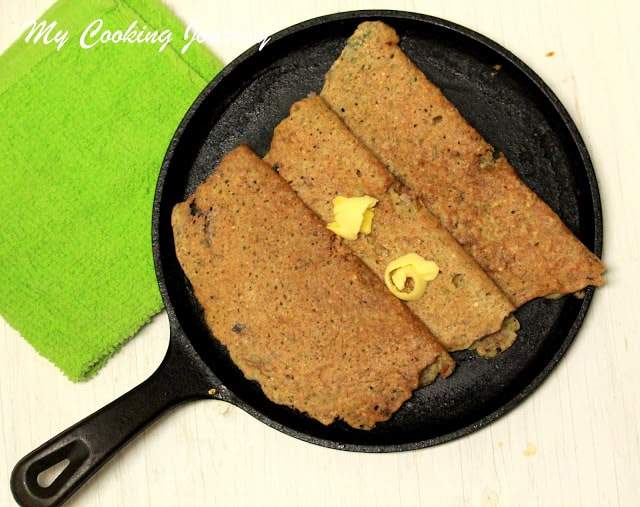 I am blogging about the guilt free indulgences that I practice at my home this week and believe in making simple swaps to whole grains and flours made of whole grain and eliminating processed food from our every day diet can bring a big change. I am working towards that goal and I work on different substitutions to make in the recipes that we commonly make with more processed ingredients.
One ingredient which also happens to be the staple for South Indians is rice. My family cannot live without Thayir saadham (yogurt rice) and yesterday I had swapped the rice to steel cut oats to make Oats thayir saadham. My today's recipe is Adai which is a crepe made with rice and lentils. In today's recipe, I have swapped the white rice with brown rice and also used lentils with skin to make it more fiber rich and less processed.
The lentils used in the adai can be mixed or matched and there is no hard set of rule of which lentil to use or not to use. Using more channa dal / Kadalai paruppu yields crispier adais. More Moong dal / Payatham paruppu yields softer adais. More Urad dal / Ullutham paruppu yields more dosai like texture. I have used equal quantities of 4 different lentils and most of them with the skin to make it less processed and fiber rich.
I love my adais with (only with) vellam (jaggery) and vennai (butter). My kids have taken over my taste buds and luckily my husband also likes it the same way. I make adai once a month at least and have been making it this way for over a year. In this Adai Made With Brown Rice there is absolutely no compromise on the flavors (in fact they taste much better) and is definitely a swap we can make for better.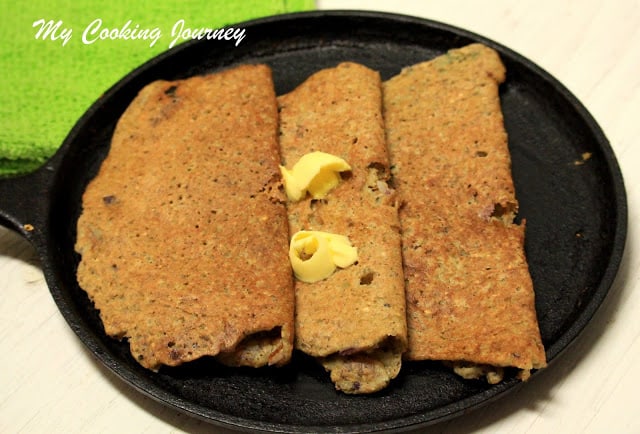 Preparation time – 10 minutes plus about 4 hours of soaking time
Cooking time – about 5 minutes per adai
Difficulty level – easy
Ingredients to make Adai Made With Brown Rice – (Makes 12 adais)
Brown rice – 1 cup
Masoor dal – ¼ cup
Whole urad dal (with skin) – ¼ cup
Split Moong dal (with skin) – ¼ cup
Channa dal – ¼ cup
Red chilies – 4
Green chilies – 2
Onions – 1 cup (finely chopped)
Curry leaves – few
Salt – to taste
Oil – to make the adais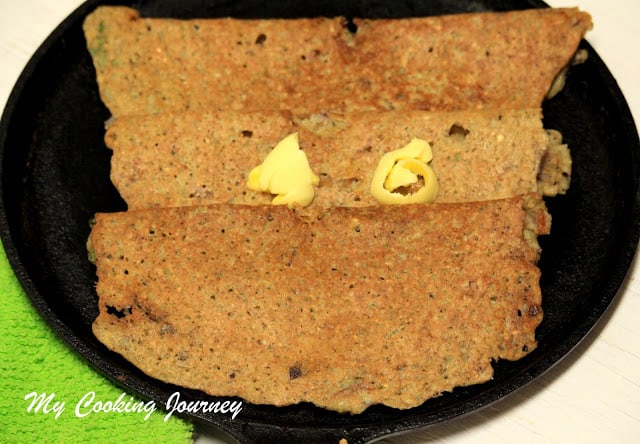 Wash and soak the rice and lentil together for about 4 hours.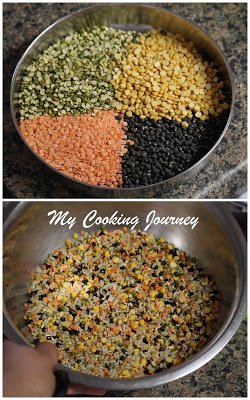 Drain the mixture and then grind it with salt and chilies. It is up to one's preference to grind it coarse or fine. I sort of make it neither too smooth nor too coarse. Also the consistency of the batter should be sort of on the thicker side and not like dosa batter.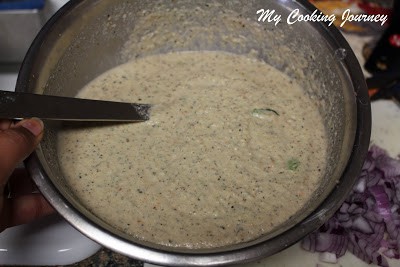 Add the curry leaves and the chopped onions to the batter and mix well.
Heat the pan and then make a crepe with couple of ladle of the batter. Once again depending on your preference, you could make the adais thicker or thinner. My mother likes it thicker and softer whereas I like it thinner and crispier. Make a small hole in the center of the crepe after spreading. This allows the adais to cook well in the center as well. Pour about a teaspoon of oil around the adai and let it cook till golden brown.
Flip it to the other side and let it cook on the other side as well.