From my Backyard to yours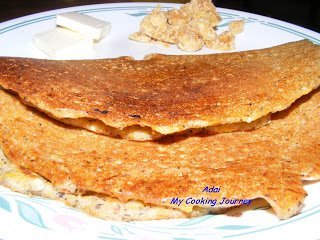 Its fall and there are pumpkins and squashes in the air. When thinking of ways to use the butternut squash from my garden, I remembered that my paternal grandmother makes adai with yellow pumpkin. My mother took over her style and this was a very common evening tiffin or dinner when I was growing up. It was Adai night, when there was fresh butter in the house. My grandmother always made fresh butter, because we had plenty of cows back then in our village. My mother makes her own butter too in the city. She buys fresh cow's/buffalo's milk and that gives plenty of cream which she makes into butter. So, at least once every fortnight, when she makes butter, we have adai for dinner. I love adai with Jaggery/Brown sugar and butter. Till this day I have not had it any other way and I trained my family to do the same now.
I made this Adai using slightly different lentils to give it a healthy twist. Traditionally, these crepes are made of rice, channa dal, thuvar dal (split Pigeon peas) and urad dal (Black gram dal). There are no specifications on the lentils we use. It is purely based on how one likes it and what is available. My mother uses Moong dal (Mung lentil), because it makes the crepe softer. Today I made these crepes using the combination of Whole Urad dal (Dehusked black dal), Masoor dal (Red lentils) and channa dal.
Preparation time – 4 hrs to soak the rice and lentils plus 10 mins
Cooking time – 30 -45 mins
Difficulty level – easy
Ingredients to make Pumpkin Adai – Makes Around 10-12 Crepes
Raw Rice (I used Sona masoori) – 1 ½ cups
Masoor dal (Red lentils) – ½ cup
Whole Urad dal (Dehusked Black lentil) – ¼ cup
Channa dal – ¼ cup
Moong dal (Optional) – ¼ cup (In this case reduce the quantity of Chana dal. This makes the crepes softer).
Grated pumpkin/Butternut squash – 1 cup
Green chilies – 2
Red chilies – 4-6
Asafetida – ¼ tsp
Salt - to taste
Oil – for making the crepes
Curry leaves – few
Procedure –
Soak the rice and the lentils together for about 4 hrs. Grind it in a blender with the green chilies, red chilies, salt and asafetida.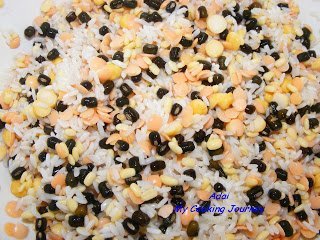 To the ground mixture, add the grated pumpkin and the curry leaves.
Heat a Cast iron skillet (makes marvelous crepes), and add couple of ladles of the batter and make a circle. Make a hole in the center to allow the crepe to cook well. Add about a tsp of oil around the crepes and let it become golden brown on one side. Now flip the crepes and let it cook the other side. Serve hot with Sāmbhar, Dosai Milagai podi or my favorite jaggery/brown sugar and butter.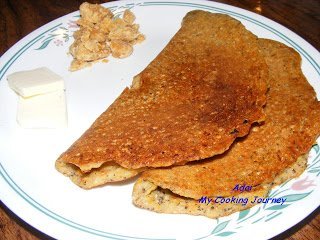 Happy Cooking!!!