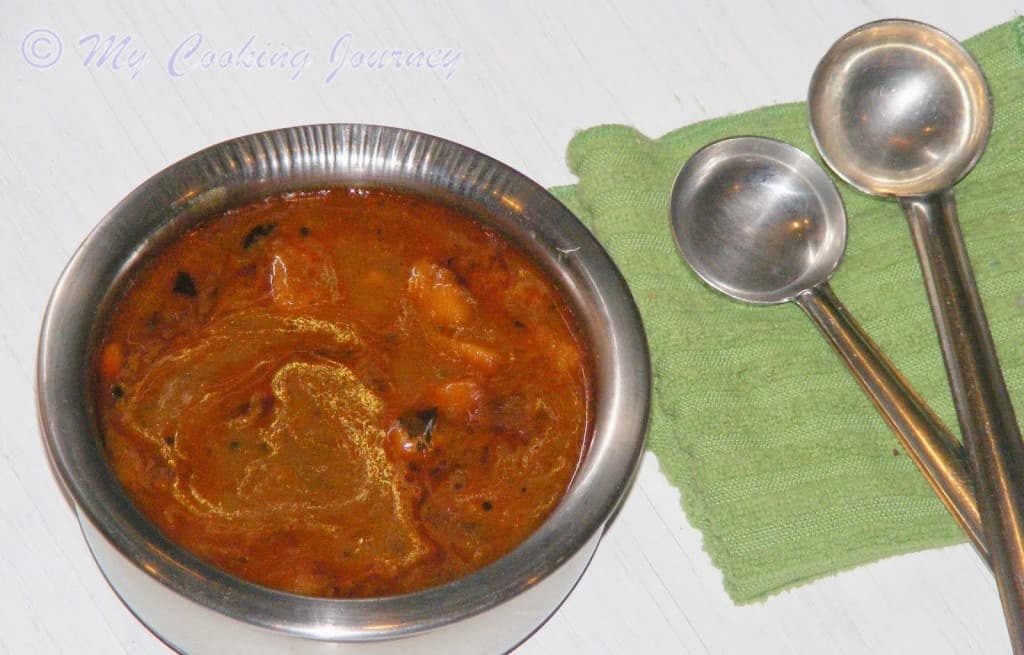 I come from South India and for someone from Southern part of India; this parangikkai vathal kuzhambu should have been one of those very first recipes that should have been written in the blog. Unfortunately that did not happen in my case. I make vathal kuzhambu very so often in my house. Every time I make it, I think of taking pictures and then I don't. It is because either it does not match the vathal kuzhambu my mother makes or the family is starving. Because I make it very often, I always end up saying, it is alright, and I will take the pictures next time. Finally, this week when I made the vathal kuzhambu, I was determined to get the pictures and post it in the blog.
My mother makes the best vathal kuzhambu. This recipe is her version of the kuzhambu that I have written in my recipe book which came to US with me when I came here. By now I know how to make the kuzhambu very well, but still it gives me a pleasure to just open the book and read through it, just to get my mother's touch in it. When I go back to India for vacation, my first request to my mother would be to make vathal kuzhambu and manga (mango) pachadi. These are my favorite recipes and so are my kid's favorite.
I am posting this recipe for the first week of Cooking from a cook book challenge. I am so glad to be a part of this group, since I get to blog about all my hand written recipes from my recipe book which were passed on to me from my family.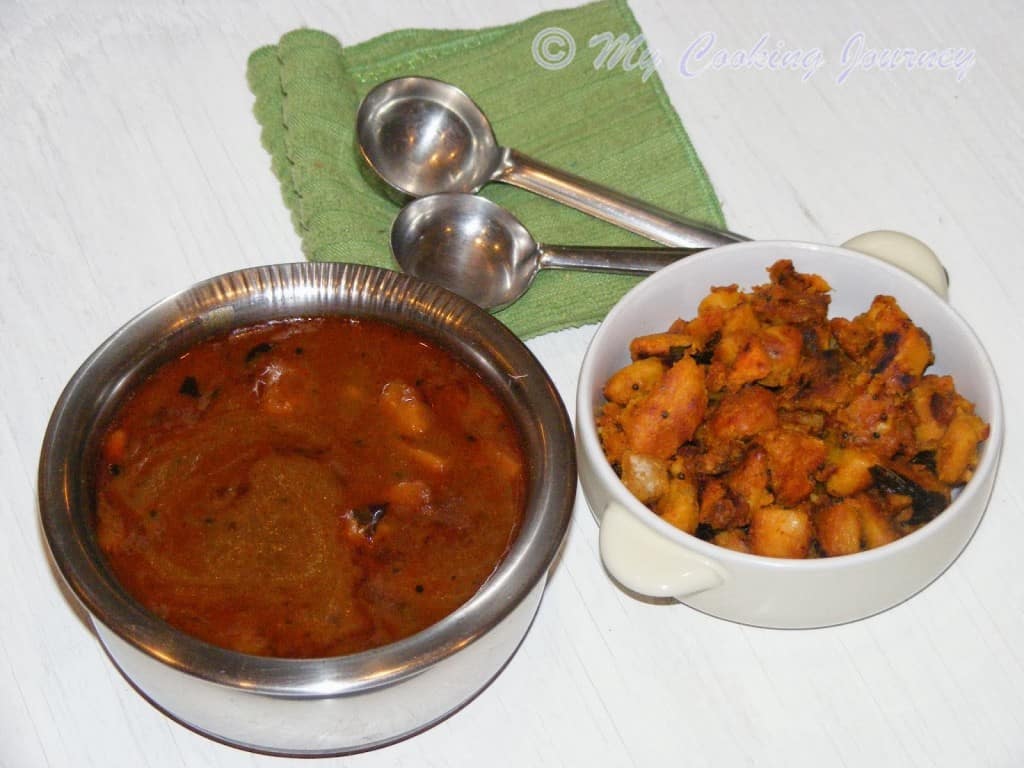 This is a very simple kuzhambu which has thick tamarind extract along with some vegetable. There is no cooked dal (paruppu) in this recipe. I have used parangikkai (Yellow Pumpkin) for this kuzhambu, but any vegetable could be used. The most common ones used are, onion, drumstick, egg plant, radish, okra or any kind of dried vegetable (vathal). If using vathal, be careful when adding salt since the vathal has quite a bit of salt in it.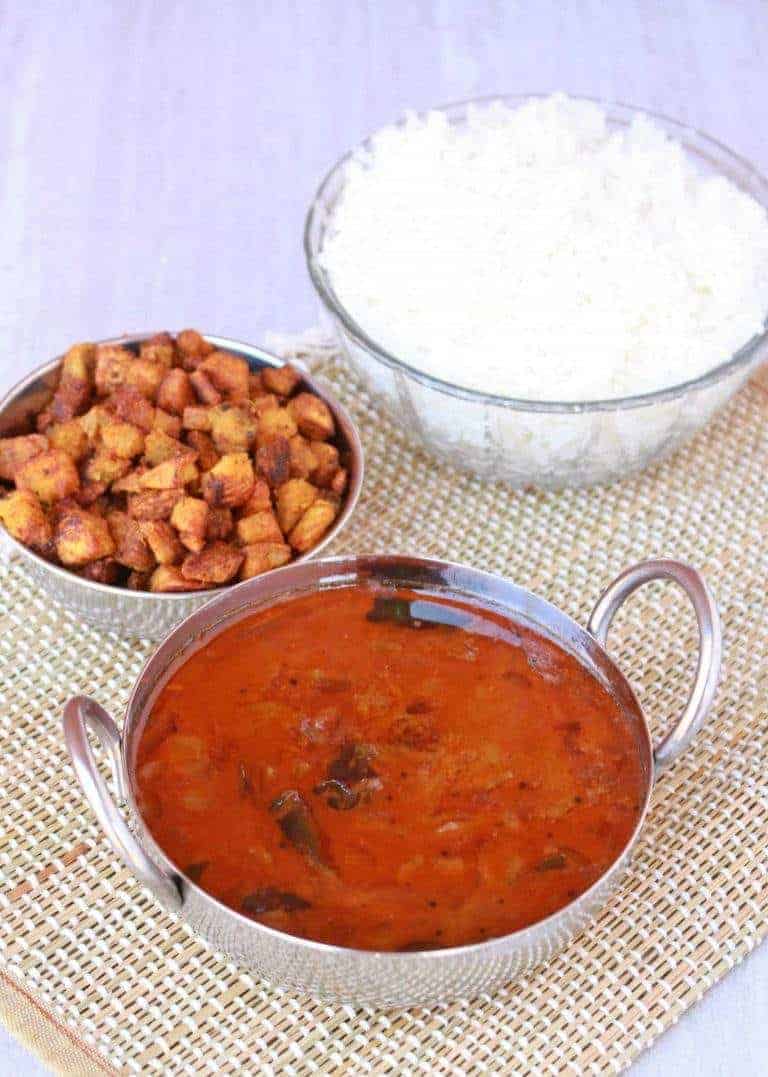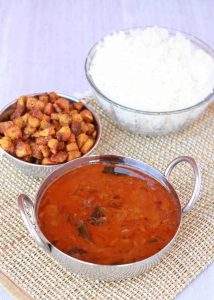 Preparation time – 15 mins plus 30 mins to soak the tamarind
Cooking time – 30 mins
Difficulty level – easy
Ingredients to make Parangikkai Vathal Kuzhambu – (serves 4-6)
Tamarind – a size of large lemon
Yellow pumpkin – 2 cups (chopped into 1 inch pieces)
Sambhar powder – 3 tbsp
Salt – to taste
To season –
Gingelly oil/ Nallennai – 4 tbsp
Mustard seeds – 1 tsp
Thuvaram paruppu/red gram dal – 1 tbsp
Red chili – 2
Fenugreek seeds/vendhayam – 1 tsp
Asafetida – ¼ tsp
Curry leaves – few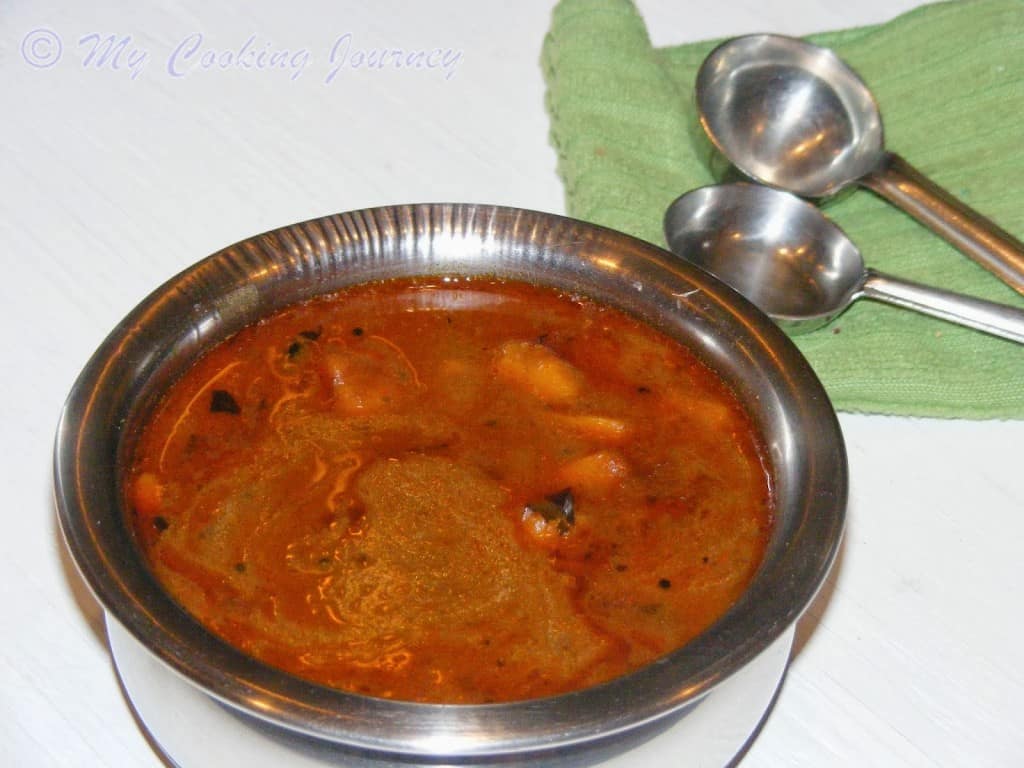 Procedure to make Parangikkai Vathal Kuzhambu –
Soak the tamarind in about 4 cups of hot water for 30 mins. Squeeze the tamarind well and extract all the juice. Keep it aside.
In a heavy bottom, heat the oil. Then add all the seasoning ingredients and let it fry for a minute.
Now add the chopped pumpkin and sauté for about 5 minutes.
Add the sambhar powder and fry for a minute more.
Add the extracted tamarind juice and the salt required. Mix it well and let it come to a boil.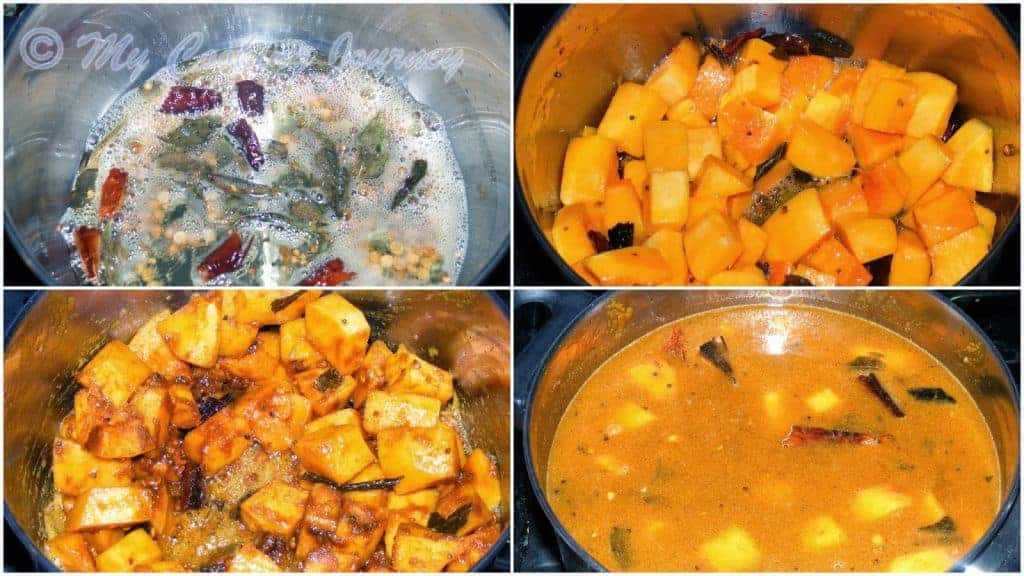 Reduce the heat to medium and let the kuzhambu boil for 20- 25 minutes until the kuzhambu reaches a thick consistency.
Turn off the flame and serve hot with rice and ghee! I served it with some seppangkizhangu roast (recipe coming soon).