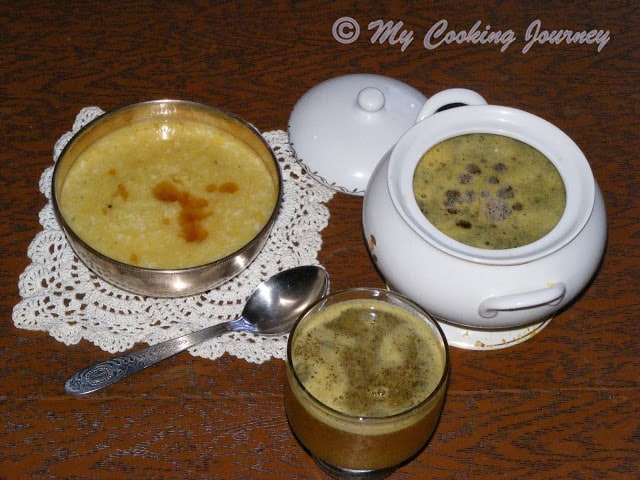 This month, I am beginning the blogging marathon by choosing the theme Healthy recipes. This theme is intended to make a healthy diet specific to an ailment. Lot of ailments and recipes came to my mind and I decided to choose something that is much needed to the winter months that are coming. A very common ailment that kids and adult have during this time is common cold and flu. Even though there is no medication to cure the actual infection, we can follow some simple recipes and procedures to keep the symptoms at bay.
When kids come down with cold and cough, it is very painful to see them struggle to sleep and eat. I remembered something that I have seen when growing up. My maternal grandfather becomes a child when he comes down with cold. My grandfather was a very hardworking man who never complains of any pains or aches. The only time that he acts like a child is when he comes down with cold. He immediately grabs a huge blanket and wraps himself around and requests my grandmother to make this Milagu Jeera Rasam for dinner.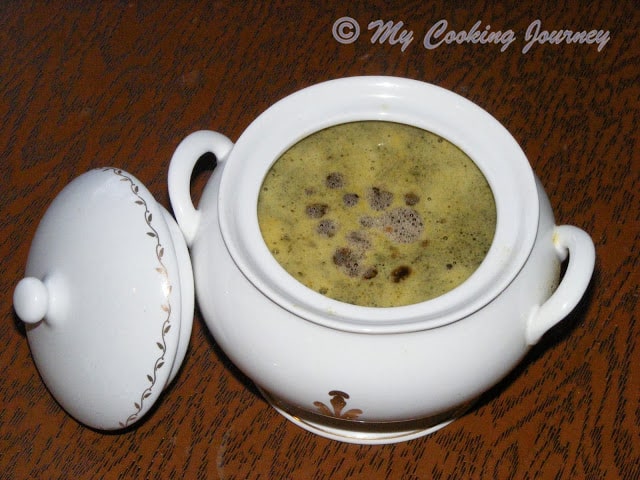 This rasam really helps the child and adult alike. The flavor of the rasam works very well when you have a fever and don't taste anything. Also the medicinal natur oef the pepper and cumin helps relieve the symptoms of cold such as coughing and body aches. The ginger that I add in the rasam also helps to relieve the symptoms.
When I am feeding my kids, I usually mash the rice well, add a little bit of cooked Payatham paruppu (Moong dal) and mix well with the rasam. Also top it off with a dollop of ghee and my kids gobble it down. I also add some garlic in the rasam, but this one I have made it the Iyer household style with no garlic. Garlic acts as very good anti viral and anti bacterial agent and helps cure the symptoms.
Keep checking back to see more homemade remedies to relieve the cold symptoms!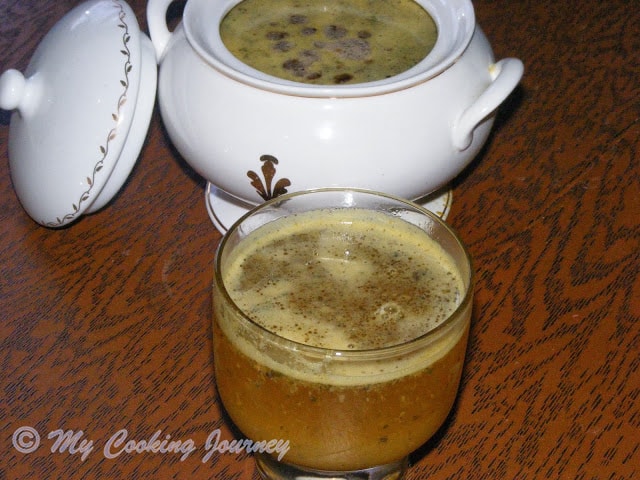 Preparation time – 10 mins
Cooking time – 30 mins
Difficulty level – easy
Ingredients to make Milagu Jeera Rasam – (makes about 4 cups of rasam)
Tamarind – marble size (soaked in hot water)
Turmeric powder – ½ tsp
Asafetida – a pinch
Thuvaram paruppu/red gram dal – 2 tsp
Coriander seeds – 1 tsp
Pepper corns – 1 tsp
Jeeragam/ cumin seeds – 1 tsp
Red chili – 1 (optional)
Ginger – 1 inch piece
Curry leaves – few
Ghee – 1 tsp
Mustard seeds – ½ tsp
Salt – to taste
Procedure –
In a small bowl soak the thuvaram paruppu, coriander seeds, peppers, cumin and the red chili in water for about 10 mins.
Grind the soaked ingredients along with half the curry leaves and ginger to coarse paste.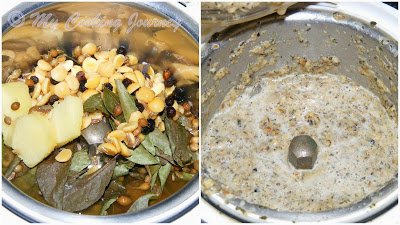 Soak the tamarind in about 2 cups of hot water and extract the juice. Boil the tamarind water with turmeric powder, asafetida, salt and half the curry leaves until it reduces to about 1 cup and the raw smell of the tamarind disappears (about 10-15 mins).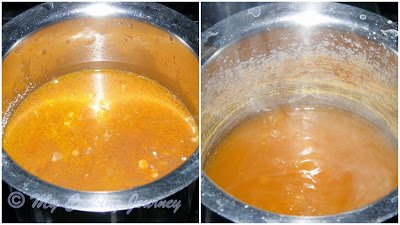 Now add the ground mixture and let it come to a boil. Top it off with about 2 to 2 ½ cups of water and heat until the rasam becomes frothy. Do not boil too long after the ground ingredients are added because it makes the rasam bitter.
Season the mustard seeds in ghee and add it to the rasam.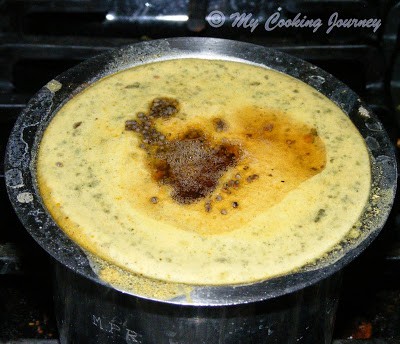 Adults or elderly can drink or sip this Milagu Jeera Rasam when warm to help soothing the throat.
For babies and kids, I usually make rasam saadham and feed it warm with a dollop of ghee.
Rasam Saadham with ghee for babies and toddlers