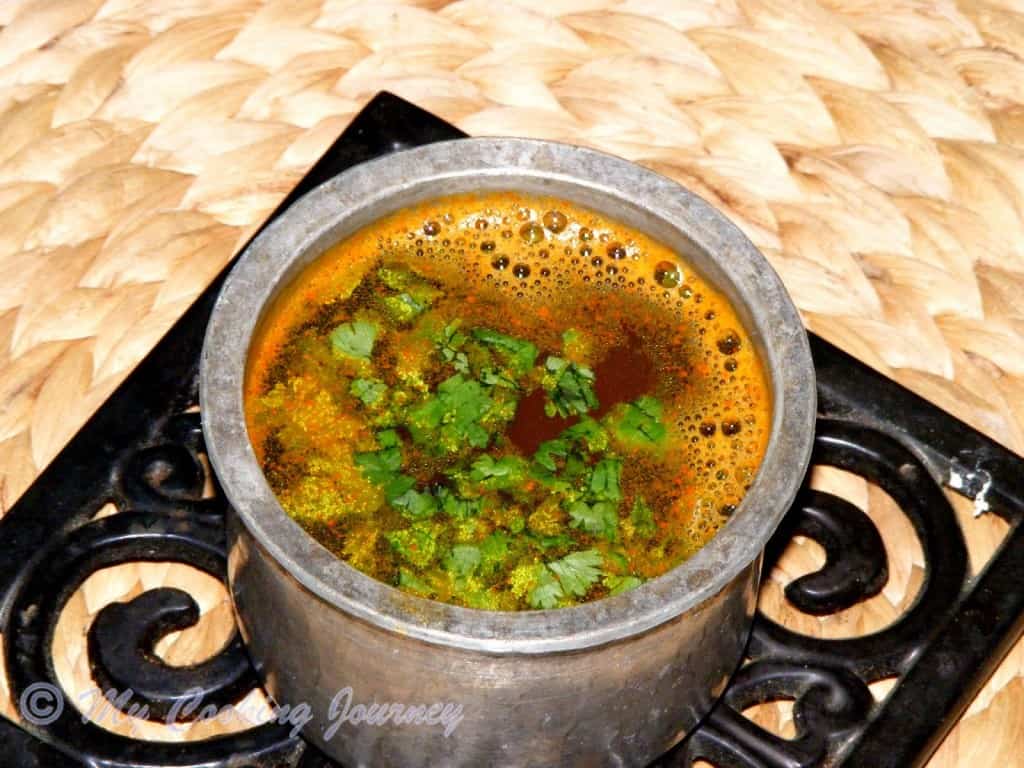 Rasam is a staple in the South Indian household and we grew up eating rasam saadham/rice almost every day. The South Indian meal is not complete without rasam. Hence we need quite a few recipes for different kinds of rasam so it does not get monotonous. This rasam is one of my favorite. This is my mother's signature recipe made only with tomatoes. This recipe has no tamarind and no rasam powder. The sweet and sour of the tomatoes along with the spice from black peppers tastes very pleasant as rasam saadham or just as soup.
This is my second recipe for this week's blogging marathon where I picked tomato as an ingredient to be blogged for three days.
Check out my other rasam recipes -
Thakkali /Tomato rasam
Apple Rasam
Pineapple Rasam
Mysore Rasam
Milagu Jeera Rasam
Preparation time – 5 minutes
Cooking time – 30 minutes
Difficulty level –easy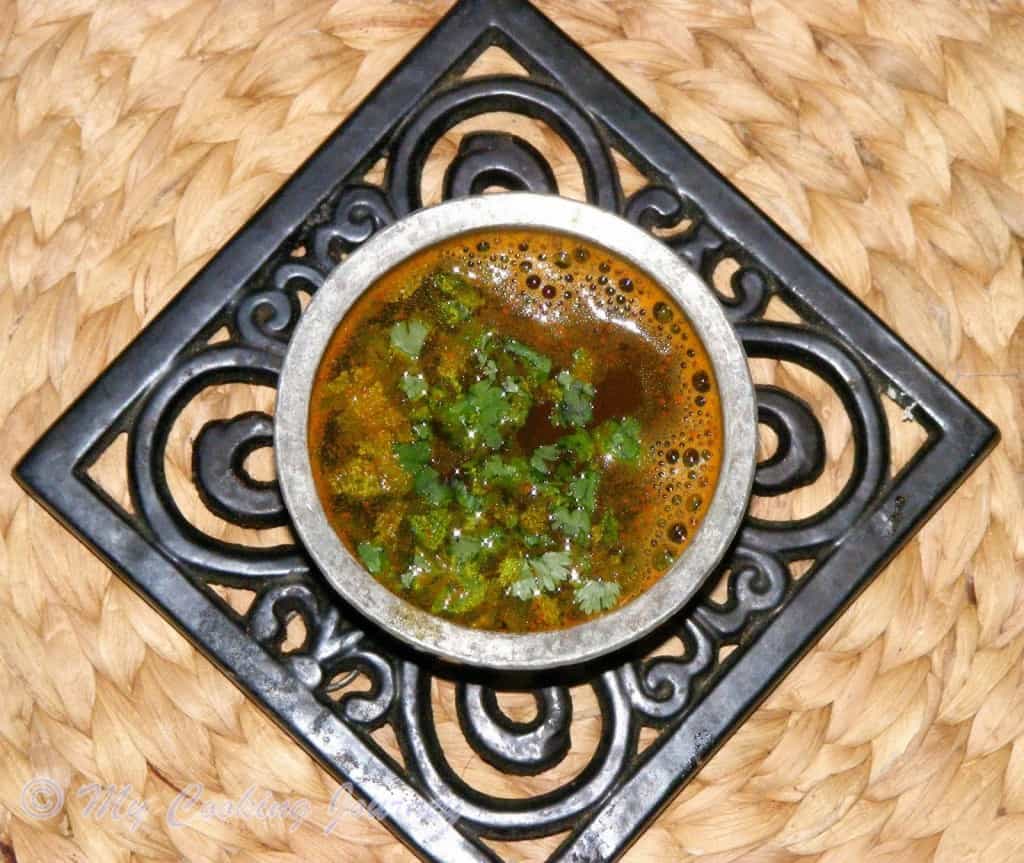 Ingredients to make Thakkali Juice Rasam – Tomato Juice Rasam – serves 4-6
Tomatoes – 3 large or 4 medium
Green chilies – 2
Black pepper – 10
Cumin seeds – ½ tsp
Asafetida – ¼ tsp
Turmeric powder – ½ tsp
Salt – to taste
Lemon juice – 2 tbsp
Cooked tuvaram paruppu / toor dal – ½ cup
Ghee – 1 tsp
Mustard seeds – 1 tsp
Cilantro – for garnish
Procedure –
Cook the tuvaram parruppu/toor dal until mushy in a pressure cooker.
Grind together the tomatoes, green chilies, black pepper and cumin seeds into a smooth paste and pour it into a sauce pan. Wash the blender jar with about a cup of water and add it to the pan.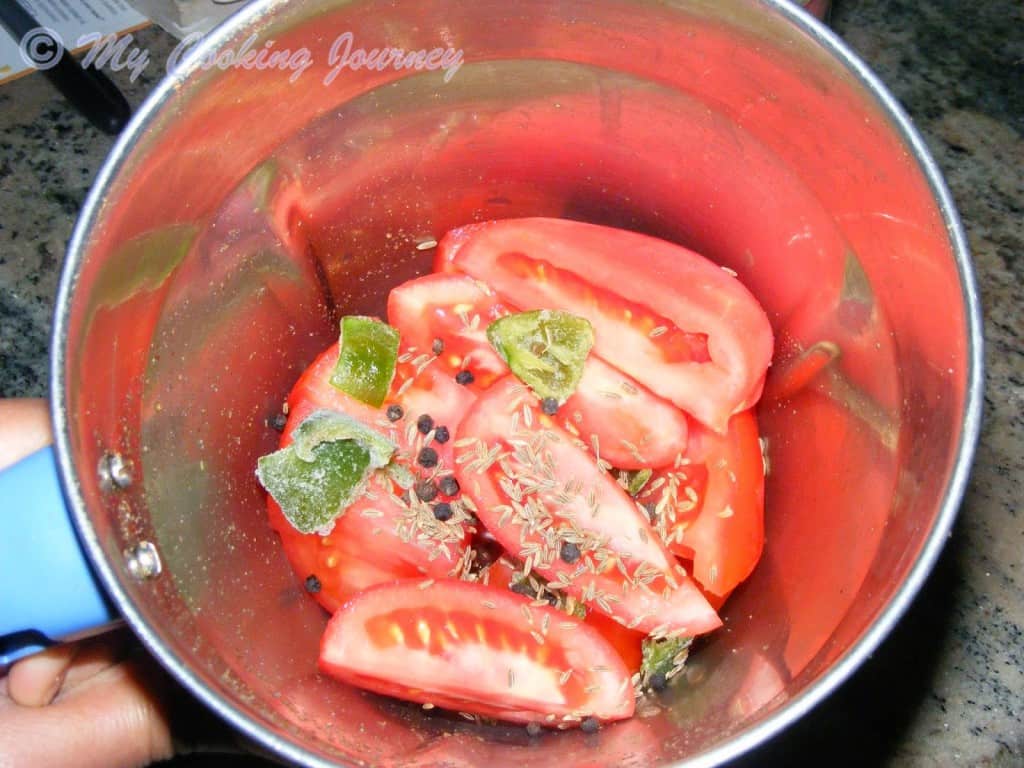 Add turmeric powder, asafetida and salt to the ground mixture and boil this for about 10-12 minutes or until it reduces to half its original quantity.
In the meantime mash the cooked dal and add about 2 cups of water to it. Add this to the well boiled tomato mixture and let it boil once.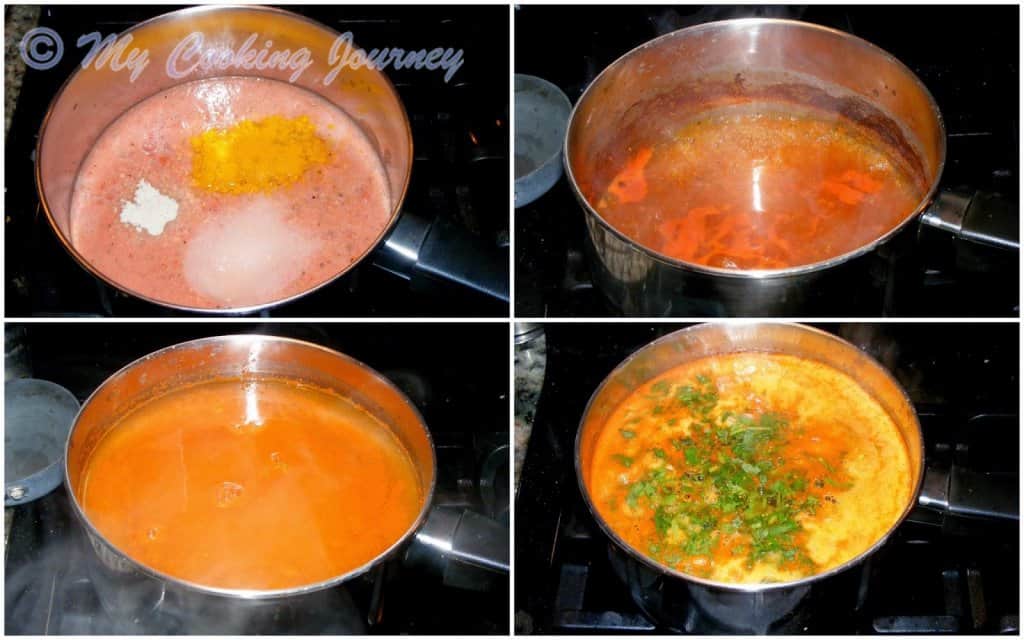 Heat the ghee in a small pan and add the mustard seeds to it. Let it sputter and then add this to the rasam. Add the lemon juice and garnish with cilantro.
Serve the Thakkali Juice Rasam with hot rice and ghee or as a soup.