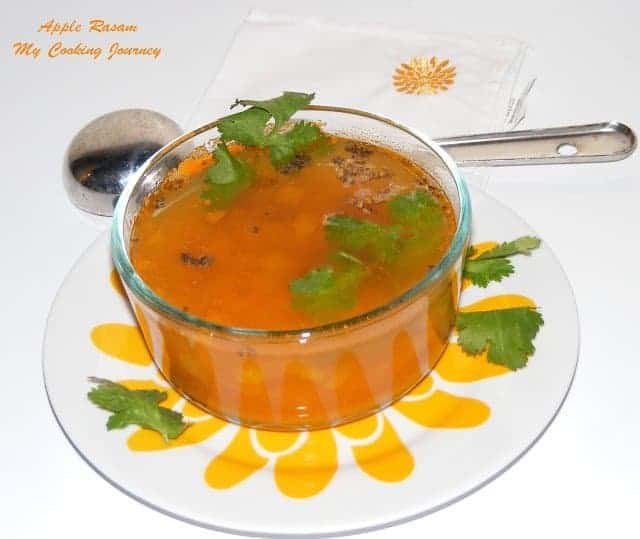 It is the second day after our Apple picking trip and we have approximately 23 lbs of apple sitting at our house. After a great success of Apple Thokku yesterday, I decided to venture more into the usage of a fruit in the traditional Indian cooking. It is a big achievement for me that I still have not made a desert with so many apples around me, but that is not going to last.
This Apple Rasam is an inspiration for me from my friend and fellow blogger, Ambika. She has an apple rasam recipe in her blog 'yen samayal arai'. This recipe is different from hers. I took this rasam in the direction of 'tomato juice rasam' that my mother makes, but added the apples to it. It renders a slightly sweet apple note after we drink the rasam. So this venture of mine has found one more way to get fruits in the kid's meal.
Preparation time – 15 mins
Cooking time – 30 mins
Difficulty level – easy
Ingredients to make Apple Rasam – (makes around 4 cups of rasam)
Tuvar dal/split red lentil/ thuvaram paruppu – ¼th cup
Apple – 1 large or 2 small
Tomatoes – 2
Green chilies – 2
Peppercorn – 1 tsp
Cumin seeds – 1 tsp
Turmeric powder – ½ tsp
Asafetida – ¼th tsp
Salt – to taste
Ghee/clarified butter – 1 tsp
Cilantro – to garnish
For tempering -
Ghee/clarified butter- 1 tsp
Mustard seeds – 1 tsp
Cumin seeds – 1tsp
Procedure to make Apple Rasam -
Cook the tuvar dal in the pressure cooker with enough water until soft and mushy. It can also be cooked on stove top until mushy. Keep aside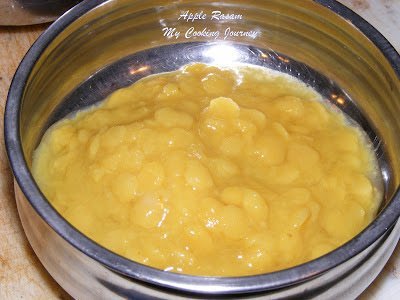 Clean the apples and scrape out the skin. Take half of the apple and chop it into very fine pieces.
In a blender, adding enough water grind together, the tomatoes, remaining apple, peppercorn, cumin seeds and green chilies into fine paste.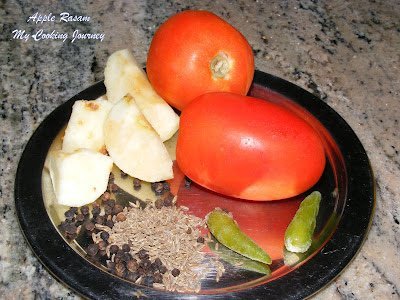 In a saucepan add 1 tsp of ghee and fry the chopped apples for about 5 mins.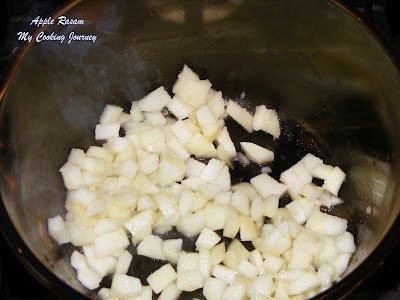 Now add the ground tomato mixture to it. To this add the turmeric powder, asafetida and salt. Let it come to a boil and then simmer it for about 10 mins.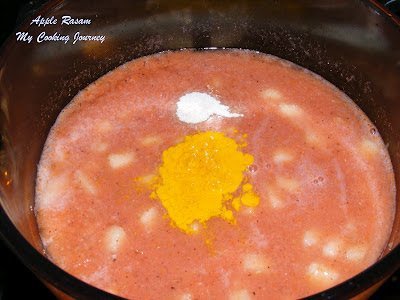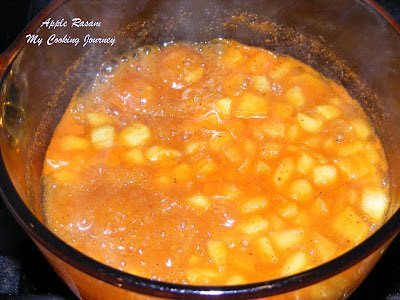 In the meanwhile, mash the cooked dal and add about 2 cups of water to it. Once the tomato apple mixture simmers for about 10 mins, add the dal water to it. Let it come to a boil and then turn off the flame.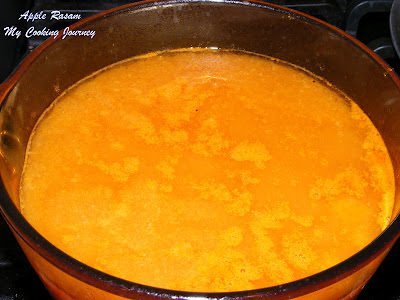 In a tiny pan, heat 1tsp of ghee and add the mustard and cumin seeds to it. Once they sputter, add it to the rasam. Garnish with cilantro and serve hot as soup or with rice.