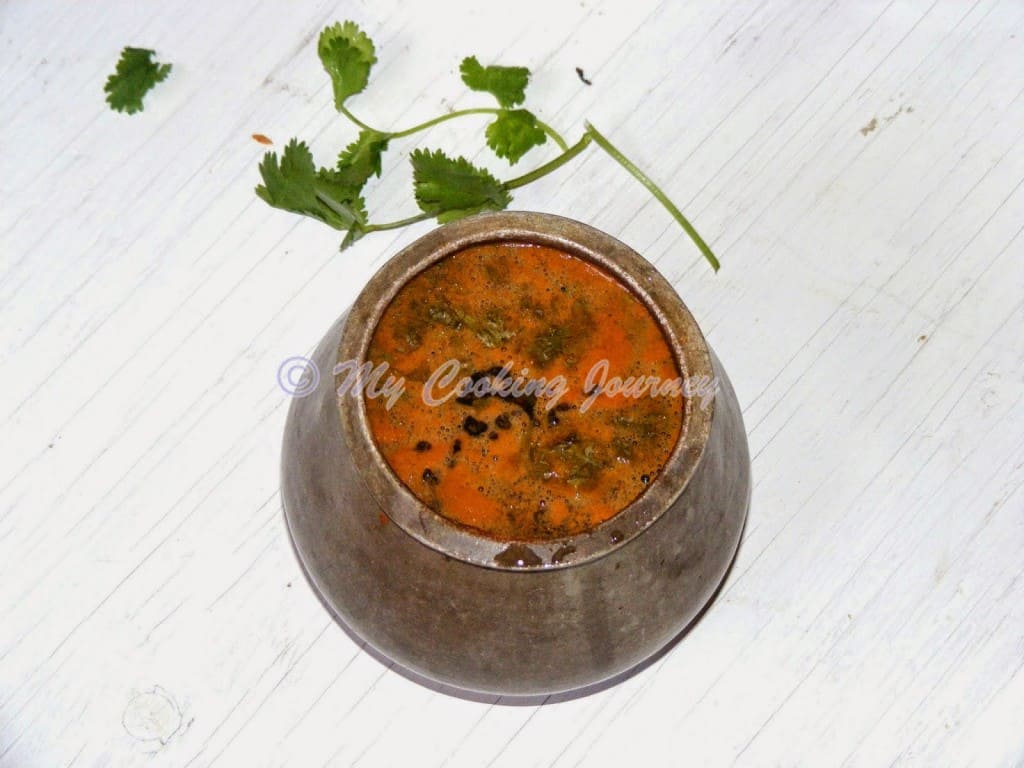 Thakkali rasam is an essential part of meal in every South Indian family. I am a big fan of rasam and I need it when I am making South Indian food. The rasam is so refreshing that some prefer to drink it as a soup and some eat it with the rice. I like to eat piping hot rasam saadham with a small dollop of ghee and a side of Appalam. This is my comfort food and I am craving some of my mother's rasam right now.
Over the years, I have evolved and learned to make good rasam. But according to my son, no one can make rasam like Chitra patti (My mother). I do argue with him and disagree, but then within myself that is the exact same thing I am thinking as well. My mother makes the best rasam in the whole world! I have tried to make it exactly the same way she does and we even use the same sambhar powder, but still both our rasams tastes different and hers is definitely better than mine. This is when I want to accept the argument that Kai manam plays an important role in cooking.
I also make my rasam in Eeya sombu (alloy tin pot). There have been a lot of controversies of how eeya sombu is made of lead and it could lead to lead poisoning. People have consumed rasams made in eeya sombu all their life and did not die out of lead poisoning. So I am against all that thought and I do make my rasam every day in Eeya Sombu. The flavor of rasam when made in eeya sombu is something that cannot be achieved when cooked in regular vessel. I am proud owner of 4 eeya paathiram (2 sombu and 2 adukku). They are pretty expensive and Kumbakonam (near my native village) is very famous for eeyam vessels. They are also high maintenance. The alloy tin has a low melting point and hence needs to be watched carefully. You cannot let the liquid content in the vessel go too low, as the heat might end up melting the vessel as well. So ensure that there is enough liquid in the vessel at all times when boiling.
So here is the basic Thakkali/tomato rasam made in Eeya sombu, which is eaten in every household. This recipe is what I made as a part of Tamil Nadu special Virundhunar Saapadu! Do make sure to see my complete set up and lunch ideas.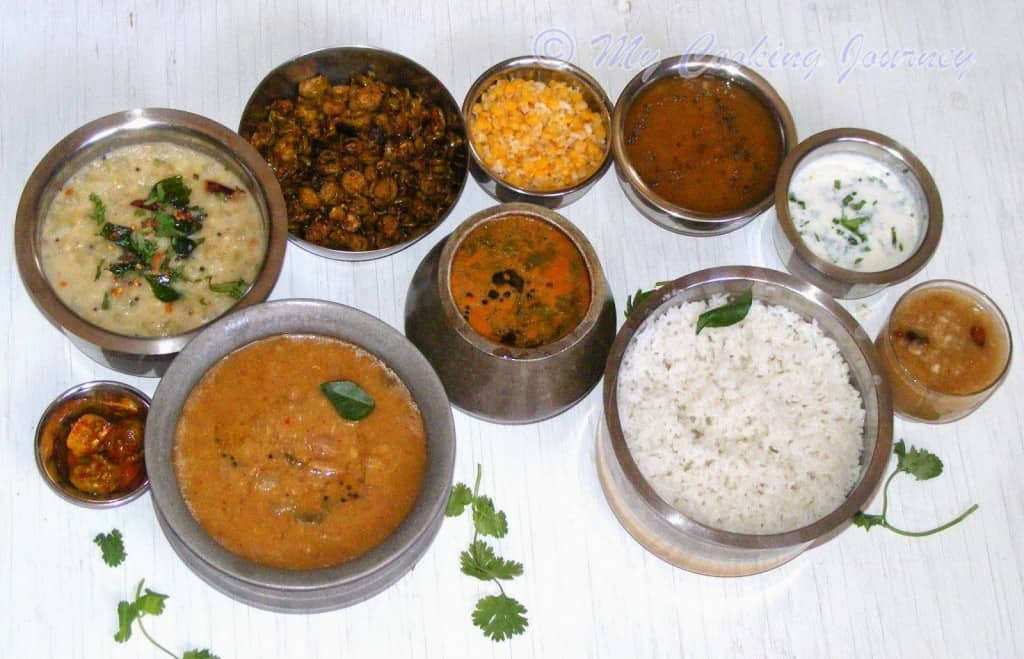 Other recipes I have in this spread are -
Payatham paruppu payasam
Velarikkai Thayir pachadi / Cucumber raita
Manga Pachadi / Mango sweet chutney
Kadalai paruppu sweet kosumalli
Kovakkai Curry
Chow Chow Kootu
Chinna Vengayam Araichu Vitta Sambhar / Pearl Onion Sambhar
Preparation time - 15 minutes
Cooking time - 30 Minutes
Difficulty level - easy
Ingredients to make Thakkali Rasam – (serves 4)
Tomato – 1 large (chopped)
Tamarind – marble size piece
Green chili – 1 (chopped)
Tuvaram paruppu / toor dal – ¼ cup (cooked)
Rasam powder/sambhar powder - 1 ½ tsp
Asafetida – ¼ tsp
Salt – to taste
Sugar – ½ tsp
Cilantro – to garnish
Ghee – 1 tsp
Mustard seeds – 1 tsp
Procedure –
Soak the tamarind in about 1 ½ cups of hot water. After about 10-15 minutes squeeze the tamarind and extract the juice.
Add this tamarind water to the eeya sombu and add the tomato and green chili. Heat this on low to medium flame. Also add the sambhar powder, asafetida, salt and sugar and let the mixture boil (covered partially) for about 10-15 minutes or until the liquid reduces to half its initial quantity.
In the meantime, cook the tuvaram paruppu and take about ¼ cup of the cooked dal in a bowl. Add about 2 cups of water to the cooked dal and mash it well.
Once the rasam boil well, add this dal/paruppu water to the eeya sombu and also add the chopped cilantro leaves.
Let the rasam come to a soft boil, just until it froths up. So not let the rasam boil vigorously. Just let it froth up and then turn off the flame.
In a small pan, heat the ghee and then season with mustard seeds. Add the seasoning to the rasam and keep it covered until ready to serve. It is important to keep the rasam closed to keep the flavors in.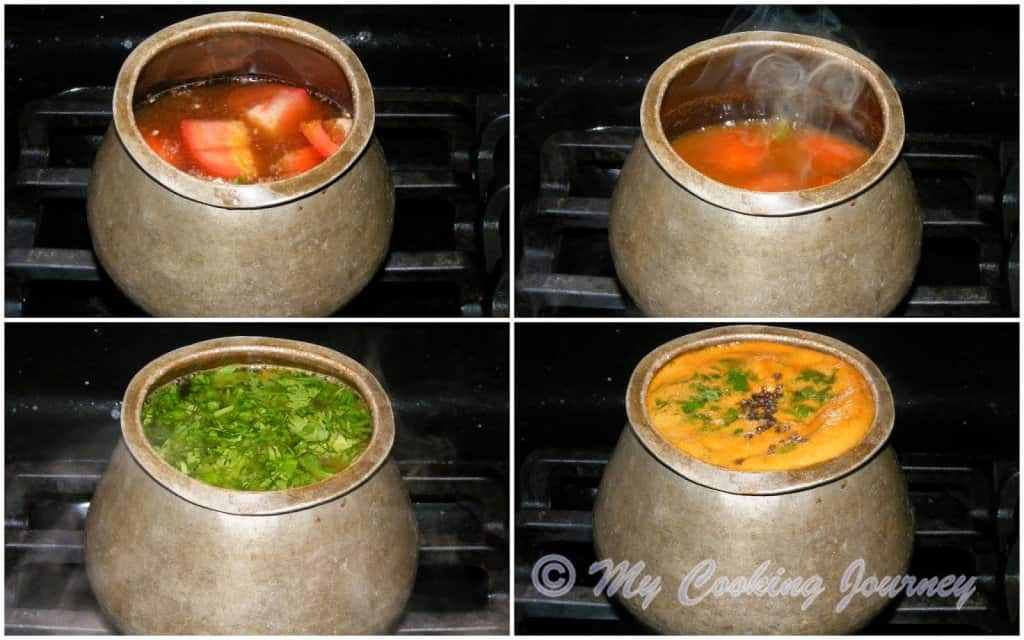 Serve with hot rice and ghee! Be ready for a good nap after lunch, because you sure will need one after the comforting meal!