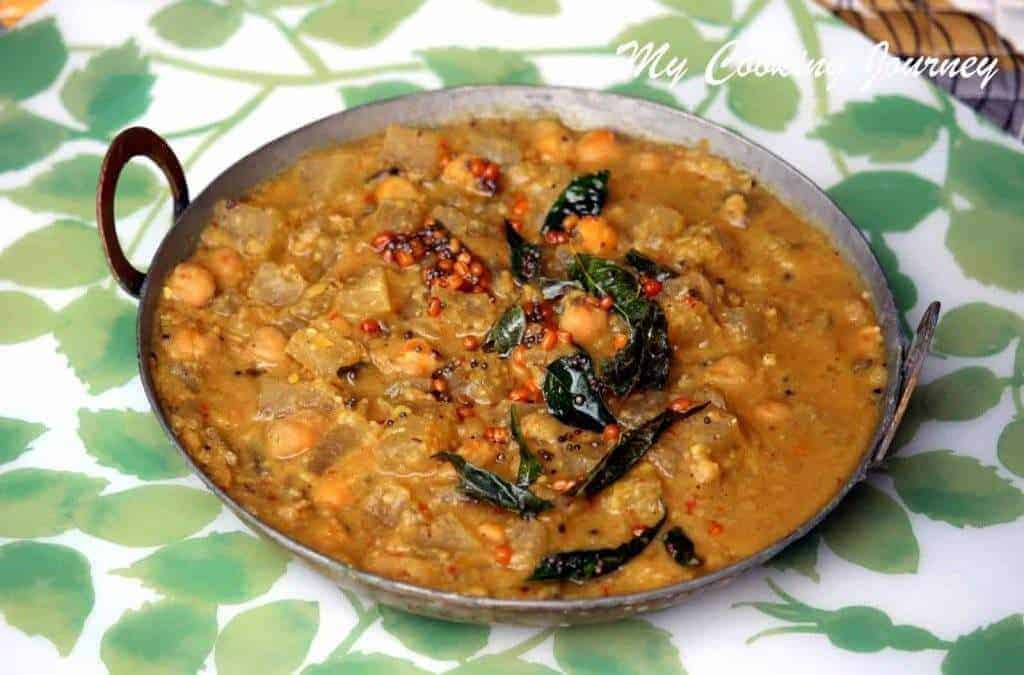 Poosinikkai, also known as ash gourd is the new found happiness for our family. After our move to South, I can very easily find this vegetable in the local Indian or Asian markets and I have been cooking marathons with this vegetable. Back in the North East where this vegetable was not available quite readily, I used Chow – chow (Chayote squash) as the substitute. There are several different types of kootu/stew that can be made, but few days back I had come across this recipe where the author had cooked it with garbanzo beans/chick peas.
We love channa (garbanzo beans/chick peas) and use it often in our house. My older son especially loves channa and I try to make it often for him. One of the most made recipes with chick peas, apart from chole masala would be this quick channa chaat that I make for him as evening snack.
This kootu is made the traditional South Indian way by cooking the vegetable in tamarind juice and then flavoring it with spices.
Preparation time – 10 minutes
Cooking time – 40 minutes
Difficulty level – easy
Recipe adapted from – Padhu's Kitchen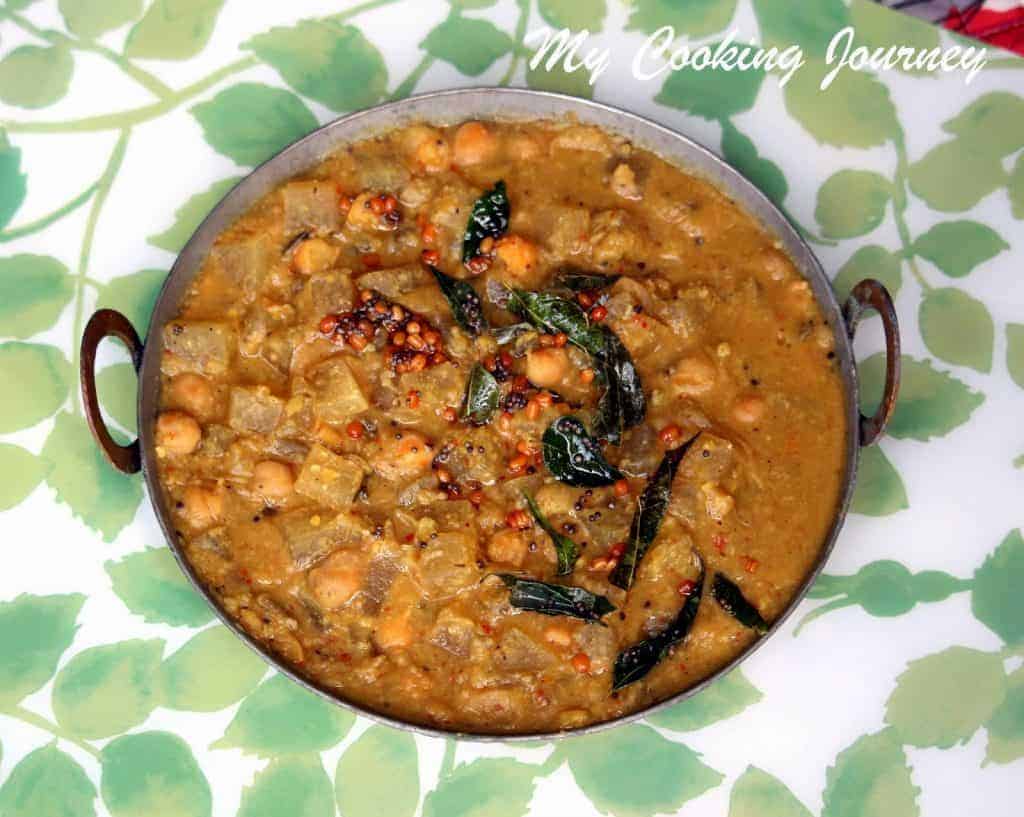 Ingredients to make Poosinikkai Kootu – serves 4
Poosinikkai / white pumpkin / ash gourd – 3 cups (diced into ½ inch cubes)
Tuvaram paruppu / Toor Dal – 1/3 cup
Tamarind – a small lime size piece
Chick peas/ channa / Kondaikadalai – 1 can (14 oz) or about a handful of dry ones (optional)
Sambhar powder – ½ tsp
Salt – to taste
To roast and grind –
Kadalai paruppu / Bengal gram dal – 2 tbsp
Coriander seeds – 1 tbsp
Ullutham paruppu / urad dal – 1 tsp
Red chilies – 4 or 5
Coconut – ¼ cup (grated)
Oil – 1 tsp
For seasoning –
Mustard seeds – 1 tsp
Ullutham paruppu – 1 tsp
Curry leaves – few
Asafetida – a pinch
Oil – 1 tsp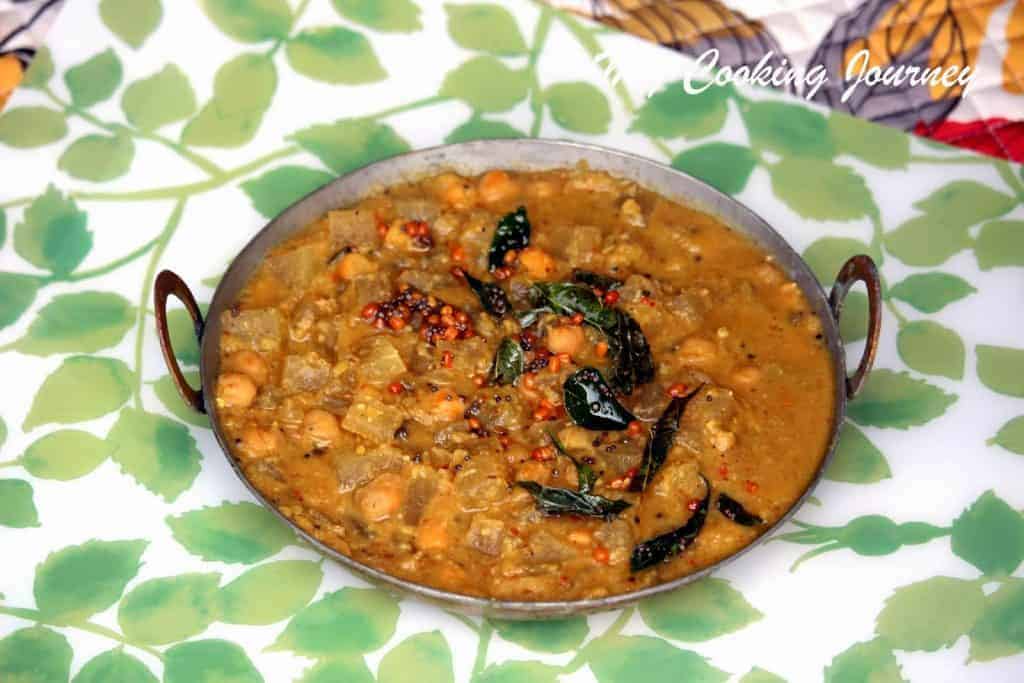 Procedure to make Poosinikkai Kootu –
Wash and cook the Tuvaram paruppu / toor dal in a pressure cooker until soft and mushy. Add a pinch of turmeric powder when cooking the dal.
If using dry chick peas, soak it overnight in enough water and cook it also in the cooker along with the toor dal.
Soak the tamarind in hot water and extract its pulp. Squeeze it one more time and remove the juice.
Fry the ingredients mentioned under 'to roast and grind' in 1 tsp of oil. When it cools down a bit, grind it to a paste and keep it aside.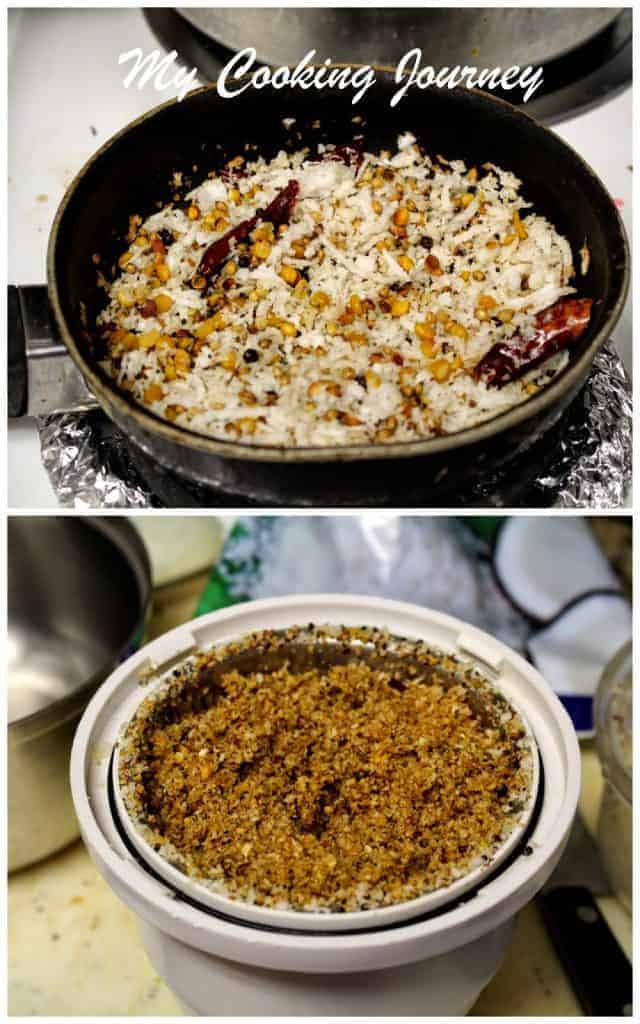 Wash, peel and chop the pumpkin into small cubes. Add this to the pan along with the extracted tamarind pulp. Make sure that the tamarind extract covers the vegetable, if not add more water to cover the vegetable. Also add the cooked or the canned chick peas to this along with salt and sambhar powder and let it come to a boil over medium flame.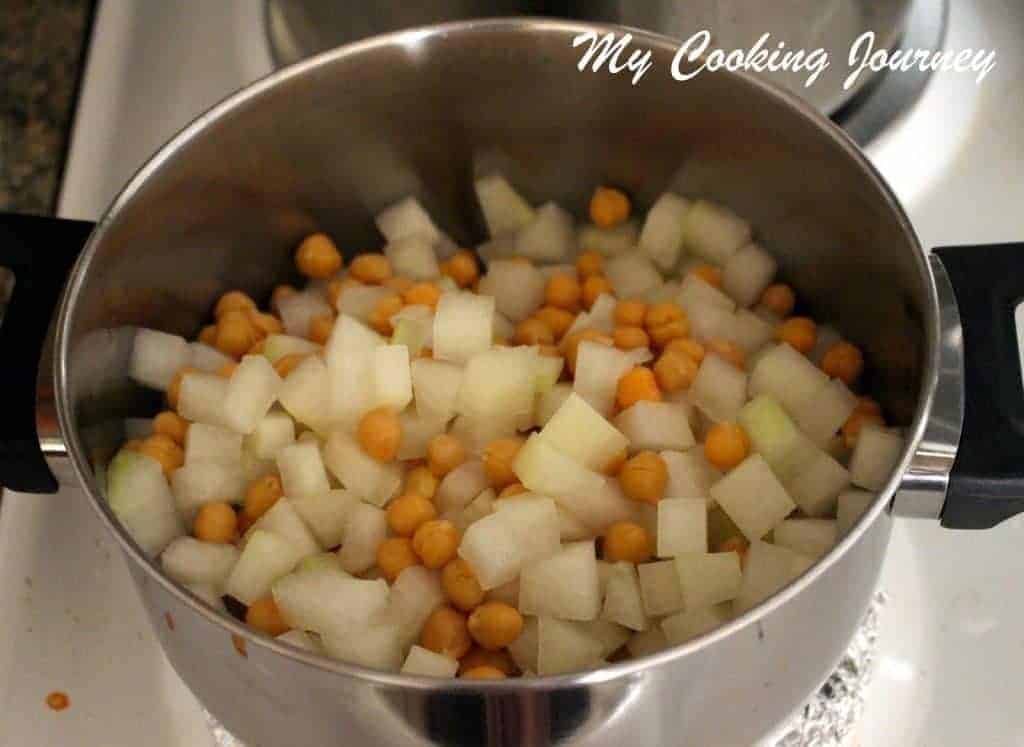 Let the vegetable cook well and then add the ground paste. Mix well and then add the cooked tuvar dal.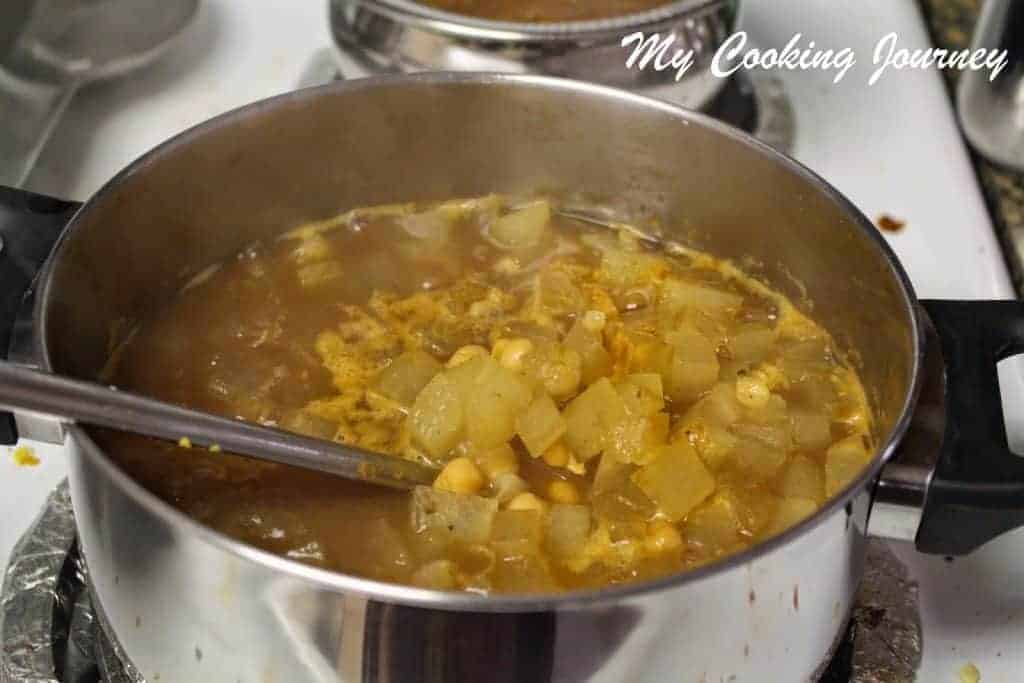 Let it come to a gentle boil and then simmer for few minutes.
Heat a small pan with 1 tsp of oil and then add the seasoning ingredients. Add it to the simmering kootu and mix well. Turn off the flame and serve hot with rice and a dollop of ghee.