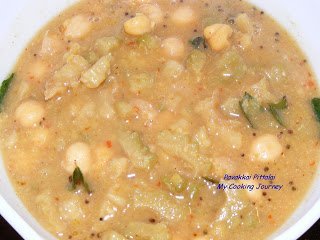 Did I just hear you say, I don't like bitter gourd? Think again…Yes, Bitter gourd is bitter and that is the nature of the vegetable. But if cooked properly using the right ingredients and technique, the bitterness of the dish can be masked very well. Bitter gourd is one of my family's favorite vegetable. We even grow it in our backyard. The plant is a climber and it needs very good support for good yield. For the past few years, we have such a good yield of it, that we freeze it for the whole year.
This is a kind of sambhar that is exclusive made with Pavakkai. The garbanzo beans in the pittalai add a different layer of texture and flavor. Pittalai can also be made with other vegetables, but making it with pavakkai is very common. I would highly recommend that if you have not tried using bitter gourd before, try using it with this recipe. The goodness of the vegetable definitely out pars the bitterness of it.
Ingredients to make Pavakkai Pittalai (Serves 4-6 people)
Pavakkai – 2 large (cut in circles with the center removed)
Garbanzo beans – ½ cup (soaked overnight and cooked)
Tamarind – size of lime
Cooked red gram dal (toor dal) – 1 cup
Mustard – 1 tsp
Black gram dal (urad dal) – 1 tsp
Curry leaves – few
Cilantro – few
Asafetida – ½ tsp
Salt – to taste
Jaggery/brown sugar – 2tsp
Fry in a tsp of oil and grind to a paste the following ingredients
Coriander seeds – 2 tsp
Bengal gram dal (Channa dal) – 1 ½ tsp
Black gram dal (Urad dal) – 1 tsp
Red chilies – 4-5
Grated coconut – ¼ cup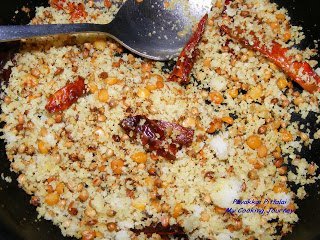 Procedure –
Wash and cut the pavakkai. Dissolve the tamarind in water and extract juice. Cook the vegetable in the tamarind water, adding ½ tsp of sambhar powder, asafetida and salt.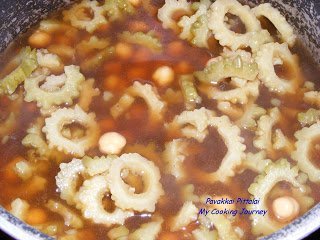 Add the beans when the vegetable is half cooked and continue to boil until the pavakkai is cooked.
Now add the ground paste and cooked dal and continue to boil until the sambhar thickens. If needed, a little bit of rice flour can be dissolved in water and added to make the pittalai thick. Add the Jaggery/ brown sugar and mix well.
Season with mustard seeds, urad dal, curry leaves and asafetida. Garnish with cilantro and serve hot with rice.
This can also be served with idly or dosa.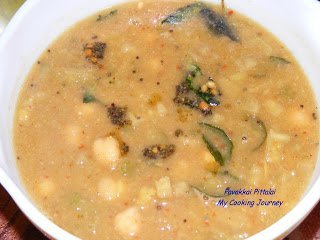 Enjoy!!!