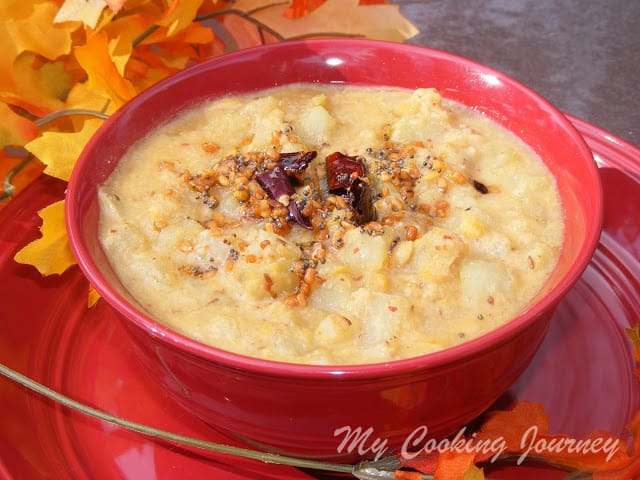 Comfort food is my next post for my third day of blogging marathon under the theme cooking from a cookbook. After a busy week, I always look forward to that day, when I can make a comfort meal and just relish it. Kootu is a comfort food for me. I love it with rice and paruppu (dal). I also like kootu for the reason that it is a very good way of getting vegetables into kid's meal.
My kids love to eat sambhar rice over rasam. Instead of making sambhar, I make kootu on certain days loaded with a vegetable or a combination of vegetables. Most of my South Indian recipes are passed on to me by my mother and some are from Meenakshi Ammal's cookbook. This recipe though is from a cookbook written by the famous author Mallika Badrinath. The book is called Classic Lunch recipes (South Indian Vegetarian). I like this cookbook because she has separated the recipes based on the region. There are Kerala, Tamilnadu, Karnataka, Chettinadu, Mangalore and Andhra Pradesh recipes in this book. This recipe is a Tamilnadu recipe and was delicious.
Preparation time – 10 mins
Cooking time – 40 mins
Difficulty level – easy
Ingredients to make Chow Chow Poricha Kootu – (serves 4)
Chow Chow (chayote squash) – 2
Kadalai Paruppu/Bengal gram dhal – ½ cup
Salt – to taste
Sugar – 1 tsp (optional)
Grind together –
Red chilies – 4
Cumin seeds – 1 tsp
Ullutham paruppu/black gram dhal – 2 tsp
Oil – 1 tsp
Coconut – ¼ cup (grated)
For Seasoning –
Oil – 1 tsp
Mustard seeds – 1 tsp
Ullutham paruppu – 1 tsp
Red chilies – 1
Asafetida – ¼ tsp
Curry leaves – few
Procedure to make Chow Chow Poricha Kootu –
Fry red chilies, cumin seeds and ullutham paruppu listed under grind together in oil until golden brown. Now add the grated coconut and grind it into a smooth mixture. There is no need to fry the coconut.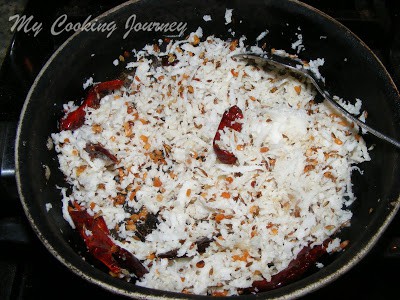 Scrape the outer skin on chow chow and cut ii into small cubes. Cook it along with kadalai paruppu in enough water until the paruppu becomes soft to touch and the chow chow is cooked.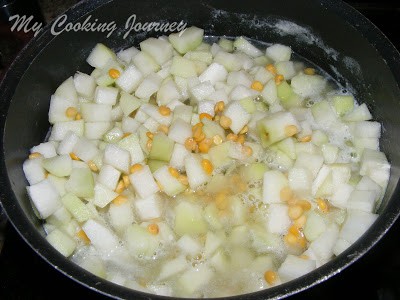 Now add the ground paste and salt and cook until the kootu thickens to required consistency.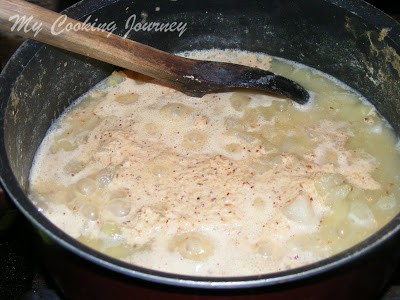 Heat oil and add the seasonings. Mix the seasoning with the kootu and serve hot with rice.
This kootu can also be made with other vegetables such as white pumpkin, snake gourd, radish etc.