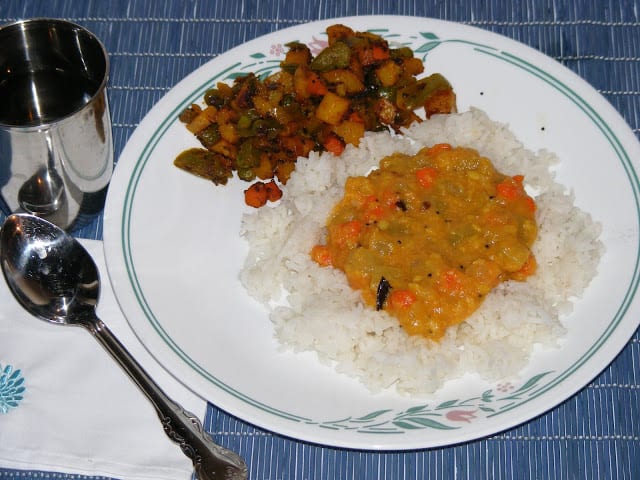 Cold winter days are making me crave for more comfort foods. This is one of the foods that I love to eat on a lazy day with saadham and paruppu (Rice and lentils) and dollop of freshly made ghee. I made this Chow Chow Carrot Kootu, but again it is one of those recipes that can take in any vegetable that you have in hand. I chose these two vegetables, because those are the only ones I had in my refrigerator. That reminds me, I have to go vegetable shopping soon. But before that, here's the recipe.
Preparation time – 10 mins
Cooking time – 40 mins
Difficulty level – easy
Ingredients to make Chow Chow Carrot Kootu– Serves 4
Chow – chow/ Chayote squash/Bangalore kathirikkai – 2 (chopped into small cubes)
Carrot – 3 (chopped into small cubes)
Payatham paruppu (green gram dhal) – ⅓rd of cup
Coconut – ¼th cup (grated)
Green chilies – 2 or 3
Cumin seeds – 1 tsp
Raw rice – 1 tsp
Turmeric powder – ½ tsp
Salt – to taste
Sugar – 1 tsp (optional)
To season –
Mustard seeds – 1 tsp
Urad dal/ black gram dhal – 1 tsp
Dry red chilies – 2
Asafetida – ½ tsp
Curry leaves – few
Oil (preferably coconut oil) – 1 tsp
Procedure to make Chow Chow Carrot Kootu –
Chop the vegetables and place them in a pot with the payatham paruppu and add enough water to cover them. Add turmeric powder and cook it until tender.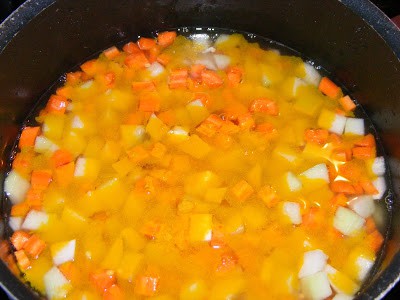 Now add the salt and let it cook for 5 more minutes. Add the salt only after the vegetables and dhal has cooked. If you add the salt before, it takes longer to cook.
Meanwhile, grind together coconut, cumin seeds, green chilies and rice into a smooth paste adding little water.
Once the vegetable and dhal are cooked, add the ground paste and let it come to a boil. Simmer for about 10 more minutes till the kootu has reached the desired consistency.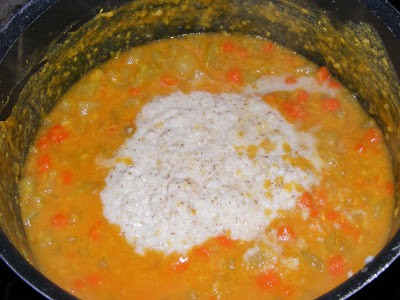 Seasoning - Heat oil in a small pan and add all the ingredients listed under the seasoning. Add this to the Simmering kootu and mix well.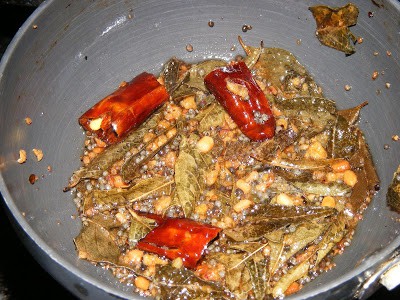 Serve chow-chow carrot kootu hot with rice. Also goes well with chapatti or dosai.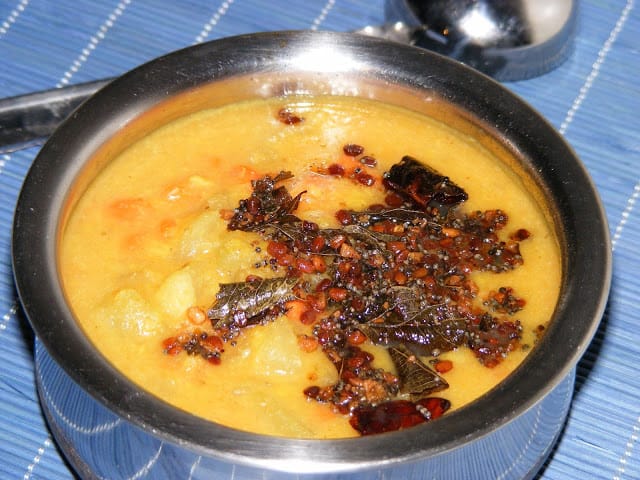 Notes and Observations -

Any vegetable can be added to the kootu.
Do not add too much water when cooking the vegetable. Just add enough water to cover the vegetables, otherwise the kootu might be too watery in consistency.
The rice in the ground mixture is to thicken the kootu. If you forget to add it, you could dissolve a tsp of rice flour in about a tbsp of water and add it to the kootu when it is simmering at the end.