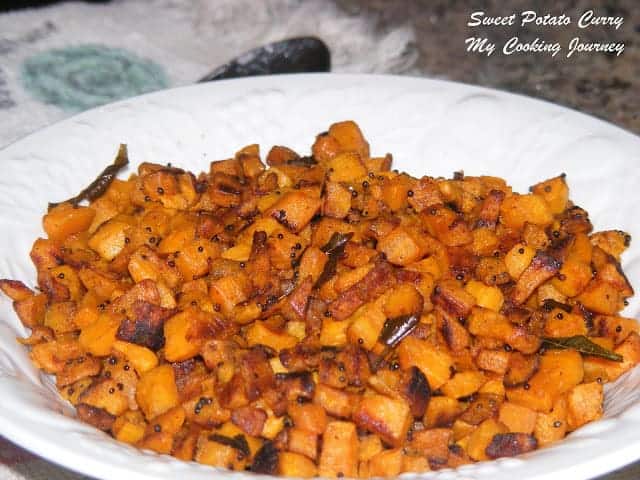 In my family Sweet potato is a more common vegetable when compared to regular potatoes. Although they are not too different, the mild sweetness that the vegetable brings has become my kids' favorite. So I treat them as regular potatoes and make a curry to go along with sambhar or rasam. Keep reading below to see what I do with the left over curry the next day.
When researching online, I noticed that sweet potatoes are a reservoir for Vitamin A and Beta Carotene. If you have tried this vegetable before, I highly recommend it to be a part of your diet. Whatever you make with the potatoes can be made with the sweet potatoes. So don't shy away from it and give it a shot.
To make the curry nice and roasted, you don't need a ton of oil. If you have a good non-stick pan or a cast iron pan, just a tbsp of oil should do the trick. I have a trusted cast iron pan, that is very well seasoned and this is what I use to make all my curries.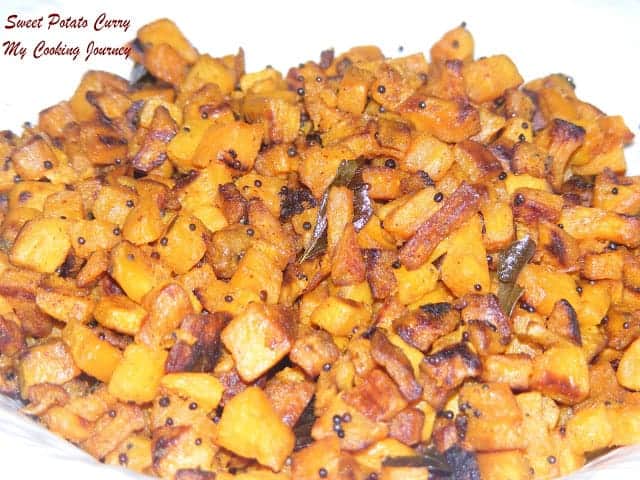 Preparation Time – 10 mins
Cooking time – 20 mins
Difficulty level – easy
Ingredients to make Sweet Potato Curry - (Serves 4)
Sweet potatoes – 4
Oil – 1 tbsp
Mustard seeds (kadugu) – 1 tsp
Turmeric powder (manjal podi) – 1 tsp
Chili powder – 1 tsp (or based on your spice level)
Dhania Jeera powder – 1tsp
Curry leaves- few
Salt – to taste
Procedure –
Peel the potatoes and chop them into small pieces (about ¼ inch cubes).
Heat oil in a non stick pan or a cast iron pan. Once the oil heats, add the mustard seeds and turmeric powder.
Once the mustard seeds sputter add the chili powder, dhania jeera powder, salt and curry leaves and fry for a minute.
Now add the chopped sweet potatoes and give it a good mix. Cover it with a lid and let the potatoes cook until soft. Take care that you don't overcook it, because then it will become very mushy. Open the pan when they still have a slight bite to them. This will take about 8 mins.
Let the sweet potatoes cook over medium high heat until they develop a nice brown layer to it. Keep stirring in between to ensure even browning.
Serve the Sweet Potato Curry with rice and sambhar/rasam.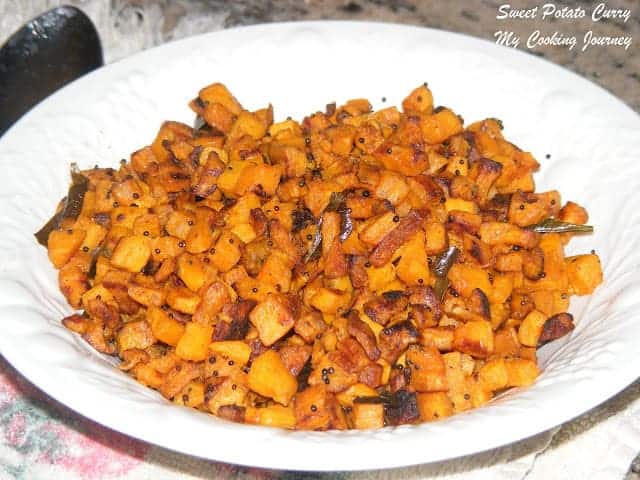 Notes and variations –
I have noticed that the sweet potatoes cook quickly when compared to the regular potatoes. So keep an eye out when you are cooking them. You don't want them to end up as a mushy mass.
I purposefully make this curry in excess, so that the next day, this ends up as lunch sandwich for my 7 yr old. I heat up the curry a bit and then place in between slices of bread and cheese. The cheese when melts, helps to hold the vegetable well and it serves great as a lunch sandwich.