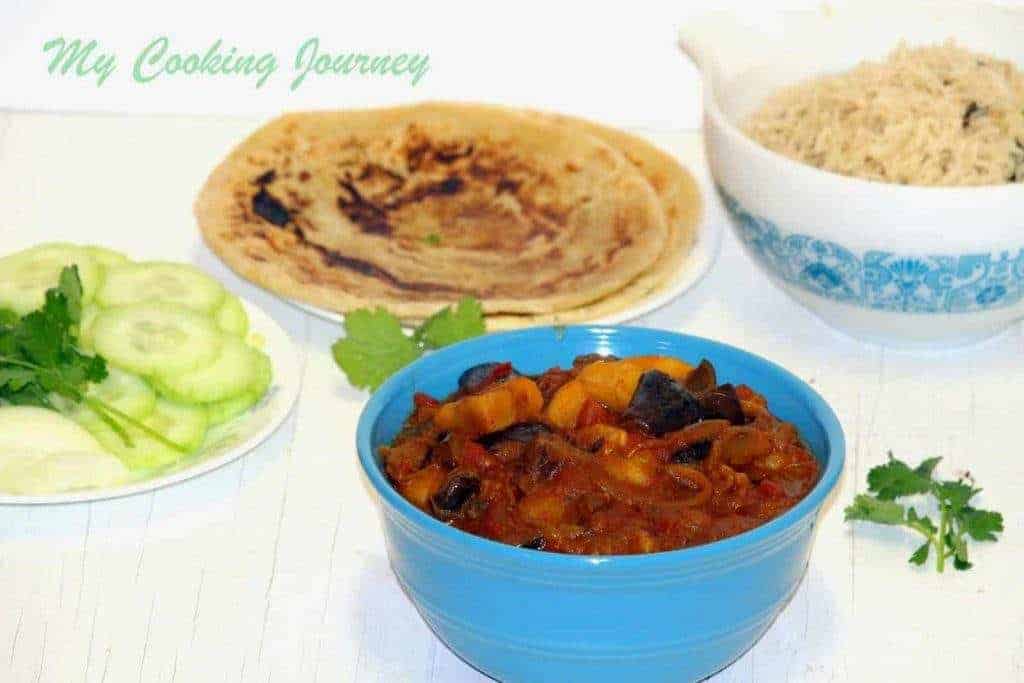 Weekends are crazier than weekdays! With kids growing up, weekends seems to just come and go and before we know, it is time to get back to the week day routine. We plan few things to do as a family over the weekends, especially Saturdays. On those days, we skip the breakfast and have an early lunch or you could call it a brunch and then head out. This seems to work for us as the kid's are filled up before heading out and I don't have to dig out a snack right away.
I try to make something that is easy and does not involve too much of prep work. If making paratha, I would make stuffed ones so I don't have to make an elaborate side dish to go with it. If making a subzi, I cook some plain rice or some Peas pulao or simple jeera rice and pair it with store bought parathas or roti's. These are the only times, when my store bought frozen parathas comes handy.
This weekend, it was the tangy Aloo baingan subzi with some jeera rice and parathas. I made the jeera rice using the same recipe as my peas pulao except I skipped the peas. I also served from sliced cucumbers and onions and our brunch was ready.
If you are looking for more recipes to make with eggplant, then you have to absolutely try this Kathirikkai Podi curry made with freshly ground spices. And when you are at it, do check the Dahi Baingana recipe, which has egpplant in yogurt.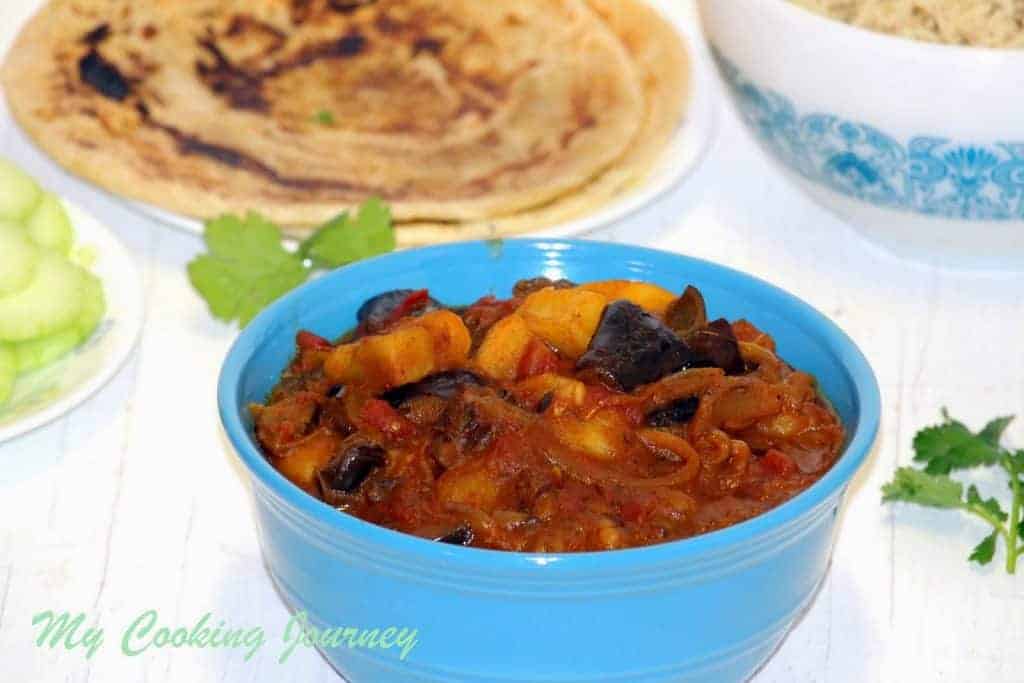 Preparation time – 10 minutes
Cooking time – 40 minutes
Difficulty level – easy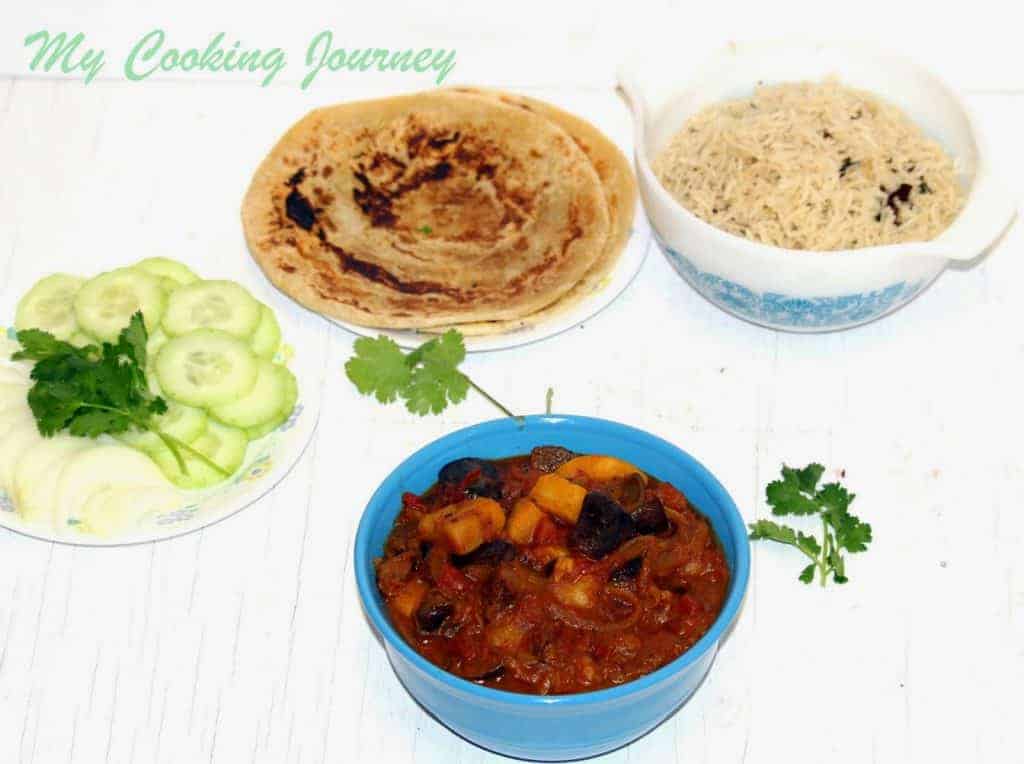 Ingredients to make Aloo Baingan Subzi – (serves 4)
Potatoes – 2 large
Eggplant / Kathirikkai / Baingan – 10 - 12(I used the small purple ones)
Onion – 1 large (sliced thinly)
Tomatoes – 4 or 1 – 14 oz canned diced (I used the canned ones)
Cumin seeds – 1 tsp
Turmeric powder – ½ tsp
Red chili powder – 1 ½ tsp
Dhania jeera powder (cumin coriander powder) – 1 tsp
Garam masala – 1 tsp
Salt – to taste
Oil – 1 tbsp + 1 tbsp
Cilantro – for garnish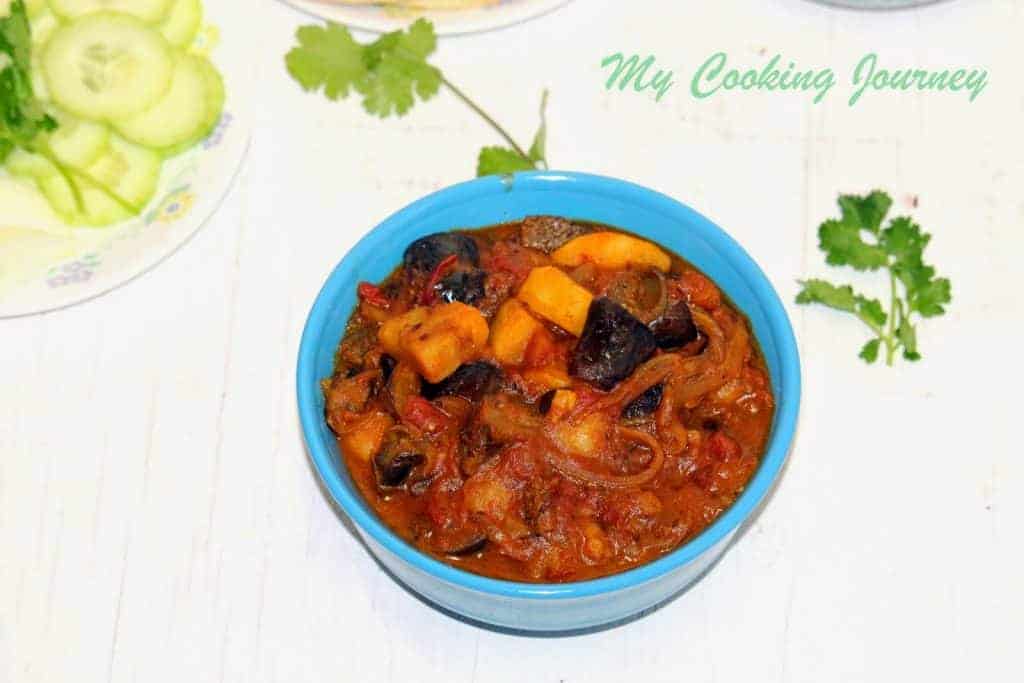 Procedure –
Wash and chop the eggplants into 1 inch cubes. Heat 1 tbsp of oil in a wide pan and add the chopped eggplants. Sauté it on medium high heat until the eggplants becomes light brown. Gently stir the vegetables when sautéing. Do not cover the vegetable with a lid at any point. This step ensures that the eggplants do not become mushy. Also sautéing the eggplant helps to retain the texture of the vegetable when we add it in the gravy. If we directly add the vegetable in the gravy and cook, the eggplant would become all mushy. Remove the eggplants with a slotted spoon and leave it aside.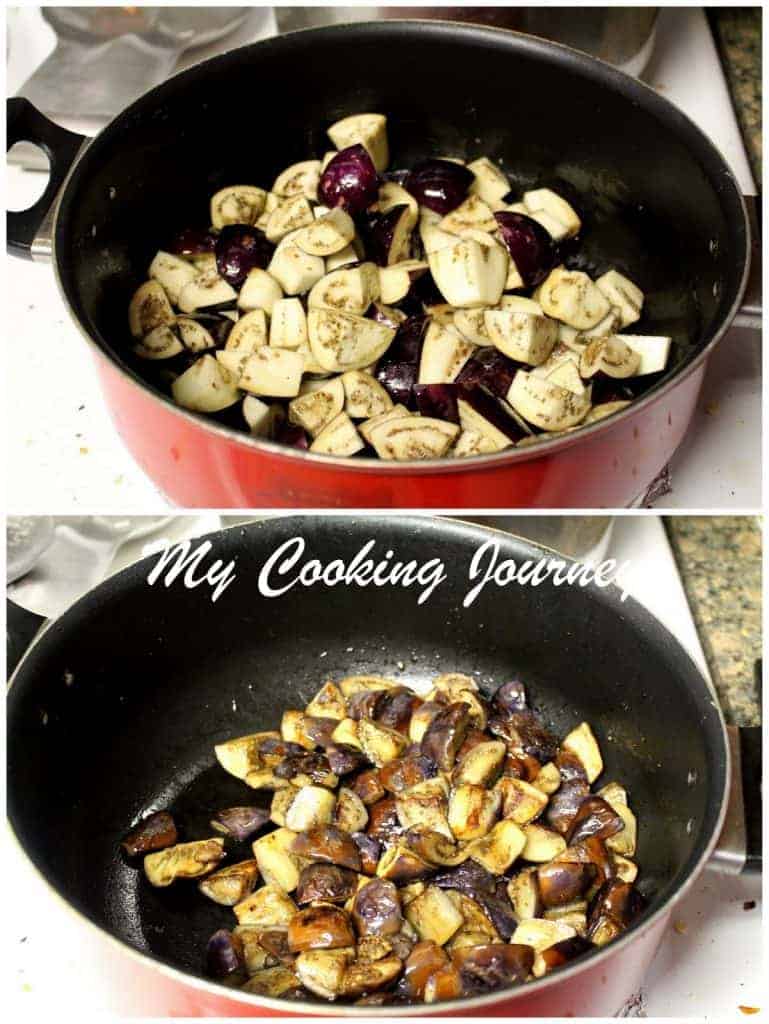 Peel the potatoes and cut them into 1 inch pieces. Cook it in the microwave until fork tender. Make sure that the potatoes are not mushy. Leave it aside.
In the same pan, that we sautéed the eggplants, add the remaining oil and heat it. Add the cumin seeds and let it splutter. Now add the sliced onions and sauté until golden brown.
Add the chopped tomatoes or the canned ones and mix well. Add all the spices – turmeric powder, chili powder, dhania jeera powder, garam masala and salt. Mix well and cook on low-medium flame until the oil separates from the mixture. This could take about 10-12 minutes. Be patient and stir it every now and then to avoid burning at the bottom.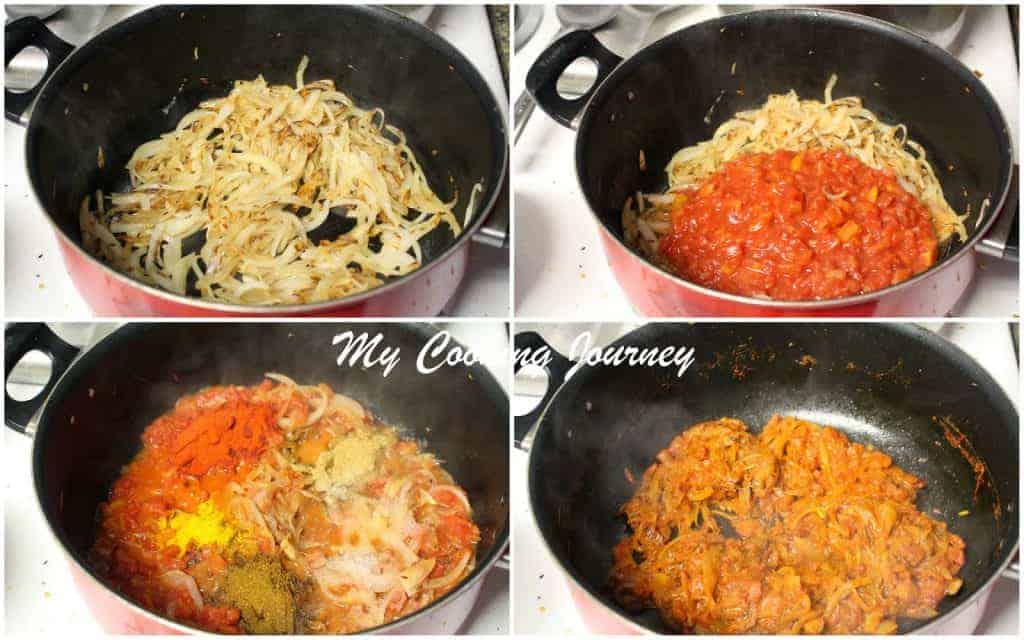 Now add the fried eggplants and boiled potatoes and mix well. Add water to adjust the gravy and let it come to a boil. Simmer for about 10 minutes to allow the flavors to combine. Check the seasoning and then garnish with cilantro.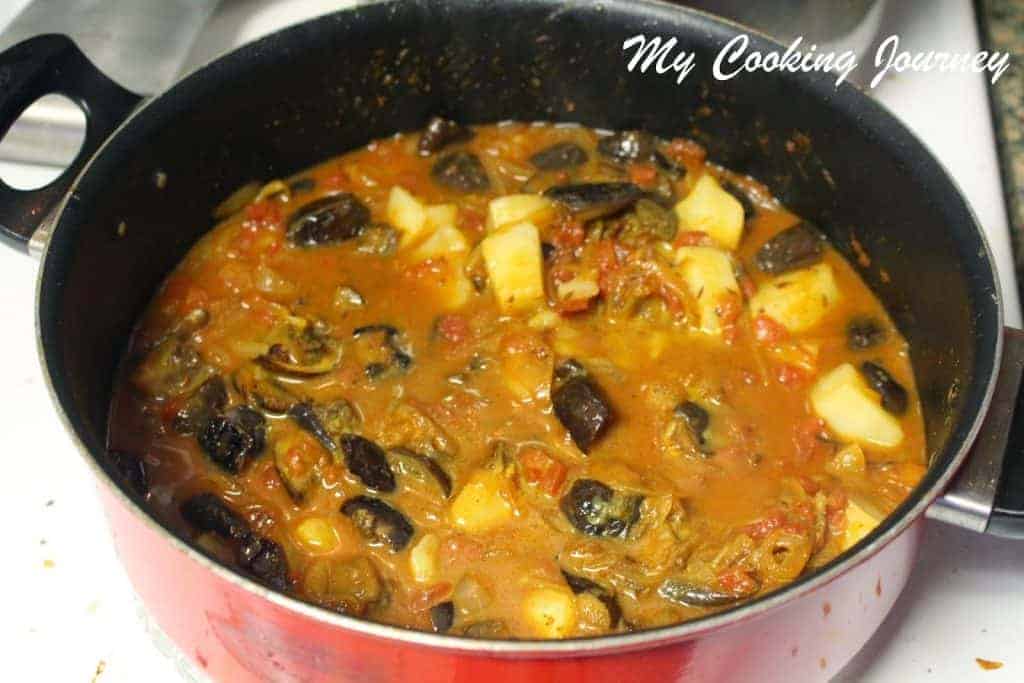 Serve Aloo Baingan Subzi hot with paratha, poori or rice!