Masala Dosai with peanut chutney is a slight twist to the regular south Indian combo of Masala Dosa with coconut chutney. Having peanut chutney as a side for this masala dosai gives a very different flavor and can easily be a meal.
Dosai is a fermented crepe made out of rice and black lentils. It is very rich in carbohydrates and proteins and thus is a very healthy breakfast option. Having said that, dosa tastes good any time of the day.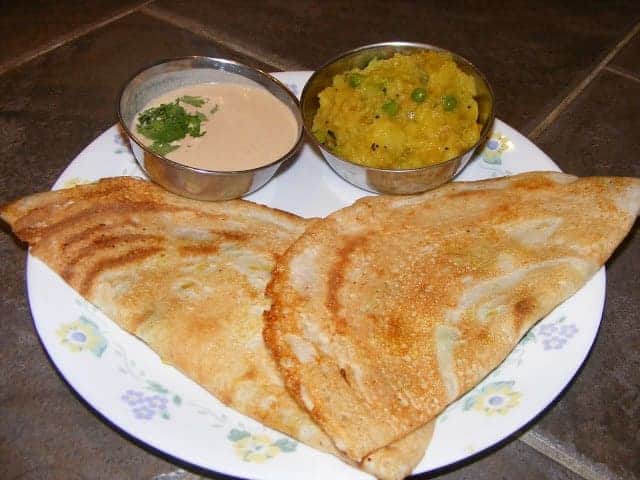 Masala dosai is a dosa with a vegetable filling. The filling is usually potato-based with onions, tomatoes, and peas. Coming from a south Indian family, this is one of our staple meals, yet every time I make it, it becomes a favorite meal. Dosa goes well with Sāmbhar or chutney.
The chutney I made with this is a very protein-rich one. I learned it when I was on vacation in India, from one of my parent's neighbors and ever since is my favorite. It is very simple to make and involves no cooking (No wonder it is my favorite).
Ingredients to make Masala Dosai With Peanut Chutney -
For Dosa -
Parboiled rice/Idli rice – 5 cups
Whole urad dhal (Black lentils) – 1 cup (heaped)
Methi seeds – 2 tbsp
Salt – to taste
Oil (preferably sesame oil) – for making dosas.
For masala – (makes filling for about 12-16 dosas)
Potatoes (Boiled) – 4
Onion (Finely chopped) – 1
Tomatoes (Finely chopped) – 2
Green chilies (Chopped) – 2
Peas – ½ cup
Mustard seeds – 1 tsp
Black gram dhal/urad dhal – 1 tsp
Turmeric powder – ½ tsp
Chili powder – ½ tsp
Asafetida – a pinch
Curry leaves – few
Cilantro – 1 tbsp
Salt – to taste
Oil – 2 tsp
For peanut chutney
Roasted peanuts – 1 cup
Dry red chilies – 3
Salt – to taste
Procedure to make Masala Dosai With Peanut Chutney -
To make Dosa batter
Soak the lentil and rice overnight with methi seeds. Grind it into a smooth batter and add enough salt. Let it ferment in a warm place for at least for 12-16hrs. You would know it is fermented when the batter rises.
To make masala filling
Boil the potatoes, peel the skin, and mash it. Heat oil in a pan and add the mustard seeds, urad dhal, curry leaves, asafetida, green chilies, and onions and fry them well.
Now add the tomatoes, turmeric powder, red chili powder, and salt, and cook for a few minutes until the tomatoes cook.
Add the mashed potatoes and the peas and mix well. Add very little water, if needed, and let it cook for a few minutes. Add the chopped cilantro. Let the filling cool a little bit.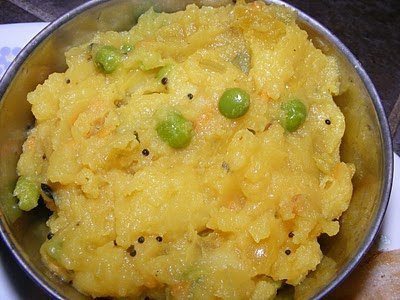 To make Dosai
In a nonstick skillet, make thin circular crepes and pour about a teaspoon of oil on the sides. Let it cook on one side and then flip it and let it cook on the other side.
Flip it back again; keep some filling on one half of the dosa and then cover the filling with the other half. Make all the dosas in the same way.
To make chutney
Put all the ingredients in a blender and grind it well adding little water. The chutney is ready.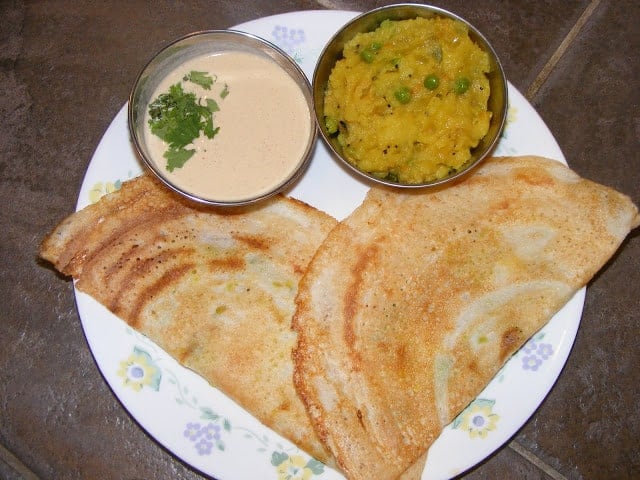 Similar Recipes
If you made this recipe and liked it, give a star rating on the recipe card or let me know in the comments below. You could also share it with me on Instagram using #MyCookingJourney and tagging me @sandhya.ramakrishnan. You could follow me and my recipes on Facebook |Instagram | Pinterest | Twitter