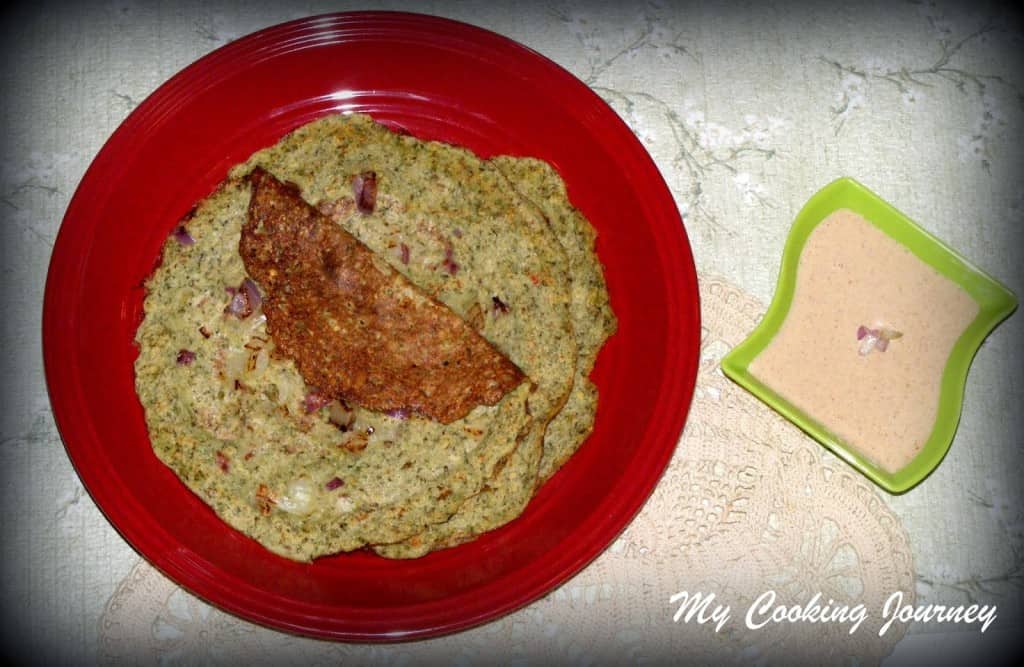 Today we are beginning our journey through the states of India, one state a day. The first state that we are doing is Andhra Pradesh.
Andhra Pradesh is a state situated in the Southeast coast of India. Hyderabad is the capital and the largest city in Andhra Pradesh. It so bordered by Maharashtra, Chhattisgarh, Odisha, Tamil Nadu and Karnataka. Andhra has the second largest coastline after Gujarat and the two major rivers that flow through the state are the Krishna and Godavari. The official language of the state is Telugu and the co-official language is Urdu.
Andhra Pradesh is historically called the 'Rice Bowl of India' because more than 77 % of its crop is rice. Andhra Pradesh cuisine is one of the most spiciest cuisine in India. Rice is the staple of the cuisine and is used in many different varieties of dishes.
There are few recipes that shout Andhra to me. The first one would be the Andhra Aavakaay (Mango Pickle). There can be nothing better in the world than a bowl of curd rice with Aavakaay urukkai. I am also very fond of their Peanut chutney and it is one of the most commonly made chutneys in my house. I love the way they make their stuffed eggplants with a special masala powder to go inside it. They also make Pachadi out of every vegetable and it goes well with rice. One of my other favorite from the Andhra cuisine would be the Gongura thokku. Gongura is a plant grown for its edible leaves and it is very common and famous all over Andhra.
The pesarattu that I chose to make today is one of the most famous and commonly eaten breakfast in Andhra. It is very similar to dosa except for it has very little rice and is exclusively made out of Green gram also known as the whole Moong. Also pesarattus are unfermented dosa, so I see it more like a adai. Onions are used as a garnish or it can be omitted as well. When the pesarattu is served along with Upma, it is called the upma pesarattu and is very famous in the coastal regions of Andhra. When I was thinking about what to make for Andhra, my good friend and blogger Pavani gave me several recipe suggestions that are authentic for her home town, Andhra. I chose to make this recipe from her space.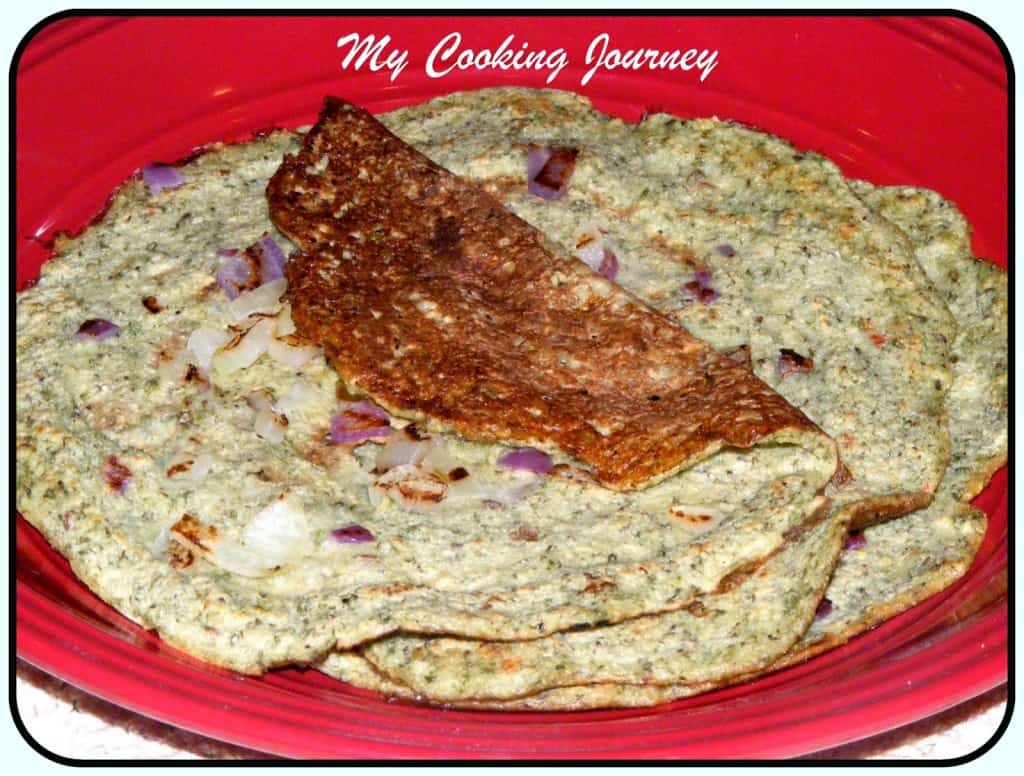 Preparation time - 10 minutes plus 4-6 hours to soak the green gram dal
Cooking time - 30 minutes
Difficulty level - easy
Ingredients to make Pesarattu - Makes about 15 crepes
Whole Moong Dal/ Whole Green gram dal / Pachai Payaru - 2 cups (could substitute with broken green gram with skin)
Rice - ¼ cup
Green chilies - 4-6 (adjust based on your liking)
Ginger - 2 inch piece
Salt - to taste
Oil - to make the pesarattu
Onions - 1 medium, finely chopped (Optional)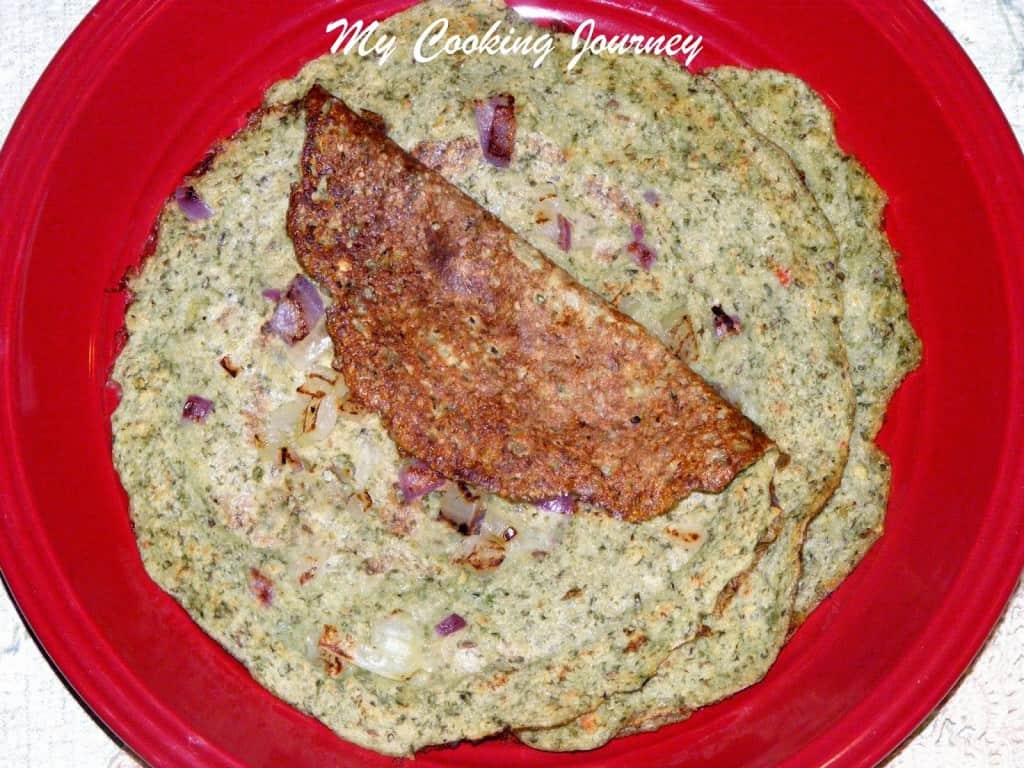 Procedure -
Soak the whole moong for 4-6 hrs or overnight. If using split green gram, the soaking time could be reduced to just couple of hours.
Grind it into a smooth batter with the rest of ingredients (except onion and oil) adding enough water. The batter should be in the consistency of thin adai batter and could be a little on the coarser side.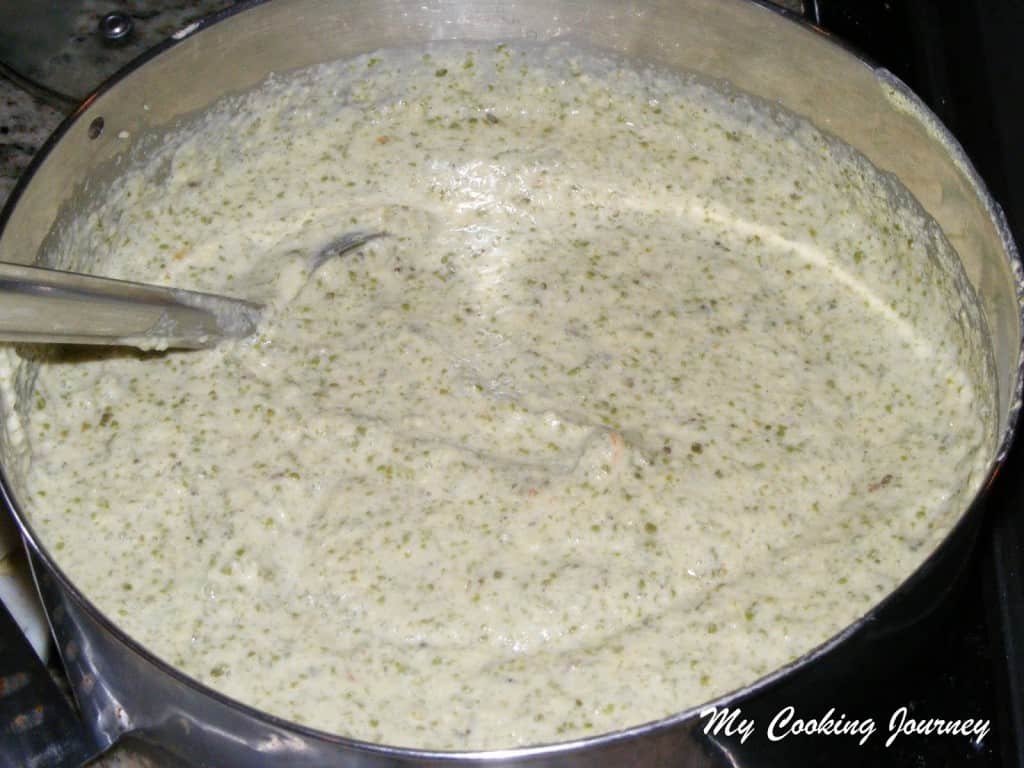 Heat the tawa/griddle and spread about 2 ladleful of batter to make a crepe/dosa. Sprinkle about a tbsp of chopped onions and press it down gently with the back of your spatula.
Add about a teaspoon of oil around the crepe and let it cook until golden brown on one side. Now flip the pesarattu and let it cook on the other side.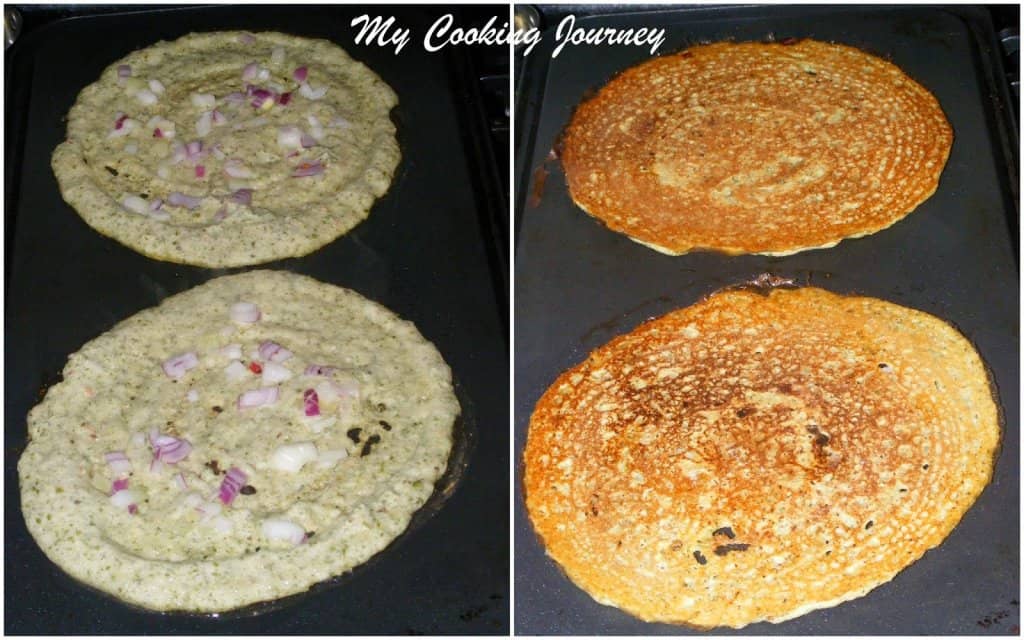 Repeat with the rest of the batter.
Serve hot with chutney or idli milagai podi. I made some Peanut chutney to go along with the pesarattu.