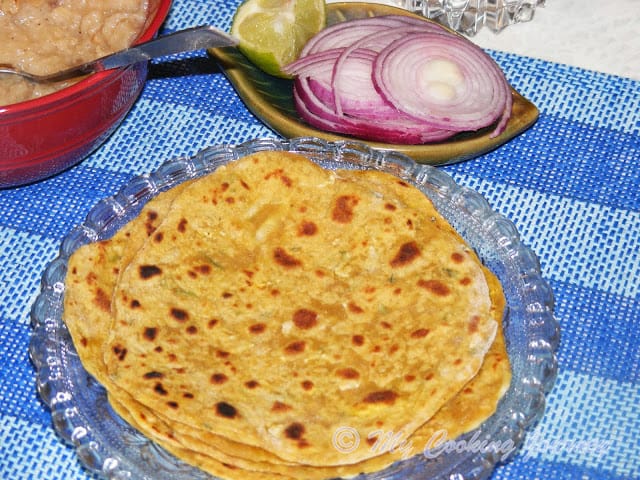 Any stuffed paratha is considered a full meal in my household. Stuffed parathas are very filling and they have the vegetable and the spices in them. This makes it as a main dish and these hardly needs any side dish with it. My kids have their little space in the backyard where they grow some vegetables (glad we are in inspiration to them). Radish, turnips and carrots are something that they mostly grow in their bed. My kids love radish in sambhar and any subzi, so they often ask me to make something with radish. Hence I make this parathas very often. All they need is a bowl of yogurt with it and they are done. I am choosing this recipe as my third dish for the BM under the theme Main Dishes.
Making mooli paratha could be slightly tricky since the water content in radish is very high. If we are not careful when kneading the dough and add a little too much water, the dough could become very sticky and it will be hard to roll. Hence I always grate the radish and then toss the flour in with it and leave it aside for few minutes. Then I sprinkle very little water and then knead the dough.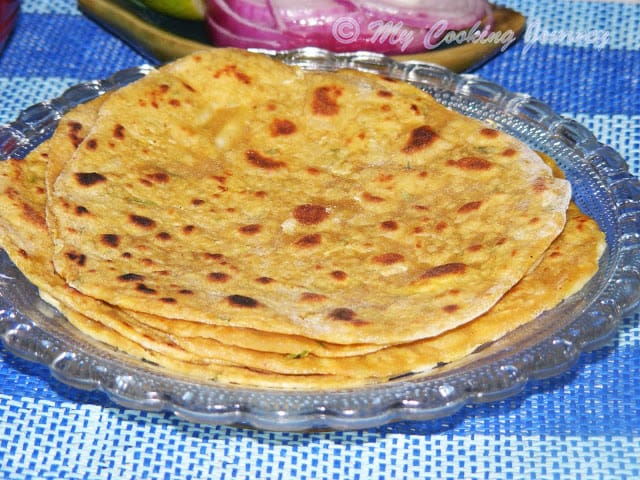 Preparation time – 30 mins
Cooking time – 30 mins
Difficulty level – easy
Ingredients to make Mooli Paratha – (makes about 10 parathas)
Aata/chappathi flour/whole wheat flour – 2 cups
Mullangi/mooli/radish – 1 large or about 1 heaped cup grated
Salt – to taste
Chili powder – 1 tsp
Amchur powder – 1 tsp
Dhania jeera powder – 1 tsp
Oil – to make the parathas plus 1 tbsp to make the dough
Procedure –
Grate the radish and then add all the spices and salt to it. Mix it well and keep it aside for about 10 mins.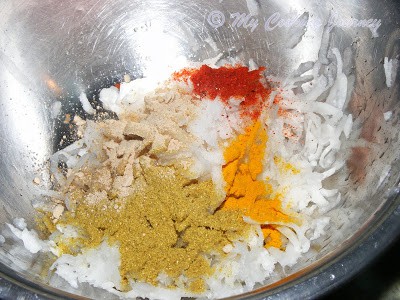 You will see that the radish would have let out lot of moisture.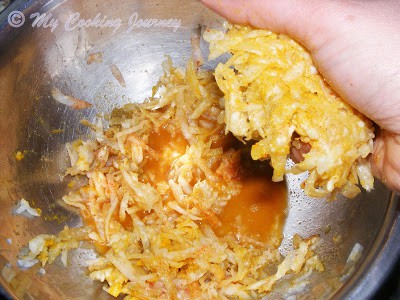 Now add the aata to the grated radish and mix it well. Leave this aside for about 10 mins and then sprinkle very little water and knead to make soft dough. Also add about 1 tbsp of oil to coat the dough and knead it well. Leave the dough to rest for 20 – 30 mins covered.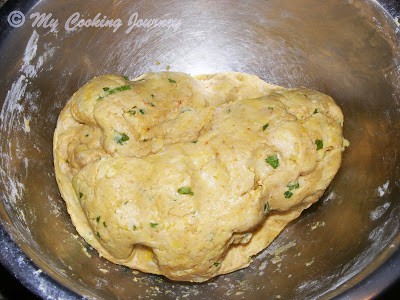 Divide the dough into equal sized balls and then roll them into parathas using little flour to dust while rolling.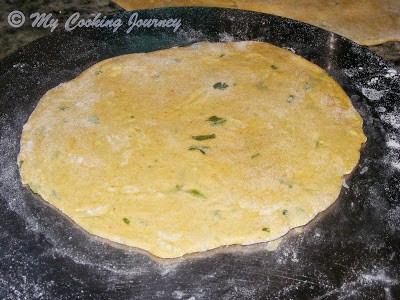 Cook it on medium flame applying little oil on both sides. Cook it until they are golden brown on both sides.
Serve hot with some pickle and yogurt. My husband loves to eat this with some sweet mango pickle.