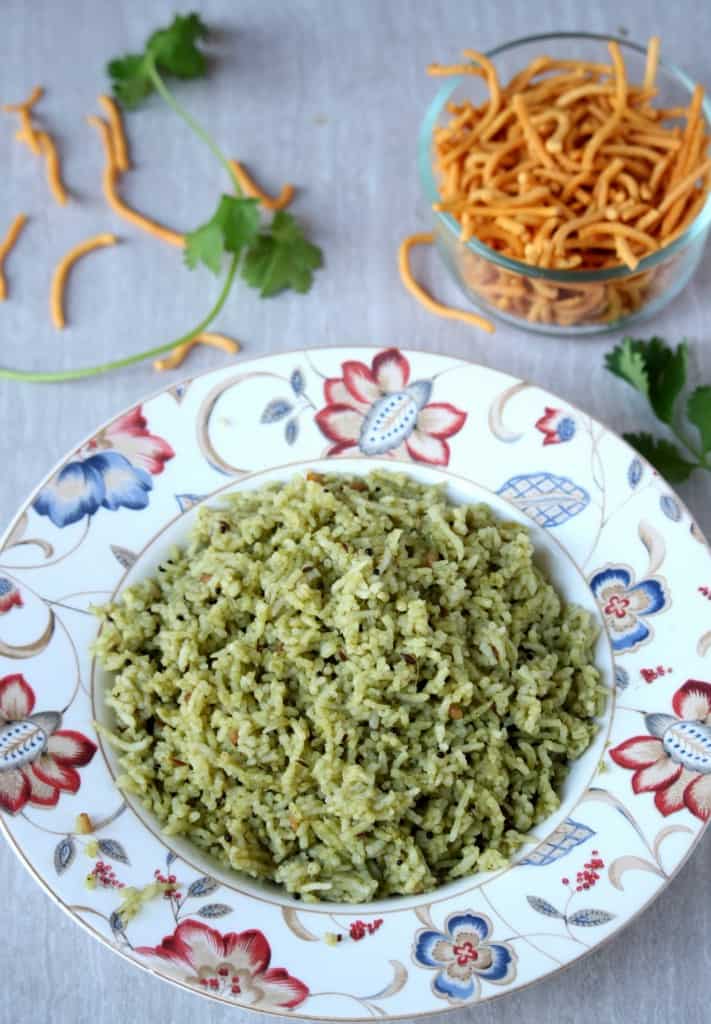 This weekend when we were grocery shopping, I saw that cilantro bunches were on sale and was really fresh. I went really overboard and 3 large bunch of cilantro / coriander leaves. When putting the ingredients inside the refrigerator, I realized that I had bought way too much of cilantro. My husband asked me to make kothamalli thuvayal, which I would be making eventually, but tonight for dinner I wanted to make something quick and easy.

One pot meals are the best recipes to make when looking to make something quick and easy. That is when I came across this recipe from my cookery notebook. This is the notebook that I have been having from the time I got married and it has all the recipes from my mother, patti, aunts and relatives. I am not sure who gave me this kothamalli sadam recipe, but this was in the note book. Hence I thought I will make it and use it for my bookmarked theme for this week's BM.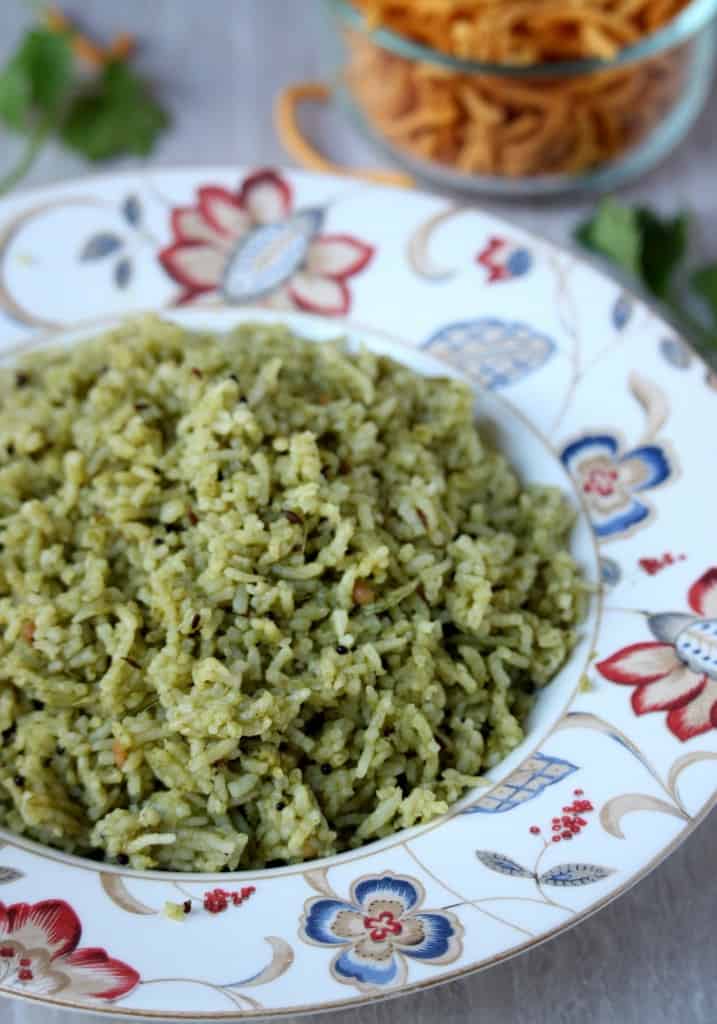 Preparation time – 10 minutes
Cooking time – 30 minutes
Difficulty level – easy
Ingredients to make Kothamalli Sadam – Serves 4
Basmati Rice – 1 ½ cups
Cilantro / coriander leaves – 1 medium bunch
Green chilies – 4 or 5
Ginger – 1 inch piece
Coconut – 2 tbsp (grated)
Oil / ghee – 2 tbsp
Mustard seeds – 1 tsp
Cumin seeds – 1 tsp
Ullutham paruppu / Urad dal – 2 tsp
Kadalai paruppu / chana dal – 2 tsp
Asafetida – ¼ tsp
Salt – to taste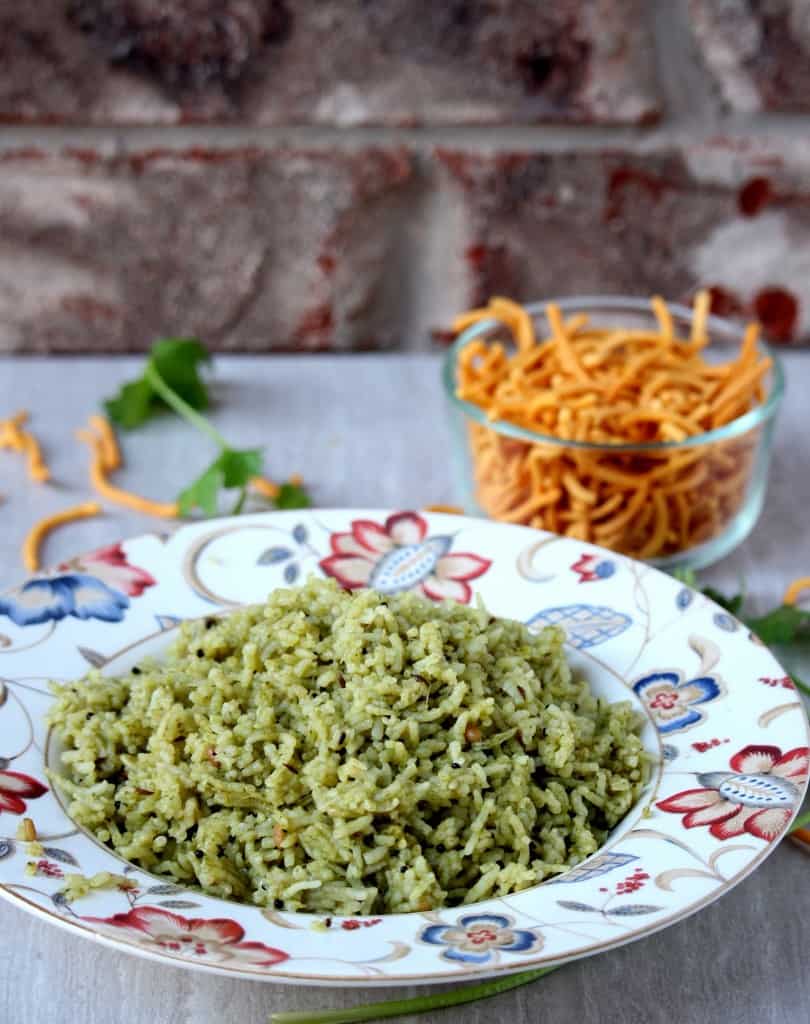 Procedure to make Kothamalli Sadam –
Wash and soak the Basmati rice for about 15 minutes.
Grind together the cilantro, green chilies, ginger and coconut adding very little water into a smooth paste. I used about 4 green chilies and it was quite mild. Adjust the green chilies based on your spice level.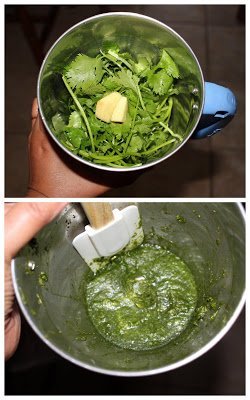 In a heavy bottom pan, heat the oil or ghee. I used a combination of both. Add the mustard seeds and the cumin seeds and let it crackle. Now add the urad dal and the chana dal along with asafetida and let it fry for about 15 seconds.
Add the ground cilantro paste to the pan and mix well. Add salt needed and let the cilantro mixture cook.
Let the mixture cook. It will start to leave the sides of the pan.
Drain the soaked rice and add it to the masala. Mix well and fry for about 2 to 3 minutes, stirring gently.
Add water needed to cook the rice. I used about 3 cups of water.
Let it come to a boil and then simmer the heat and cover the pan.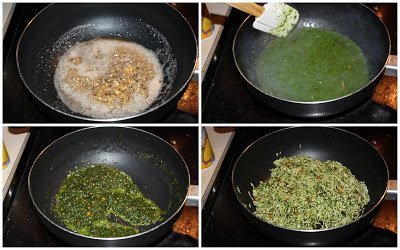 Once the rice cooks and all the water is absorbed, fluff the rice with a fork. Serve warm with chips or raita.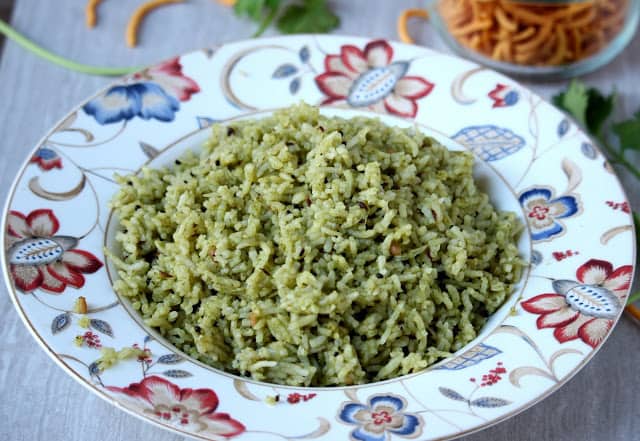 Check out the Blogging Marathon page for the other Blogging Marathoners doing this BM#64