Recently I found some fresh cranberries in the local market and I had brought home a couple of boxes with me. With half of them, I had made the cranberry pickle and it was a really winner in the house. One night, when I did not make much for dinner, me and my husband decided to use the cranberry pickle to mix with rice and eat. It tasted great and reminded me of the Puliyodharai. It had the same amount of sourness and tartness that one would get from the pulikachal.
That dinner was the inspiration for today's cranberry rice, but instead of making a thokku or pickle, I treated the cranberries like I would the tomatoes when making tomato rice. The flavors were very well balanced and it tasted great with some raita/pachadi on the side. This recipe is for the first day of blogging marathon under the theme 'different rice dishes'.


Preparation time – 10 minutes
Cooking time – 40 minutes
Difficulty level – easy
Ingredients to make Cranberry Rice – serves 4
Rice – 1 cup (I used sona masoori)
Cranberries – 1 ½ cups
Onion – 1 large (chopped)
Green chilies – 2 (slit lengthwise)
Mustard seeds – ½ tsp
Cumin – 1 tsp
Ullutham paruppu/urad dal – 1 tsp
Asafetida – ¼ tsp
Curry leaves – few
Turmeric powder – ½ tsp
Red chili powder – ½ tsp
Salt – to taste
Oil – 2 tbsp
Procedure –
Cook the rice and let it cool down to room temperature.
Wash the cranberries and cut them into quarters.
In a wide pan, add the oil and season with mustard seeds, cumin seeds, urad dal, curry leaves and asafetida.
Add the chopped onions and the green chilies and sauté until the onions turn transparent (about 5-6 minutes).
Now add the chopped cranberries, turmeric powder, red chili powder and salt. Mix well and let the cranberries cook until they are mushy (about 12 minutes).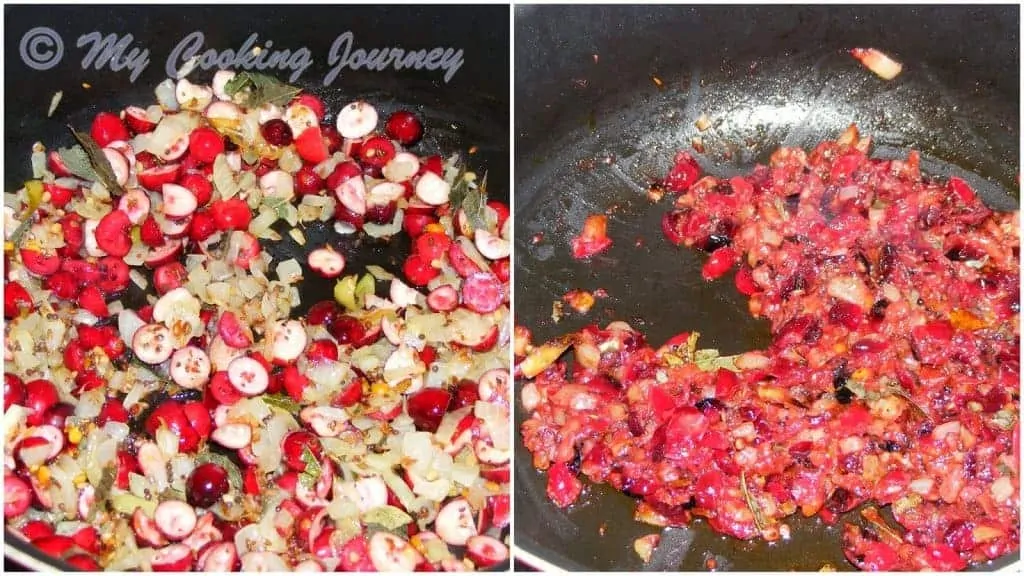 Add the cooked rice to the cranberry mixture and gently mix. Make sure that the rice is evenly coated and adjust the seasonings.
Serve with any kind of pachadi/raita!
Check out the Blogging Marathon page for the other Blogging Marathoners doing BM#38