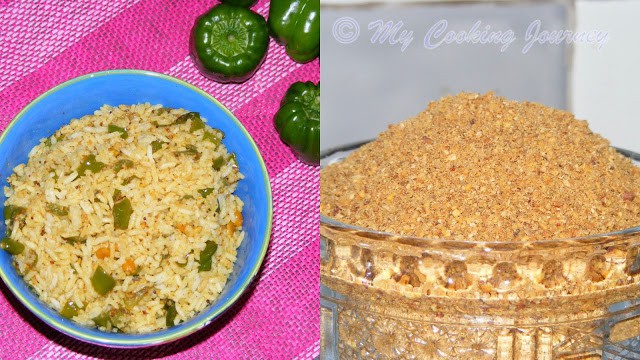 Navarathri was a wonderful time and today being the last day of it, we are feeling a little down. This year I had the pleasure to make several new friends during the occasion. Bell pepper or capsicum rice was something that I had cooked during one of the nights, when I had friends over for Golu. This recipe is made with a homemade masala powder that was passed down to me through my cousin's wife's mother. I have this recipe in my recipe note book forever and I always have a batch of this powder made in the pantry. This week I got a chance to take pictures of it and I am posting it for this week's cooking from a cook book challenge.
This rice powder is very versatile and can be used with any vegetable and rice. I happened to have lot of harvested bell pepper in hand; hence I made it with bell pepper. I usually also add onions when making this rice, but since I made it for navarathri, I skipped the use of onions. The masala powder stays very well in the pantry and comes in very handy to make for lunch boxes.
Preparation time – 20 mins
Cooking time – 40 mins for the masala powder and about 40 mins to make the rice
Difficulty level – easy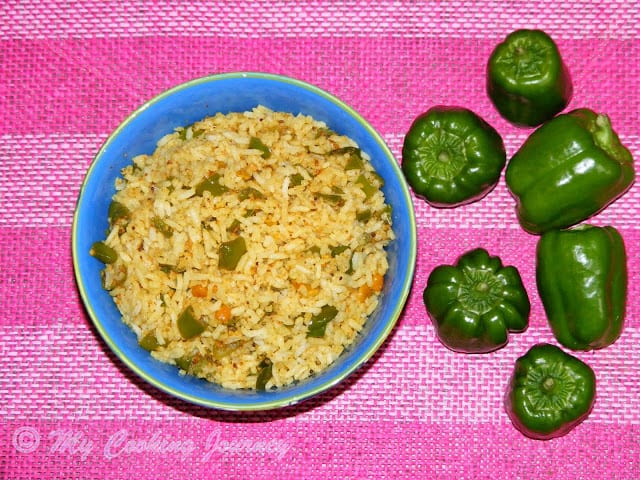 Ingredients to make Bell Pepper Rice –
For the Vegetable rice powder – (makes about 500 gms of powder)
Kadalai paruppu / Channa dal – 1 cup
Ullatham paruppu / Urad dal – 1 cup
Dhania / whole coriander seeds – 1 cup
Cloves – 12
Cinnamon – 4 sticks
Red chilies – 25 (makes medium spicy)
Desiccated coconut – ½ cup
For the Bell pepper rice – (serves 4-6)
Rice – 1 cup
Bell pepper/capsicum – 2 cups (chopped)
Oil – 2 tbsp
Mustard seeds – 1 tsp
Cumin seeds – 1 tsp
Kadalai paruppu /channa dal – 2 tsp
Cashew pieces – few
Turmeric powder – ½ tsp
Asafetida – ¼ tsp
Curry leaves - few
Vegetable rice powder – 4 to 5 tbsp
Salt – to taste
Procedure to make Bell Pepper Rice –
To make the Vegetable rice powder -
Dry roast all the ingredients mentioned above separately until golden brown and aromatic. (I am missing the cinnamon in the picture).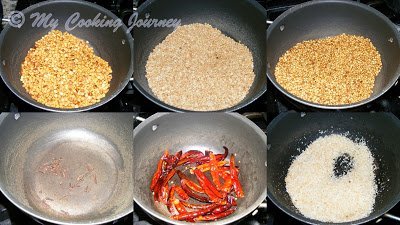 Let it cool down to room temperature and then grind it into a coarse powder.
Store in an airtight container.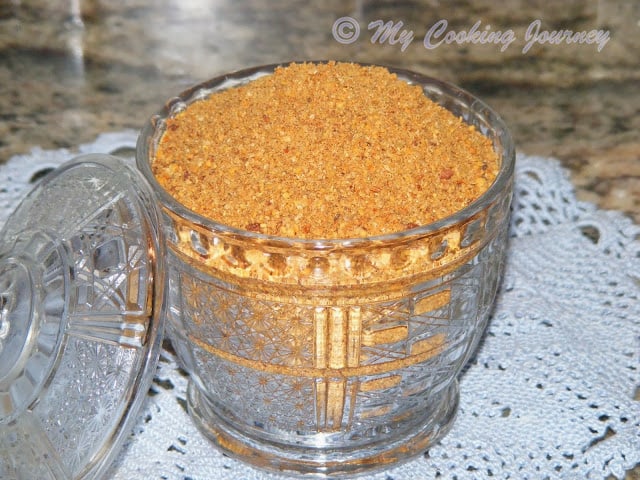 To make the bell pepper rice –
Cook the rice and cool it in a wide pan.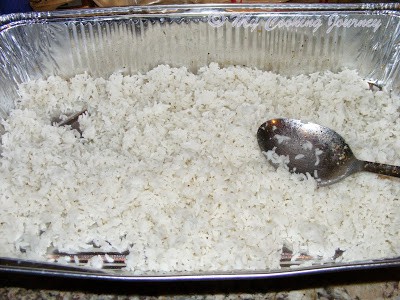 In a large pan, add the oil and season with mustard seeds, cumin seeds, turmeric powder, kadalai paruppu, asafetida, curry leaves and cashew.
Now add the chopped bell pepper pieces and cook it until it is almost done. Do not overcook the vegetable. Make sure it still has a crunch to it.
Now add the salt and vegetable rice powder. Mix well.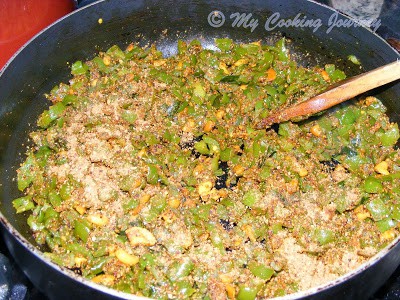 Add this to the cooled rice and mix well. Add some oil or ghee when mixing (optional).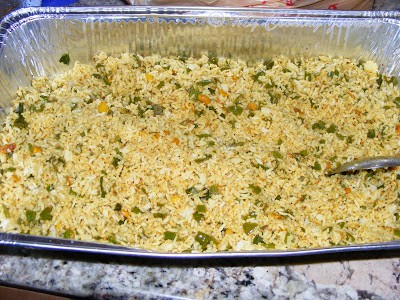 Serve with raita and chips!
I served it with some Aviyal!