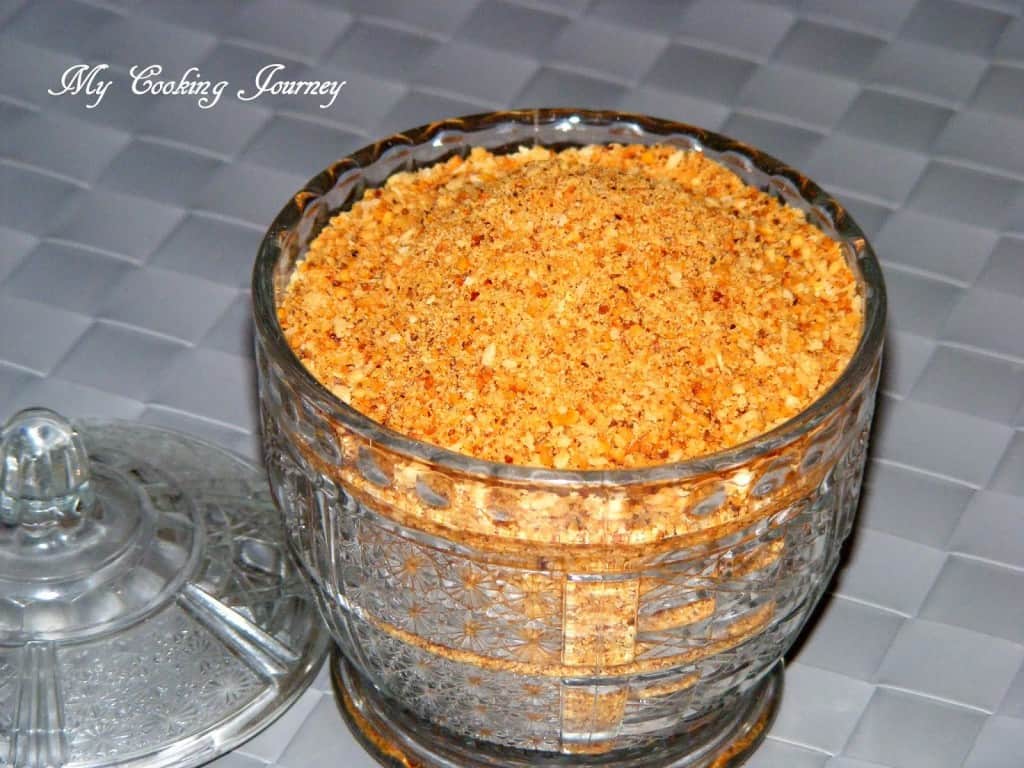 Indian kitchen cabinets are loaded with homemade spice powders like this Thengai Podi with Flax Seed – Spicy Coconut Powder with Flax Seed, that can be incorporated in cooking as well as some that are used with rice to make a meal. These podis are powders are such a life saver after a busy day. All you need is hot rice and couple of tablespoons of these spice powders and your dinner is ready. I also see these as a comfort food. I always get my stock of powders from my mother back in India. She makes sure that every time any of us travel, we come back with a good amount and variety of these powders. This is one of the reasons; I have never blogged about the podi's because I never make them.
I am slowly running out of my reserve and I have specifically asked my mother not to send me any, but rather tell me how to make them. So the first powder that I have here which is found invariably in every South Indian kitchen is thengai podi. This is the recipe from my mother and the only change I did was adding about ¼ cup of flax seed meal to the podi.
Flax seed is becoming very famous in the food community because of its powerful anti oxidant properties. Flax seed also contains very high fiber (both soluble and insoluble). Also flax seed contains a very high amount of Plant Omega 3's (good fats). These properties make this a very powerful and mighty seed that aids in good cardio vascular health.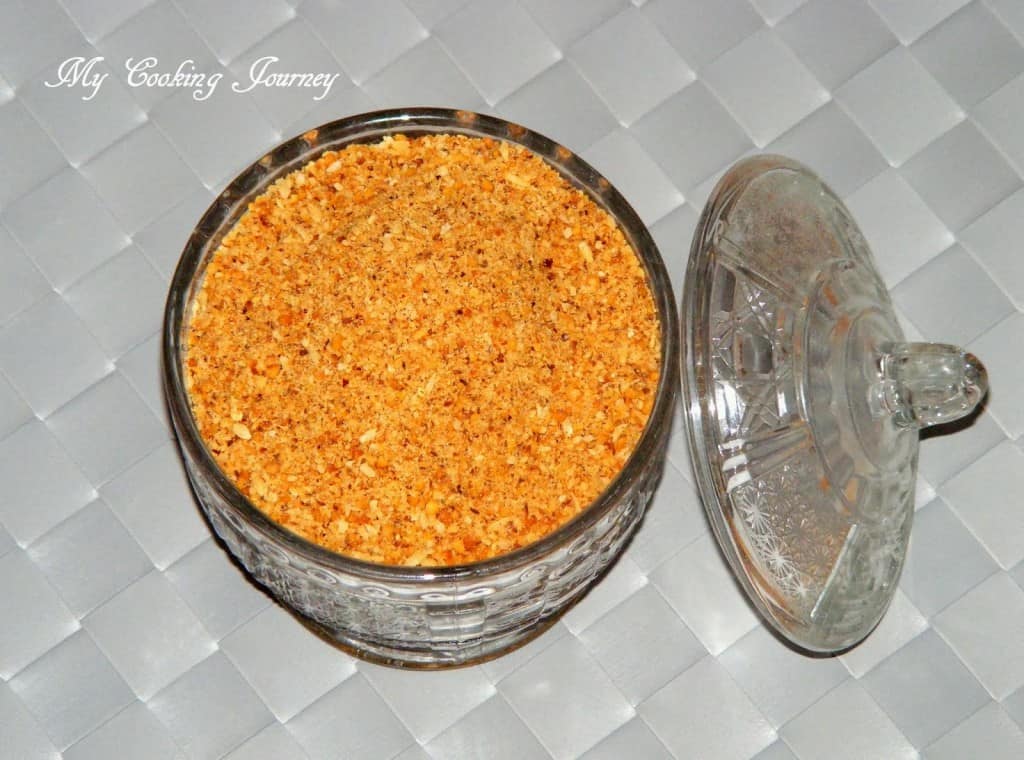 Few things that I came across when reading about this seed is that the oil in the flax seed are highly unsaturated hence making it very prone to oxidation. Hence storing the flax seed is very critical. When stored in the seed form, it can be stored without going rancid for a longer duration when compared to the flax seed meal or oil. The flax seed meal will store good for couple of months if stored away from heat and light, whereas the oil has to be consumed within couple of weeks.
I have used flax seed meal in this recipe and hence the thengai podi is best consumed within couple of months. Also since it paired with coconut, which also has high fat content, I would suggest that you store it in refrigerator or freezer if living in hot, humid place.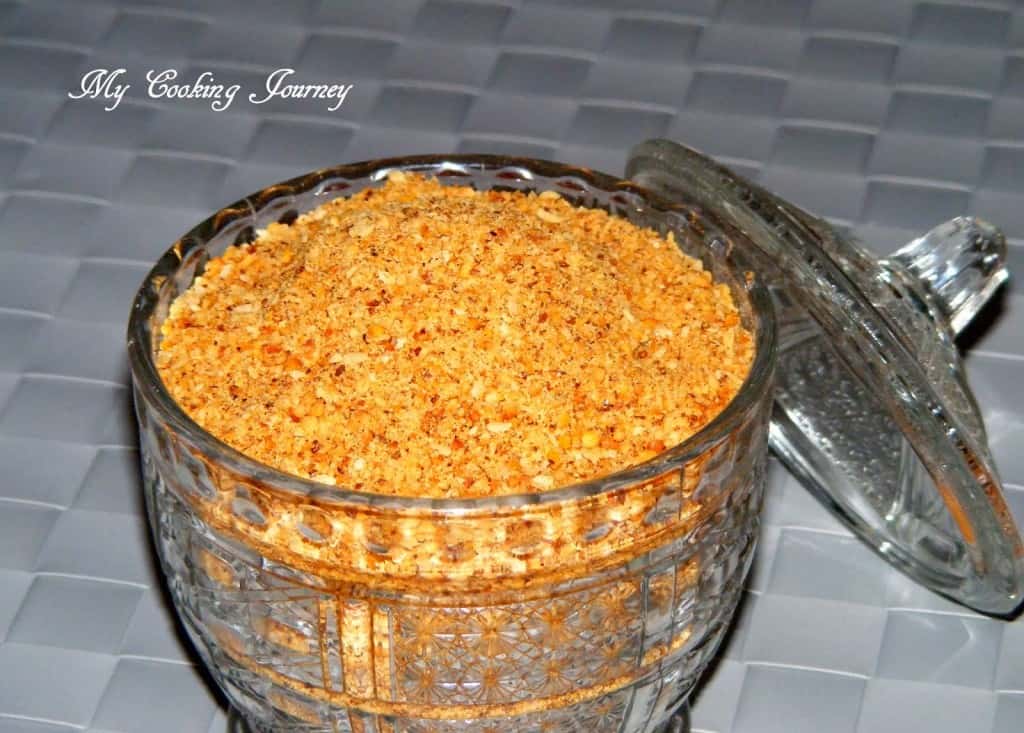 Preparation time – 10 mins
Cooking time – 40 mins
Difficulty level – easy
Ingredients to make Thengai Podi with Flax Seed – (makes about 3 cups of prepared powder)
Ullutham paruppu /Urad dal – ¾ cup
Kadalai paruppu / channa dal – ¼ cup
Coconut – 2 cups (grated)
Milagai Vathal / Red chilies – 10/12 (makes medium hot)
Flax seed meal – ¼ cup
Asafetida – ½ tsp
Salt – as needed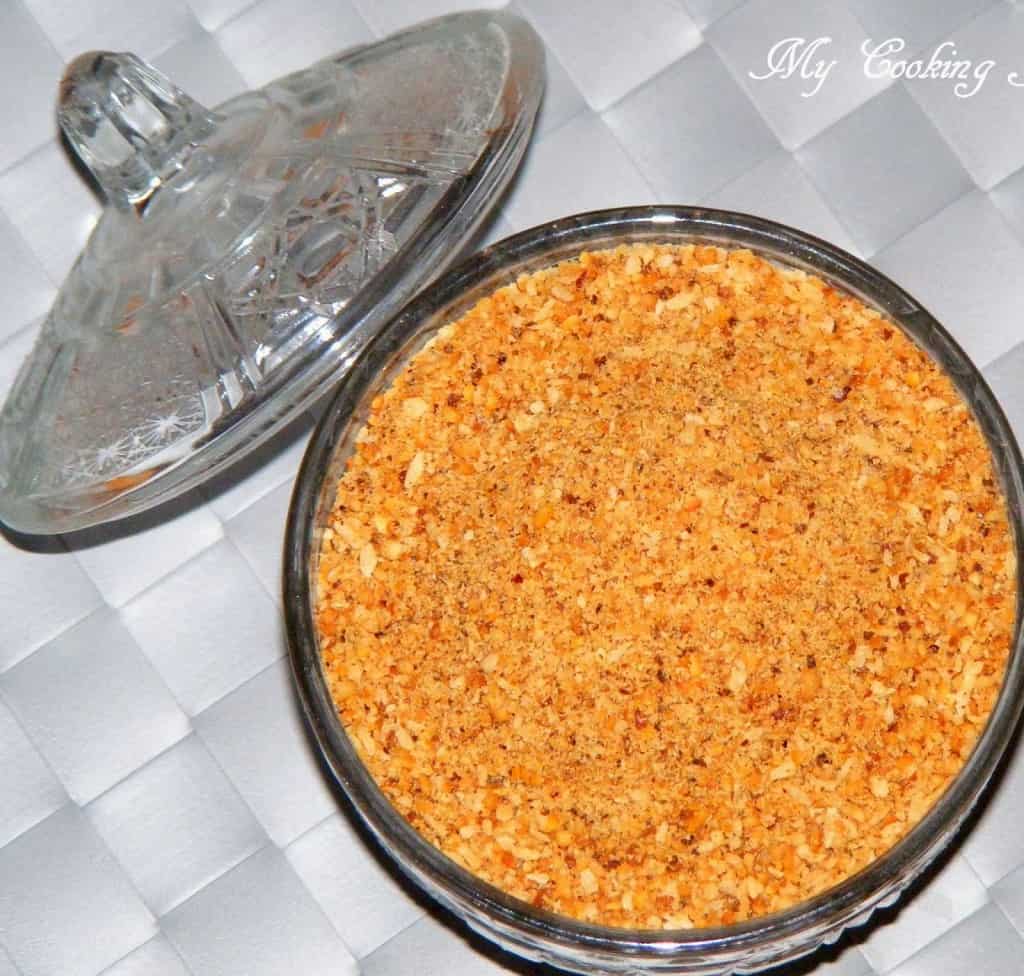 Procedure –
All the ingredients mentioned above have to be roasted dry, individually without any oil. My mom suggested that I roast few red chilies with every dal that I am roasting and this way the strong aroma of the red chili will not be felt.
So I first dry roasted the Ullutham paruppu with half the red chilies until it was golden brown. Transfer this to a dry wide container to allow it to cool. Then I roasted the kadalai paruppu with the remaining red chilies until golden brown and transferred it to the same container.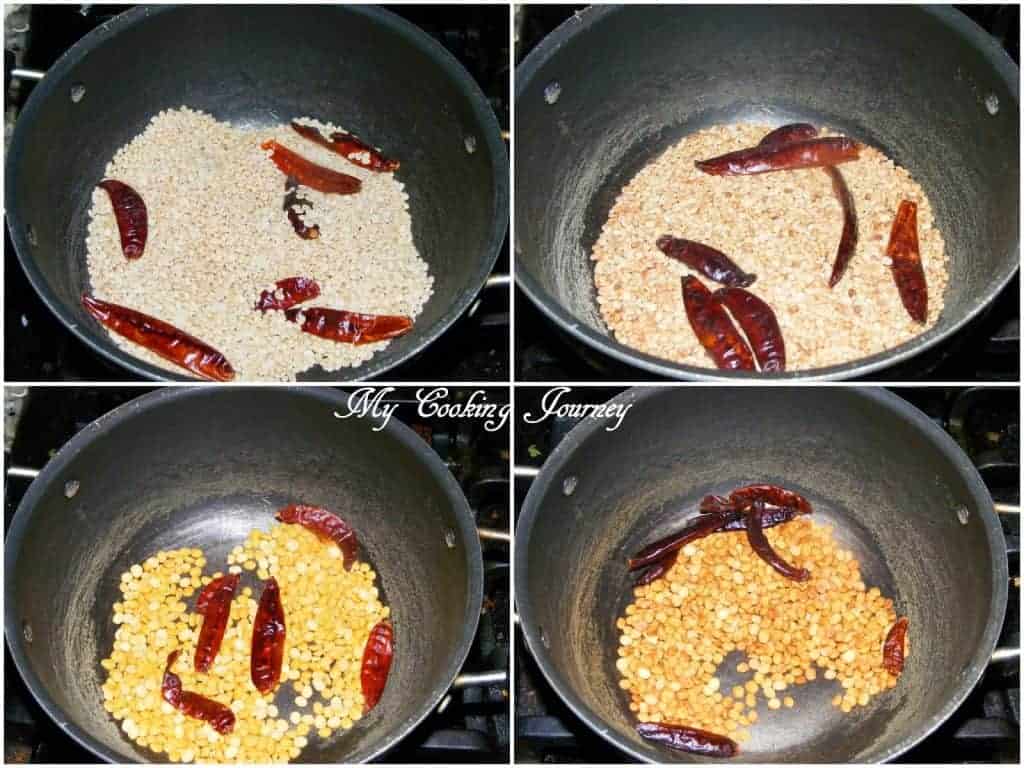 I also roasted the salt and asafetida for few seconds.
Next I roasted the flax seed meal until it beginning to change color and was becoming aromatic. This also went into the container with the rest of the fried ingredients.
Lastly I roasted the grated coconut until reddish brown and kept this separately to cool.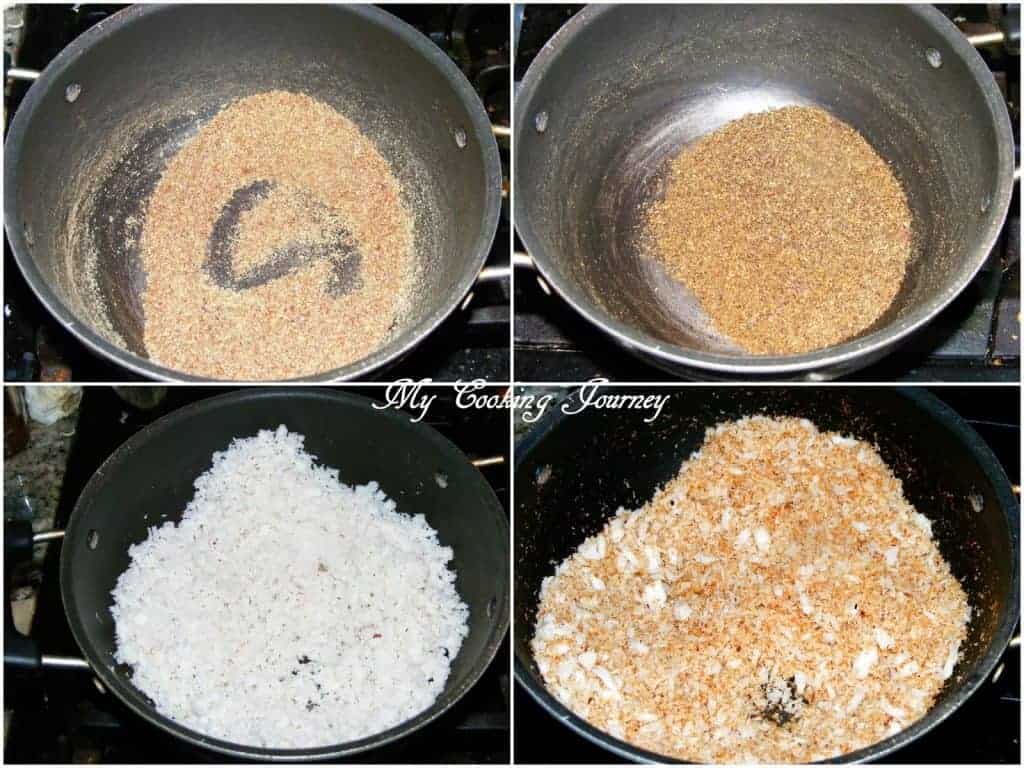 Once all the ingredients cooled down completely, transfer the mixture of red chilies, dals and flaxseed to the blender/mixer and grind until coarse.
Now also add the roasted coconut and grind it until they all blend together. I keep my powder somewhat coarse, but you could grind it based on your liking. Once the coconut is added do not grind too long, since it will start releasing its oil and the powder will begin to clump up. Run the mixer in short cycles until they come to the desired consistency.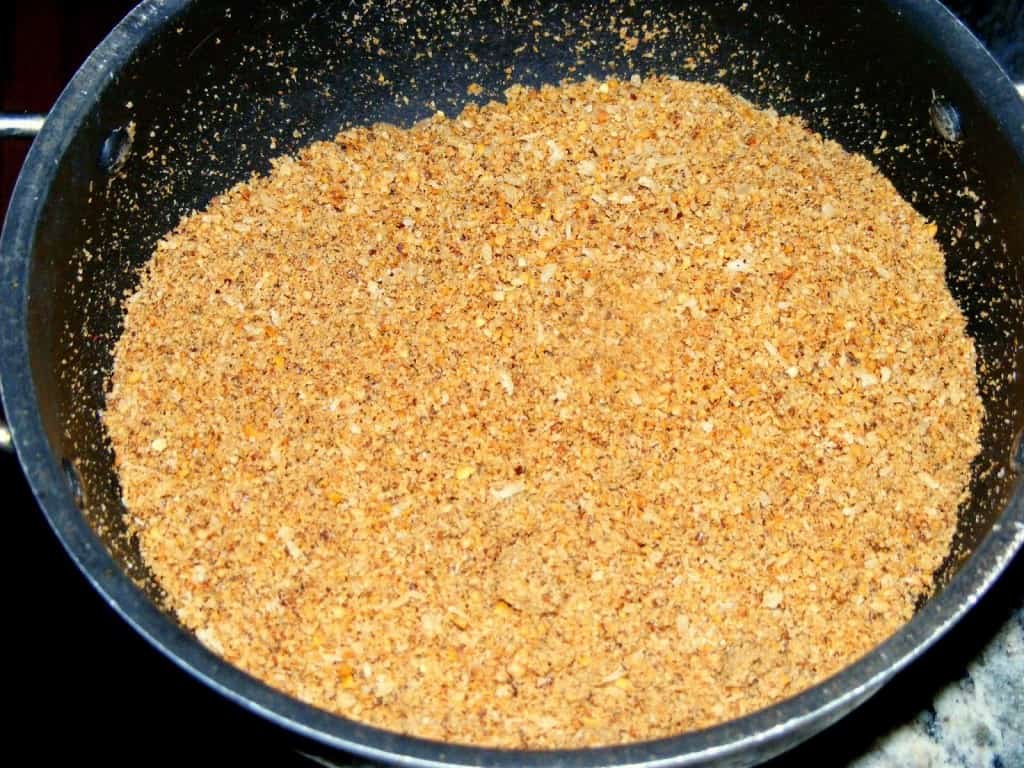 Once again cool it down for some more time and then store it in an airtight container. If storing for a prolonged period, store it in the refrigerator or freezer.
Enjoy with hot rice and sesame oil!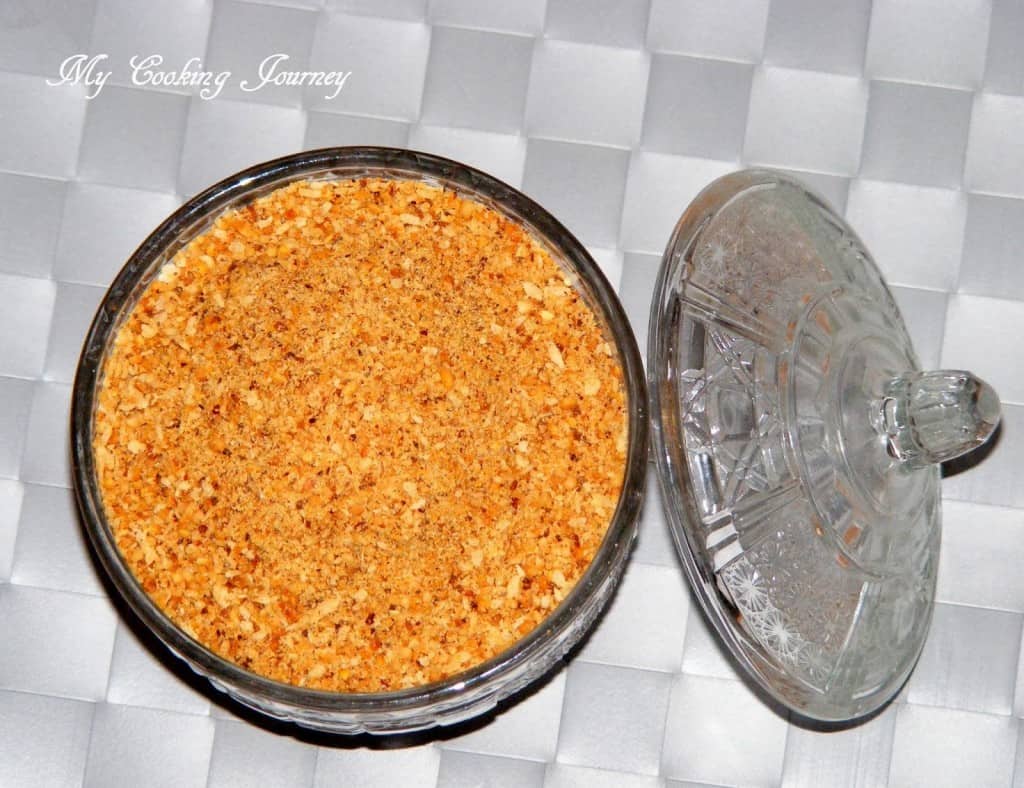 Pin it here to save -