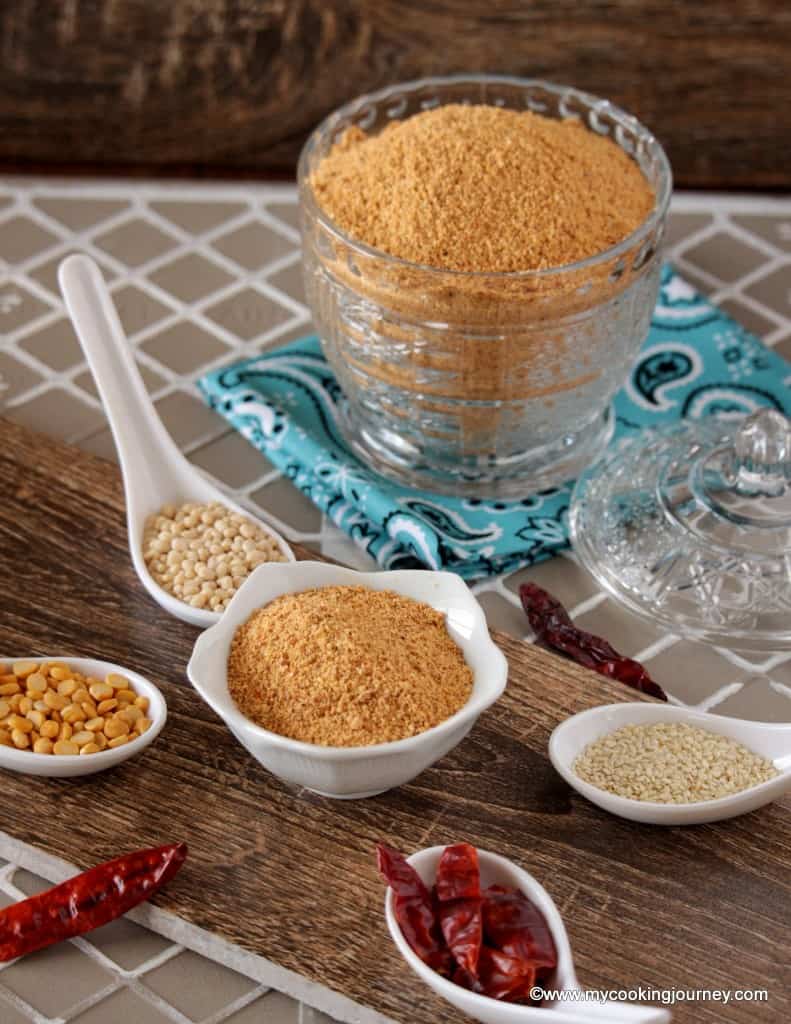 Dosai Milagai podi also known as chili powder for idli and dosai is something that you will find in every South Indian pantry. This is one thing that we can never run out of. This year started as a very different year for me. I am missing a big part of me that I can never bring back and so are few of the recipes and things that I will never get. Married for 15 years, I have never had to make this podi even once until this month when I realized that I ran out of it.

Every year amma makes this and many other powders for everyday use and makes sure I never run out of them. There are still certain things that I have never made before and I have to slowly begin to start making them. Luckily, during one of amma's visit, I insisted that I write down all her important recipes. That was when I had written down her recipe for this dosai milagai podi and it came in very handy now. Writing down the recipe, the thought never occurred that I might lose her one day. It still feels so surreal that she is no longer with us.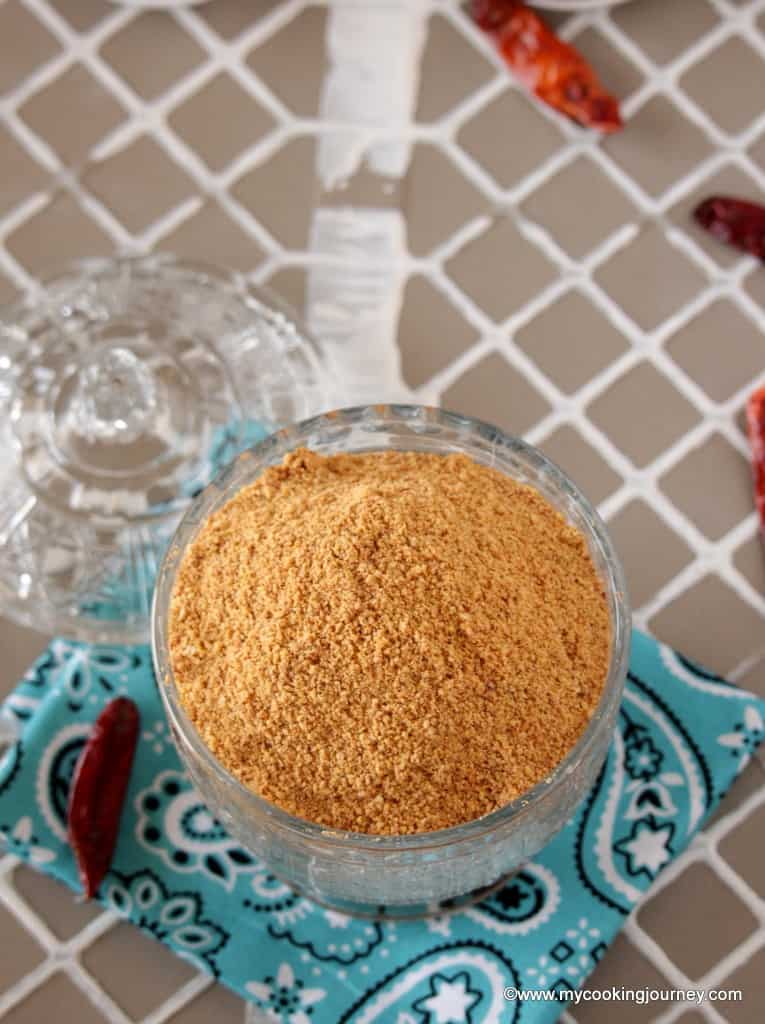 So coming to this recipe, I had written down step wise as to how to fry the ingredients and grind them. It is very important to fry all the ingredients separately in medium flame and also to grind them in the order that I have mentioned. Being my first time, the taste of the powder was really good, but I had ground it a little too much, so it lacked that crunchy texture. Amma's podi was always extra crunchy and extra spicy. When she made it for me, she made sure that she reduced the heat as we are not as tolerant as she and my dad are.
The recipe also makes moderately spicy milagai podi. If you prefer very spicy powder then increase the red chili quantity. If kept moisture free, this chili powder has a very long shelf life.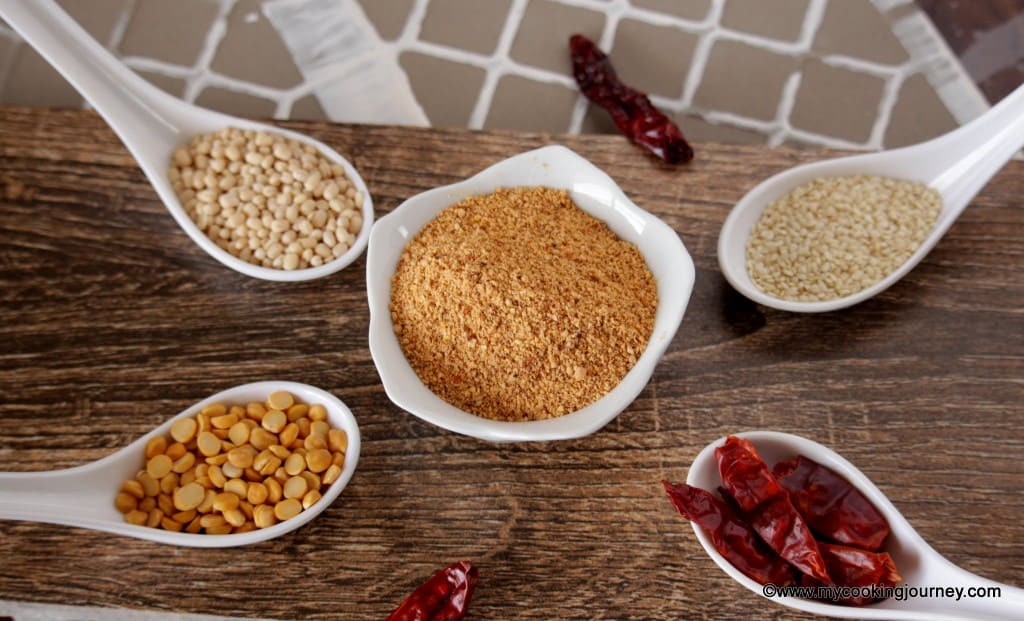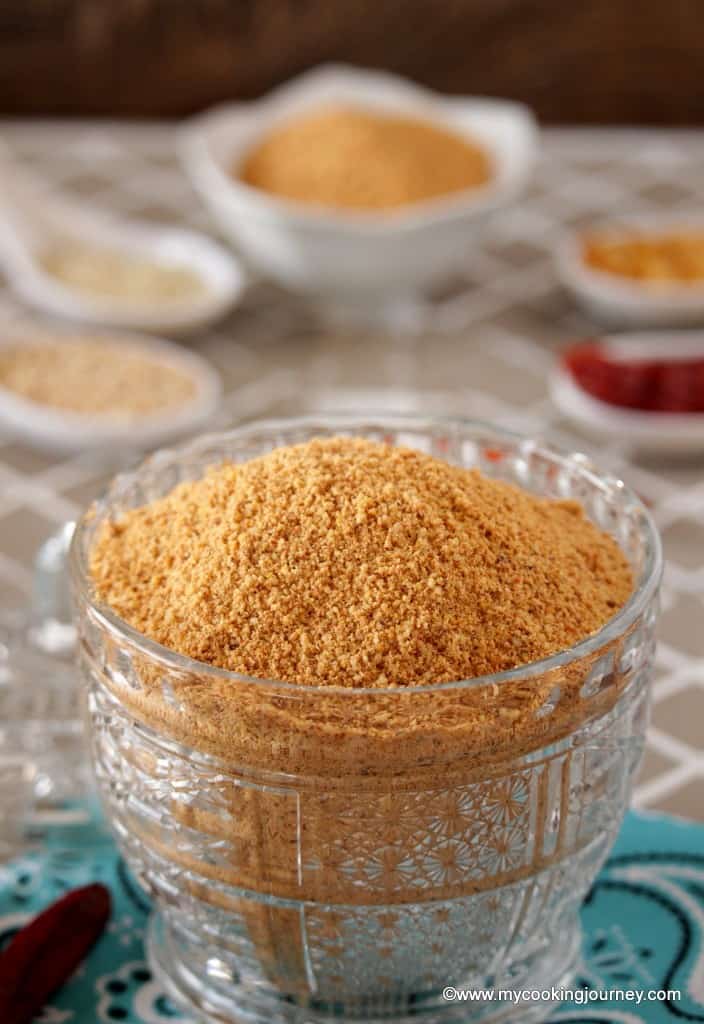 Preparation time – 5 minutes
Cooking time – 20 minutes
Difficulty level – easy
Ingredients to make Dosai Milagai Podi – (makes about 2 cups)
Kadalai paruppu / Channa dal – ½ cup
Ullutham paruppu / Urad dal – 1 cup
Milagai Vathal / Whole red chilies – 1 cup
White sesame seeds – ¼ cup
Perungayam / Asafetida – ½ tsp
Vellam / Jaggery – 2 tbsp (can use brown sugar as well)
Salt – to taste
Oil – 1 to 2 tsp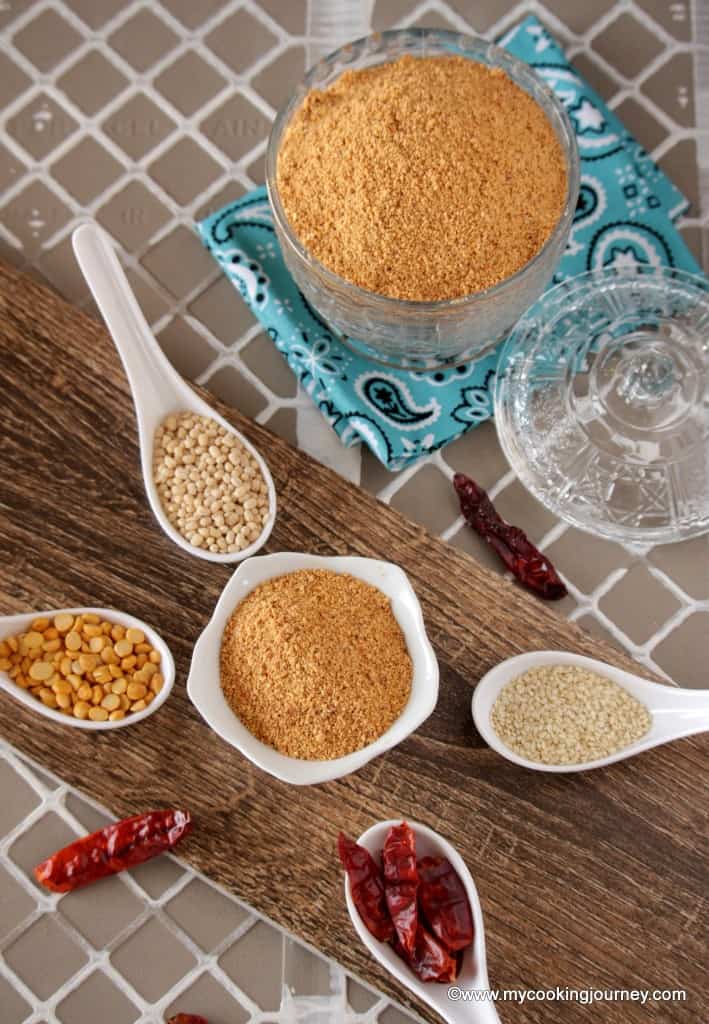 Procedure to make Dosai Milagai Podi –
Heat a kadai / pan on medium flame. When the pan becomes hot, add the sesame seeds and fry until golden brown. The seeds will begin to crackle as they fry. Keep stirring as they burn very quickly. Once golden brown, remove it on a plate and keep aside.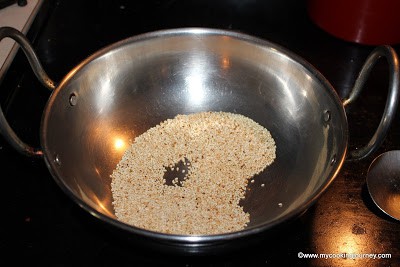 Return the pan on heat and add about ½ teaspoon of oil. Fry the Kadalai paruppu / channa dal until golden brown. Make sure you fry them in medium heat or else they will burn quickly. Remove the fried channa dal in a separate bowl.
Again add about ½ tsp of oil and fry the Ullutham paruppu / urad dal until golden brown. Remove it on a separate plate.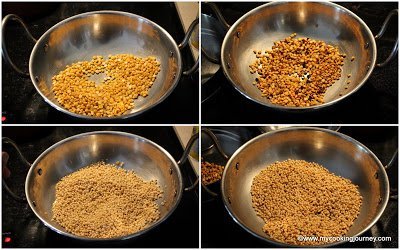 DO NOT MIX THE DAL / LENTILS TOGETHER AFTER FRYING. WE WILL BE GRINDING THEM SEPARATELY AND THEN MIX.
Now add 1 tsp of oil and fry the red chilies. The chilies will turn darker in color as you fry. Remove it on a separate plate.
In the same pan, add the salt and the asafetida and fry for about 5
seconds. Frying the salt ensures that it removes all the moisture from
it which helps in longer shelf life of the chili powder. This happens
really quickly, so stay close and after couple of stirs, remove it on
the same plate as the sesame seeds.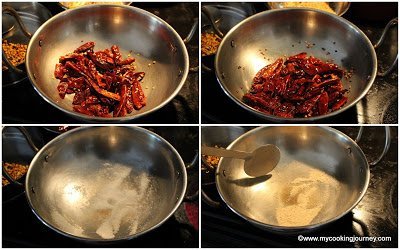 Let all the fried ingredients cool down to room temperature and then we will start grinding them.
Once completely cool transfer the Kadalai paruppu in a clean and dry mixer jar. Grind it coarsely and then remove it on the same plate. Make sure you grind it very coarsely as they will be ground once again.
Now do the same with the Ullutham paruppu / urad dal and transfer it to the same plate / bowl as the Kadalai paruppu.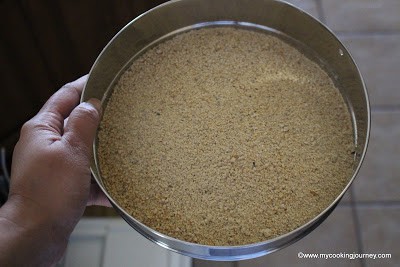 Next grind the red chilies into a very smooth powder.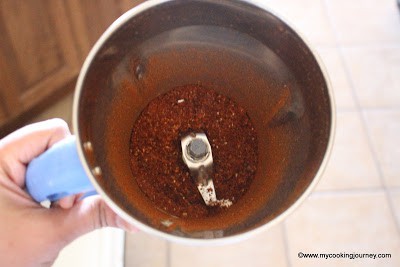 Add the ground dals to the jar now along with the red chilies and pulse few times to combine. This will also further grind the dals.
Add the sesame seeds, salt, perungayam and jaggery at the end and pulse few more times to combine.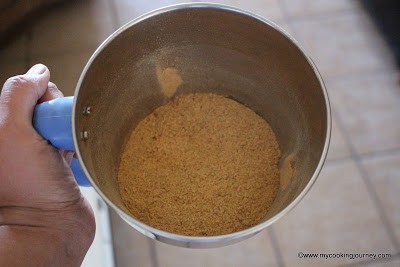 Our milagai podi is ready now. Remove it in a wide bowl and let it cool down a bit before storing it in an air tight container.
It keeps very well in the pantry for over 6 months.