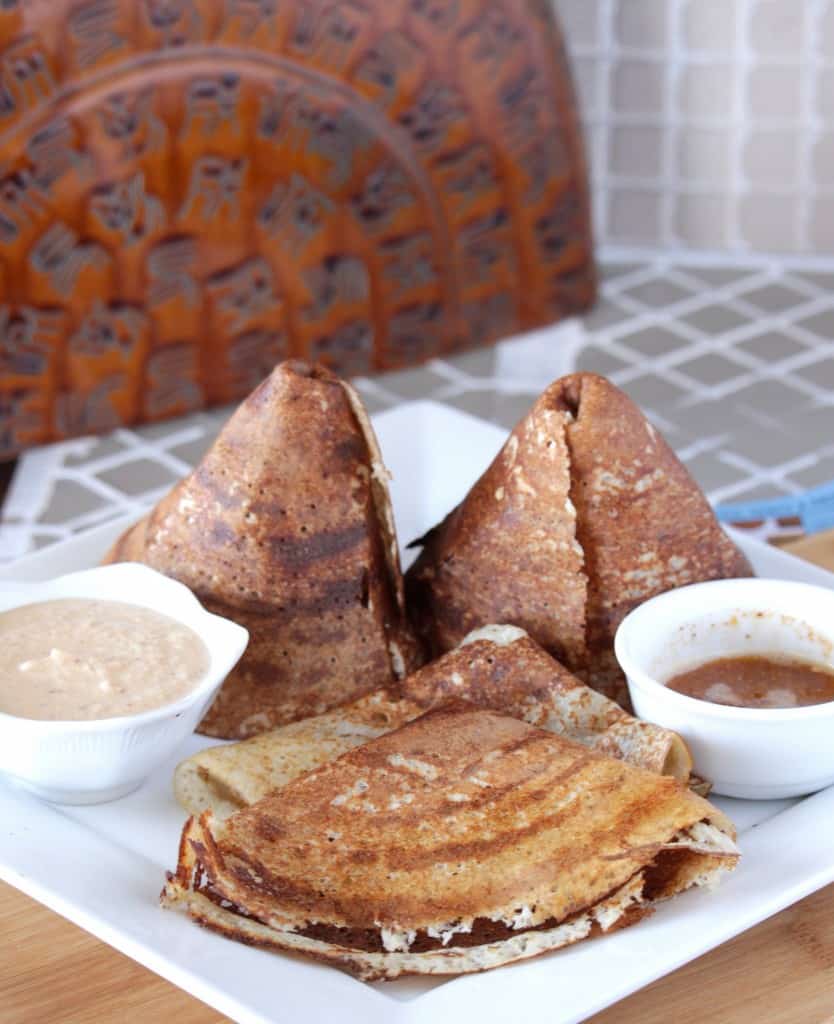 Quinoa is the new found super food and it has been used a lot lately. I myself substitute it instead of rice to eat along with sambhar or rasam, though that is not one of my preferred methods to consume it. I would rather eat it as Quinoa Pulao or Quinoa Tabbouleh. One of my latest favorite to make with quinoa is the Quinoa chakkara pongal, which tastes just as regular chakkara pongal made with rice. Quinoa is one such ingredient that does not have any taste of its own, and takes up any flavor that it is cooked in. So when cooking with quinoa, I have always realized that we need to increase the spices / flavoring in the dish. Quinoa dosai adds to the list of my new favorite recipe to cook with Quinoa.
For people who are very choosy and would not like to compromise the beloved rice with any other grain, we need to come with recipe that masks the ingredient. This dosa is one such recipe where unless you mention that it is made out of quinoa, no one will even know. There are several recipes that have only quinoa and urad dal in the dosa. Since this is the first time, I am trying to make dosa with quinoa; I remained a little bit safe and used equal proportion of rice. The batter fermented perfectly and the dosais were very flavorful and crispy. Only thing that we had to keep in mind was to always the keep the flame low to medium as they browned too quickly.
My other recipes from this series –
A – Athirasam
B – Badam Burfi
C – Chettinad Masala Cheeyam
D – Dosai Milagai Podi
E – Ellu Urundai
F – Fruit Kesari
G – Godhumai Rava Pidi Kozhukattai
H – Homemade Rice flour
I – Inji Marappa
J – Jevvarisi Thengai Paal Payasam
K – Kancheepuram Idli
L – Lemon Pickle
M – Manapparai Murukku
N – Nokkal
O – Oothappam
P – Pattinam Pakoda
Preparation time – 10 minutes plus 6 hours soaking time and fermenting time
Cooking time – About 2 minutes per dosa
Difficulty level – easy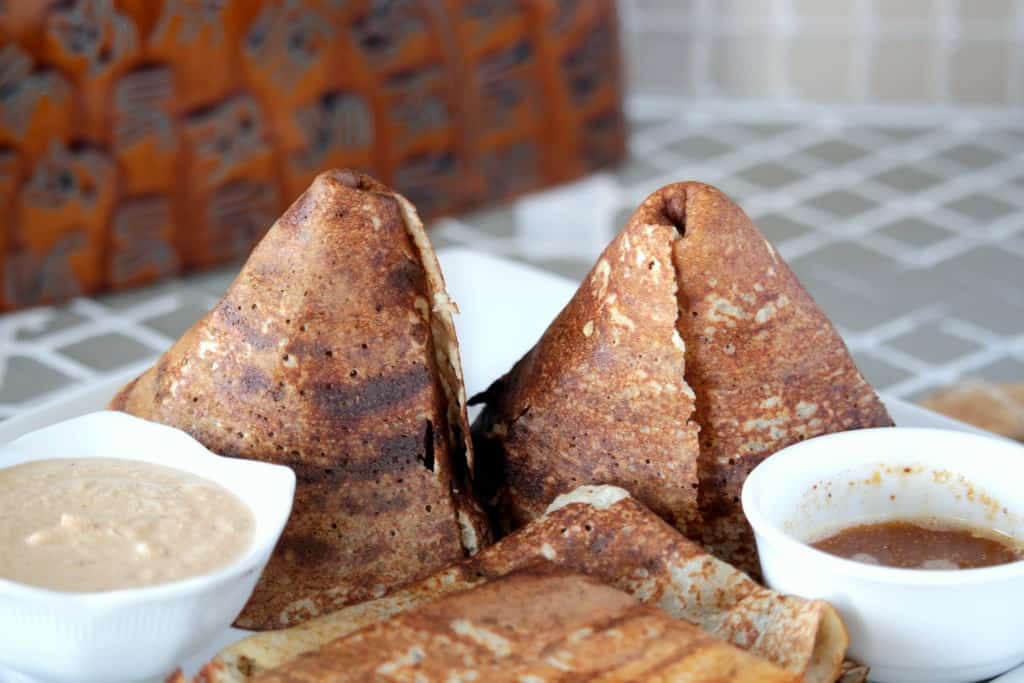 Ingredients to make Quinoa Dosai – Makes about 24
Quinoa – 1 cup (I used Bob's red Mill)
Raw rice / Pachai Arisi – ½ cup (I used sona masoori rice)
Idli rice – ½ cup
Urad dal / Ullutham paruppu – ½ cup
Methi seeds / Fenugreek seeds / Vendhayam – 1 tbsp
Salt – to taste
Oil – to make the dosa
Procedure –
Wash and soak the quinoa, both the rice, urad dal and methi seeds together in enough water for about 6 hours. Overnight would work as well. Make sure to clean the quinoa well as it has a layer of coating on it that could make it bitter.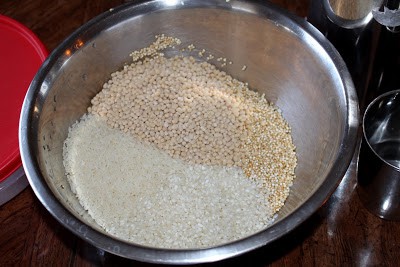 Grind the ingredients in a wet grinder until very smooth. You could grind it in blender as well in batches.
Transfer the batter to a large container (that can hold the batter when it doubles). Add salt needed and mix well using your hands. My mother always says that using the hands to mix the batter helps in fermenting the batter.
Depending on how warm the place is where you live, it could take anywhere from 8 to 24 hours to ferment.
Gently mix the batter and then it is ready to make the dosa.
Heat a pan or griddle and when it heats up, pour a heaped ladle full of batter in the center of the pan and spread it in circle to form a thin dosa / crepe.
Pour about a teaspoon of oil around the dosa and once it is golden brown, flip over to the other side. Let it cook on the other side as well and then remove.