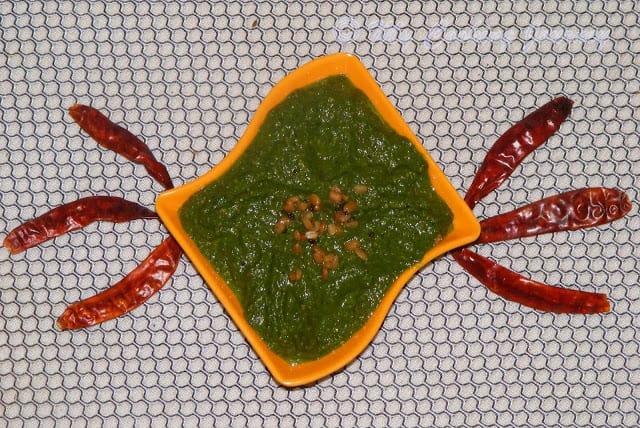 After the overload of sweets and snacks for Deepavali, this week all we wanted to eat was some simple food. I had made this Kothamalli Thuvayalfor dinner from Meenakshi Ammal's Cook and See book. This thuvayal was made out of necessity because accidentally I had bought two large bunch of cilantro and I had to use it before it went bad. Also I had plans to make dosais sometime during the week, so figured we could eat it with rice one day and eat the leftovers with Dosai.
The bright vibrant green color got my kids eager to taste it especially my little one. If you like cilantro/coriander leaves then you would love this Kothamalli Thuvayal. I had made it medium spicy, so if you like yours spicy add a couple of more red chilies. This is my post for this week's cooking from a Cookbook challenge.
Preparation time – 5 mins
Cooking time – 10 mins
Difficulty level – easy
Ingredients to make Kothamalli Thuvayal – (serves 6)
Cilantro / coriander leaves – 1 large bunch
Oil – 2 tsp
Mustard seeds – ½ tsp
Ullutham paruppu / urad dal/ black gram dal – 3 tsp
Red chilies – 4
Asafetida – ¼ tsp
Tamarind – marble size or ¼ tsp of tamarind paste
Salt – to taste
Procedure –
Discard the thick stems from the cilantro and wash them well. Make sure that you leave a little bit of the stem, because they have lots of flavor in them. Just remove the tough thick past of the stem. Drain it on a colander and keep it aside.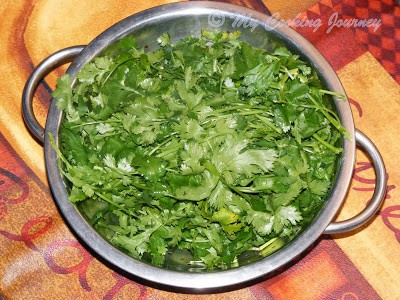 Heat the oil in a pan. Add the mustard seeds, Urad dal, red chilies and asafetida and fry it until the dal becomes golden brown.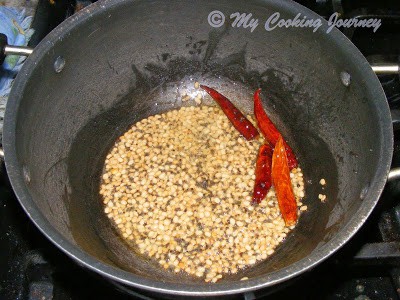 Now add the washed cilantro and give it a quick stir. Turn off the flame right away. Do not fry/cook the cilantro because then it will lose its bright green color.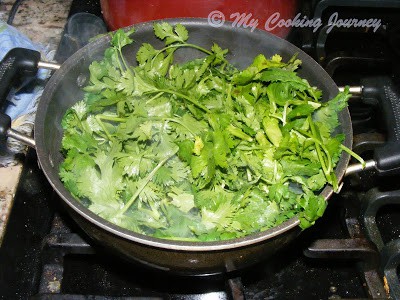 Cover the pan and leave it for 10 mins. The cilantro will wilt in the heat left in the pan and at the same time will remain green.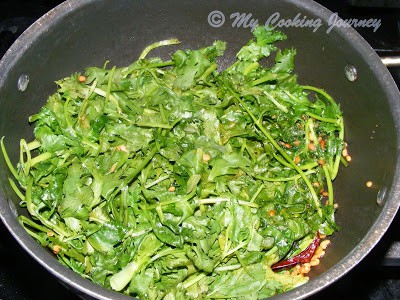 Grind the fried ingredients with the tamarind and salt. Be sure to leave a little bit of the fried seasoning (mustard seeds and urad dal) to add it to the thuvayal later.
Serve on top of hot rice with some gingelly oil or ghee. Also tastes great with dosai and idli.