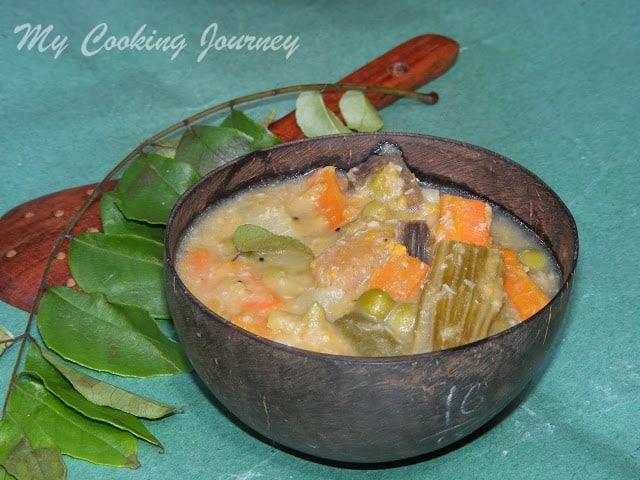 For the month long April marathon's first week theme, Traditional South Indian Wedding recipes, I am moving up to the actual wedding day recipe. For the past three days, I wrote about my favorite recipes that are made during the Maapilai Azhaippu/ Nitchyathartham. There are few wedding recipes that are a must have and can be seen in every wedding. One such dish is Aviyal. Aviyal is a very famous Kerala dish, but seen in every Tamil weddings.
Aviyal is one of a side dish that utilizes lot of vegetables. I see it as a way to use up all the left over vegetables in the house. Also it is a very good recipe to make for the kids as we can get many vegetables inside their meal. You can add more or less vegetables as you prefer. I am listing out all the vegetables I used, but feel free to use what your favorites are.
Preparation time – 15 mins
Cooking time – 40 mins
Difficulty level – easy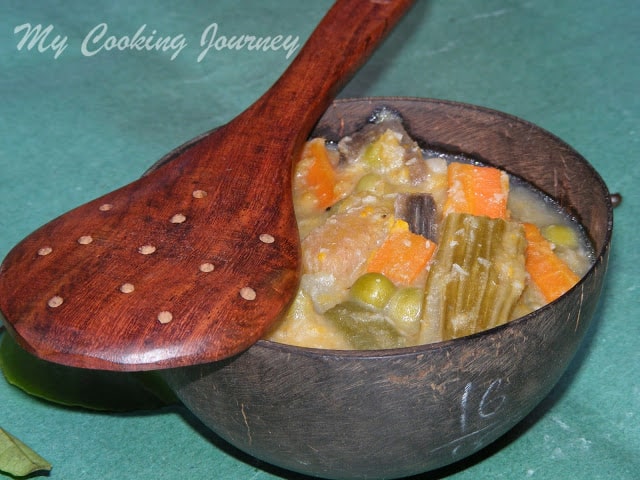 Ingredients to make Aviyal – (serves 6)
Potatoes – 1 (peeled and chopped lengthwise)
Sweet potato – 1 (peeled and chopped lengthwise)
Raw banana – 1 small ((peeled and chopped lengthwise)
Carrot – 1 (peeled and chopped lengthwise)
Yellow pumpkin – 1 cup (peeled and chopped lengthwise)
White pumpkin or Chow chow (Chayote squash) – 1 cup (peeled and chopped lengthwise)
Green peas – ½ cup
Drumstick – 1 cup (cut lengthwise)
Bell pepper – ½ cup (cut lengthwise)
Beans – 15 (chopped)
Turmeric powder – ½ tsp (optional)
Rice flour – 2 tsp
Salt – to taste
Yogurt (beaten) - 2 cups
Grind together –
Coconut – 1 cup
Green chilies – 6
Cumin seeds – 1 tsp (optional)
For seasoning –
Coconut oil – 2 tsp
Mustard seeds – 1 tsp
Curry leaves - few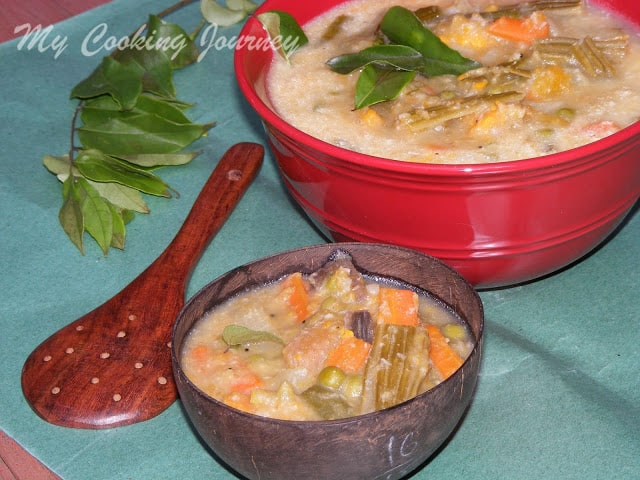 Procedure to make Aviyal –
Chop all the vegetables and cook it enough water. Add water to cover the vegetables and cook it on medium heat until the vegetables are ¾th done. If adding turmeric powder, add that too and then boil. When the vegetables are 3/4th done, add the salt and let it cook for few more minutes. Make sure all the vegetables are cooked through but are not mushy.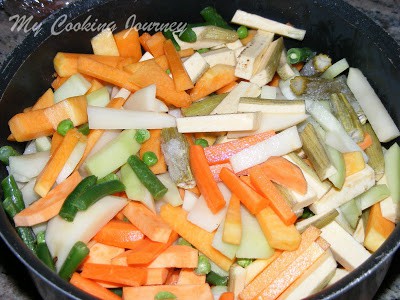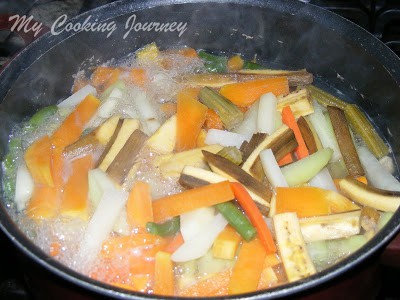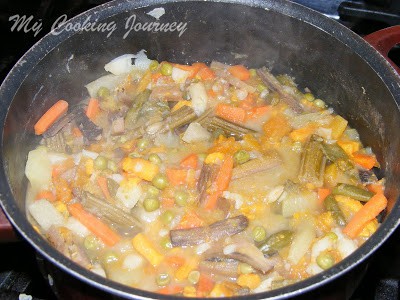 Grind all the ingredients listed and add this mixture to the cooked vegetable. Let it come to a boil. Mix the rice flour in about 4 tbsp of water and then add this to the aviyal. Let it boil again. The rice flour helps in thickening the aviyal.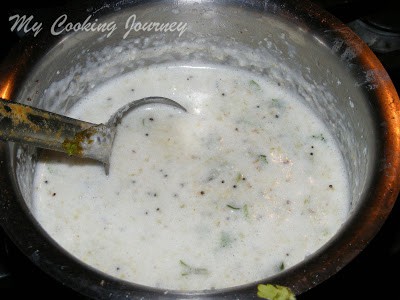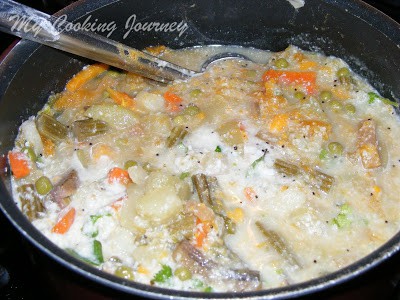 Temper the mustard seeds and curry leaves in coconut oil and add it to the aviyal.

Just before serving, mix the Aviyal with beaten yogurt
and mix well. When the climate is warm, we generally mix only the required
amount at one time with yogurt. Since the yogurt could get sour when left out
for a prolonged time and also once the yogurt is added it is not advisable to
reheat it. So add yogurt to small quantities that would be used up in one go.

Serve hot with Paruppu saadham (rice with dhal).
Aviyal is also usually served with mixed rice varieties like Puliyodharai and coconut rice.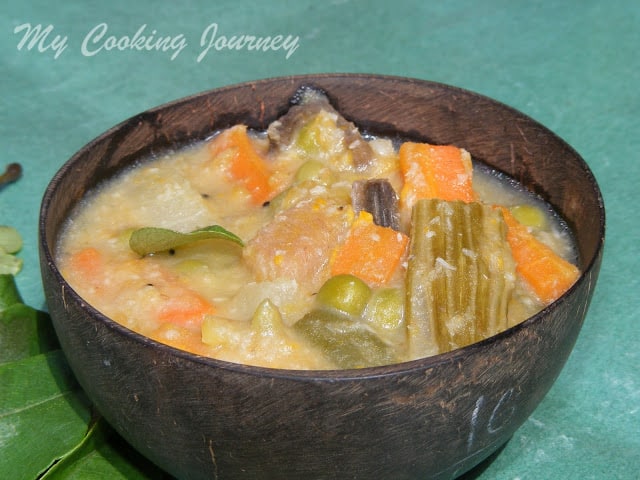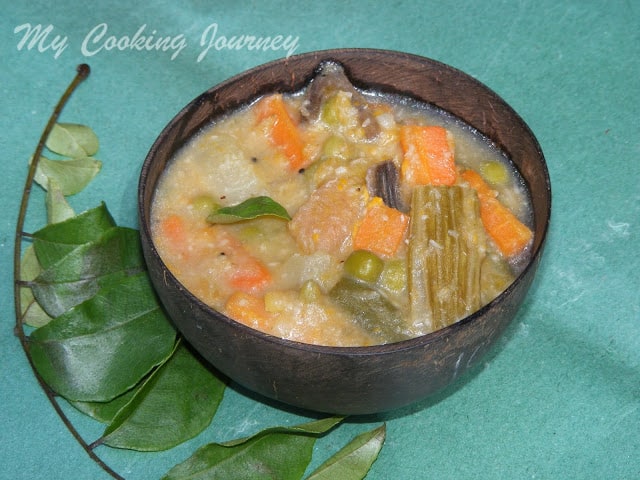 Check out the Blogging Marathon page for the other Blogging Marathoners doing BM#27