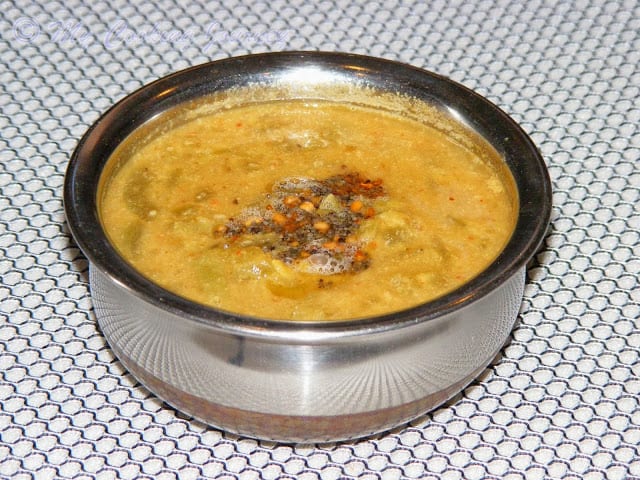 For my third day of cooking from a celebrity chef, I chose my most favorite chef and cook book author, Meenakshi Ammal. After my mother, I owe a lot of my cooking skills to this lady. Her books are the most essential copies of the books that I have owned. To this day whenever I am cooking traditional food, my go to person is her book Samaithu par (in Tamil) or Cook and See (English).The recipe that I chose today, Podalangai Poricha Kuzhambu, is a kind of Araichu vita kuzhambu made with snake gourd. Many other vegetables other than snake gourd could also be used, but this is a very commonly used vegetable in my house for this kuzhambu. Also we have been harvesting some snake gourd from the garden, so thought would choose this recipe for the third day.
Preparation time – 10 mins
Cooking time – 45 mins
Difficulty level – easy
Ingredients to make Podalangai Poricha Kuzhambu – serves 4-6
Snake gourd – 3 cups (chopped)
Thuvaram Paruppu/Red gram dhal – ½ cup (could also mix in some payatham paruppu/moong dal)
Sambhar powder – ½ tsp
Salt – to taste
Curry leaves – few
To fry and grind together –
Coriander seeds – 2 tsp
Kadalai paruppu/channa dal – 2 tsp
Red chilies – 4
Ullutham paruppu/Urad dal – 1 tsp
Coconut (grated) – ¼ cup
Asafetida – ¼ tsp
Oil – 1 tsp
For seasoning –
Mustard seeds – 1 tsp
Ullutham paruppu/Urad dal – 1 tsp
Oil – 1 tsp
Procedure to make Podalangai Poricha Kuzhambu –
Cut the vegetable in semi circles, add salt, sambhar powder and enough water (to cover the vegetable) and cook until soft.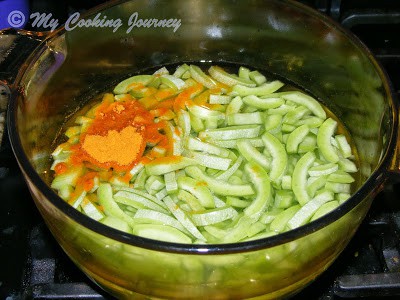 Cook the thuvaram paruppu in pressure cooker until soft. Keep aside.
Fry all the ingredients mentioned above in about 1 tsp of oil and grind it into a smooth paste.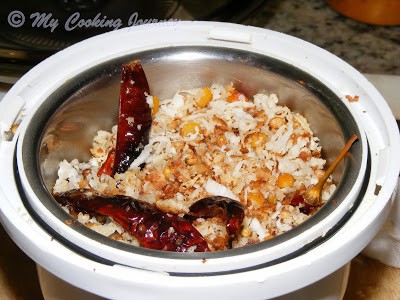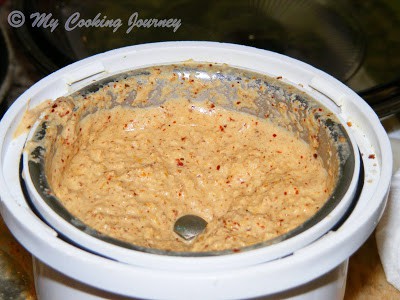 Once the vegetable cooks, add the ground paste and the cooked dhal and mix well.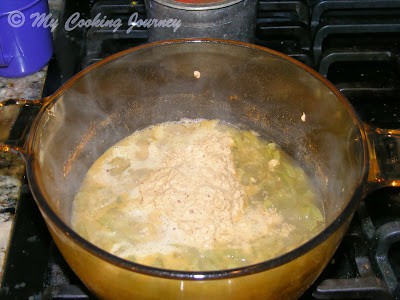 Let the kuzhambu boil for few minutes until it thickens.
Season with mustard seeds and urad dal.
Serve the podalangai poricha kuzhambu hot with rice and a dollop of ghee.