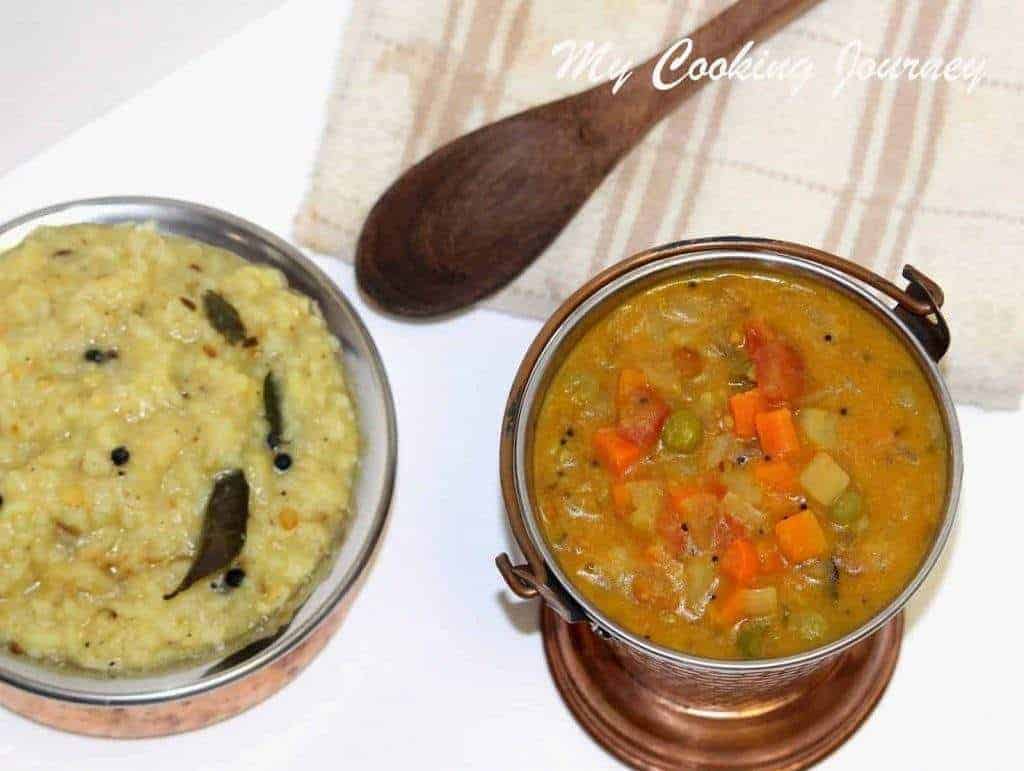 I have always loved the Gothsu that they serve at the weddings as a side for steaming hot ven pongal and idli. The combination is so delightful that I end up stuffing up myself. I always make kathirikkai gothsu, but have never made the mixed vegetable one. Even this gothsu will taste awesome when one of the vegetable that is added is eggplant. Unfortunately I did not have any at hand and hence did not use eggplant, but if you have a couple of them, make sure you add it along with the rest of the vegetables.
Ven Pongal is one of the most common brunches that we have in our house. I usually pair it with coconut chutney or peanut chutney. This time I really wanted to try out this classic combination and hence made it. This gothsu is a very straightforward recipe and requires no grinding or frying. My mother makes this often and this is her recipe that I followed. Also check out the recipe for the Ven Pongal that I made as a part of our weekend brunch.
Preparation time – 10 minutes
Cooking time – 40 minutes
Difficulty level – easy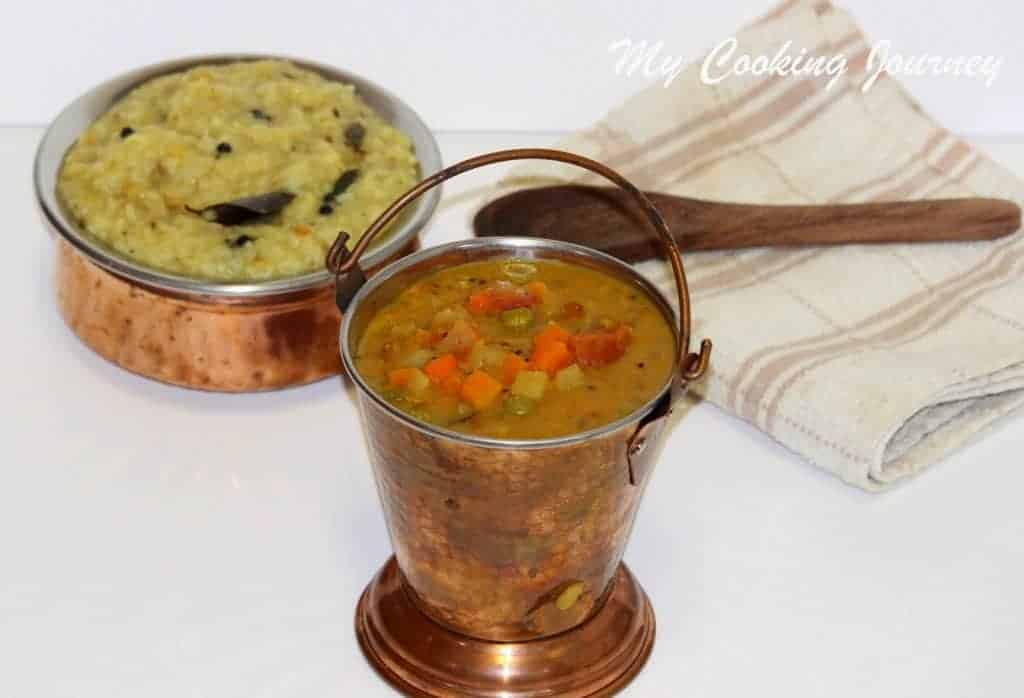 Ingredients to make Mixed Vegetable Gothsu – (serves 4-6)
Onion – 1 (finely chopped)
Tomatoes – 2 (finely chopped)
Potato – 1 (finely chopped)
Carrot – 1 (finely chopped)
Peas – ½ cup (frozen)
Green chilies – 2 (chopped)
Tamarind – tiny marble size (soaked in 2 cups of water)
Sambhar powder – 1 tbsp
Payatham paruppu / Moong dal – ½ cup
Jaggery – 1 tbsp
Salt – to taste
Cilantro – to garnish
For seasoning –
Gingelly oil or any cooking oil – 1 tbsp
Mustard seeds – 1 tsp
Ullutham paruppu – 2 tsp
Kadalai paruppu – 1 tsp
Cumin seeds – 1 tsp
Curry leaves – few
Asafetida – a pinch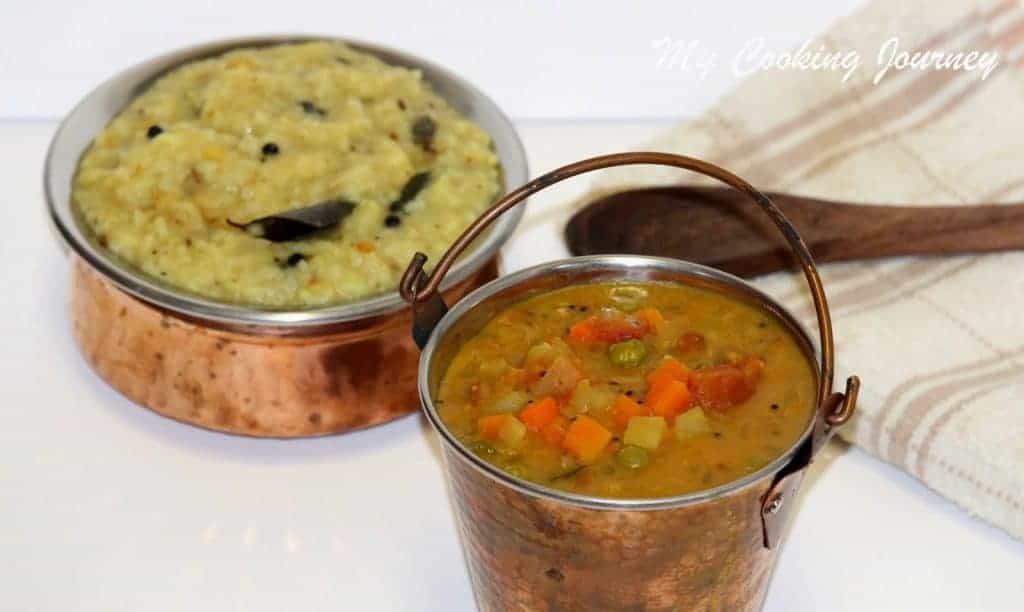 Procedure to make Mixed Vegetable Gothsu –
Soak the tamarind in about 2 cups of hot water and extract the juice.
Wash and cook the payatham paruppu / Moong dal with enough water and pinch of turmeric powder until soft. Keep it aside.
In a pan, heat the oil and add all the seasoning ingredients. Fry them until they are aromatic and golden brown.
Add the chopped onions and sauté it for 2-3 minutes until slightly softened. Now add the tomatoes and fry for a minute.
Add the rest of the chopped vegetables along with green chilies and fry for about 5 minutes.
Now add the tamarind water and sambhar powder and let it boil. Add salt once the vegetables are almost cooked.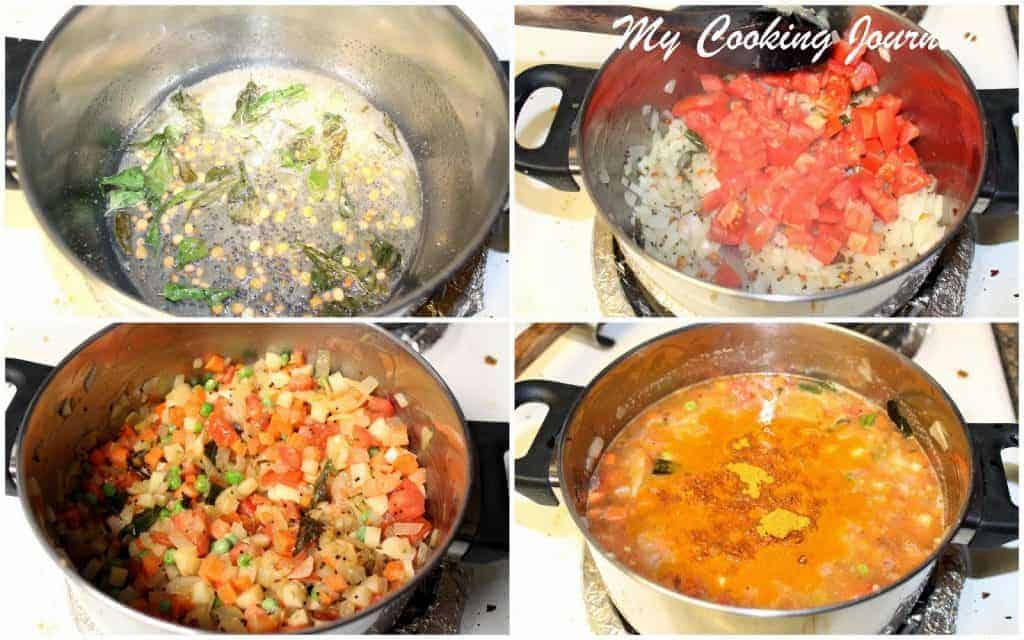 Add the cooked payatham paruppu / moong dal and jaggery. Let it come to a boil. Simmer for 5 more minutes and garnish with cilantro.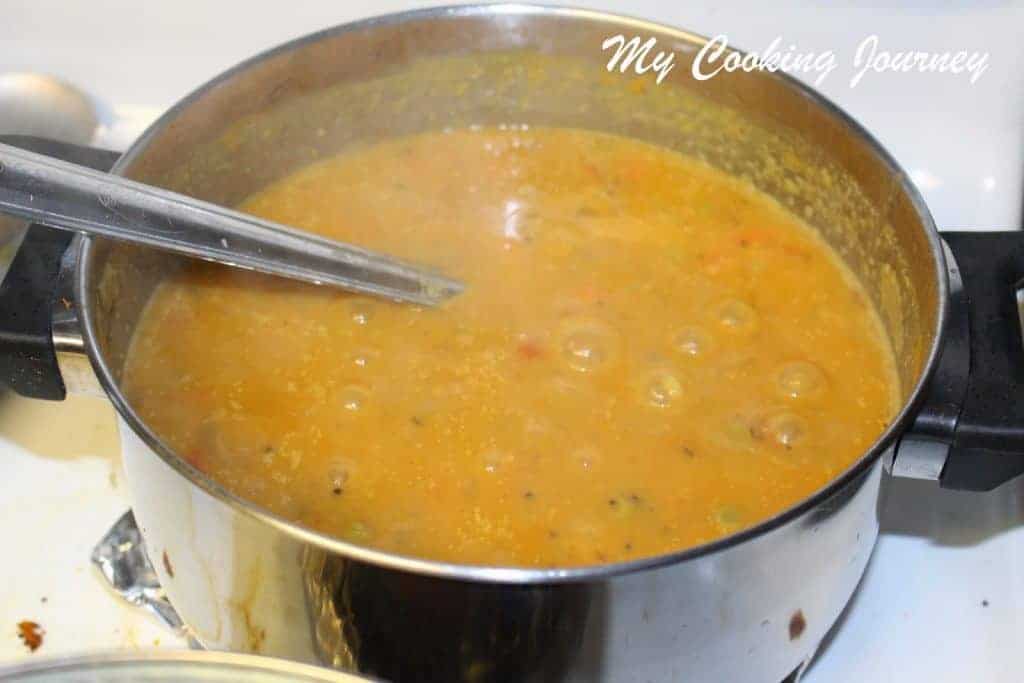 Heat 1 tbsp of oil and add the seasoning ingredients. Add it to the simmering gothsu and mix.
Serve hot with Pongal, Idli or Dosai!