This was yet another year with a very good yield of cucumbers from our backyard. My husband came up with this wonderful idea of building a trellis for the cucumbers and ever since then the fruits are straight instead of curved. In spite of my kids eating them raw, I still have a lot of it left over. Also certain cucumbers are left a couple of days more in the plant and they become slightly over ripe. Those are the cucumbers that go into making this kootu. Cucumbers which mature too much develop lot of seeds inside them and they are not lot of fun to eat raw. So I use those up to make this kootu after scooping out all the seeds.
Taste wise these taste more or like the chow chow (Choyote squash). I also freeze the excess cucumbers and use them later to make this kootu. This is a very comforting kootu with minimal ingredients and tastes great with rice and dollop of nei (ghee) on top. This is my recipe for the alphabet V under the category regional.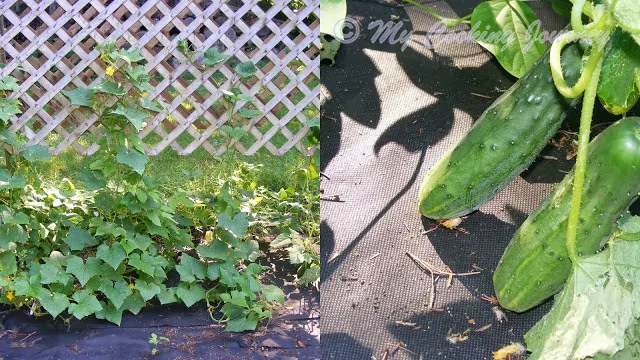 Preparation time – 10 mins
Cooking time – 30 mins
Difficulty level – easy
Ingredients to make Vellarikkai Kootu – (serves 4)
Vellarikkai / Cucumber – 1 large or 2 medium
Payatham paruppu / Moong dal – ¼ cup
Cumin seeds – 1 tsp
Green chilies – 2
Coconut – ½ cup (grated)
Rice – 1 tsp
Salt – to taste
Cilantro – to garnish
To season –
Oil – 1 tsp (preferably coconut oil)
Mustard seeds – ½ tsp
Ullatham paruppu/ urad dal – 1 tsp
Red chilies – 2
Asafetida – ¼ tsp
Curry leaves – few
Procedure to make Vellarikkai Kootu –
Scrape the skin of the cucumber and slice it vertically. Remove the seeds (if they are too big) and then chop the cucumbers into small cubes.
Wash the dal and add it along with the cucumber in a sauce pan. Add water just to cover the vegetable and then cook over medium heat.
In the meantime, grind together the green chilies, cumin seeds, rice and the coconut into a smooth paste.
Once the vegetable and the dal are cooked, add salt required for the kootu. Now add the ground paste and bring it to a boil. The rice in the paste will help thicken the coconut.
In a small pan, heat oil and add all the ingredients listed under the seasoning. Add the fried seasoning to the kootu and serve hot with rice topped with a dollop of nei!
Check out the Blogging Marathon page for the other Blogging Marathoners doing BM# 32