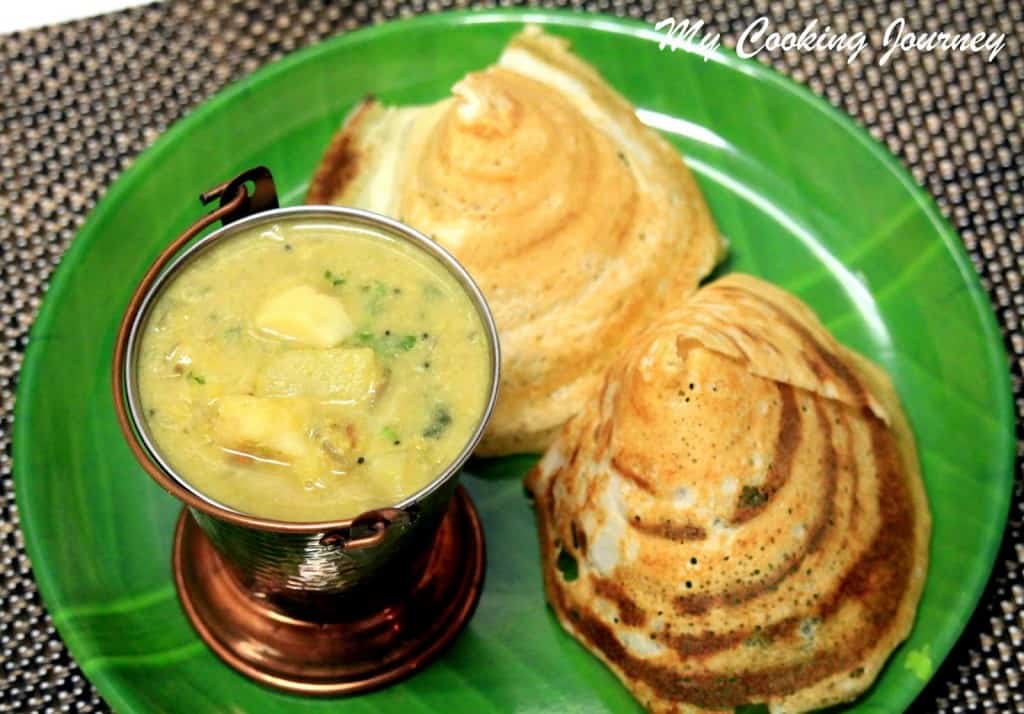 Kadappa or Kadapa is a Tanjore / Tanjavur special side dish for idli and dosai. Being from the Tanjore district, I should have known about this dish, but unfortunately I have never eaten this before. I have been hearing about how flavorful this dish from the blogging world, but have never had the chance to eat it before.
This week we are doing BM pair, in which I will be blogging from my partner's blog for the next 3 days. As much as I enjoy this theme, I also have a hard time choosing recipes as there are so many to choose from and each and every recipe is very tempting. I am paired with Kalyani of Sizzling Tastebuds and as the first recipe for the week and I chose to make this famous Kadappa.
I am so happy that I finally made this side dish. This was so flavorful that my kids had an extra dosai for dinner than usual. Also the addition of fennel seeds in the recipe gave it a kurma like aroma which I loved. The addition of cooked moong dal is what made it slightly different from the kurma.
I am usually a hoarder when it comes to grocery and seldom run out of ingredients. Ever since the move, because of lack of storage space, I have been buying ingredients on the need basis. The evening when I wanted to make Kadappa, I realized that I ran out of payatham paruppu / moong dal. I have been using less of the skin less yellow moong lately and have been using whole dal often, so I guess it just slipped from my last shopping list. I was so determined to make the kadappa that evening and was really disappointed when I had no dal. That is when I had a plan to go and borrow the dal from my Indian neighbor. I was so excited that I have a very good friend who is also my neighbor in the apartment. I have lived without having any Indian neighbor in the close vicinity for the past 10 years and it really feels good to have someone nearby.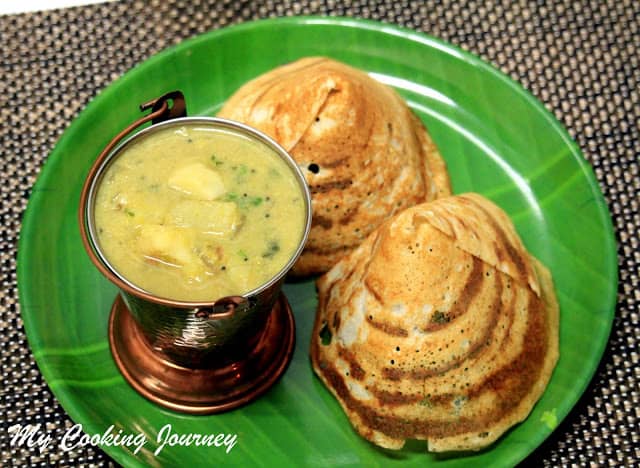 Preparation time - 15 minutes
Cooking time - 40 minutes
Difficulty level - Easy
Recipe Adapted from - Sizzling Tastebuds
Ingredients to make Kadappa – (serves 4-6)
Potatoes – 3 (boiled and cubed)
Payatham Paruppu / Moong dal – ¼ cup
Onion – 1 medium (thinly sliced)
Cloves – 3
Cinnamon – ½ inch piece
Bay leaf – 1
Mustard seeds – 1 tsp
Ullutham paruppu / Urad dal – 1 tsp
Curry leaves – few
Oil – 2 tsp
Salt – to taste
Cilantro – to garnish
Lemon juice – 1 tsp
For the masala paste –
Coconut – ⅓ cup
Fennel seeds – 1 tsp
Green chilies – 3
Garlic – 2 cloves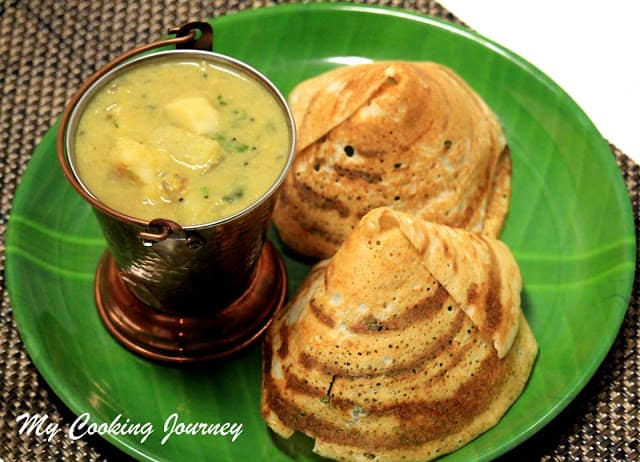 Procedure –
Cook the potatoes and peel them. Chop them into 1 inch cubes. Also cook the Payatham paruppu / Moong dal until it is cooked well, but too mushy.
Grind all the ingredients mentioned for the masala adding very little water.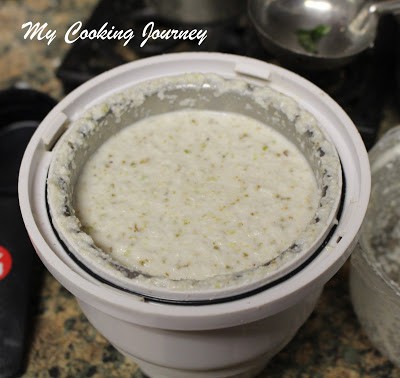 In a pan, heat the oil and add the mustard seeds, urad dal and curry leaves. Let the mustard splutter and then add the cloves, cinnamon and bay leaf. Fry it for about a minute or until aromatic.
Add the sliced onions and fry until it is translucent.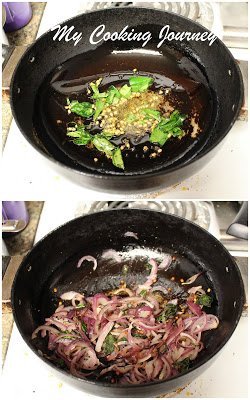 Add the ground masala paste and sauté it on low heat until aromatic (about 6-8 minutes).
Now add the boiled potato cubes and mix well. Also add the cooked dal along with the salt needed.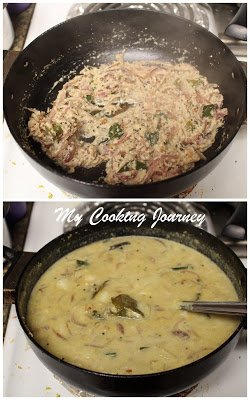 Mix well and add water to bring it to gravy like consistency. Let the kadappa come to a boil and then simmer for about 10 minutes.
Add the lime juice and cilantro at the end and turn off the flame.
I served kadappa with some dosai for dinner.