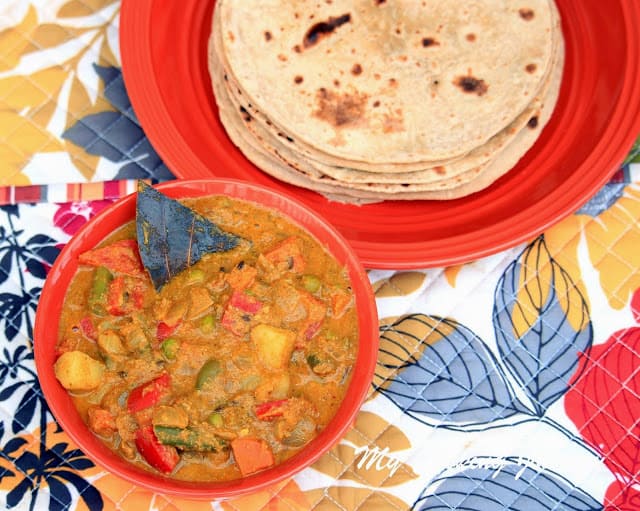 I love to try out different side dishes for chapattis/parottas. And I highly favor the mixed vegetable kind because that way I could feed quite a bunch of vegetables to my kids that day. That is when, I came across this recipe on Srivalli's space and I loved the color of the kurma. Reading further, I loved the flavors that went into the kurma. It was quite different and I wanted to try it out.
I made it for dinner last week and it was a winner. The best part about making mixed vegetables kurma is that we can use any vegetable we have in hand. Also we don't need a lot of any vegetable. A little bit here and a little bit there, comes a long way. When running short on vegetables and not knowing what to cook, recipes like these come in handy. I always have a bunch of frozen vegetables like peas and beans in the freezer. So added along with some potatoes and carrots, the kurma is ready.
Preparation time – 20 minutes
Cooking time – 45 minutes
Difficulty level – easy
Recipe adapted from - Cooking 4 All Seasons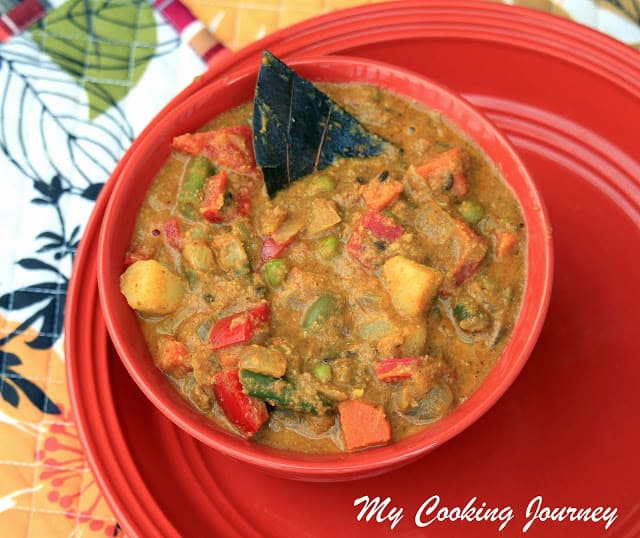 Ingredients to make Nilgiris Kurma – serves 4-6
For the mint puree –
Mint leaves/pudina – ½ cup (tightly packed)
Green chilies – 2
Cilantro – ½ cup (tightly packed
For the Tomato Puree –
For the Cashew Coconut puree –
Cashews – 3 tbsp
Coconut – 3 tbsp (grated)
Water – to make a puree
For the Kurma –
Mixed vegetables – 3 cups (I used potatoes, Carrots, red bell pepper, beans and peas)
Onion - 2 (finely chopped)
Tomato puree – all from above
Mint puree – all from above
Cashew Coconut puree – all from above
Ginger garlic paste – 1 tsp
Red chili powder – 1 tsp
Dhania jeera powder – 1 tsp
Turmeric powder – ¼ tsp
Salt – to taste
Oil/butter - 2 tbsp
Spices –
Bay leaf – 1
Cloves – 4 or 5
Cinnamon – 1 inch piece
Fennel – ½ tsp
Cardamom – 3
Star anise – 1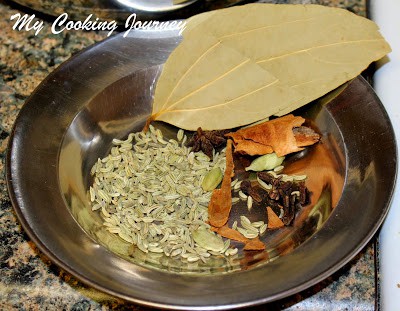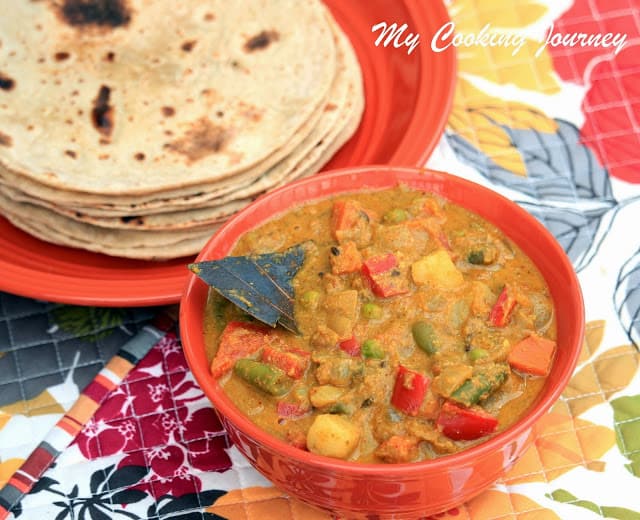 Procedure to make Nilgiris Kurma –
Wash the mint and cilantro leaves and grind it into a paste with green chilies. Add couple of tbsp of water to make the paste. Keep it aside.
Soak the cashews in warm water for about 10 minutes and then grind it into a smooth paste along with coconut adding little water. Keep it aside.
Blanch the tomatoes, peel the skin and then puree them or else just puree the whole tomatoes and keep it aside.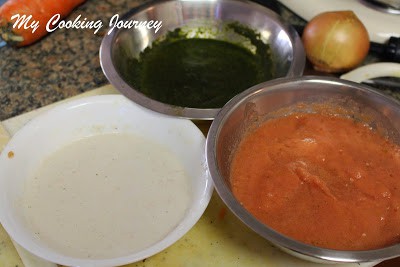 Chop all the vegetables into bite size pieces. I par cooked/steamed them in the microwave individually until they are half way cooked. This helps in even cooking of all the vegetables without making them mushy.
In a pan, heat the oil and then add the whole spices. Fry for about 30 seconds until aromatic and then add the chopped onions. Sauté the onions until golden brown. Add the ginger garlic paste and fry for about 30 more seconds.
Now add the tomato puree, turmeric powder, red chili powder and dhania jeera powder along with salt and mix well.
Fry the masala well for about 5-7 minutes in low flame and then add the mint puree. Mix well and again fry in low flame for 5-7 minutes. Make sure you cook it in low heat or else the masala will get burnt. Also keep stirring often to avoid sticking to the bottom.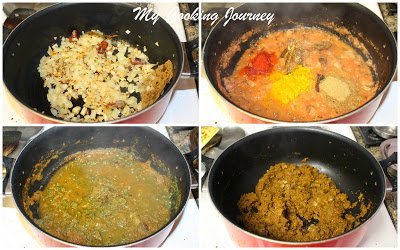 Now add the cooked vegetables along with some water to bring it to the right consistency. Bring it to a boil and let it simmer for about 5 minutes.
Then add the prepared cashew coconut puree, mix well and simmer until the kurma comes to the required consistency.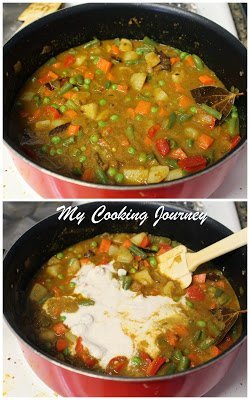 Turn off the flame and serve the Nilgiris Kurma with parotta or chapatti!