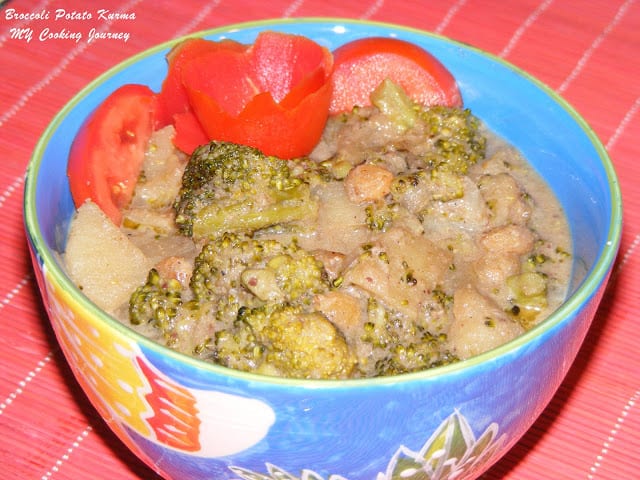 My kids love Broccoli. So my thought goes why limit using it only in the American recipes or Chinese recipes. I include Broccoli in almost any mixed vegetable subzi that I make. This Broccoli Potato Kurma, though is a recipe made exclusively with broccoli. There is couple of potatoes in the recipe that I just add to get some starch in the dish.
Preparation time – 10 mins
Cooking time – 40 mins
Difficulty level – easy
Ingredients to make Broccoli Potato Kurma - serves 4
Broccoli – 2 cups (chopped)
Potatoes – 2 (peeled and chopped)
Onions – 2 (sliced)
Raisins – 2 tbsp (optional)
Oil – 2 tbsp
Salt – to taste
Grind together (masala ingredients)
Jeera/Cumin seeds – ½ tsp
Saunf/fennel seeds – ½ tsp
Green chilies – 3
Ginger – ½ inch piece
Garlic – 2 pods
Cashew nuts – 10
Coconut – ¼ cup (grated)
Cloves – 4
Cardamom – 2
Cinnamon – 1 inch stick
Onion – ½
Procedure
Separate the Broccoli florets and clean them well. Pat it dry and fry it in about a tbsp of oil. Fry it until the broccoli softens a bit, but is not cooked entirely. Keep aside.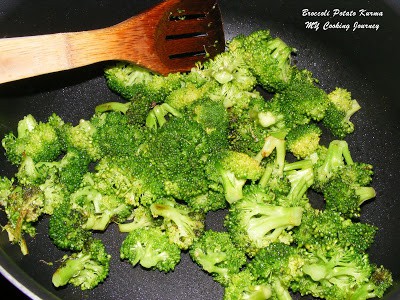 In the same pan, heat the remaining oil and fry the sliced onions till translucent. (Make sure you leave a little bit of onion for grinding and then fry the rest). In the end add the raisins and let it soften a bit.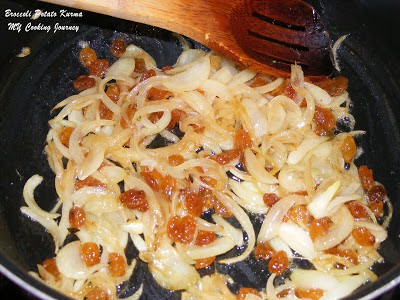 In the mean time, grind all the ingredients listed under the masala ingredients into a smooth paste, adding little water as possible.
Add the ground masala to the onions and fry till aromatic and the oil leaves the sides of the pan (about 12 – 15 mins). The more the masala fries the better the subzi tastes, so even if the masala is sticking to the bottom of the pan, sprinkle a little water and continue to fry.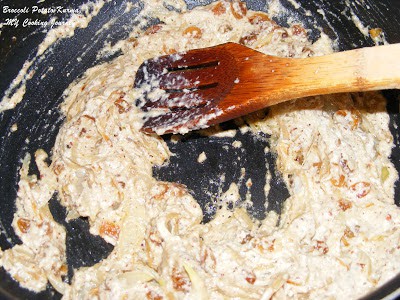 Masala after 15 minutes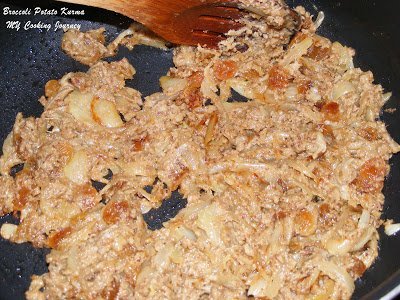 Now add the chopped potatoes and about a cup of water. Let it cook until the potatoes are about ¾ th done. Now add salt and the fried broccoli.
Cook it till the vegetables are cooked through and serve the Broccoli Potato Kurma hot with Rotis, parathas or rice.