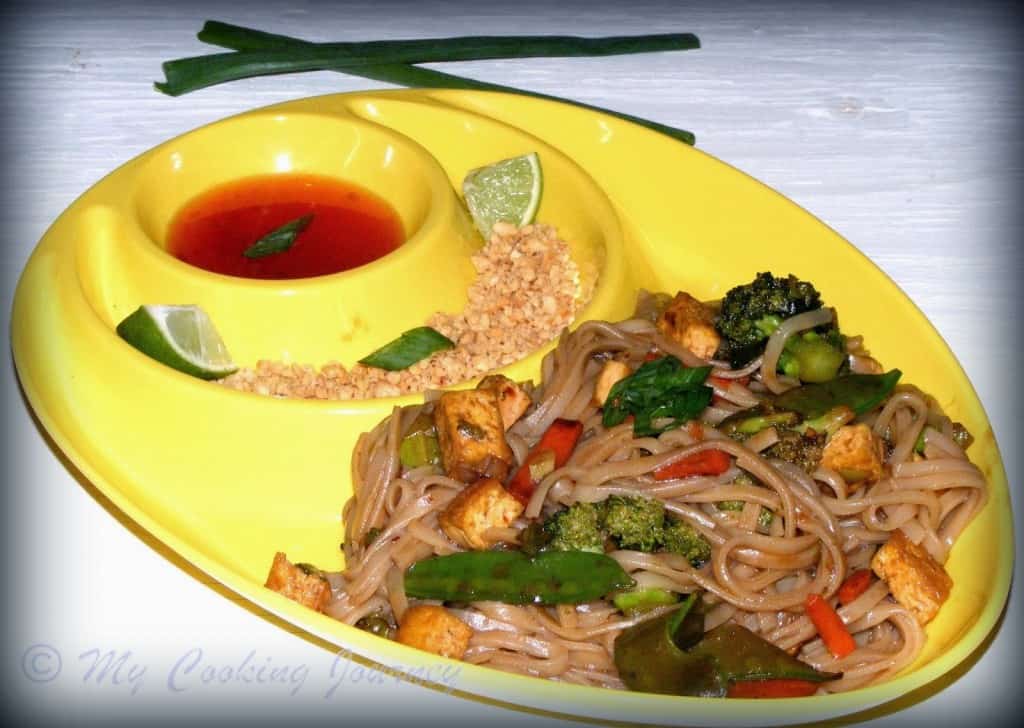 Pad Thai is the first dish that I order when we eat out in a Thai restaurant. I cannot express in words my love for this dish. Pad Thai is a very simple recipe made with rice noodles and has a balancing flavor of hot, sweet, sour and saltiness in the sauce. One does not have to go very fancy with all the store bought sauces and different ingredients to make the sauce. The specific flavors that I have mentioned above, comes from very common ingredients found in the pantry. Hot (spiciness) comes from the chili sauce, Sweet from palm sugar, sour from the tamarind and salt from the fish sauce (Vegetarians use soy sauce here).
A little history that I found fascinating when reading about the dish, Pad Thai did not exist before the 1940's. Its birth and popularity came as a result of National campaign done by field marshal Plaek Pibulsongkram who enabled Thailand to come out of Monarchy. He established this dish as a sign of patriotism and he established that whoever ate this dish were patriotic. He promoted the nation to eat more of the Pad Thai and encouraged street vendors to sell them at a very affordable cost. Making it affordable for everyone to eat drove more people to eat and sell this dish and this way he also promoted rice exports of the country. Ever since then, Pad Thai has become a National dish of the country.
The Pad Thai sauce can be made ahead of time in bulk and stored in refrigerator. I have used few vegetables in the recipe, but all you need really is a protein and the rice noodles loaded with crushed peanuts and some lime garnish on the side.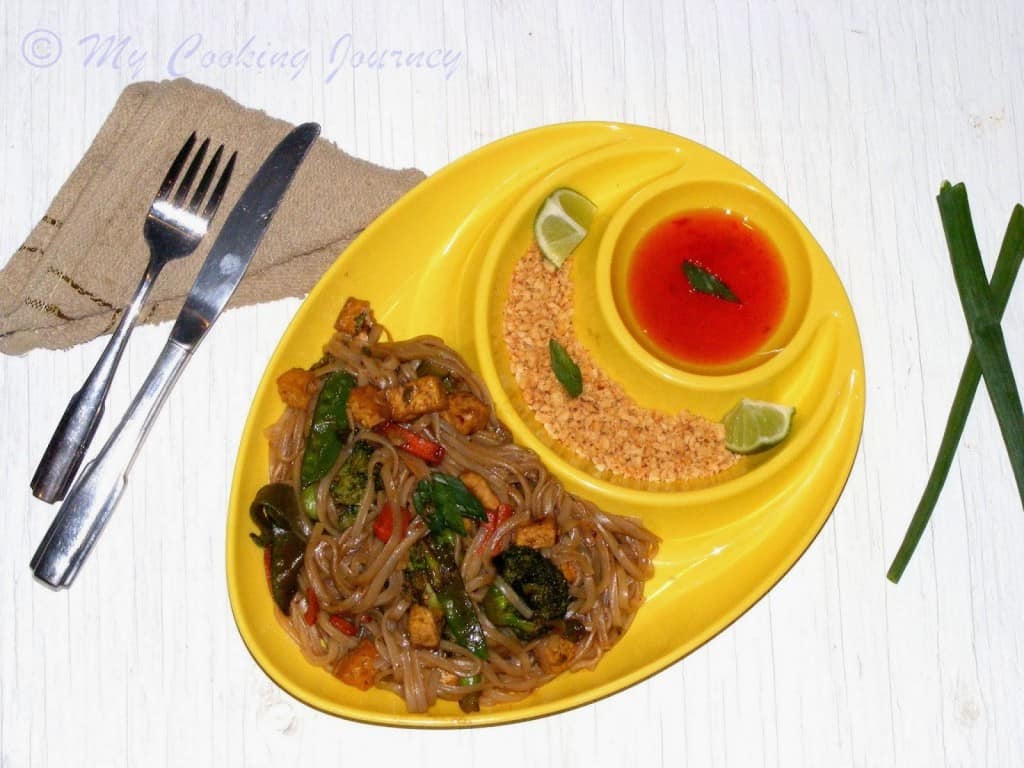 Preparation time – 30 mins
Cooking time – 40 mins
Difficulty level – easy
Ingredients to make Pad Thai – Serves 4
Rice noodles (flat ones) – 12 oz
Tofu – 1 -14 oz block (drained, pressed dry and cubed)
Broccoli – 2 cups (florets)
Carrot – 2 (julienned)
Spring onions – ¾ cup (chopped)
Snow peas – 1 cup
Oil – 5 tbsp
Salt – if needed (soy sauce has enough salt, so check before adding any)
For the sauce –
Soy Sauce – 4 tbsp
Vinegar – 2 tbsp
Chili paste – 2 tbsp (I used the homemade Thai Chili Paste)
Lime juice – 3 tbsp
Brown Sugar – 5 tbsp
Tamarind paste – 1 tbsp
For garnish –
Roasted ground peanuts
Lime pieces
Chili sauce
Bean sprouts (I forgot to add this )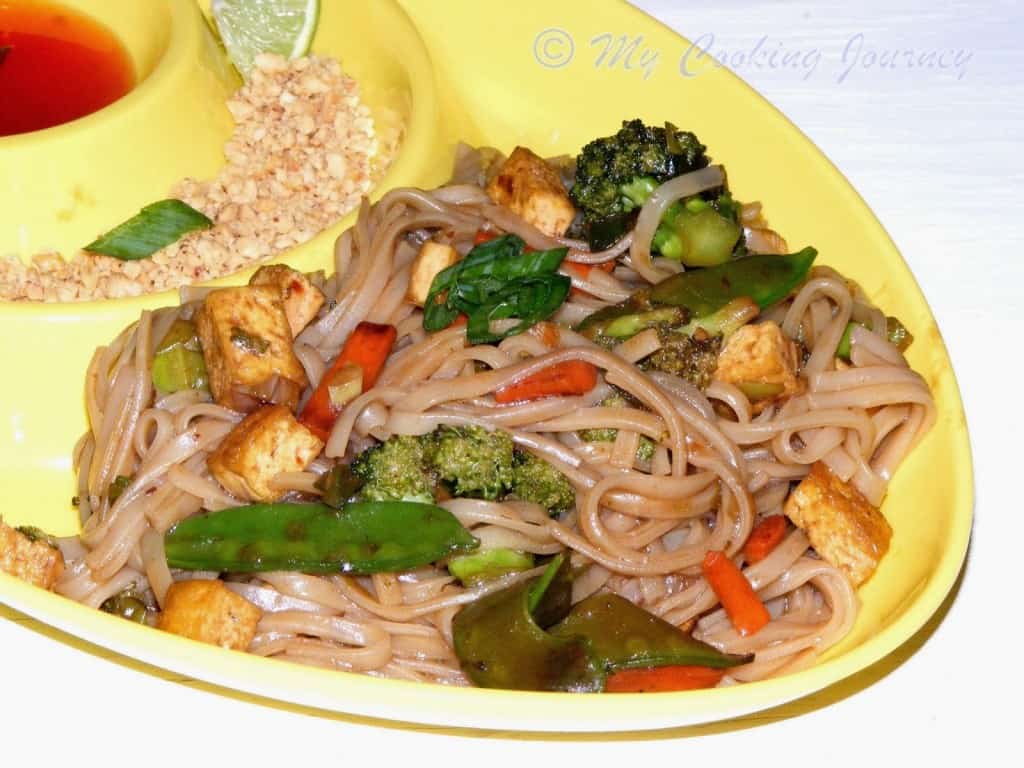 Procedure to make Pad Thai –
Prepare the rice noodles as mentioned on the package. Some noodles just require soaking in hot water whereas some might require cooking time. Rinse in cold water once cooked and drain in the colander. Please make sure that the noodles still have a good bite to them, otherwise it will become mushy when cooking with the sauce.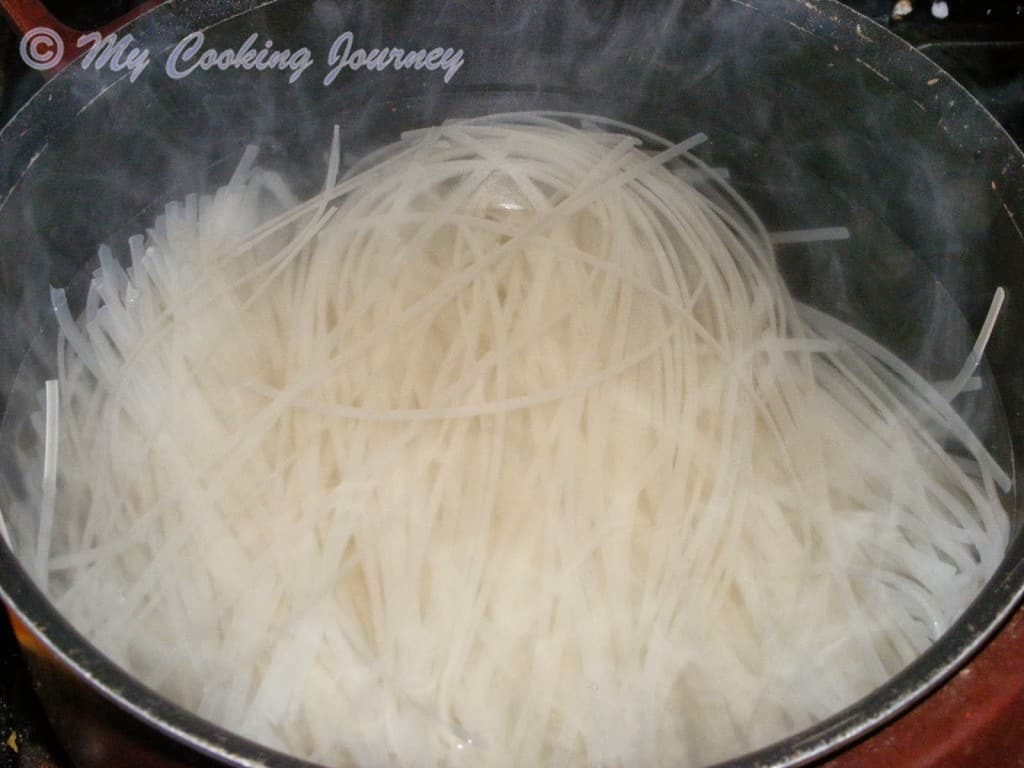 Roast and grind the peanuts to a coarse powder in a food processor. Ensure that you end up with coarse pieces of the peanut and not peanut butter. I used roasted salted peanuts, so all it needed was a little whiz in the tiny chopper.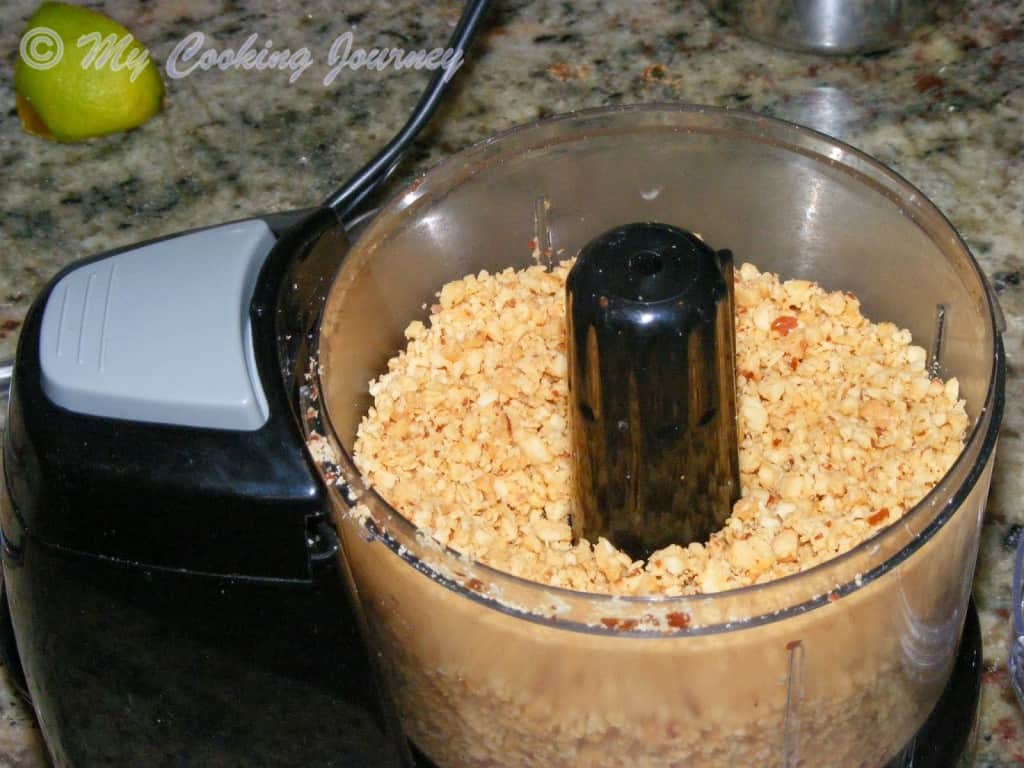 To make the sauce
Whisk together all the ingredients mentioned above in a small bowl and keep it aside. I added a little bit of noodle cooking water to thin my sauce and enable the tamarind and the brown sugar to melt.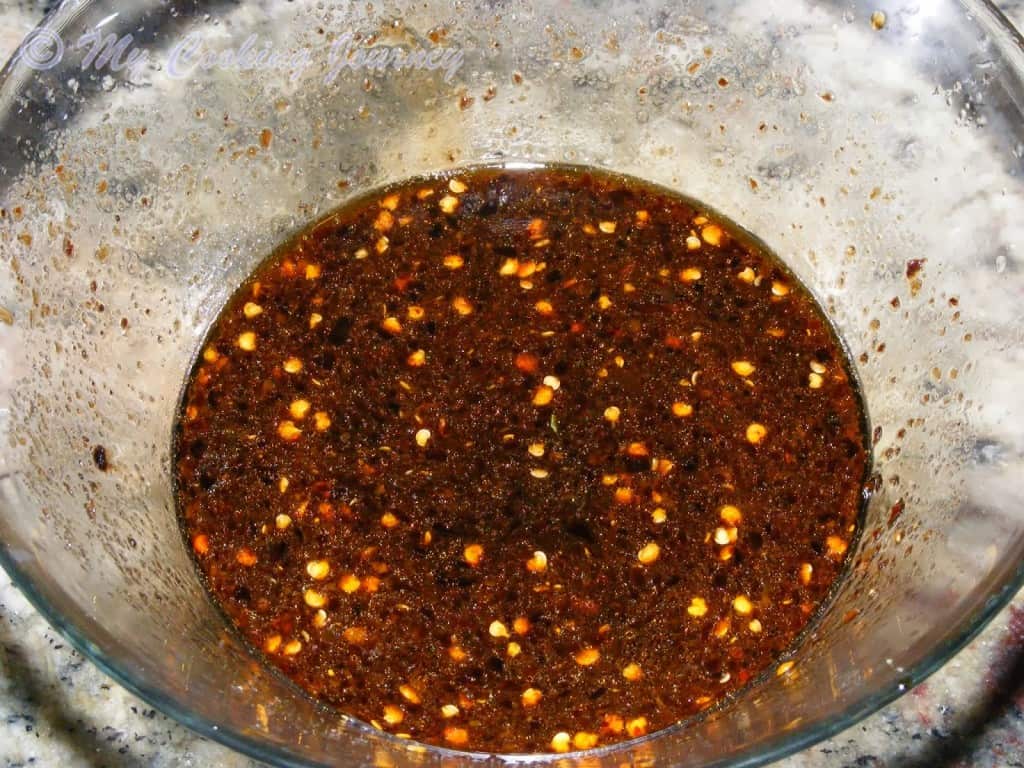 Heat a large wok or pan over high heat and add about a tbsp of oil. Add the cubed tofu into the hot pan and cook until the evenly brown all sides. Remove from pan.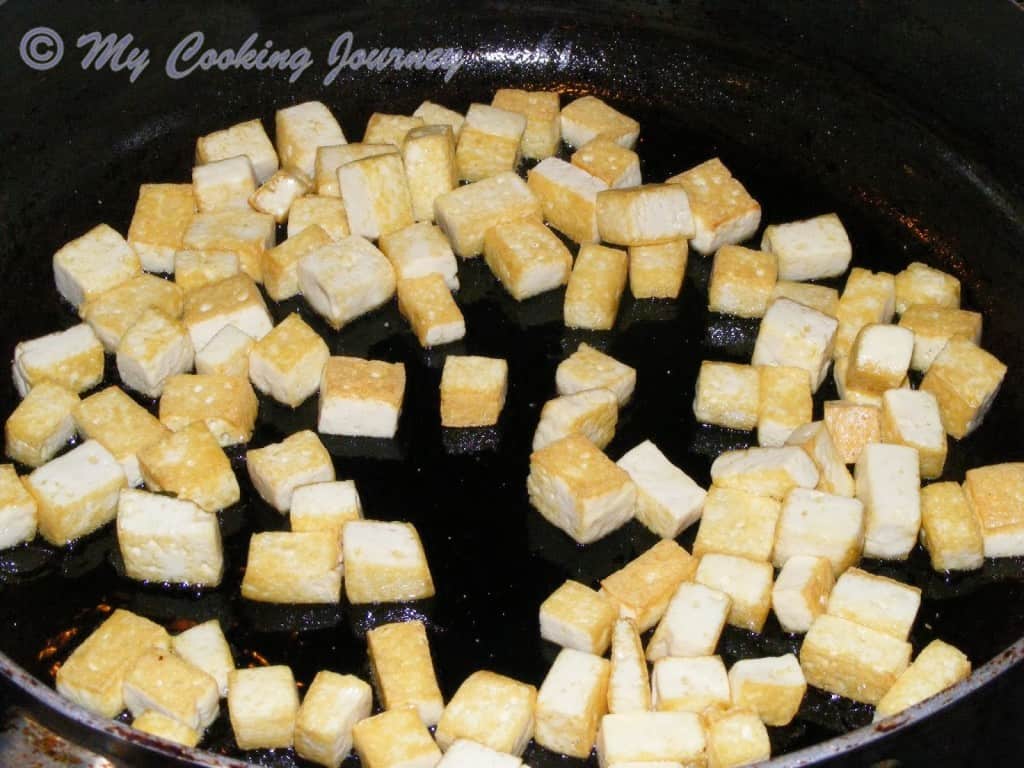 Next add 1 more tbsp of oil and let the temperature of the pan rise. Now cook the vegetables one after the other (broccoli, carrots, snow peas and the spring onions) with little salt, separately in high heat and remove in a bowl. I cooked all the vegetables individually to allow them to retain their crispness. Make sure that the pan heats up well before adding the next vegetable.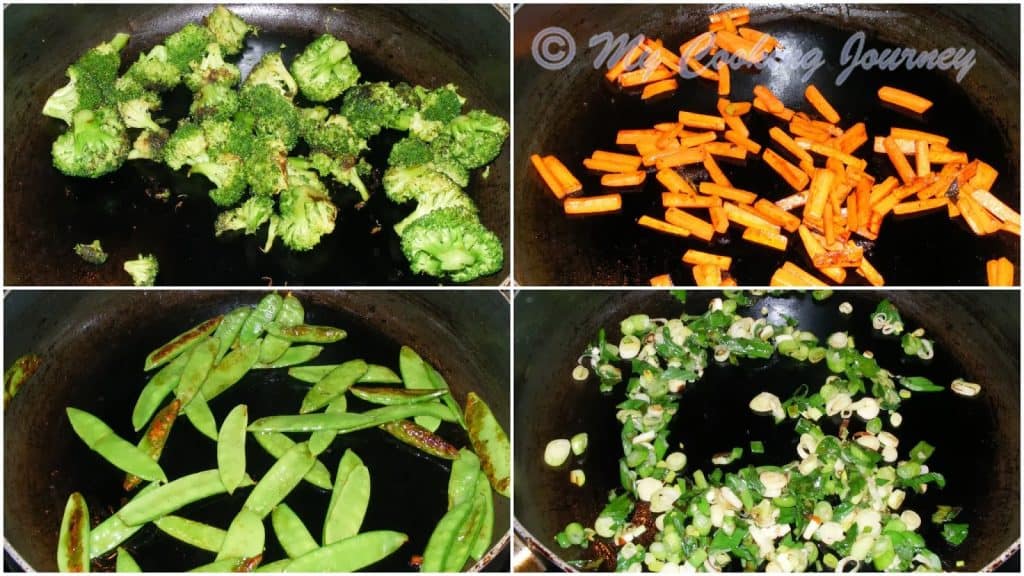 Assembling
Once you have all the ingredients ready, assembling in a breeze. It is ideal to make one serving at a time, but if your pan is large enough, you could make more.
Add all vegetables to the pan and then add the sauce. Let the sauce cook for couple of minutes and then add the tofu. Let it cook for couple of minutes more in the sauce and then add the noodles. Mix well and cook for 2 minutes in high heat and then serve with all the garnishes.