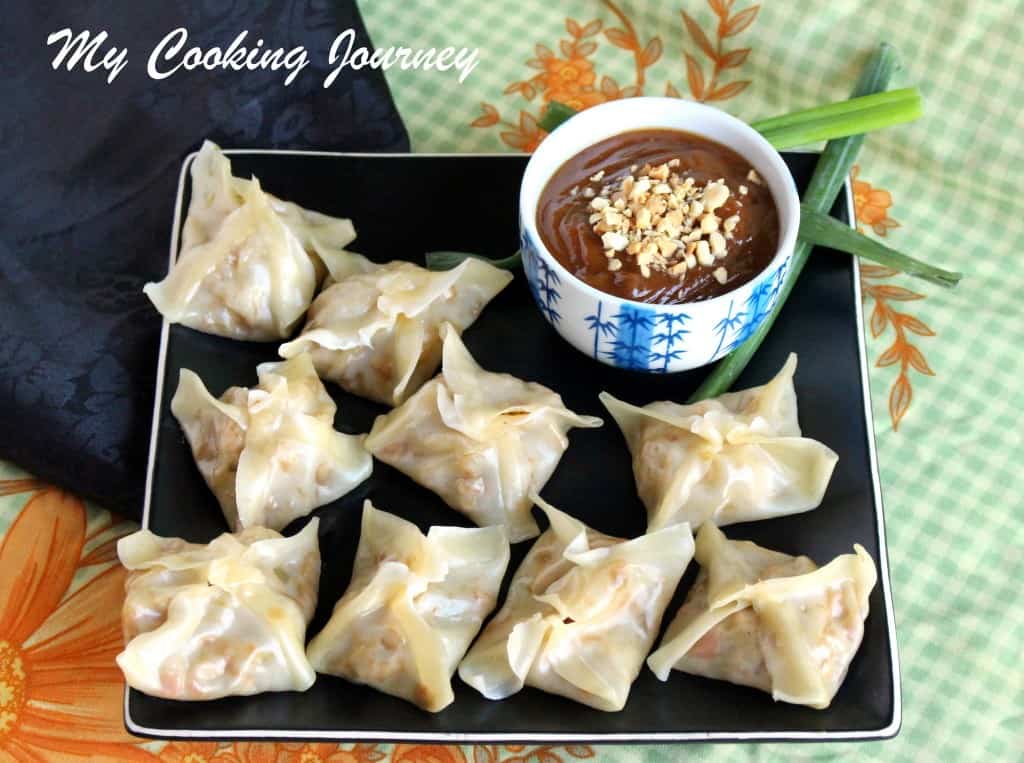 For the last and final day under the theme of festival recipes around the globe, I chose to make this Vegetable Dumplings for Chinese New Year's eve. Chinese people celebrate the New Year with lot of superstitious beliefs and each and every food that they consume has a specific reason as to why it has to be consumed on the New Year's Eve.
The dumplings are a symbol of wealth and richness as they are shaped like gold ingots. Some other examples are they consume fish for abundance and noodles for long life. Some also stuff their dumplings with coin and whoever gets that dumpling is assumed to have lot of wealth and prosperity that year.
The dumplings are either steamed or boiled or pan fried. I have made today the steamed version with vegetables and tofu. I have coked the vegetables in this particular recipe. But you could make them with raw vegetables as well.
Preparation time – 40 minutes
Cooking time – 30 minutes plus about 15 minutes/batch
Difficulty level – medium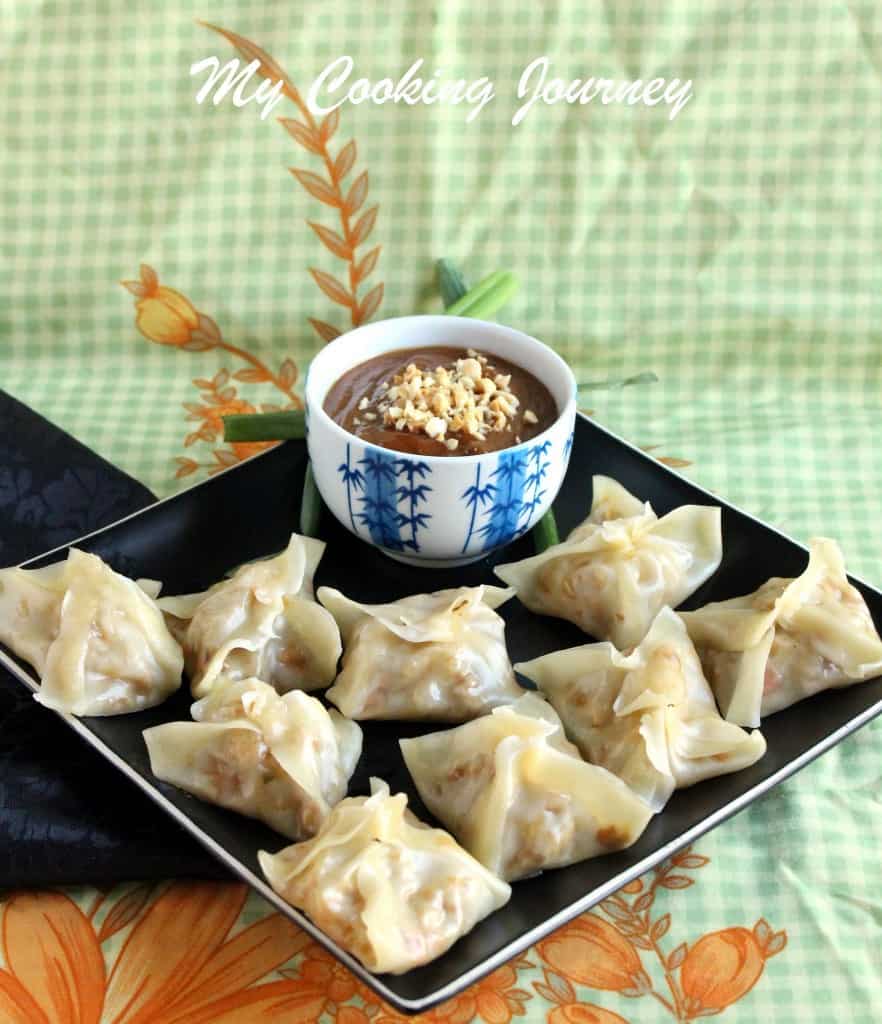 Ingredients to make Vegetable Dumplings – Makes about 30
Wonton wrappers – as needed
Carrots – 1 cup (finely chopped)
Cabbage - 1 cup (finely chopped)
Tofu (firm) – ¾ cup (finely chopped)
Spring onions – 3 (sliced thin along with the greens)
Soy sauce – 2 tbsp
Chili sauce – 1 tbsp
Corn starch – 1 tbsp dissolved in 2 tbsp of water
Salt – as needed (might not need any as we are using soy sauce)
Garlic – 2 cloves (minced)
Ginger – ½ inch piece (finely grated)
Oil – 2 tbsp plus more to spray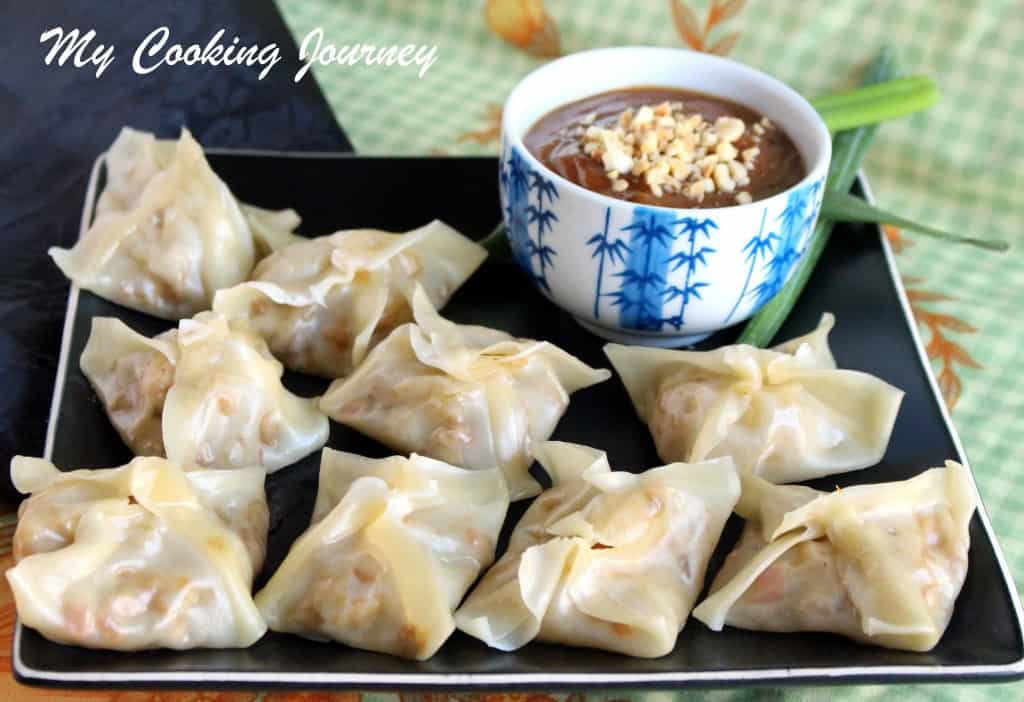 Procedure to make Vegetable Dumplings –
To make the filling –
Chop all the vegetables and tofu and have them ready.
Heat 2 tbsp of oil in a pan and add the sliced spring onion (white part only). Fry it on high flame for couple of minutes and then add the ginger and the garlic. Fry for about 30 seconds more and then add the carrots and the cabbage. Add a pinch of salt (not more as we are adding soy sauce) and let the vegetables cook. Make sure that you cook them only half way and maintain a crisp on them.
Now add the tofu, soy sauce and the chili sauce and fry for 3-4 more minutes.
At the end add the corn starch that is dissolved in water and give it a good mix. Cook for a minute more and then add the spring onion greens. Mix once and turn off the flame. Let the mixture cool down before we start to make the dumplings.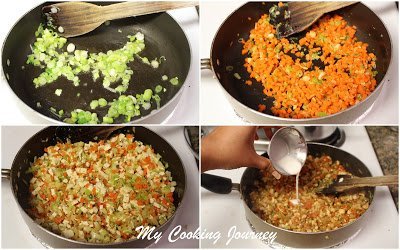 To shape the dumplings –
Open the wonton wrappers and keep it covered under a moist paper towel.
Working with one sheet at a time, place it on your work surface. Brush all the four sides of the wrapper with water.
Place a heaped teaspoon of the filling in the center of the sheet.
Bring the two opposite corners together and seal them. They seal very easily when wet. Now do the same with the other two corners and seal them. You will have a pouch like wonton that is ready to be steamed.
Repeat the same with the rest of the sheets and filling.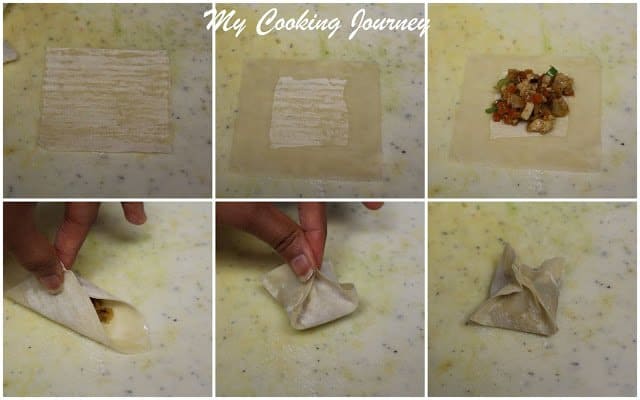 To cook the dumplings –
Prepare a steamer and fill it with about an inch of water.
Spray the steamer plates with oil and then place the prepared wontons, taking care not to crowd them.
Steam for about 15 – 18 minutes or until the wontons turn shiny in appearance.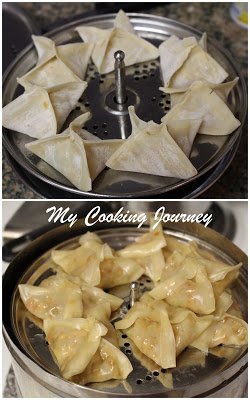 Remove on a tray and keep it covered with a moist towel until ready to serve.
Serve with spicy dipping sauce.