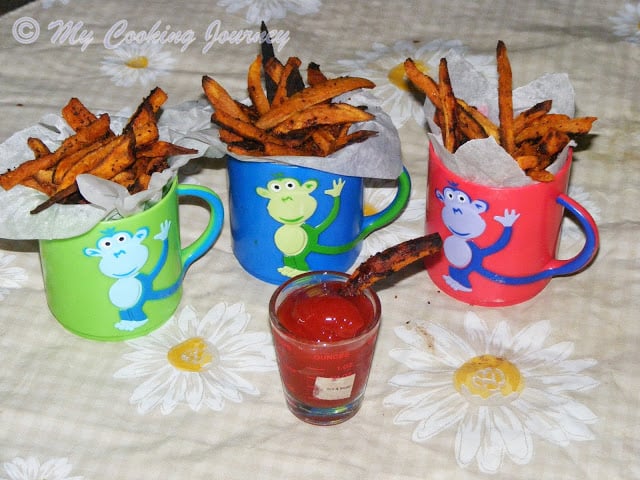 For Day two under of the blogging marathon, I am baking Sweet potato fries for the theme Savory baked dishes. Lately I have been using sweet potatoes instead of potatoes very often. The natural sweetness in the sweet potatoes makes it my kid's favorite and I have no issues getting it in them. When compared to white potatoes sweet potatoes has more fiber, more vitamin C and less carbohydrate. Also sweet potatoes provide 400% of the daily Vitamin A requirement. It does have higher sugar content than regular potatoes, so watch out if you are on a diabetic diet.
Sweet potatoes fries do not get as crispy as regular potato fries, but with all the spices and flavor you will not miss the crunch. Also since I am baking these, it helps to release a lot of its natural sweetness and it is much healthier than fried version.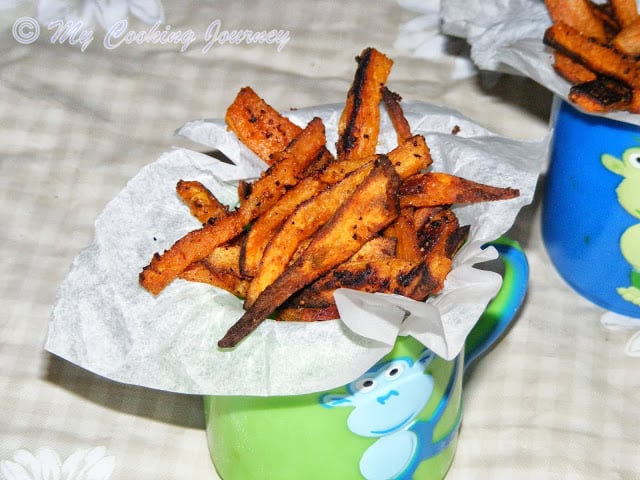 Preparation time – 10 mins
Cooking time – 30 mins
Difficulty level – easy
Ingredients to make Baked Sweet Potatoes Fries – Serves 4
Sweet potatoes – 2 large
Oil – 2 tbsp
Roasted Cumin powder – 1 tsp
Garlic powder – 1 tsp
Cinnamon – ¼ tsp
Paprika – ½ tsp
Salt – to taste
Black Pepper – ¼ tsp
Sugar – 1 teaspoon (optional)
Procedure –
Line two baking trays with Aluminum foil and grease them with oil spray.
Preheat the oven to 450 F.
Clean the sweet potatoes and peel the skin. Make uniform thin long cuts out of the potatoes. Make sure the potatoes are evenly cut since this ensures even baking in the oven. Dry the sweet potatoes thoroughly and then place them in a bowl.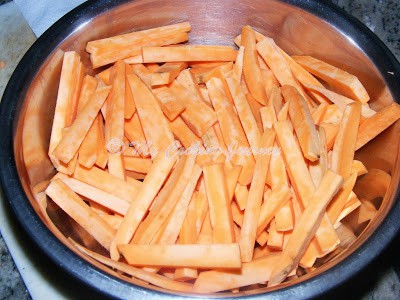 To the cut sweet potatoes, add all the listed ingredients and mix them well using your hands. Ensure that the spices coat the sweet potatoes well.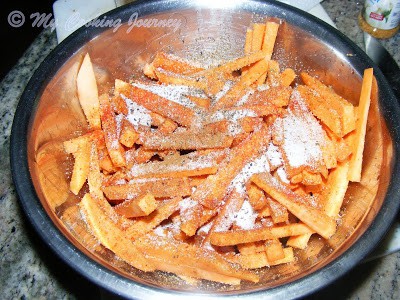 Layer them in the prepared baking trays. Do not overcrowd them in the tray. Make sure the sweet potatoes are single layer and not one on top of another.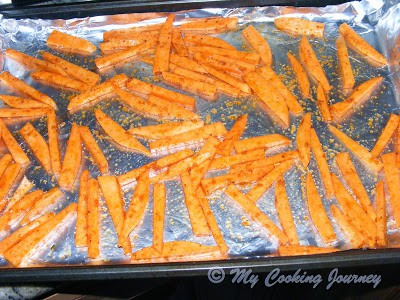 Bake them in the preheated 450 F oven for about 30 mins, turning them once or twice in between.
Serve hot with ketchup!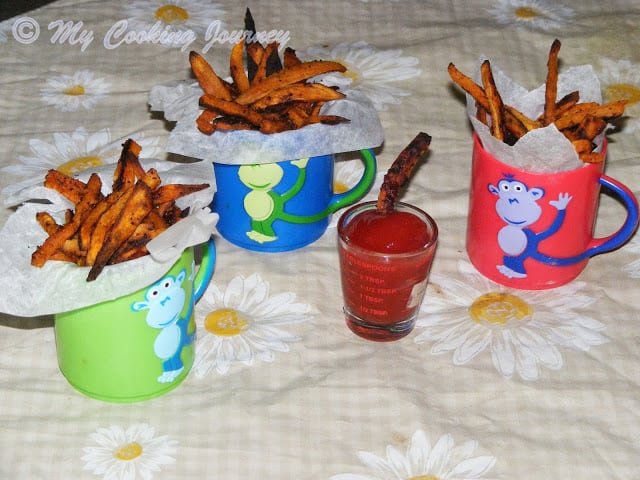 Notes and Observations –
I add sugar to the fries, because it helps in better caramelization of the potatoes. If preferred you could leave this out.
Also adding the spices to the fries is totally your choice. Add what you like and omit the rest.
When turning the fries in between baking, make sure that you turn all the fries. This way they cook uniformly, otherwise you might end up burning a few in the bottom.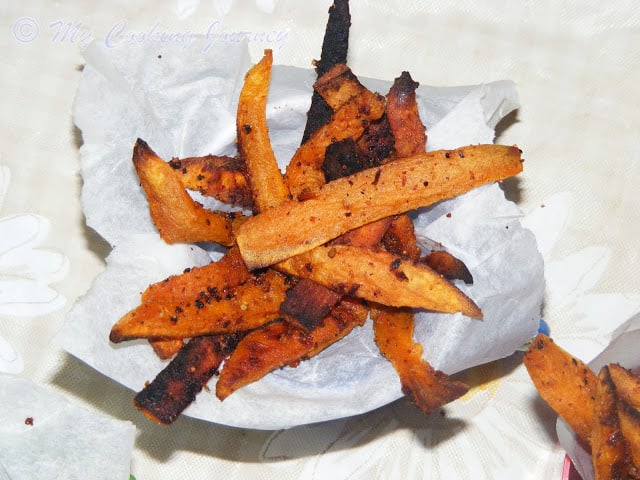 Check out my other sweet potato recipes here!