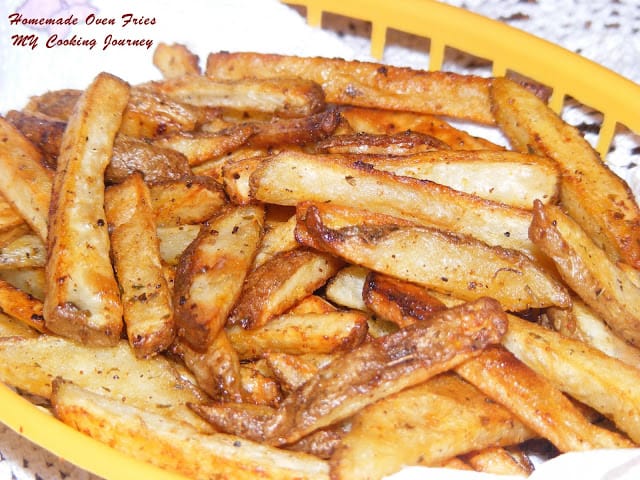 I love French fries. Well, who does not like French fries, but with the amount of oil and grease that are in the fries, lot of us are shying away from it. The weather has been very gloomy for the past few days and I was in the mood for something crunchy and spicy. Last night I made the homemade oven fries with spices and had a bowl of salad. The combination of a bite of hot and spicy fries followed by a bit of tangy and cold salad was really fun. e fries are very simple to make with very few ingredients. I did add few herbs and made mine a little spicy by adding red chili powder.

Preparation time – 10 mins
Cooking time – 30 mins
Difficulty level – easy
Ingredients to make Homemade Oven Fries – (serves 4)
Potatoes – 4 large
Vegetable oil – 3 tbsp
Dried oregano – 1 tsp
Dried parsley – 1 tsp
Garlic powder – 1 tsp
Red chili powder – 1 tsp
Salt – to taste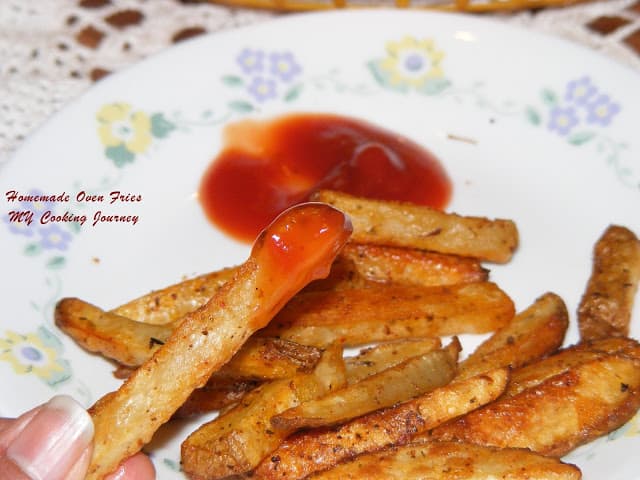 Procedure –
Wash and scrub the potatoes well. I used white potatoes, but you could use any potatoes you have. Cut them into even size sticks. Cutting them evenly helps the fries to cook evenly. I also left the skin on my potatoes for that extra layer of crunch and flavor. If you prefer, you could remove the skin and then cut the potatoes.
In a large bowl, add the chopped potatoes and add enough hot water to immerse the potatoes. You do not need boiling hot water. I used the hottest water that I would get from my kitchen tap. Let the potatoes soak in the hot water for about 10 – 15 mins. This process allows the potatoes to get crisp.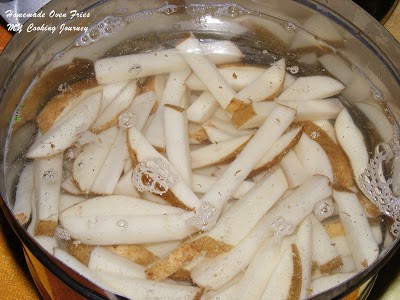 In the meantime, preheat the oven to 425 F.
In a small bowl add all the spice ingredients to make our own spice mix. Here, you could add any spice you like or avoid any that you do not like. Instead of red chili, you could add paprika or black pepper. Everything depends on what you like and how much you like. We could also make it just the classic oven fries by just using salt and black pepper.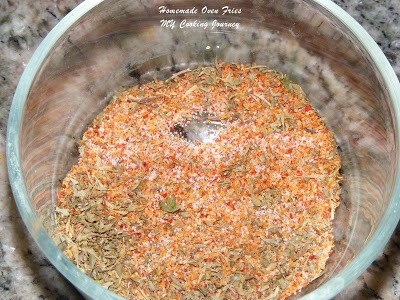 Also prepare two baking sheets by lining them with Aluminum foil and liberally oiling the foil. I used about a tablespoon of oil to coat the pan.
After 15 mins, drain the potatoes and wipe them dry. Also wipe the bowl dry and add the potatoes.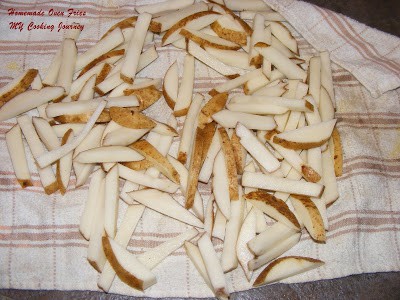 Now add the remainng oil and the spice mix to the bowl. Use your hands and toss the potatoes to coat with the oil and spice.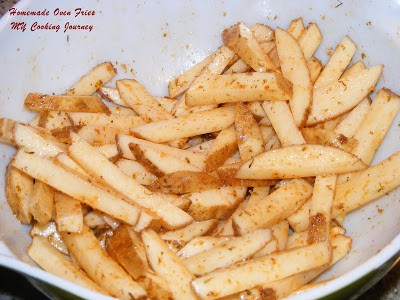 Layer the potatoes in the prepared sheets. Make sure that the potatoes are in a single layer and not piled up one on top of another.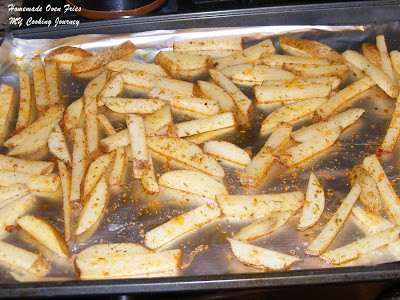 Get the pans inside the preheated oven and let it cook for about 25-30 mins. Make sure that you turn the potatoes with a spatula every 10 mins to get them evenly cooked on all the sides. I also moved the top rack pan to the bottom and the bottom rack pan to the top once in between to allow even cooking.
After about 20 mins, keep an eye on them and take it out when they are evenly brown and crisp.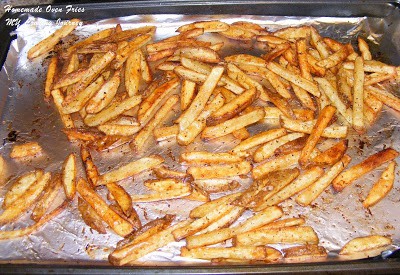 Enjoy the Homemade Oven Fries as is or with ketchup!!!