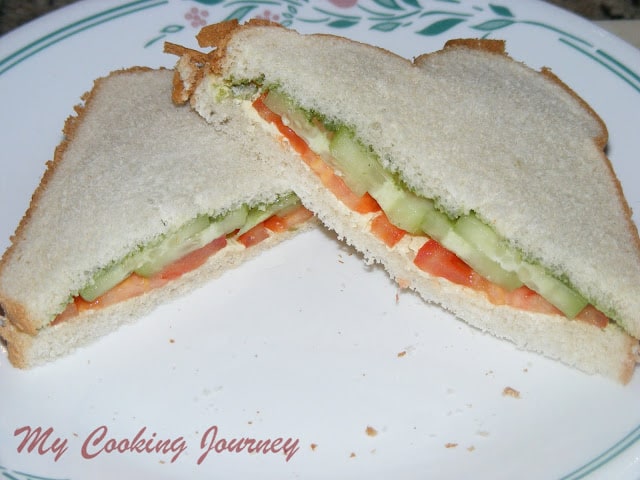 My theme for this week's marathon is Kid's delight – Lunch box recipes. Today is the second day and I have a very simple bread sandwich that can be made in jiffy on a very busy morning. My son loves fresh vegetables. He loves to eat anything raw and that has proved very advantageous for me. Also I prepare lots of salads and sandwiches for him which he absolutely loves. I also tend to add a variety of spice in any of the meal I prepare. I believe that kids palate start developing in a very young age and I want to expose them to many spices, so they can adapt to different environments they are exposed to.

Preparation time – 5 mins
Cooking time – none
Difficulty level – easy
Ingredients to make Simple Bread Sandwich – to make 4 sets of sandwiches
Bread (white or wheat or multigrain) – 8 slices
Cucumber – 1 (peeled and sliced thin)
Tomatoes – 2 (sliced thin)
Spreadable cheese or Butter or any spread – 4 tbsp
Green chutney – 4 tsp
Procedure –
Take 2 slices of bread. In one slice, spread 1 tbsp of butter or cheese or any vegetable spread evenly. On the other slice, spread 1 tsp of green chutney.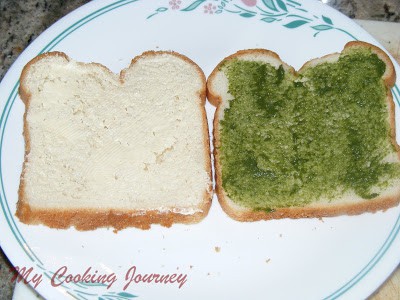 Now layer one of the slices with the tomatoes and then the cucumbers.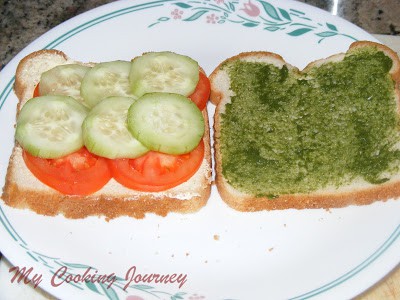 Top with the other slice and gently press to sandwich them together. Repeat the same with the rest of the slices.
To pack in the lunch box, cut the sandwich diagonally and then wrap it tightly with a plastic wrap. This ensures that the sandwich does not open until they are ready to eat.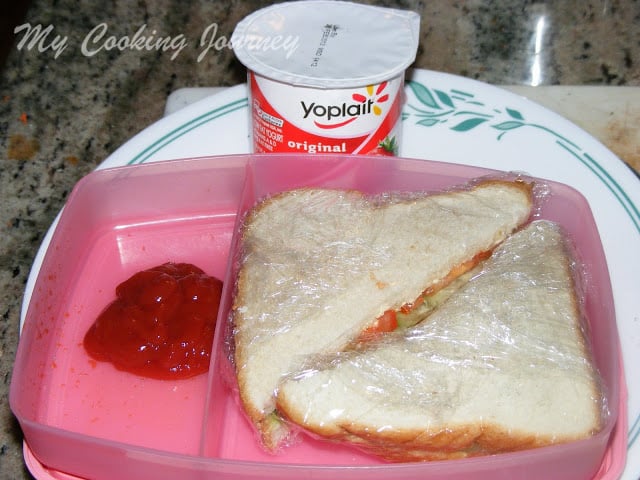 Notes and observations –
I used only couple of vegetables in the sandwich. If you prefer you could add any other vegetable or cheese depending on the kids liking. Potatoes could be boiled and thinly sliced and also layered with the rest of vegetables.
Green chutney adds a little spice and heat to the sandwich. You could either add the store bought chutney or make your own.
I pack this bread sandwich with ketchup and some yogurt to school.